This post contains affiliate links, meaning I get a commission if you decide to make a purchase through my links, at no extra cost to you. Please read my disclosure and privacy & terms for more info.
---
For many of us, ornaments not only add twinkle and sparkle to the tree, but bring up loads of memories, documenting some of our most favorite times on the road.
In fact, they're a great way of memorializing a recent camping trip, season, or even first time at a campsite!
Check out these charming ornaments campers and RV owners are sure to cherish. Don't forget the date and personalization before adding to your Travel Tree!
Charming Ornaments Campers are sure to Cherish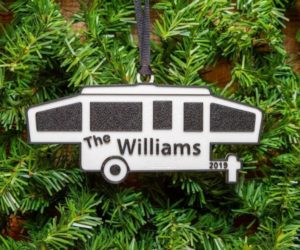 This personalized pop-up ornament by Pro3dPrintShop makes the perfect holiday gift for camp enthusiasts or new RVers in your life. Not the right rig? Check out their travel trailer and teardrop ornaments!

---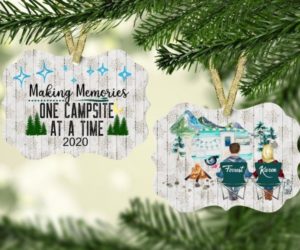 With an elegant shape made from aluminum, this Making Memories One Campsite A Time Ornament by JamminThread is super durable for travelers spending their holiday on the road. Plus, personalize this for the ones you love! Choose from a selection of RV models and people in the scenery. 
---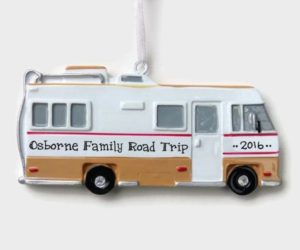 Relive an amazing vacation or road trip with this customizable RV ornament. In fact, OrnamentsInTheGreen offers multiple travel ornaments to resemble any traveler's favorite way of seeing the world!
---
Made of painted tin, this red and green set of holiday campers measures 4 x 3 1/2 x 2 1/2 inches. They feature mesh windows and sisal trees. (Buy on Amazon)
---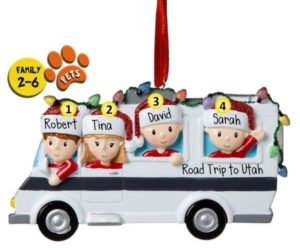 Document your family's first motorhome, trip, or whole camping season with this fun, RV ornament by FamilyOrnaments. Personalize it by adding each member of the family and even those furry family members that come along on the journey.
---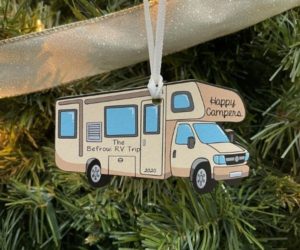 Gift a family member or friend a personalized ornament suitable to their own RV unit. HentgesCraftsLLC makes Class A's, Class C's, and vintage camper ornaments perfect for those who are new owners or new to the fun lifestyle!
---
Traditionally crafted, Old World Christmas Ornaments feature a unique, hand-crafted design. Made of molten glass and hand-painted, these beautiful ornaments make a special gift for recreational vehicle owners. In fact, check out ornaments featuring a Class A, Class C, Trailer, Airstream, and popup camper. (Buy on Amazon)
---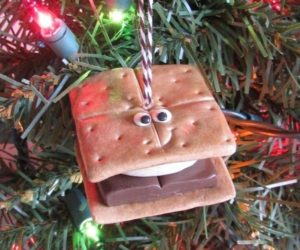 What's the best part about camping? Great times around hot bonfires with S'Mores, burgers, or hot dogs in hand! Surely, these adorable ornaments by SamsSweetArt will add a fun touch on any camp-foodie's tree.
---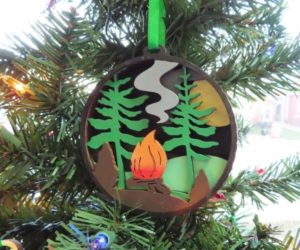 CreativeExprGalena offers a unique ornament detailing a beautiful camp-scene for outdoor enthusiasts. This creatively, layered piece makes the perfect holiday gift for any camper, symbolizing what they love the most– the great outdoors!
---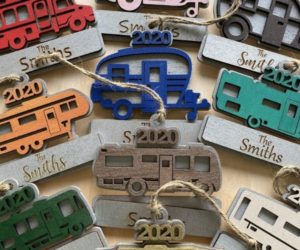 Trouble finding a camper ornament that's just like family's or friends? After all, detail goes a long way and finding a piece that replicates their rig to a T! Check out the variety of RV units PaperPrettyByRenee makes. With 12 designs to choose from and an assortment of colors, your ornament is bound to be like no other.
---
Westmon Works features beautifully designed ornaments with metal frames and faux-glass shatter resistant interiors. They come neatly packed and ready for giving. Checkout their fifth-wheel, pop-up, and motorhome ornaments. (Buy on Amazon)
---
Camping enthusiasts will love the festive Happy Campers Keepsake Ornament. Includes a gift box for easy gift giving. (Buy on Amazon)
---
Light up the holidays with this decorative camper Christmas ornament. In fact, it lights up while featuring a Christmas tree on the trailer hitch. (Buy on Amazon)
---
Personalize your RV ornament by adding names and dates. Made of cast resin and hand painted. Comes with a ribbon loop for easy hanging. (Buy on Amazon)
---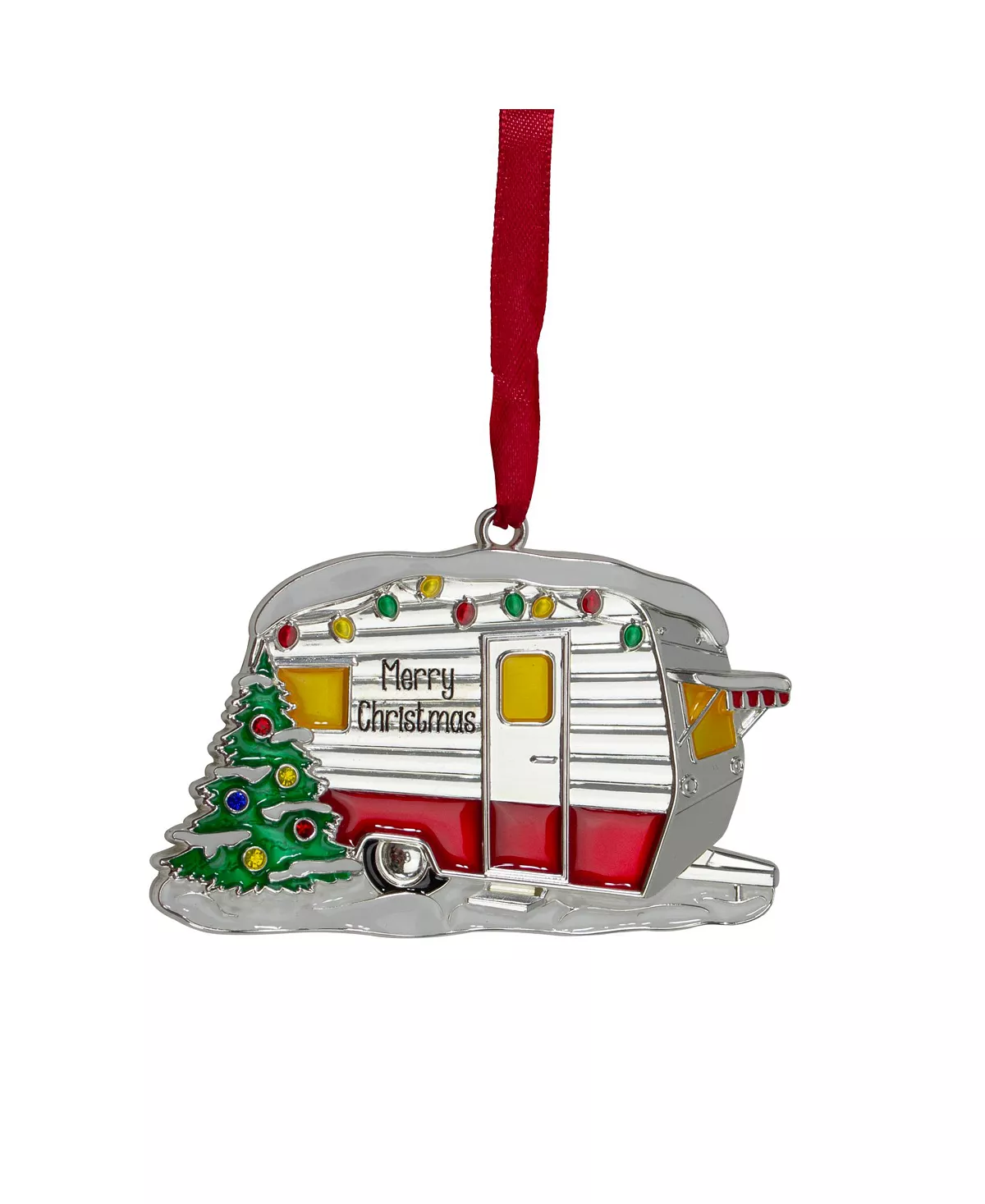 This stunning ornament makes a great addition to your tree or special gift for a camper in your life. One-sided with attached loop for hanging. (Buy on Macy's)
---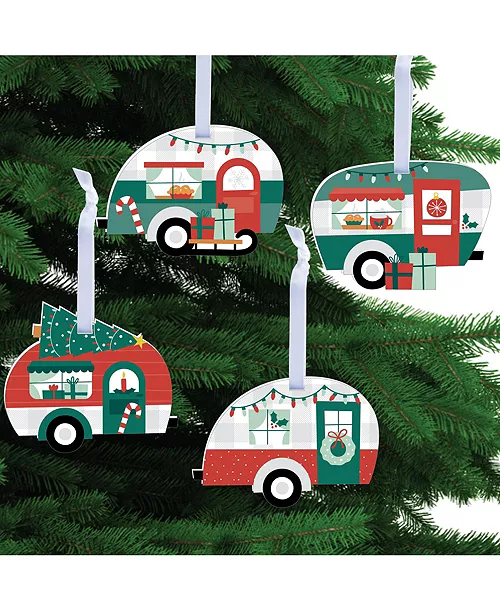 Decorate your travel tree with a set of 12 camp-themed ornaments. Lasting from season to season these are made of a flat sturdy PVC material and are shatterproof. Can also be used as gift tags. (Buy on Macy's)
---
RVING IS BEING joyful!
Related posts