Bear in mind that this post may contain affiliate links, meaning I get a commission if you decide to make a purchase through my links, at no cost to you. Please read my disclosure and privacy & terms for more info.
---
Rving is being who you want, where you want, and how you want. From full-timers to weekend warriors, teardrop trailers to big rigs, nature lovers or poolside loungers– no RVer is the same.
We've found over the years that travelers generally take on a typical camp style or two! There's the Glampers, the Groupies, the Boondockers, and so on. 
With the holidays close by, check out these unique gift ideas, based on the different types of RVers you know! 
Gift Ideas for Different Types of RVers
The Glampers 
"Glamping," or luxury camping, is the opposite of "roughing it." These campers often camp in style bringing along many of the modern day luxuries on their travels. Glampers tend to prefer RVs over tents, including amenities, air conditioning, and enticing sites. Many RVs today are including more modern appliances and technology making Glamping even more common of a camping style! 
Gift Ideas:
Campers can decorate their site with the Home is Where you Park It mat by WoodByStu. Featuring a non-slip backing with high quality cured UV ink on the design to help prevent fading.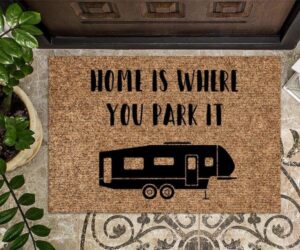 ---
The Bella D'Vine Wine Glass Holder comes with three attachments. Secure your wine glass with a strap for lawn chairs, stake for picnics, or suction base for boats!
---
Soft, absorbent, and decorative for your RV-loving friends!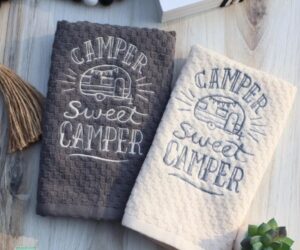 ---
Perfect after long days of travel, a hard game of pickleball, or a nice hike in the woods.
---
A decorative keychain is a great camping gift for new RV owners!
---
This beefed up, oversized camp chair still folds like a regular camp chair –but includes a whole lot more comfort!
---
The Boondockers
Boondocking is camping in a completely underdeveloped area without hookups. These campers love to escape to remote areas where there's incredible views and peaceful surroundings. Keep in mind, electricity and water are unavailable. Boondockers have to be cautious and creative when it comes to camping off the grid.
Gift Ideas:
I'd Rather Be Boondocking Tumbler
Keep drinks cold or hot in this double-walled, insulated stainless steel tumbler. Laser etched and can be personalized!
---
LuminAID Solar Inflatable Lantern
The LuminAID incorporates two ways to recharge: a solar-powered panel and a USB port. It has a long battery life, with up to 24 hours of light when the battery is fully charged. With multiple brightness settings and 75 lumens of LED light, it's perfect for indoor or outdoor use.
---
Camping Cleaning Collapsible Bucket Set
Collapsible products are ideal for campers! These dishes are space-saving and help save your limited water supply.

---
The tire table is great for camping, tailgating and all other outdoor adventures! No matter where you are parked, it is completely stable and uses a retractable leg for additional support.
---
Perfect for the outdoors, the Reliance Rhino Pak Heavy Duty Water Container is made of extremely thick plastic and is durable for the most roughest adventures.
---
Multipurpose traction mats and boards can be used for mud, sand, or snow making them a great camping asset for off-roading and primitive boondocking areas.
---
Portable Briefcase Solar Panel
The Nature Power Briefcase Solar Panel is a powerful 80-watt solar charger ideal for charging and maintaining 12-volt batteries. It's great for on-the-go and easily folds into with a sleek, portable briefcase design.

---
Most campgrounds include a nice picnic table for your convenience. However when boondocking, you'll have to find somewhere to eat hot bonfire meals! This Lifetime Portable Picnic Table is made for the outdoors. The bench seats fold right into the table for efficient storage!
---
The Camp Cooks
The camp cook shows their skill and creativity through fire and grill. With a plethora of seasonings and unique methods of cooking, no one is allowed to poke at the fire but them. Get ready for a smoldering, smoke-infused breakfast, lunch, and dinner!
Gift Ideas:
Bake delicious biscuit dough cups with the Wolf'em firepit roasting sticks and fill with your favorite fillings!
---
Create more table space within seconds. Plus, this lightweight design only weighs 11.6lbs and holds up to 70lbs!
---
Sick of shoo-ing those pesky flies away from the picnic table? Keep the food table bug-free with these collapsible food tents.
---
Get your inner chef on with this heavy duty grill and griddle that goes right over an open fire!
---
The Weber's durable design and stowing size makes it a great camping grill. Additionally, the coordinating  portable cart lifts it at a comfortable height while creating more space at the food table.
---
Great for camp kitchens, this dual sided cutting board by BrownDogCreations2 features an engraved side and a cutting side (with no engraving and juice fill edges).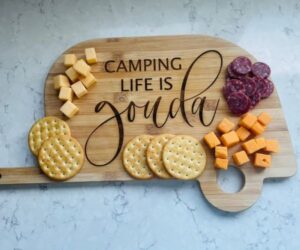 ---
Banish bugs from your food table! With the Treva Table-Top Bug Repellent Fan, you can forget sprays or candles, for an eco-friendly, chemical-free alternative. The holographic reflective blade pattern quietly spins while insects avoid going anywhere near it. Battery-powered with soft-to-the-touch blades.
---
The Groupies
These types of campers always camp in groups. They eat, play, and drink together often making sure their sites are all assigned next to one another. Enough seating is crucial for their "hang out" site and games are a must! 
Gift Ideas:
Standing at 5.5 feet tall and 5 feet wide, this XXXL giant camp chair is sure to make a statement! Both armrests include three cup holders each while the design is collapsible and compact for storage. Supports up to 340 lbs. 
---
The OmniCore Designs Triple LoveSeat allows friends to sit in a side by side configuration or a half circle. Made to be durable, each seat has a weight capacity of 300lbs!
---
Bucketball is played like yard pong, but on a larger scale and is family friendly for all ages. RVers, don't fret about storage. This portable, lightweight (7 pound) game can be packed inside its tote which takes up less than a cubic foot of space!  
---
RV Flag Pole Buddy 2.0 Kit
Show your patriotism with the FlagPole Buddy 2.0. It's the easiest RV flag pole system to setup. No need to climb a ladder. Plus, it makes it easy to locate where your group is parked!
---
Need help planning, tracking, and organizing all of your group camping reservations? The Complete RV Travel Planner, by RVTravelEmporium, helps you make the most of your RV travels, and is in fact, designed by full-time RVers! Each planner comes with digital downloads including: 12 monthly calendars, 52 weekly spreads, handy RV reference charts, travel inspiration, maps, travel expense sheets, route planning records, a pet owners page, and more!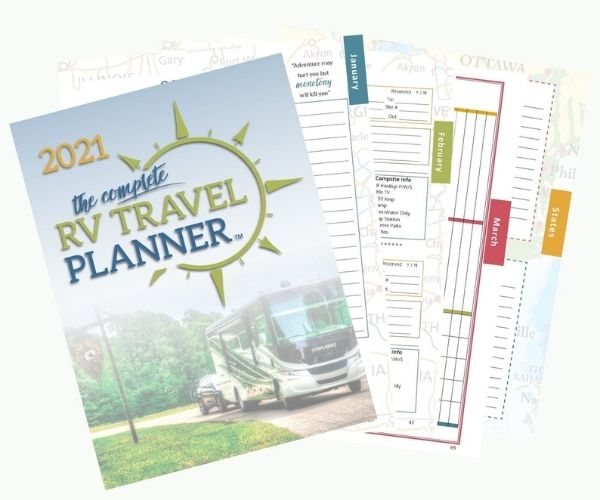 ---
Kick back and relax under the Coleman Oasis Canopy. Easily set up using a one-push center hub and take down with a pull strap. Included sun wall easily clips on any side for extra shade or wind protection.
---
The Partiers 
As soon as these RVers roll into the campground, they seem to have a drink in-hand, music playing, and a cornhole game going! They often don't go far from the camper and have no problem getting comfortable and letting loose!
Gift Ideas:
Not only is this heavy duty cooler built for great times, but also for the crazy journey getting there!
---
Marshmallow Cooker & Hot Dog Roasting Sticks
Guaranteed to get a good laugh around the bonfire!
---
Prevent sand and dirt particles from entering your drinks so that you can easily enjoy outdoor activities!
---
Because there's a more convenient way to hold two beers, the DoubleUP's got you covered.
---
Coghlan's Inside Cooler Lid Light
Illuminate the inside of a cooler and quickly install with adhesive tape.
---
Portable Cocktails
Each cocktail kit provides the premium ingredients needed to prepare 3-6 perfectly tasting, cocktails. Kit includes everything but the spirits and ice.
---
The Adventure Seekers
The adventure seekers are less likely to be caught relaxing at the camp pool and are usually off exploring, learning, or trying new things. They usually roll into the campground with bikes, kayaks, or hiking gear. Check out some gifting gadgets for the adventure seekers in your life!
Gift Ideas:
LifeStraw Personal Water Filter
The ultimate survival tool for hiking, camping, backpacking and more! The LifeStraw Personal Water Filter is ideal for purifying water from streams, lakes, ponds and other contaminated water sources. It contains no chemicals, no batteries and no moving parts to wear out. Weighs only 2oz.
---
Built from military-grade aluminum, this watertight vessel contains purpose-built gear topped with a precision compass and ultra-bright LED light for outdoor adventures. Contents include: Canadian beeswax candle, mini first aid kit, expandable bamboo cloth, water bag, fire starter kit, fishing kit, wire saw, and more.
---
This unique multi-tool pack can fit right in a wallet making the perfect stocking stuffer for your adventurous friends and family!
---
18-in-1 Multi-Purpose Pocket Knife Kit
 This tool makes a great stocking stuffer for camp enthusiasts! Features needle nose pliers, a cable cutter, screwdriver, bottle/can opener, wrench, scale, safety hammer, and more.
---
Thermacell Portable Mosquito Repellent
This portable and lightweight mosquito repeller makes a 15-foot zone of protection wherever you may go. It's DEET-free and scent-free with no chemical to skin contact, sticky spray, or open flame to repel mosquitoes. 
---
For its compact size, JBL Pro Sound delivers rich audio and bass while being waterproof and dustproof.
---
The Old Timers
They've been on the road for years and have been to many states, numerous attractions, and know of the coolest hidden gems out there. They're known to have great stories and helpful camping tips for first time owners or renters!
Gift Ideas:
Nixplay Smart Digital Photo Frame
Even though you're miles apart from family members, keep them close with the Nixplay Smart Digital Photo Frame. Simply share your photos to your loved one's frames. In the same way, invite others to share to your frame! Adjust the number of photos that loop, add captions to your photos, and more! It's a great way to stay connected and updated in pictures through a private family network.
---
Great for camping, games, picnics and more!
---
Does This Shirt Make Me Look Retired T-shirt
You've worked hard for this. Now go ahead and flaunt it! It's well deserved.
---
Annual and lifetime Senior Passes provide access to more than 2,000 recreation sites. For more info, click here.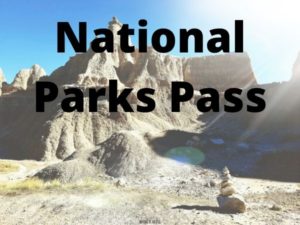 ---
Written by a lifelong outdoor enthusiast, Grace on a Rambling Road: Devotions for RV Travelers is a collection of 60 devotional meditations that link the Scriptures with vignettes about the camping experience, uplifting life applications, and prayers. Also checkout, Joy by a Roaring Campfire: Devotions for Campers.
---
RV Photo Frame
Gift a decorative frame for an RV lover to cherish memories down the road!
---
The Family Campers
Camping can be an amazing family adventure! Nothing beats being able to take pets along, having your own space, not living out of suitcases, and sleeping in your own bed at night! Check out the gift ideas below that promote family fun and togetherness.
Gift Ideas:
Don't get your marshmallow stick confused with other families or family members!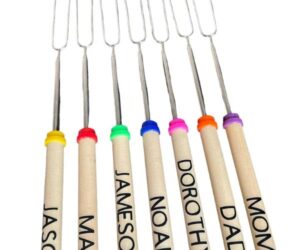 ---
Made of Parachute Ripstop Polyester, this blanket is strong, durable, and lightweight– fitting into a small pouch for storage.
---
Whether lounging or sleeping under the stars, this hammock has an easy set up and adjusts to the perfect height.
---
Campfire Popcorn Holder for Jiffy Pop
It's about time someone came up with this! Now you can enjoy some delicious popcorn and have fun making it without scorching the hair off your arms!
---
Lawn Darts Game – Glow in the Dark
Keep your games going after the sun goes down with this glow in the dark Lawn Darts Game.
---
Some of the greatest times and memories happen right at the campsite. This one is a favorite for the whole family to play!
---
Little kids will love this book for first time camping adventures!
---
RVING IS BEING home (perhaps it's on wheels) for the holidays.
Related posts