Image: Family enjoying with children on camping by LuckyBusiness via Canva Pro
This post contains affiliate links, meaning I get a commission if you decide to make a purchase through my links, at no extra cost to you. Please read my disclosure and privacy & terms for more info.
---
Camping is a great family experience. While camping is more about togetherness and less about stuff— sometimes a cute camping toy is totally worth the splurge!
Check out these adorable camp-themed toys and accessories for your little adventurer's very first RV trip.
The Cutest Camping Toys & Accessories for Your Little Adventurer's First RV Trip!
Start the trip out right with this cute camper teether set. The easy to grab and clean design makes it the perfect campsite teether to sooth babies while getting in the camping spirit.
---
Campground noises may sound a little different than at home. Help tiny travelers acclimate to new camping experiences and wilderness sounds by reading Brave Little Camper before bed!
---
Make your child's first camping trip extra special with the Fisher-Price S'More Fun Camping Gift Set. Featuring three camp-themed infant activity toys for take-along play.
---
This barbecue play set is perfect for little campsite cooks! The grill features lights, sound and even provides smoke while kids cook. (The smoke is not hot at all and is made with a water vaporizer.) For portability and easy storage all of the contents pack into the bbq itself.
---
Your child can stay in touch with friends and family while camping. Includes a 40 page camp activity book with an autograph and address book for friends made at the campground.
---
Bring on the camping spirit with cute, camp themed clothing! Touched by Nature Baby Organics offers gowns, bodysuits, coveralls and sleepers in a Happy Camper theme for any activity or weather outside.
---
Organize small items in the Bumkins Travel Bag. Whether you stay by the campsite or explore the town– always be prepared! See what's in my travel diaper bag at all times!
---
Make sure little ones stay warm under the stars. This wearable blanket hoodie even glows in the dark!
---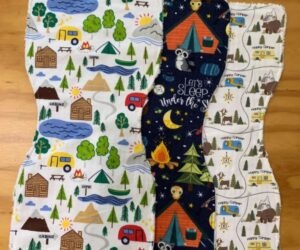 Don't forget some burp cloths by StichedByHand. These flannel prints are so cute and fun. 100% cotton cloths that are soft and durable– perfect for messy road trips.
---
How about a first birthday at the campsite? Celebrate with this adorable Birthday in a Box Little Camper Set.
---
Goodnight, Campsite highlights different types of people, RVs and activities children can recognize and relate to in the familiar atmosphere around them.
---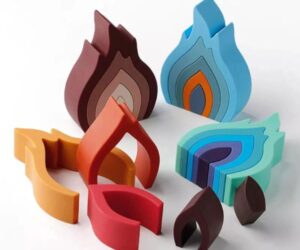 Perfect for little hands and developing minds, this campfire silicone stacker is made of food grade silicone.
---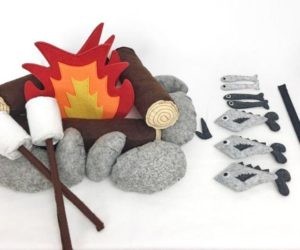 Bring the fun indoors with the Happy Camper Campfire & Gone Fishin Set by DomesticObjects. It's a safe way for our little campers to join in on campfire fun!
---
Use as a nightlight or playtime, this colorful lantern has a durable soft globe and LEDs that will last through many camping trips!
---
Full-timers or avid Rvers? Don't miss out on your baby's firsts and milestones during your exciting adventures! In fact, keep track of them on the road with a monthly milestone blanket.
---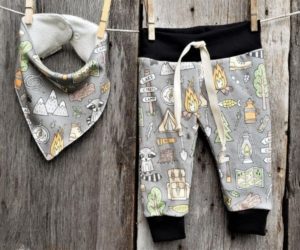 What better way to dress your free-spirited child in clothes that fit their personality and camp atmosphere around them! By no means, is camping a 'dress to impress' sort of activity… However, these adorable outfits by KinderSprouts are both cute and comfortable for the campsite. Check out their camping, fishing, cars and campers, hot cocoa, and more unique travel and nature based clothing from their shop. 
---
Gift your child a toy camper that matches your very own RV! From fifth wheels, Class A's, Class B's, Class C's, travel trailers, to toy haulers— your little traveler can have their own toy camper to play with during the family's exciting journeys.
---
What better way to light up the night with their very own light kit! Includes a flashlight, headlamp and two lanterns.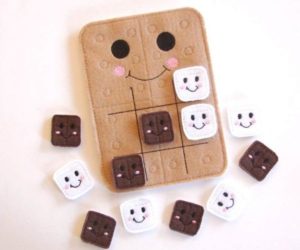 Rainy day at the campsite? Bring some fun games along– like this cute game of Tic Tac Toe! The S'mores theme is spot-on for the campsite while the handy pocket on the back helps easily store all the pieces.
---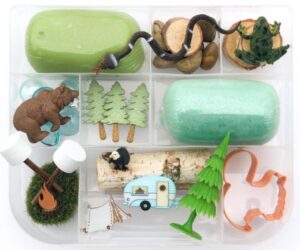 This Camping Playdough Kit comes with hours of outdoor adventure– even when the weather doesn't cooperate. Use at home or take it on the go!
---
Let imaginations grow and pretend to camp out with the Learning Resources Camp Out set. Includes 2 logs with flame, glow-in-the-dark lantern, fork, hot dog, marshmallow, chocolate bar, 2 graham crackers, and a duffle bag for storage.
---
Related posts