This post contains affiliate links, meaning I get a commission if you decide to make a purchase through my links, at no cost to you. Please read my disclosure and privacy & terms for more info.
---
Renting an RV is a great way to bring all the comforts from home along while exploring the beautiful outdoors around you. 
If you're new to the RV lifestyle or considering buying your own RV but not sure where to start, it's wise to try before you buy. 
Renting a trailer or motorhome is a great way to learn what there is to it, determine what RV is right for you and explore what the whole RV-life entails. 
See: New to RVing? Why You should Rent First before Owning
A great platform for that is RVshare. It's like Airbnb, but instead of vacation homes and condos, it involves recreational vehicles!
The Rundown on Renting an RV with RVshare
RVshare's Extensive Inventory
Making up the largest peer-to-peer RV rental marketplace, RVshare connects customers to local RV owners to help find the perfect RV rental through a wide-ranging inventory. Their search tools allows users to filter through thousands of rental units, including Luxury Class A motorhomes, Class B camper vans, Class C motorhomes, fifth-wheels, and trailers– with an abundance of layouts available, accommodations and features to choose from for the best customized camping experience.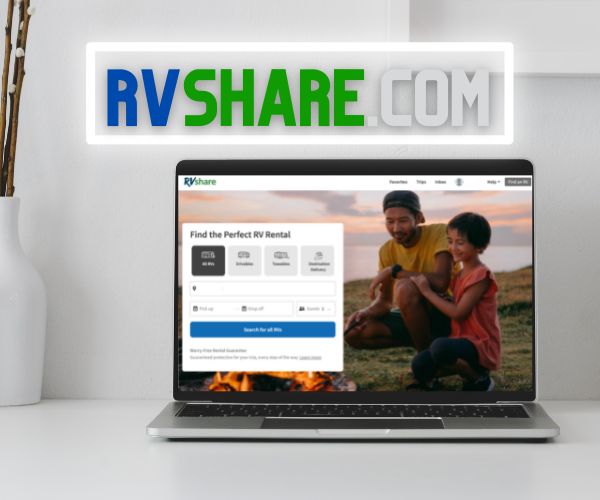 Users can refine elements such as the length of the unit, the electrical service it provides (30/50 amp), and sort through different appliances and facilities onboard. 
For example, renters may prefer a smaller unit to tow behind for their very first journey. Others may require a fixed generator and large tanks for camping without all of the generous hookups, or boondocking. On the other hand, some may want a more luxurious unit with a shower, stove, refrigerator, or TV to make it feel just like home. In fact, travelers can bring their pet along in pet-friendly rentals or select one that offers delivery where it's delivered right to the destination site so you don't have to worry about driving or towing.
The best part? Through renting, you can forget the hassles of RV ownership such as maintenance, repairs, insurance, and storage– and focus more on quality time and camping!
Secure and Worry-Free Booking
Through RVshare's secure online payment system, users can book safely and with confidence. Not only are you as the renter vetted before renting out a unit, but all owners and RVs must go through a vetting process to ensure safety, integrity and trust between both renters and owners across the site. Before your trip even begins, RVshare protects your payment against fraud and if anything goes wrong, will refund you. Likewise, if the rental is misrepresented in the listing or the owner is unreachable at the time of the the trip, RVshare will work to find you a new RV rental. 
RVshare Protection Plan
As mentioned, before booking a rental, all owners and RVs are vetted and approved for insurance and protection. At the same time, every rental is required to secure RVShare Insurance and Protection in the event anything accidental happens on the trip. When booking, an Essential Package of Insurance and Protection will be automatically included in the quote that is covered by RVShare Protection Plan, however renters will have the option to choose a different package during the booking process.
The RVshare Protection Plan Packages for motorhome and travel trailer rentals includes:
Up to $300,000 in comprehensive and collision coverage based on the value of the RV

Free 24/7 roadside assistance and free towing and tire service

State statutory limits of liability

For delivered RVs, coverage for accidental damages after delivery. 
Renters are covered in all 50 states and Canada and both renters and owners will be issued proof of coverage on a per rental basis**.
Accordingly, every rental booked through RVshare receives 24/7 emergency roadside assistance as well as access to their 24/7 RV Roadside Assistance call center with dedicated RV experts standing by if assistance is needed during your trip. If an incident arises, they have access to a nationwide network of RV service providers that can help, such as: 
Towing services

Tire services

Emergency supply delivery (necessary supplies like gasoline, water, oil, etc.)

Battery services

Lockout service

Extraction and winching services

Technical assistance services hotline

Mobile mechanic service
You can find more information on RVshare's Protection Plan, here. 
You may like: Renting RVs vs. Buying RVs | Let's Look at the Pros & Cons
Ready to Rent an RV?
Renting an RV through RVshare is easy and straightforward with a few steps to finalize a booking.
First, head over to RVshare.com and discover the perfect RV for your trip by using RVshare's search settings. Enter in your trip dates, filter by location and select the RV type with preferable features. 
RVshare makes communication between the renter and owner safe and simple. Through the dashboard, discuss the details of the trip and arrange for pickup– or the option for drop off (if offered). Firm up payment, submit your license, take a selfie (as a security measure to make sure it's you) and make sure you're covered. Finally, go through a quick demo with the owner and you're ready to hit the road.
After the trip, return the RV to the owner in the agreed-upon condition (dumping tanks, refueling, etc.) as the owner completes the Return Form. 
RVING IS BEING adventurous
Related posts