Bear in mind that this post may contain affiliate links, meaning I get a commission if you decide to make a purchase through my links, at no cost to you. Please read my disclosure and privacy & terms for more info.
---
Almost everyone knows about Google Maps these days. You're probably wondering, "What's so unique for us RVers?" Well, there's SO MUCH to this free travel service many do not know about. See how you can use these features on your next camping adventure!  
15 Awesome Things Google Maps Can Do For RVers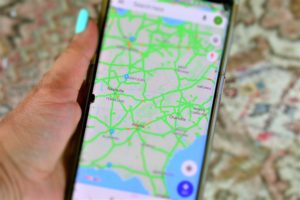 As a quick run-down, Google Maps is a free, web mapping service accessible through a web browser or as an app. The app, compatible for many mobile devices, is known for its efficient real-time navigational service providing users step-by-step directions, traffic conditions, and ETA through predicting the fastest route possible. These elements, along with customizable settings and user friendly interface, makes it one of the most favored forms of navigation on the road. 
When it comes to traveling, it's wise to run a secondary form of navigation. For example, like a built-in motorhome GPS system along with the Google Maps app. 
Why use both?
Quite frankly, it's not easy– if not, impossible, to make a U-turn in a 40+ foot motorhome towing when you miss an entrance or take a wrong turn…
It's better to double up on navigational assistance just in case one loses signal, freezes, needs updated, etc. 
Google Maps is one of our go-to travel apps and is pretty accurate, current, and reliable for our ever evolving, fast-paced world.
Besides navigating, RVers can use Google Maps for SO MUCH MORE!! 
Firstly, you can download the Google Maps app through your mobile device's app store. (The Google Play Store for Android users and the Apple App Store for iOS.)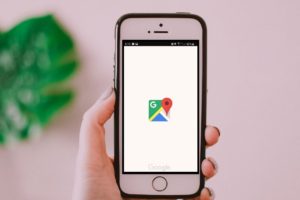 15 Awesome Things Google Maps Can Do For RVers
1.
Preview Your Route & Know What To Expect
RVing is a bit more complex than jumping in your daily driver and taking off. It's helpful to have a general outline of the trip ahead to plan accordingly. 
Before hitting the road to the next charming campground, take a look at your itinerary. Open the Google Maps App and enter in the starting location and destination. (You can also use Google Maps via desktop although some features may differ.) Preview the entire route prior to hitting "Start." Swipe the bottom tab up for further details. 
From here, Google Maps can answer questions like:
Are there traffic incidents, road closures, or construction on my trip? 

Will I be traveling to a different time zone that may affect my schedule? 

Do I need to keep some extra money nearby for tolls?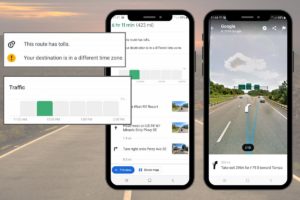 Note the helpful information displayed including: 
Total travel time

Miles to destination

Tolls on the route

Time zone changes

Traffic conditions

Step by step written directions

View photos of every step listed
SEE

YOUR NEXT MANEUVER!
When previewing the route, the app includes many step-by-step photos under "Steps & more" which is extremely useful for those who like visual content. Actually seeing the roads, intersections, and lanes takes the guesswork out of what lane you should be in, how many lanes exit the highway, or if a path looks RV-friendly or not.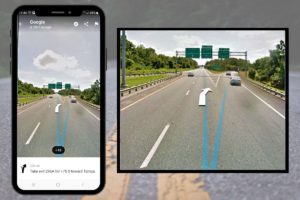 Tip: Want to arrive at check-in time? 
Set your departure or arrival times from the "Preview" screen. The app will recommend what time you should leave by. 

2.
Customize Navigation
Want to avoid tolls? See speed limits? Configure hands-free voice commands? 
Customize your Google Maps app "Settings" to meet your preferences and better assist you on the road.
Start directions > swipe the bottom tab up > select "Settings" > customize your preferences.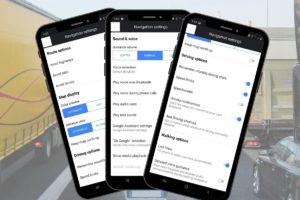 3.
Access Google Maps Offline
Nothing is more stressful than going through a busy, unfamiliar area and the GPS freezes! 
Amazingly, the Google Maps app supports offline access! 
Open the Google Maps app on your phone or tablet. Navigate to the location area on your screen you would like to view if signal strength is lost or weak. From the top right menu icon > Offline maps > Select Your Own Map > zoom in or out of your preferred area > tap Download.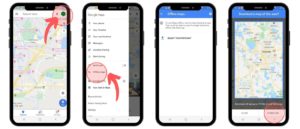 When offline, you can still receive directions and search within the downloaded section.
Tip: Worried about using up your mobile data? Downloading and accessing an area of Google Maps is great for conserving data. Remember, you will need data to first download the section of map for offline viewing. Be mindful that downloading maps will use up storage space on your device. 
DON'T wait until you are in a sketchy service area to try to download an area of the map! It's wise to download this before hitting the road. 
4.

Add Multiple Stops

All road trips need midway stops, right?

Need fuel halfway? Want to see a historic landmark along the trip? 

Plan ahead and add multiple stops to your itinerary.

Tap the 3 dots in the top right corner > select "Add stop." From here, multiple stops may be added, even dragged and dropped into a preferred order.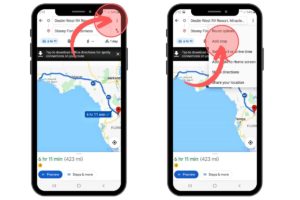 5.
Search Along Your Route While Navigating
Users can search for locations in the midst of traveling. Is it just us, or does someone always have to use the restroom an hour into the voyage?! Bathroom breaks, hungry bellies, the fuel light comes on– things are bound to come up en route. 
With directions running, swipe the bottom tab up > tap "Search along route" > in the search bar enter your preferences OR use the icons. Once the location is selected, it can be added as a midpoint stop.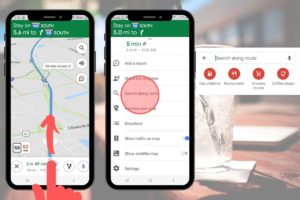 6.

Explore Around You

The Explore Tab is pretty nifty in offering recommendations for restaurants, cafes, parks, gas stations, and events in your area. It even shows ratings, hours of operation, descriptions, and photos. Simply swipe up from the "Explore Nearby" tab at the bottom of the main screen.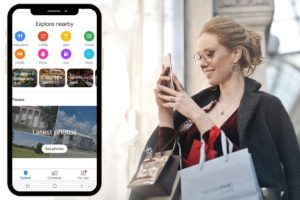 7.

Save Your Favorites

Over time, you'll discover amazing places that aid in travel or are the beginning to many wonderful memories. Whether they are places like RV-friendly fuel stops, campgrounds, or top-notch luxury resorts, you'll want to remember these favorites for future trips. 

Save your favorites by selecting your desired location and tapping the "Save" icon. Save it to your "Favorites" folder or create a new folder and rename it to your liking, such as: "Places I Want to Go" or "Next Vacation Trip".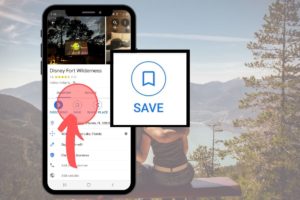 8.

Check Current and Future Traffic

Google Maps has an awesome feature predicting traffic conditions in your area. To do so via app, select the layers button > Traffic.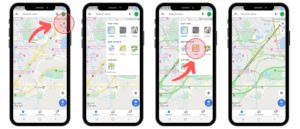 For future traffic predictions using the app, tap on the "Directions" to your location > tap on the three-dot menu button on the upper-right and select "Set depart & arrive time". From here, different traffic conditions are displayed based on the selected time.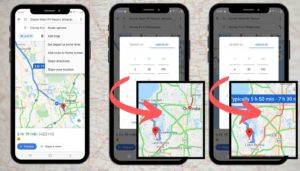 On the desktop, view traffic by tapping the hamburger menu in the too-left corner > "Traffic" > from here, you may choose between "Live traffic" and "Typical traffic," which will allow you to see predicted traffic patterns at specific times.
9.

Use Satellite View 

THIS IS ONE OF THE BEST FEATURES FOR RVING!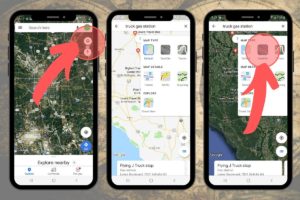 Why? Here's two amazing uses:
Finding "RV-Friendly" Midpoints 
Being a visual person, I like to SEE what is RV-friendly for our Class A motorhome and toad before getting there. 
In satellite view, zoom in anywhere (even while directions are running) to check a place out. From the bird's-eye view, RVers can get a good idea whether a premises is suitable for maneuvering their rig or not based on structures for size reference such as buildings, parking lots, the number of parking spaces, and/or other vehicles in view.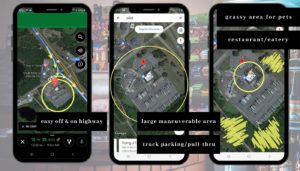 Satellite View can show you if a particular location has:
Easy off and back on to the highway

Large maneuverable area

Number of parking spaces

Truck parking spaces

Pull-thru spaces

Area for pets

Fast food/eatery nearby 
You may like: Finding RV Friendly Gas Stations
Another use for satellite view:
2. Find Your Way Around the Campground
Have you ever been to a large resort and not know your way around? While most parks offer site maps, these often get left behind in the RV. 
However, most people have a phone on them nowadays! Select Satellite View for finding your way around the campground property.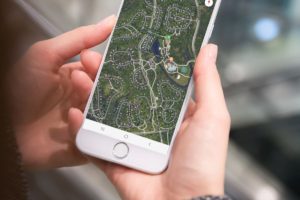 10.

Never Forget Where You Parked 

Ever forget where you've parked? Maybe forgot which site number your camper's in while exploring the property?

Thanks to the Google Maps app "Save your Parking" feature, users can drop a pin where they've parked. 

Simply open the Google Maps app > Tap and hold your screen right where your vehicle or site is (right on the blue dot where you currently are). A red location icon will appear as a "Dropped Pin" > Select "Save your parking". You can also enter in your site number under the parking notes.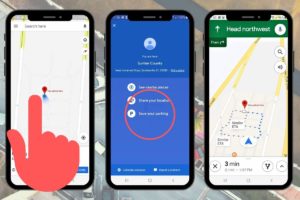 Next time you're at the camp store or exploring the property and lose your sense of direction, open the Google Maps app right from your phone and see the location of your saved pin. Start heading in that direction! 
Tip: View in Satellite mode for a more detailed bird's eye view of landmarks, roadways, and structures to aid in finding your way.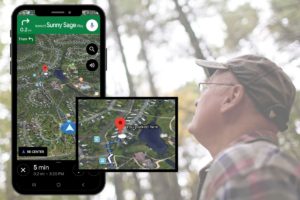 Another Tip: Tilt Your Phone to Guide You. Sometimes it can be troubling figuring out which direction to head in. Although you are looking right at a map, your orientation may be unknown.
Tilt your smartphone in different directions. Your blue location dot will cast a shadow to point you in the right direction. 
Use this at campgrounds, amusement parks, large shopping areas, and more! 
11.

Create Your Own Private Google Map

Google Maps incorporates a very cool feature allowing you to build your own custom itinerary. 

With countless customization possibilities, you can create a bucket list trip, organize your locations, view your favorite stops, and so much more.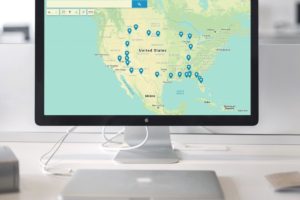 Tip: You can only create a map from a desktop, however, you can view it within your Google Maps app on your phone or tablet for real-time directions. 
To create a custom map, open Google Maps on your desktop and click the menu button in the top left corner. Click Your Places > Maps > Create Map. Name your map, enter in a description if you wish, and start adding locations!
Google Maps provides the ability to print and share a custom itinerary with anyone. To share your map, click on the "Share" button in the top-left corner. 
12.

Share Real-Time Location

The Google Maps app lets you share your current location and displays it in real-time on the receiver's device. 

This feature is helpful when traveling in groups or to let family and friends know where you are on your adventures. 

Tap the menu icon and select "Location Sharing". Choose who you'd like to share your location with and for how long they are able to view it.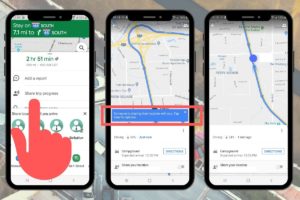 13.

Use Voice Commands While Driving

Unless you have an RV copilot capable of searching for you, voice commands are much safer for you and others on the road. Simply say, "OK Google," and a voice command such as:

"Find gas stations."

"What's my next turn?"

"How's traffic ahead?" 

"What road is this?" 

"What's my ETA?"

"Avoid tolls."

"Navigate home."

"Exit navigation."

It's important to never take your eyes off the road, and if phone calls or texts are needed, instruct your phone to do so with voice commands!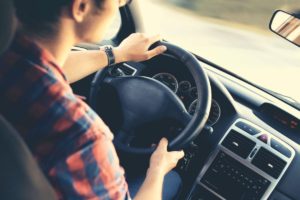 14.

Explore At Eye Level

Street View is a cool feature provided by Google Maps that replicates the view as if you were right in the moment, standing in a particular location looking around.

For example, have you ever missed an entrance to a campground or resort? 

This feature allows you to take a look at a location's business front before arriving!

Note the campground's "Entrance" sign, buildings, landmarks, driveways and more to aid in finding a location's entrance easily.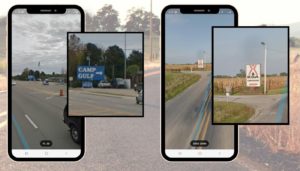 In the Maps app, tap the layers button in the top right hand corner > select "Street View" > tap on a location or anywhere on the blue highlighted "Street View" path > next, tap the image of the location displaying in the lower left corner. Large Images will also appear by zooming in and tapping anywhere you wish on the blue highlighted Street View paths. With the large image displayed > tap the compass icon in the upper right corner > hold your phone up and move it side to side > the view will shift to replicate a "street view" as if you were standing there and looking around.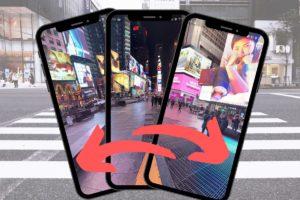 For desktop users, locate the little yellow "Peg Man" in the bottom right hand corner. Click and hold to pick him up and drop him anywhere you would like to view as "Street View".
15.

View Your Timeline

 

The Google Maps app includes a neat Timeline feature. 

As adventurous travelers, we experience countless campgrounds, attractions, scenic overlooks, friendly pit stops, and more. Google Maps can "remember" these locations and file them away for handy future stops. 

Click the top menu > tap on "Your Timeline" > from here check out all of the locations you have visited. Sort by day, place, city, or country.

When traveling through different states, it's convenient to refer back to your Timeline to see places you've stayed. Maybe you loved the large pull-through sites one RV resort or nice bathhouses at another. Google Maps makes a great "travel journal" and keeps all of the details just a few clicks away.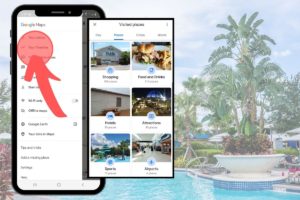 ---
All in all, Google Maps can be such a convenient service for RVers. Users can navigate, research, plan, share, explore, document trips, and more– all through this one app! Not only does it provide efficient directions down the road, it can enhance adventures and improve experiences when used to its fullest potential. 
RVING IS BEING resourceful
Related posts