Bear in mind that this post may contain affiliate links, meaning I get a commission if you decide to make a purchase through my links, at no extra cost to you. Please read my disclosure and privacy & terms for more info.
---
New to RVing or not, choosing the perfect campground for your stay can take a bit of researching. Not all campgrounds are alike, nor are the amenities offered. 
Keep these five points in the back of your mind when choosing your ideal campground!
How to Choose the Right Campground
Budget
First and foremost, budget plays a big role in campground selection. Price wise, campgrounds vary from one end of the spectrum to the other. Naturally, business location, rig accommodations and amenities influence campground pricing points. 
Typically, if you are looking for more of a rustic, laid back camping experience where hookups or amenities are not a top priority– a campground with minimal amenities or dry camping site– may be a more price-friendly option. However, this isn't always the case. For example, certain campgrounds near national parks or popular attractions may offer the bare minimum amenities where you're simply paying higher rates for where it's located.
Get ready to pay higher rates at all-inclusive, resort-style parks, where there's top-notch amenities, activities on-site, restaurants, and plenty of accommodations for your rig. Looking for a deal? Look into campgrounds with special season rates, discounts for longer stays, or special RV Club Membership discounts.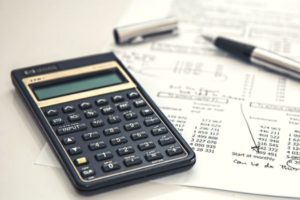 Besides the cost of the campsite, it's also important to take into account the cost for fuel, supplies, meals, attractions, excursions, and other variables related to the trip. (It's wise to always round up on the potential costs and even plan for any unknowns along the way.)
Fuel is a significant factor when budgeting any RV vacation. To get a feel for what fuel will cost, jump on to the RV Parky App. From here, you can plug in a few details and see what to expect for fuel costs.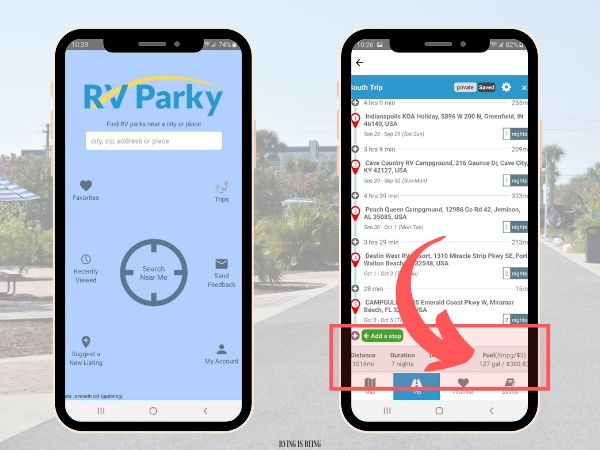 Time
Have a weekend off or a whole week? Obviously, the amount of days you have off influences the location range of a particular campground. Keep in mind the time you actually want to spend ON the road. Do you want to get there quickly to start your vacation? Or, do you look forward to the long cruise and sightseeing along the way?
Like researching fuel costs, RV Parky is also great for finding campgrounds and figuring out how much time will be spent driving. Remember to factor in some time for pit stops and resting between long periods behind the wheel!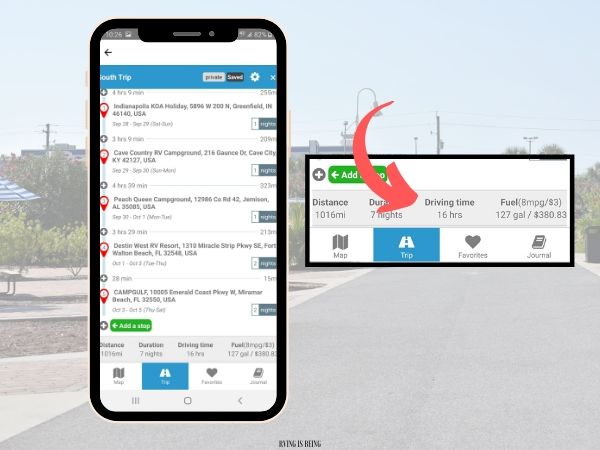 The time of year also plays a role in choosing the right campground for you. For example, many campgrounds are seasonal businesses offering top-notch activities during the heart of summer while promoting early/late season specials at the beginning or end of their camp season. Other campgrounds offer certain amenities, specials, and activities at different times throughout the year. Holidays, breaks, or festivals can also impact the availability, price, and overall atmosphere of a campground. 
Location
Determine your destination area. Remember, your time off and overall time you want to be behind the wheel will greatly help in determining the general radius of searching for campgrounds. 
If you're an RVer open for anything, then the possibilities are endless! Start researching areas based on other elements that play into location, such as: weather; (do you enjoy warmer or cooler temperatures?) activities; (do you want to play at a beach, go hiking, or explore cave systems?) or sights to see; (are you interested in historical monuments or fall color tours?) Get online and start searching, "Things to do in _____." (Enter a city or state.) 
Furthermore, consider if you'll want a particular campground location close to attractions, sightseeing, groceries or laundry– or far from the hustle and bustle. For example, will you need groceries at some point? Will you need more propane in a primitive location? Do you want to be secluded and away from loud highways? 
Start from narrowing down a general radius and then research potential campgrounds and their surroundings!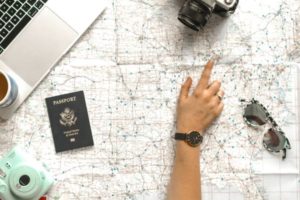 Rig Requirements
Knowing what your rig requires is a MUST in deciding which campground will work for you. You will need a campsite that can fit the size of your RV and with the correct hookups. For big rigs especially, not all sites are a one-size fits all!
In detail, some offer 30 and/or 50 amp power, water, and sewer connections. Where other locations may only offer a couple. For a larger motorhome or 5th-wheel, 50 amp power is crucial for running multiple air conditioners and appliances, whereas a large pull-thru site may be top priority for RV's towing a vehicle, boat, or trailer behind. 

Amenities
Amenities differ across campgrounds, parks and RV resorts. (Check out some of the differences between Campgrounds, RV Parks, RV Resorts, here.) In fact, amenities can vary and be tailored down to specific sites themselves.
In detail, certain parks can offer a pool, spa, WiFi, a clubhouse, fitness center, laundry, bathhouses, tennis courts, dog parks, eateries on-site, and more. Furthermore, specific sites can have different amenities like extended patios, picnic tables, grills, patio swings, and even their own on-site fenced-in doggy areas.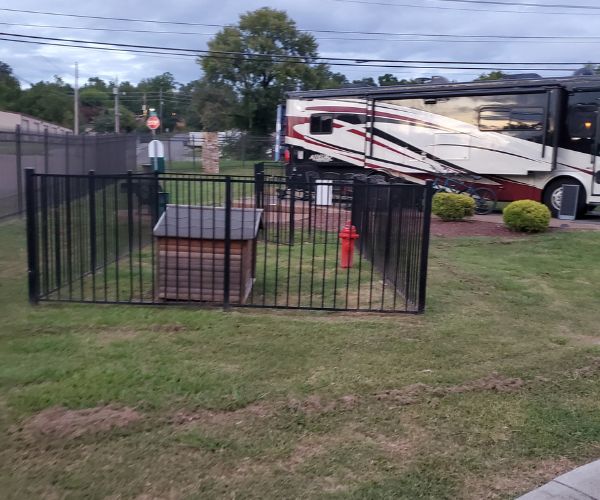 Features and amenities can be related more to personal preferences, however certain amenities can even be necessities to other campers. Perhaps you need a handicap accessible site for your stay. Another may require a reliable WiFi connection to work remotely. A large, heated pool might be on the top of the list for a family vacation where the choice of campground is solely based on if it has a pool or not. Want to bring the family pet along? Most campgrounds allow pets, however some restrict certain breeds. Whether you require or prefer certain amenities for the family, make sure to research what each campground has to offer!
Amenities can be filtered down to your specific preferences through Good Sam, RV Parky, and Park Advisor. Google Maps also makes it extremely easy to view photos, check business websites, read reviews, and easily contact campgrounds with just one click!
---
Summary:
Budget: Consider the campsite fee, fuel costs, and other expenses such as meals, outings, excursions, and supplies. Always budget for emergencies and the unknowns!
Time: How much time do you have and want to spend actually on the road? Also, take into account the time of the year it is– this can influence pricing, availability, and more!
Location: Determine the general destination area. How many miles would you like to venture away? Consider elements like weather, activities, or sights to see in a specific area that are at the top of your list. Don't forget to take into account what's near or far from your potential campground location. Do you need laundry, groceries, or propane nearby? Will a close highway disrupt your sleep at night?
Rig requirements: Do you require 50 amp power, sewer, or water? Do you need a "Big Rig" site? Are you towing and need a pull-thru? Narrow your search results down by entering in your RV requirements. 
Amenities: We all have our preferences or requirements that are important to us! Narrow down your search results by finding a campground that includes what you and your family desires! 
Finally…
Get online and start RESEARCHING! There's a variety of online resources and apps to help in choosing the perfect campground: Park Advisor, RV Parky, Good Sam, Google Maps, and good ol' Google! 
Read the reviews, view campground photos, estimate costs and driving times, and look at the surroundings. Call the potential campground directly and ASK QUESTIONS!
---
RVING IS BEING prepared for the journey ahead.
Related posts