Bear in mind that this post may contain affiliate links, meaning I get a commission if you decide to make a purchase through my links, at no extra cost to you. Please read my disclosure and privacy & terms for more info.
---
Thinking about a seasonal campsite?
With unlimited availability, affordability, and without the hassle from traveling– it could be the perfect getaway for your camping family!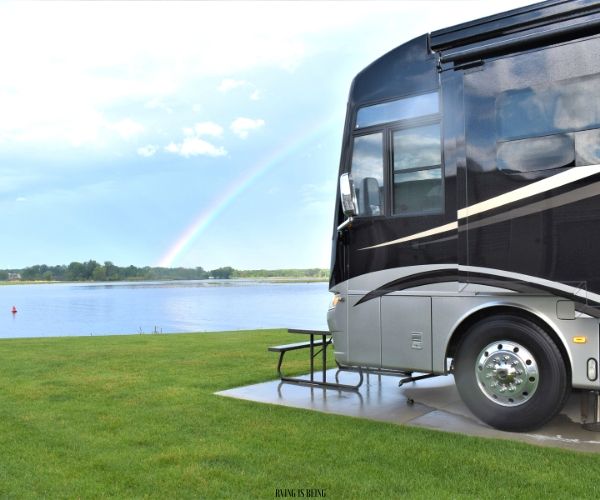 What is seasonal camping?
A seasonal campsite is just like a regular campsite rather, rented for a long term. As the name suggests, a "seasonal," is generally over the whole camping season, which typically runs from the months of April to October in many northern campgrounds. Head south, and you'll find campgrounds and RV resorts offering seasonal sites on a three-month, six-month, or year-round basis.
Ultimately at any location, seasonal RVers tend to leave their camper right on-site for the extended duration, versus routine travel. This gives couples, solo travelers, or camping families an amazing place to retreat to, similar to a second home, getaway cottage, or vacation rental– but with their own RV parked on their own piece of paradise!
---
Why choose seasonal camping over traveling?
Having a seasonal site is like having a vacation home! Plus, it allows you to do what you love the most– GO CAMPING! Not to mention, it's around your own schedule without the hassle of making reservations, packing up the camper, or staying in hotels. We'll go over a long list of amazing benefits below, but first, let's cover some basics! 
---
Differences between campground "seasonals"
While we are going to get into everything "seasonal" here, it's important to know that seasonal campsites differ considerably from campground to campground. While the overall "long term" camping idea stays the same, so many components vary from one to another, making it a not so "one-size–fits-all" deal. 
In detail, price points, amenities, and activities are the most common differences among RV park seasonals. Likewise, so are policies and customs. For instance, some RV parks serve clientele 55 and older while others tailor activities and events to the younger crowd.
Additionally, there are luxury resorts that are motorcoach only with no travel trailers admitted, yet other campgrounds that allow every camper type except big rigs due to their size. Some campgrounds impose strict 10 year or newer guidelines, where others are more lax on this policy.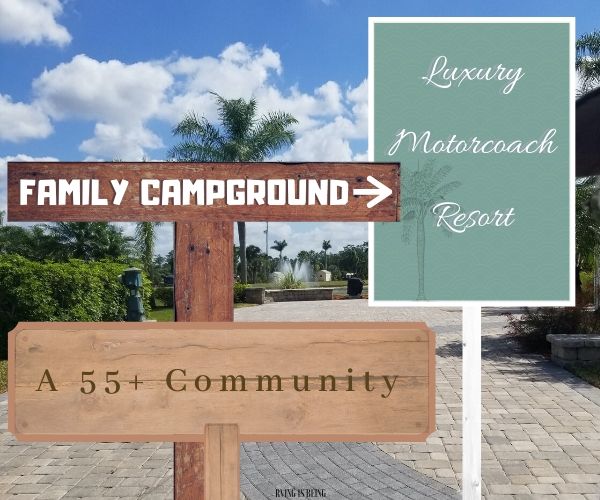 Although there are vast differences when it comes to searching for a seasonal campsite, the good news is, the different components make it possible for almost every camper, couple, or family to find the perfect seasonal site that fits their bill, rig requirements, needs, and preferences. It just takes some searching!
---
Let's Talk about Seasonal Camping!
What does a seasonal-site include? 
Like mentioned above, seasonal sites vary just like elements do between campgrounds and RV resorts. For example, you'll find campgrounds with simple setups and minimal amenities placing guests into the heart of the wilderness with little in between. On the other end of the spectrum, campgrounds have evolved to attract a whole other group of clientele that aren't particularly interested in "roughing" it. There are all inclusive RV resorts built around lavish style and luxury services which offer guests all of the bells and whistles, from full hookup, concierge service, to infinity pools and onsite spa treatments. 
Depending on what the campground offers, seasonal sites generally include the lot and site, hookups, campground facilities, amenities and activities. Take a look at these in detail:
Site Lot: This includes the area to park the unit as well as the yard. Depending on the campground location and atmosphere, lots can be inland, waterfront, heavily wooded, or bare and concrete. Additionally, lots will either be back-in, pull-in (these are generally on waterfront sites), or pull-thru. Lots can be undeveloped or include premium landscaping and hedge barriers.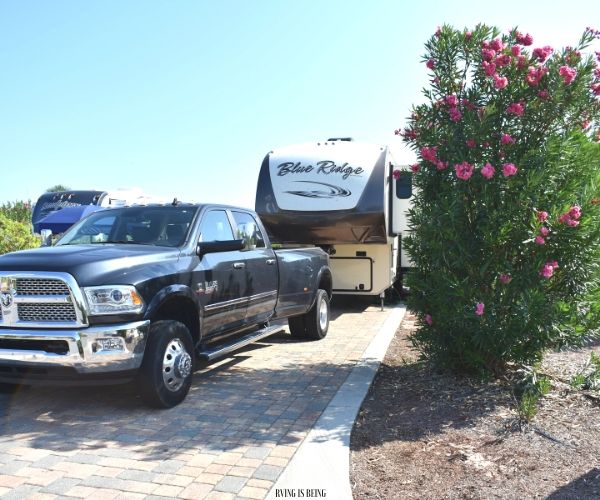 Site Pad: A site pad is what the rig will be parked on with hookups nearby. The site pad itself can be anywhere from a gravel or a grass area, to a concrete pad or brick pavers. It generally includes space for the unit and at least one personal vehicle, if not two. 
Hookups: Electric and water hookups are generally offered at seasonal sites including 30 amp and/or 50 amp service. Sewer hookups may be conveniently available on-site for each individual RV unit or in the form of a dump station shared among the campground. For this off-site system, campers either have to relocate their unit to the dump station to empty the holding tanks or they can empty their tank contents into a portable holding tank and transfer it to the dump station. Some campgrounds even include a weekly RV pump-out service where a company routinely arrives on site for individual camper pump-outs. 
Site Amenities: Your typical seasonal sites can be unfurnished, providing campers room for their own outdoor furniture and gear. On the same note, we find many sites to include a picnic table, firepit, patio area, and even a porch swing and storage shed. Look into RV resorts (more of a resort-style location) and you'll find even more spacious patios, sitting areas, permanent storage, corresponding boat slips, and even on-site coach houses!
Campground Facilities and Amenities: Campground facilities and amenities can widely vary across campgrounds and resorts. They can include but are not limited to: gated access, on-site propane, bathhouses with showers and restrooms, laundry centers, playgrounds, game rooms, mini golf, horseback riding, gem mining, pools and spas, lazy rivers, swim up bars, adult pool and spas, fitness centers, seasonal mailboxes, on-site sports courts, communal kitchens, clubhouses, pavilions, boat launches, fishing piers, docks, marina slips, designated parking for boat trailers and car trailers, designated swimming areas, fishing ponds, walking paths, dog parks, cable channels, and Wi-Fi.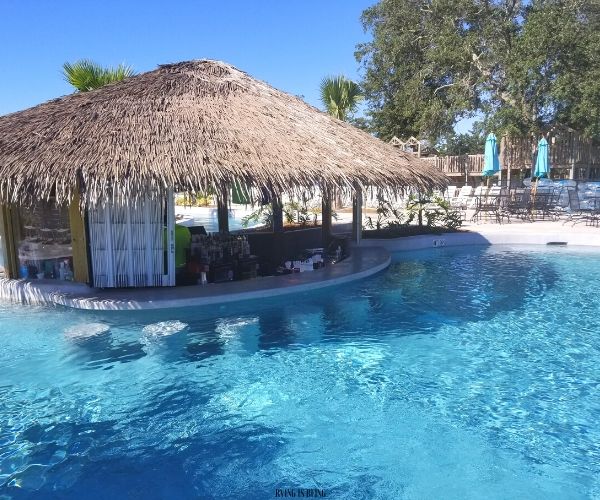 Activities: Campgrounds are catering more and more to their clientele! Some incorporate movie nights, game nights, arts and crafts, pancake breakfasts, or live music for campers to enjoy. Fitness, yoga, or swim Pilates may be hosted encouraging health and wellness among the camp community. Others plan an abundance of activities for holidays. For example, many host Halloween activities where there's costume contests, pumpkin carvings, camper decoration contests, haunted hikes, hayrides, and campsite trick or treating.
What else is included? UNLIMITED CAMPING!!!
---
How much does seasonal camping cost?
Aside from actually purchasing a site (such as owning a condo)– which is a whole other ballgame, a seasonal site, which typically runs six months, can start anywhere around $1,000 and go up from there– even reaching $10,000. 
Hold tight, you will find a full breakdown on seasonal camping costs along with standard fees and potential expenses below.
---
Benefits of seasonal camping
Campground Availability
Ever struggled to get a campground reservation around the 4th of July, Labor Day, or Halloween? Some campgrounds suggest booking out months in advance! Despite the time of year, a few parks seem downright impossible to get into no matter what day it is during the summer! Having a seasonal means, your site is guaranteed! 
Last Minute Plans
Having a seasonal campsite gives you something to do at the very last minute. Like above, booking sites at different campgrounds takes preparation– sometimes even months in advance! Unfortunately, we don't always know our schedule months in advance. Not only that, but committing to plans that far out is like crossing our fingers and hoping that work doesn't call us in or that no one gets sick right before vacation. Let's say you finally get vacation time approved or the kid's sports activity cancels. Instead of trying to scramble and get plans together for a fun family weekend, simply load them up and go camping! No reservations needed! 
No Set Up or Tear Down
No more arriving late at night trying to back in, hookup, and unpack all of the items that have rattled and rolled around throughout the journey. The hard part is already complete! When you arrive at your seasonal site, your camper is already parked, hooked up, opened up, and stocked! When leaving, simply lock up and go! There's no retracting slides, stowing breakables, hooking up the trailer, or towing it! 
No White-Knuckling it
Driving a large trailer or motorhome can be stressful! Not to mention the traffic, maneuvering sharp turns, and busy, car-jammed cities. Some find that the many hours on the road is simply not for them. Many choose the seasonal route to still enjoy the wonderful camping experience but skip the driving, parking, and hours on the road. 
No Packing or Unpacking
Anyone else feel like they need a vacation after unpacking from a vacation?! Whew! Staying on-site means no packing or unpacking after EVERY. SINGLE. TRIP.
Freedom to Explore
Seasonal sites are similar to owning a vacation home. Then again, know what's even better? Picking up that vacation home and taking off whenever you want! Having a seasonal site does not mean you are stuck on-site at that same campground the entire season! It means the site is yours (at that location) and you can grab your trailer and go explore other campgrounds and then come back to your own, always-available site!  
Choice in the Site
Almost all campgrounds let you pick, or at least have a choice in your desired seasonal campsite (depending on what's available, of course). No more worrying about getting randomly plopped into a site you might not like!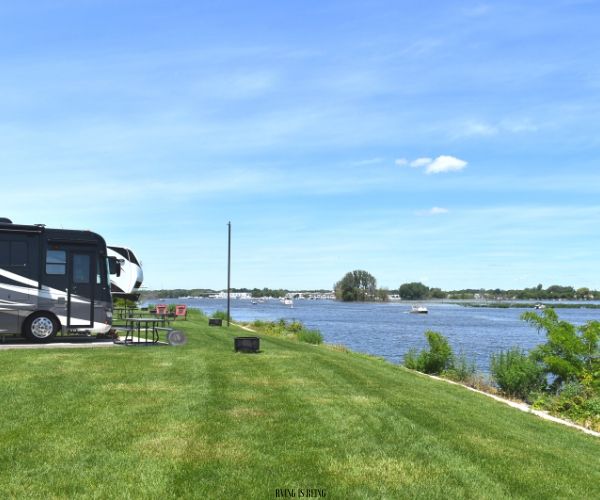 Available Amenities
Having a seasonal site means having full reign of the amenities offered! Campers will never be bored with pools, hot tubs, mini golf, sports courts, and game rentals. High speed Wi-Fi may come in handy for those digital nomads or virtual commuters where cable channels may be a luxury many don't get at home. With a fitness center on site forget the separate gym membership! And when you are ready to hit the showers, use the bathhouses instead of your RV's, with on-demand hot water and spacious stalls!
RV Storage
Having the camper on-site, ready to be used, is super convenient. Besides that, do you know what else it means? The RV is not at your house taking up the entire driveway, parked in your yard, or racking up fees in a storage facility. 
RV Off-Season Winter Storage
Speaking of storage, do you know that many RV parks and resorts offer seasonal campers winter storage on-site? So, you already get the convenience of not having the RV take up your driveway at home during the season. With winter storage offered, you don't have to find some expensive place to store your RV unit during the off-season winter months. 
Affordability
Seasonals offer an affordable vacation option for those who frequently like to camp. Doing so may be well worth the seasonal costs rather than paying nightly fees. Accordingly, seasonal sites can cut down on the gas money you would need to frequently travel in your RV. Although you must still travel to and from the seasonal site, you can opt for a more cost-effective vehicle while your 8-miles-to-the-gallon ride resides on-site. On the same note, seasonal camping also decreases trailer and tow vehicle wear and tear from traveling. As mentioned above, keeping it on-site eliminates RV storage facility fees which are costly and in some places very hard to find. It's also important to realize if you use the site for a majority of those six months– that's utilities at home that you are not using–thus saving on (electric, water, cable, Internet). Likewise, if the campground offers a fitness center, save on gym memberships for half the year! 
Personalize Your Site
Many people love decorating their seasonal site with beautiful plants, outdoor decor, and hanging lights– personalizing their own special piece of paradise to retreat to. Depending on the policies and rules outlined in the seasonal contract, many campgrounds allow small sheds (to store bikes, outdoor chairs, and other gear in) while others allow decks to be built, steps up to the RV, dock boxes, mosquito rooms, and other add-ons, making your site the perfect home away from home.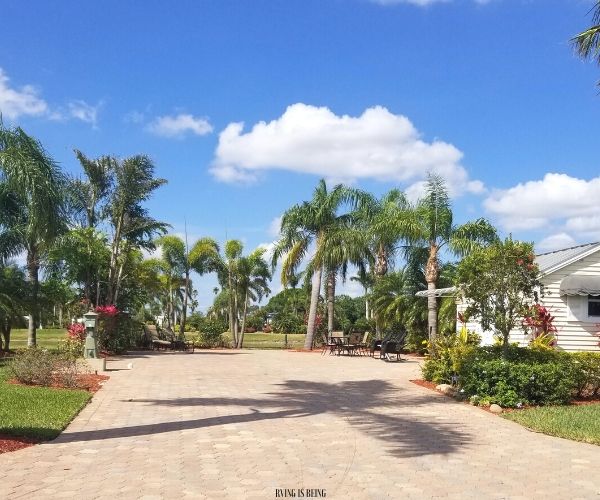 Improves Wellness
A seasonal site gives us something to look forward to. Knowing a fun bonfire, nap in the sun, or kayaking activity is awaiting, increases our positivity and gives us that little extra boost of motivation needed to finish out the work week. Having a place to go, to retreat to, improves our mood and overall well-being as we can decompress, relax, and regroup in a positive atmosphere. Simply being outside, getting vitamin D and fresh air is great for our health. On the same note, the positive atmosphere may inspire you to take on a new outdoor hobby or two, join a group fitness class, or have a wonderful time making friends at game night!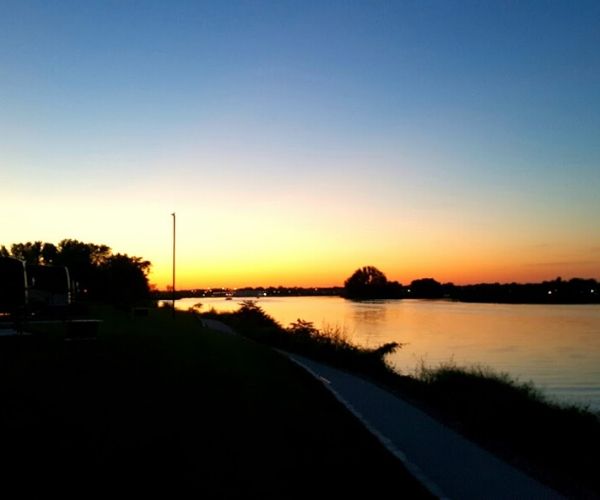 Lifelong Friendships
Seasonal camping will open the door to some amazing lifelong friendships. From our own experience, we have made some amazing friendships that have started from parking it on-site for the season!  
Commitment Just for the Season
Having a seasonal site is like having a vacation home, yet it's not as permanent. Sure, you are financially committed for the season, however, after the season ends you are free to pick a different campground or simply not sign any more seasonal contracts. Plus, if you decide that the seasonal life is not for you, no need to worry about selling your site. You get to walk away– or roll away, for that matter– with no strings attached. 
---
Things to think about
It's a Commitment
On the same topic, although a seasonal is less permanent than buying a site or vacation home, there is still a contract in place. Yes– you can walk away in six months, but for the dollar amount– it's obviously something to not act impulsively on. Remember, this is a place that you will be spending a LOT of time at! It's extremely important that you do your research, weigh the pros and cons, read the fine lines, and absolutely love the campground before hopping on the seasonal train! 
Do You Meet Their Requirements?
First and foremost, when considering a particular campground seasonal, it's all going to boil down to whether you meet the requirements in the first place! Do they have a "10 Year Or Newer Rule?" (Some parks are very strict on this rule. Others are more lenient whether it's 10 years old or 20 and will approve it as long as it is in good working condition and not painful to look at. This policy is simply put in place to make sure that RVs look pleasant on site and will not be a liability; leak, catch fire, damage property, or harm others on the property. (Typically, it requires sending over a few pictures of your unit and you are good to go!)
Likewise, does the campground in question serve a specific clientele? Is it a 55 and up park? Is it Class A only? Is it Big Rig accessible? Are pets allowed? Do they have the hookup requirements your rig needs? 
These are basic determining factors that can quickly narrow down the search process so that you can move on to the other fine details. 
Now, Do They Meet Your Requirements
Next, you may meet their requirements, but do they meet yours? Consider what you want and need in a seasonal site. For example, is it a safe and gated premise, perhaps even offering security? Do they offer 50 amp service that your big rig needs to run all of the ACs? Are sites concrete, level, and built for rain runoff? 
Can you check-off the top amenities on your wish list such as a pool, fitness center, or laundry facility? What about a bark park for your furry companion tagging along? Do they offer dependable Wi-Fi for you to work remotely? How about cable television for rainy days? Do they allow golf carts you can bring to maneuver through the property? Do they have a place for your boat and boat trailer? Do they offer onsite winter storage? Accordingly, what about the general campground atmosphere? Can you see yourself waking up and loving the view out of your motorhome window? Can you picture yourself enjoying other's company or would you rather have peace and privacy, with a secluded site tucked back into the wilderness?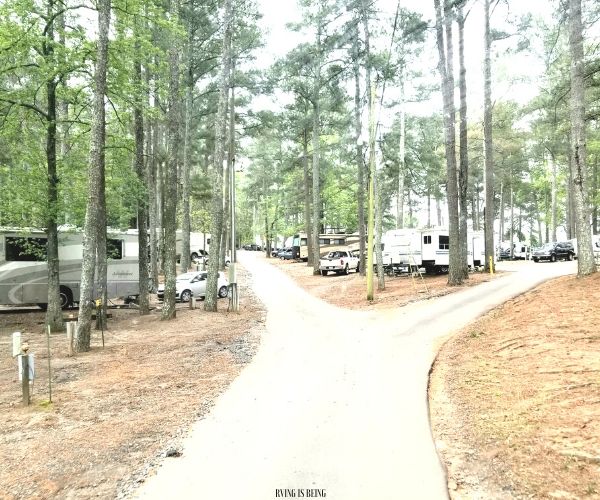 Everyone's preferences are different when it comes to the "perfect" campground. To some, less is more, where camping is their way to leave the busyness, electronics, and enjoy nature and the peace it brings. Hand them a fishing pole and they are good to go! On the other hand, some want the luxurious amenities, scheduled events, and sense of community where group settings and interacting is encouraged. There's no right or wrong when narrowing down campgrounds to your preferences. It is purely about doing what you love and finding the right campground that compliments that.
Is it Worth it? 
Consider how much you will use a seasonal campsite. Many campers choose to live in their seasonal for the season– making it well worth the seasonal rate. Likewise, if you spend several months a year camping, getting a seasonal site may be a better financial route rather than paying separate nightly rates. However, those who will not use it the majority of the season, need to determine if a $5,000 or so seasonal site will be worth it or not. Running a few numbers may reveal that nightly camping is financially the best route for you. A good start is pulling out past reservation confirmations. How much did you spend on camping last year? Don't forget to factor in fuel costs, attractions, entertainment, and activities.
Price isn't the only factor that makes a seasonal worth it. Although we'd all love to get our money's worth out of something to justify purchasing it, sometimes its worth comes in different forms. Perhaps unlimited availability, convenience of having the camper already there, quality time together, laughter around a bonfire, and tons of amazing memories can make it well worth the price tag. 
Location
Unless you plan on living at your seasonal site for six months, you'll want a summer seasonal close enough to commute to so that you can get out of work on a Friday afternoon and have plenty of time for a nice bonfire that evening. It's important to compare what the campground has to offer with where it is located. Those may be willing to drive a bit farther for a campground with top notch amenities, nearby shopping and dining, and tourist attractions, rather than stay at a closer campground with considerably less going-ons. At the same time, locations too far away may be a hassle due to summer traffic and long hours on the road.  
The Costs
As we quickly touched on the cost factor above, let's explore this in detail. 
A seasonal site can start anywhere around $1,000 and go up from there– even reaching $10,000. Although these prices are from one end of the spectrum to the other, they greatly depend on: 1.) the campground or resort's location and  2.) the amenities they offer. Naturally, an RV resort on the oceanfront is going to start at a different price point than an inland resort. Likewise, a campground near a tourist town or near well-known attractions will be priced higher than those outside of the same city offering similar amenities. 
Additionally, you'll find many parks with a set of seasonal rates pricing each type of seasonal they offer differently. For instance, waterfront sites and full hookups typically find themselves at the top of the tier, while inland sites with full hookups would be next, then down to inland sites with only water and electric hookups would be the least expensive out of the set. On the other hand, some campgrounds base their rates off of people using the site and up-charge for each additional person on-site. 
No matter what the starting rate, flat rate, or pricing method campgrounds use for seasonal pricing, we often find ourselves staring at that big, shiny price tag and fail to recognize all other expenses and potential fees. Although that big number is what everyone "ooo's," aahhh's," or perhaps, "uh-oh's" over, it's important to consider all other costs that can add up over the months.
Let's break these expenses down: 
Seasonal Site Fee This is what's on that "big, shiny price tag." It will run anywhere from $1,000 a season and up. 
Seasonal Site Fee Payment A seasonal site payment is going to be a big chunk of money–whether it is broken up in payments throughout the season or all at once. If you are paying by credit card, consider the credit card fees, as they will most likely be passed on to you. (Many businesses ask for payment in the form of a check for this reason.) Of course, any business taking in money has to pay credit card fees. On big payments such as a $5,000 site, this can cost the campground anywhere from $100 to $250 just in credit card fees! If this is not noted in the contract, ask! 
Electric Electric can be managed a couple different ways. For one, it can be all inclusive with the seasonal fee. Secondly, campgrounds can charge an additional $X amount each month for each air conditioner and/or refrigerator your rig has. Thirdly, a campground may charge an additional flat rate for each camper's electric usage each month. (For example, every camper pays $50 a month for electricity regardless of the camper unit type or how many AC's it includes.) Fourthly– and the most common way campgrounds manage seasonal electricity– is that sites are individually metered and each camper pays for what they use each month. Meters generally read at .17KWH. Charges are either paid to the RV park or to the utility provider.
A big question is why do seasonals have to pay electric fees when nightly campers do not? Overall, seasonal campers are already at a discounted camping rate for the entire season. Making those pay for their own electric usage promotes conscious electric usage and prevents electricity abuse. If campgrounds did not include this fee, many campers would not be as mindful of use and leave all three ACs running during the days they are not there on-site. If you're in the campground business, I'm sure you always have those handful of seasonals who simply prove that this method is best for business practices! In fact, some big rigs can rack up $200 + electric bills a month- leaving all three ACs running constantly when they may be gone for the entire work week. Now, imagine if EVERY RVer did this and if the campground had to cover these costs! It simply makes RVers more aware of electric use– and use it purposefully just like they would at home. 
Cable and WiFi Some campgrounds include these wonderful amenities, while some charge an extra fee to use them. Keep in mind that even if WiFi is free, it may not be the best. I think we all have experienced it in a busy campground… Hundreds of people bog it down making it impossible for those who work remotely, are taking online classes, or those who need to use a significant amount of data. Some resorts have an upgraded Internet package or "VIP WiFi" available to seasonals for an additional monthly fee. Factor these costs in if required for your camping experience!
Sewer If sewer is not included in your seasonal rate, determine how much you will be spending on a weekly professional service to empty your tanks. Also, if the sewer is in the form of a shared dump station, you may have to set a hunk of money aside for a portable holding tank to transfer it to the dump station. Fortunately, a portable holding tank would only be a one time purchase and not recurring. 
Late Fees and Other Fees Every campground has some sort of late fee system when it comes to paying the seasonal site payments, electricity, other services, or store tabs. These can add up! The best way to avoid these is to see if the campground has an automatic payment plan where your card is run automatically. If you don't want to go this route, set up recurring monthly reminders in your phone, have sticky reminders on your RV door so that you have to look at it when you are heading out, and do what you need to do to never miss the due dates! Additionally, failure to follow the contract guidelines can result in fees as well. It is extremely important to fully understand contract policies and campground rules before signing the dotted line! 
Lot Maintenance Campgrounds will either provide and include seasonal lot maintenance in the overall seasonal rate or charge an additional fee. Nonetheless, be sure you are aware of what exactly this entails. Does the campground charge a monthly or yearly fee for upkeep that goes towards the pool and spa, cleaning staff, building maintenance, the sprinkler system, lawn care, city water, and city sewer/private sewer treatment facility?  Likewise, will the campground take care of all lot maintenance such as lawn mowing, weed wiping, landscaping, branch removal, garbage pickup at your site? If the campground does not include this, consider what it is going to cost you. For example, what supplies you will need to purchase for your own lot maintenance, do you need to build or buy a storage shed for these supplies, etc.  
RV Maintenance Aside from lot maintenance, a point often overlooked is RV maintenance. Now, on the fortunate side, your rig will not get a lot of wear and tear from going down bumpy roads. It's going to sit on-site most of the time. However, it will be used quite often. It's extremely important to add expenses into the equation for professional maintenance services at least once a year. Here's the thing. Many disregard routine maintenance when they have a seasonal. Why? Because having a seasonal is easy! There's no opening or retracting the slides, picking up the jacks, hooking up to power and sewer over and over again, starting up the motorhome, or running the generator. But… once it's time to actually bring the slides in or start 'er up, things can go awry! Plan for expenses like: maintenance services, cleaning supplies, roof conditioner, slide lube, tire covers, and a storage cover. It's important to remember that you not only have a large investment in a seasonal site but an even bigger investment in an RV. Routine maintenance service and simple upkeep is crucial no matter if it's rolling down the road or not!
Winter Storage Winter storage can significantly benefit an RV owner by allowing them a place to store their RV without having to store it at their home or pay another company for storage. Some campgrounds charge a flat rate for winter storage. However, many parks generously include winter storage with a seasonal site commitment to the following year. Generally this will require a non-refundable deposit for next year's seasonal site in order to store your camper during the winter. (An example of this could look like "a $500 nonrefundable deposit is due for winter storage and will go towards the following year's seasonal payment.") Additionally, many campgrounds have an on-site winterization service to winterize campers. While this is an additional fee, fortunately many campgrounds offer winterization at a discounted price– due to the amount of units being winterized at once through a professional company.  
Number of Campers and Visitors Per contract, your seasonal site will most likely be based on X amount of people– whether this number is 2, 4, or more– is completely up to each campground. Nonetheless, make sure that this information is laid out specifically in the contract. It should state how many people are included in the seasonal camping fee and how much each additional person is. On the same note, some campgrounds charge for visitors. Although generally a small fee, this can definitely add up throughout the camping season if you plan on having visitors frequently.
Why do campgrounds charge for visitors? Some campers make the mistake of thinking that having a seasonal site means free swimming, activities, and bonfires for all of their extended family and friends in town! However, could you imagine if EVERY campsite invited a group of family and friends over to the RV park? The pools, playgrounds, bathhouses, and clubhouses would be PACKED– making it not very fun or worth it for those who are actually PAYING to camp there and use the amenities. From a business side, more visitors means that there are more people using the pool ( + pool chemicals $), more people using the bathhouses ( + hand soap, toilet paper, paper hand towels, electricity, and water $), more people using other amenities ( + wear and tear $). While RV parks strive for you to have an exceptional time with your family and friends, they simply include a visitor fee and/or limit visitors so that everyone can enjoy the park in a fair manner. 
Firewood Often, one of the most common expenses at campgrounds is firewood. It's important to know that most campgrounds do not allow outside firewood into the property as camper's are urged to purchase firewood on-site. Although state regulations vary, you'll frequently find this policy plain as day within the contract. Plan for some funds going in this direction. A five dollar bundle can definitely add up throughout the season! Check with the office to see if they offer seasonal firewood bundles or discounts for long-term campers.
Activities and Events More and more campgrounds are incorporating fun activities and exciting entertainment for the camping crowd! Keep in mind that certain activities and rentals (paddleboards, bikes, or kayaks) may have a small fee. Factor in these costs and make room for them in your seasonal budget. 
Attractions and Outings In a similar aspect, a seasonal at a campground may put you in the heart of things around fun attractions, entertainment, shopping areas, great restaurants, and more. You'll find yourself exploring the town with endless to-do's. Little splurges here and there can really add up! These potential expenses should be taken into account when thinking about a seasonal campsite. 
Contract policies
With an amazing seasonal comes a contract… Although we may slightly cringe when we hear this word, a contract is in place to protect both the business and the customer. Get ready for some thorough reading, but do not get your pen out just yet…
You should ask for a copy of a seasonal contract if it is not available online. After all, asking for a copy of a contract should be one of the very first steps when considering a few different campground seasonals. This is extremely important for comparing campgrounds, noting different elements, understanding policies, and overall making a well-informed, educated decision. 
Read the contract thoroughly– word for word on your own time. Ask questions! (Tip: Email, email, email! When it comes to questions over costs, due dates, payment plans, fees, and policies– it is ALWAYS best to get things in writing — from a business side and customer side!) 
---
What you need to do 
Research 
Get online and start searching campgrounds or resorts.

Look at campground photos and read reviews! Get an overall feeling of what others think about the campground. 

Request seasonal information and a seasonal contract to thoroughly look over on your own time. 
Put Ideas To Paper
Put some ideas on paper! Pull up past reservation confirmations and add up how much you spent last year alone on camping. Don't forget all of the fuel costs as well!

Along with the seasonal rates, estimate potential costs such as electric, activities, and/or attractions nearby. 

Google the miles and time it takes to get there. Consider the drive during the busy summer months.

Compare and contrast possible campground choices! List the pros and the cons along with differences in distance, amenities, attractions nearby, and prices. 
Visit the Campground or Resort
The best thing you can do when considering a seasonal is to go see it and experience it for yourself! CAMP THERE! A few times even! 

Get a feel for what the drive and traffic will be like. You may be making the drive a LOT! If you dread the drive the first time visiting– it might be time to rethink the campground. 

Check out all of the facilities, walk the property, meet other seasonals and staff. Are the facilities in good order? Are the bathhouses clean? Is the property well maintained? Are campsites sites clean and orderly? Does it seem too rowdy at night? Are rules enforced like they should be? Do you feel safe?

Get a feel for the atmosphere. Do you feel "at home?" Can you see yourself there for the entire season? 
---
RVING IS BEING on-site for the season!
Related posts