(C) SaddamStock canva.com
Bear in mind that this post contains affiliate links, meaning I get a commission if you decide to make a purchase through my links, at no extra cost to you. Please read my disclosure and privacy & terms for more info.
---
Remote working is up-and-coming.
Popularity in this style of work among both employers and employees has grown due to the advantages it can bring.
So, what exactly is remote working?
Remote working is where professionals work outside the traditional office environment and from home or any other location.
After all, upsides show it can improve productivity, eliminate commute times, and increase employee retention and satisfaction.
While remote working isn't for everyone or every profession, it can offer a better work-life balance and more freedom to some.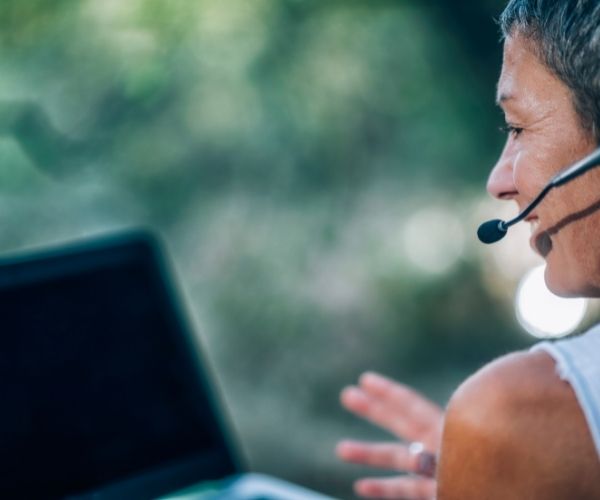 Whether a web designer, writer, musician, software engineer, or travel nurse– most require a few essentials– just like any office. Plus, depending on daily to-do's and where you subside for the moment, you may need a few more bells and whistles capable of getting your tasks done!
The great news is, RV technology, gear and accessories have increasingly helped make the digital-nomad-lifestyle possible, allowing many to work from the road while staying connected and accomplish jobs– just as they would in an office.
---
Daily professional assignments can include preparing reports, sharing files, attending conferences, communicating to coworkers, budgeting, printing reports and more. To accomplish this remotely, you must have dependable devices and accessories capable of carrying out daily tasks.
Check out these remote working essentials, accessories and gadgets you may need to create the perfect office on the road.
Products & Gear For Working Remotely From An RV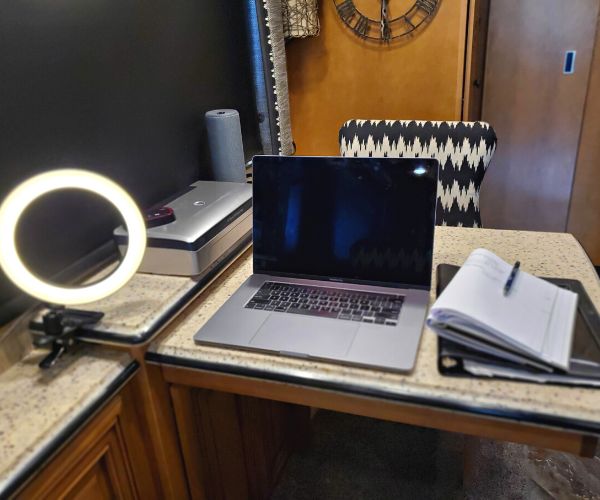 Computer
Remote jobs require the right gear and tech to perform every day job responsibilities. When shopping around, consider a device with ample speed, storage space, and screen resolution based on your needs and tasks at hand. Of course, the MacBook Pro finds itself at the top of the list, killing it with cutting-edge performance, mega storage, and long lasting battery life. Alternatively, the Lenovo ThinkPad P1 is a powerful business-based workstation built for all kinds of tasks. Plus, its durability is off the charts– sporting tough hardware components essential for travel.
---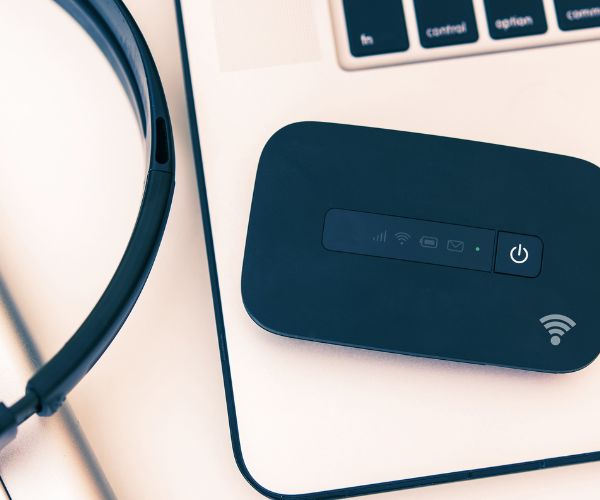 Data Plan & Wi-Fi Hotspot
Although many campgrounds and marinas offer "free-wifi" as a luxury amenity, that doesn't mean it is fast, reliable or safe. While some travelers can get away with using their mobile hotspot, many remote workers require a reliable service with sufficient coverage for daily tasks at hand. Before committing to a carrier, make sure they offer coverage in your work destination or areas you'll be traveling through. Some avid travelers even choose to have two different carriers so that they can make sure to ensure coverage wherever they may be!
---
Power Inverter
Power inverters convert the 12 volt direct current DC power from the camper into 120 volt alternating current AC found in household outlets. In the long run, unless the camper is plugged into electrical power, you'll need an inverter to charge your Macbook Pro or run other devices going down the road. Most USB ports in vehicles don't have enough power to charge devices, let alone multiple effectively. For a quick phone charge, look into the Duracell 175-Watt Powerstrip Inverter. It can charge up to four electronic devices right inside the vehicle. For remote workers lacking electrical services, you'll need to install a powerful inverter to run items like computers, TVs, the fridge, microwave, or other electronics. The size of inverter needed is dependent on the number of watts (plus surge power) you'll be using at a given time. The Xantrex Freedom X Power Inverter 1000 can power a couple accessories such as a laptop, TV, or blender. To power more devices like a laptop, fridge, microwave, coffee maker and more, check out the Freedom X 3000. It's powerful design and premium performance makes it ideal to start difficult loads while operating in -4°F – 104°F climate temperatures.
---
Portable Power Station
Setting up an outside office? Go for a portable power station, like the Wagan Lithium Cube™ 500
. It can charge all your devices on the go with 2 AC outlets, 5 USB, 2 DC 5.5 mm barrel outputs and 1 DC socket. The unit itself can be dual charged by both solar and USB-C or DC outlet at the same time reducing charge time. For even more power supply, check out the Wagan Lithium Cube 1200.
---
Multi-port Charger 
Missing space to plug in and charge all of your devices? Charge multiple electronics simultaneously with a multi-port charger like the Anker 543 Charger.
---
Electrical Management System
Electrical management systems are designed for much broader protection than surge protectors, and protect the unit from voltage spikes and other damaging aspects like power surges, high and low voltage, open neutral protection, open ground protection, and more. An EMS, like the
Progressive Industries 50-Amp EMS with Surge Protection,
not only helps protect your RV's entire electrical system, but also electronic devices and accessories plugged into the RV outlets.
---
Cord Organization
Multiple devices means many chargers, cords, hard drives, and SD cards to keep track of! Keep them contained and tidy in an electronic travel organizer.
---
Space-Saving Desk
Sitting, standing, converting, or all of the above– you'll need a place to call the "office". Here's where you may have to get creative! Go for a lap desk, table tray, or ergonomic laptop stand for space-saving solutions.
---
Computer Workstation/Dinette
Create the ultimate workstation/dinette combo at the touch of a button! This convenient solution allows you to have a large workstation while featuring a lowering monitor that's out of the way for full use of the dinette. This unit fits through a 20″ wide door and into most existing booth and table areas.
---
Dual Monitor Workstation/Dinette
This one's for the pros… Transform your dinette into a full, dual-monitor workstation by Quartersign. The desk/dinette combo replaces a typical dinette that includes two VESA monitor mounts that securely lower into the station for tear down.
---
Office Chair
Many campers lack the space for a desk, let alone room for a clunky office chair to roll around. Look for easily adjustable, compact options, like a folding stool, storage ottoman seat— or make what seating you have more comfortable by adding seat cushions.
---
Rolling, Water-Proof Business Bag
Carrying an armful? Opt for a rolling briefcase to give your back a break! The Kroser rolling business bag works great for keeping everything in one spot while smoothly transporting projects. Features a large main compartment for necessities, pockets for organization, and a padded laptop slot.
---
File Organizer
Remote working or not, an expanding file folder is great to have on hand during travel. File away camping reservations, vehicle manuals, travel receipts and more. For sensitive documents, go for a case to better protect, like this fireproof, water-resistant document box.
---
Maximum Security Briefcase
Protect valuables with the RoadPro. Designed for maximum durability and security, it's equipped with two changeable combination locks and an aluminum exterior. Measures 17.5″ x 4″ x 13″
---
Lockable Cash Box
Made of reliable, heavy-duty powder-coated steel for indoor and outdoor use anywhere you go.
---
Portable Printer
Print, copy, scan, and more with the HP OfficeJet 250 Mobile All-in-One Printer. Ideal for mobile professionals and telecommuters who need a high-quality do-it-all machine that's, most importantly– compact for travel. Check out a protective travel case, here, for on the road.
---
Square Point of Sale System
Keep transactions professional with Square, an easy-to-use, free app that gives you everything you need to run your own business. Sell online or in store, with built-in tools for advanced inventory management, sales and staffing– all while managing your business in one place. Build your own workspace and take payments with a Square Terminal, POS registers, card and contactless readers, payroll services and more.
---
Mic and Camera Webcam
Conference calls on the go? Control video calls with the NexiGo WebCam producing vivid imagery and crisp features while canceling out ambient sounds that interfere with communication.
---
Conference Lightening Kit
Lighting isn't always the best in RV units. Illuminate your face for a more professional setting during virtual conference calls and meetings with a selfie ring light.
---
Paper Shredder
Discard sensitive or confidential documents with a small, desktop paper shredder like the Aurora AS420C. Alternatively, turn any wastebasket into a shredder with this design— featuring an extendable arm that fits over most waste baskets.
---
Mailers & Shipping Supplies
Consider self-sealing poly-mailers; document,  bubble poly mailers, or box mailers for your shipping needs.
---
Shipping Postal Scale
Many small businesses need to pack and ship items to their customers. The ACCUTECK ShipPro mailing scale has a 110 lb capacity with a 0.1oz accuracy. Can be powered by batteries, USB cable, or AC adapter.
---
Noise Machine
Drown out road noise and distractions with LectroFan Evo Sleep Sound Machine. Featuring a fan, ocean or white noise to help tune out surrounding sounds, helping you work efficiently no matter where you are.
---
RVING IS BEING remote.
Related posts