Bear in mind that this post may contain affiliate links, meaning I get a commission if you decide to make a purchase through my links, at no extra cost to you. Please read my disclosure and privacy & terms for more info.
---
Know before you go!
Nowadays, the wonderful web is so informative for campers. In fact, websites carry an abundance of information– even offering ways to reserve sites online!
However, some campers simply prefer to call and SPEAK to a human! (You'll see a few reasons why here: Don't Book a Campsite Online. Call the Reservation Desk).
Perhaps you're new to RVing or require specific amenities for your stay. Overall, sometimes it's easier just to call rather than go through a computer and stumble over the reservation process! Asking detailed questions and speaking to a reservationist can better help you get a site that correctly fits your rig and personal preferences!
Check out the list of questions below. Some may not apply to you, however, a few listed below may help spark your memory to ask for your next traveling endeavor.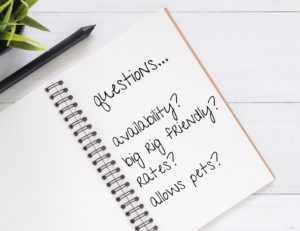 Call the reservation desk and ask these questions to get your ideal site, savings, and campground information for an exceptional experience!
(Ask all that apply to you. Simply fill in the blanks with your information or preferences.)
1. Do you have site availability for the dates ___ (your preferred date of arrival and departure) that can accommodate a ___  (pop up, travel trailer, 5th wheel, Class A, Class B, Class C, Big Rig towing, etc.)?  My rig requires a site with  ___ (30, 50 amp power, sewer, water).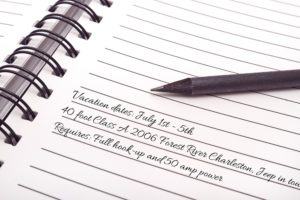 It may be handy to have all of your rig requirements and information written down, especially for those new to RVing. (After all, it's a lot of specifications to remember!) That way, the reservation desk can assess all the information given and determine site availability and specific RV accommodations.
2. Can I select a site? (Some campgrounds allow you to book a specific site upon making the reservation, whereas others assign sites.) 

3.Can the site comfortably fit my rig and tow vehicle? (Otherwise you may have to park your tow/toad vehicle in the overflow parking.)
4.Do you have pull-thru sites/back-in sites/pull-in sites? (Some travelers prefer pull-thru for quick and easy departure in the morning. Others may prefer back-in sites given the layout or how their windows face in the rig. Pull-in sites generally are for motorhomes– for example, pulling-in a site right on the waterfront.) 
5.What are your rates? Do you have season specials, weekly/long term rate plans, RV club membership discounts, or military discounts that would apply to my stay?
6.What is your cancellation policy? (This is always good to know before booking a site so that you're not left with an unknown cancellation fee if unable to make the trip.)  
7.Do you allow pets? Are certain breeds excluded? Do you have a pet limit?
8.Do you have wheelchair accessible sites and amenities?
9.Do you have cable?
10.Do you have WiFi? Do you offer a VIP WiFi service/access for those working remotely?
11.Is your pool/spa open?
12.Can we receive mail or packages?
13.Are the GPS directions correct?
14.What time is check-in/check-out? Can you accommodate early arrival, late checkout, or after-hours check-in?
15.Do you have a "10 Year Rule"? Can you accommodate older RVs? (This rule is often enforced at upscale RV parks and implies that units older than 10 years are too weathered, worn, or could be a potential liability on the premises. However, some campgrounds are more lax towards this regulation and accept older RVs as long as they are in good working order.)
16.Can I have visitors? Do you charge for visitors?
17.Do you have overflow parking for additional vehicles/boat trailers/car haulers?
18.Do you allow tents on RV sites? (Some campgrounds will cater to tent campers on RV sites where other parks specifically state that there are no tents allowed.)
19.Do you have propane onsite? If not, is there propane nearby?
20.Do you have any activities going on during our stay?
21.Do you offer rentals? (Cabin, camper, golf carts, boat, kayak, bikes, etc.)
22.Do you allow campfires? Do you sell firewood? (Some state or county regulations may prohibit fires and/or bringing your own firewood to the property.)
23.Do you have sports equipment, games, books, and/or movies free to check out? (Many campgrounds with tennis courts, clubhouses, basketball hoops, etc. offer free equipment for their guests to use.)
24.Is there an urgent care, hospital, veterinary clinic, or dog boarding nearby?
25.Do you have a camp store or is there a grocery store nearby?
RVING IS BEING adventurous
Related posts