Disclosure: Bear in mind that this post may contain affiliate links, meaning I get a commission if you decide to make a purchase through my links, at no extra cost to you. Please read my disclosure and privacy & terms for more info.
---
 Get yourself into a sticky situation? 
Check out how to avoid this type of situation and the tow truck bills… 
Motorhome Stuck in the Mud?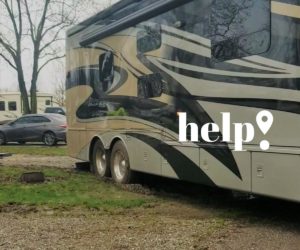 Try to AVOID the situation
Know the Weather
Check the weather. Download The Weather Channel App for local weather, radar, daily reports, and more. Is there a chance of rain? If so, consider where you are parking for the night. 
Look at the Path and Site Pad
Consider checking out a dirt road, path, or campground site before driving on it. If the ground seems soft or slippery, driving a 30,000 pound motorhome on it is not a good idea. 
When parking on a campsite, consider these points:
Is the site a gravel site? If available, a concrete site is the best option.

Is the site built for rain runoff or does it look like water would pool in the center?

Do your leveling jacks push right into the soft ground?

When departing from the site, will you need to make a sharp turn out of the site, cutting the corner into a flooded, muddy yard?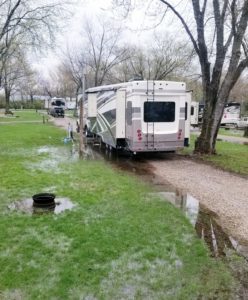 Ask the Front Desk to Change Sites
If you have any doubts, ask the office to change sites. Most campgrounds will always do their best to accommodate you and your rig if they have the availability. 
What do you do if your motorhome gets stuck? 
1.

Don't Spin the Tires

Try slow and steady to gain traction for a nice, continuous momentum forward. Spinning the tires just digs a hole deeper making it more difficult to get out of. 
---
2.

Rock It 

Try rocking the rig forward and backward to get out of the rut. Put the rig in Drive and ease on the gas then Reverse and ease on the gas. Repeat. Again, nice and easy– without spinning the tires. This creates a rocking motion in an attempt to get the rig up and out of the slippery hole created. 
---
3.

Carry Emergency Tools and Gear:

Boards for tire traction: Here's the thing, many RVers already have wooden boards with them– for leveling, setting the hitch on, under the steps, etc. Therefore, shoving boards under the tires for traction typically is the first thing to come to mind. However, THIS IS VERY DANGEROUS. Using boards under the tires to get traction could cause them to fly out from underneath, striking you, others, or damaging the underneath of the motorhome. It does not take a lot to send those things flying out from under a large tire. Especially in a large motorhome, it is harder to tell what the tires are doing so far away from the driver. By the time someone outside the rig yells at the driver to stop pushing on the gas pedal, a board could already be sent flying as if it were sent through a spinning baseball pitching machine. 

Traction mat/boards: Multipurpose traction mats and boards can be used for mud, sand, or snow making them a great camping asset for emergencies. 
Old rugs for tire traction: Save old rugs you were going to toss anyway! Tuck carpet or old rugs close to the tires so that the tires can grab the dry surface area and gain traction. Plus, these also come in handy for other roadside emergencies if needing to kneel or lay under your rig. 
Use the jacks: The idea is to use the jacks to lift the motorhome enough so that you can place traction mats, rugs, or dry gravel under the tires. Depending how muddy your situation is– you may need a lot of boards to stack up to create a solid base for the jacks to push on. Also, depending on how soft the earth is, some boards may be pushed right into the ground. Yet eventually, by re-lifting and setting the jacks back down on continuously stacked boards, you may be able to create a solid base to lift the rig up enough to slide traction mats under the tires or build up enough dry ground for tires to roll on. 
Carry a tow strap and hitch receiver:  Usually, you'll find many fellow campers willing to help, but just don't have the right gear. Before a friendly campground neighbor steps in, make sure your gear is fully capable of handling the job. 
---
4.

Read the Fine Lines on RV Roadside Assistance Plans

For example, AAA Plus RV is well-known for their roadside assistance programs. However, it's very important to know exactly what type of situations they will assist you in. As our AAA RV Plus representative stated in this case, that [we], "Must be on a paved road for a tow-truck to come assist us." 
---
Have you ever been in a sticky situation? If so, we'd love to hear your tips!
RVING IS BEING aware and alert


Related posts