Bear in mind that this post may contain affiliate links, meaning I get a commission if you decide to make a purchase through my links, at no extra cost to you. Please read my disclosure and privacy & terms for more info.
---
Nowadays there's an app for everything. Actually, the amount of apps out there is mind-boggling! From photo tweaking, soulmate-finding, baby-name generating, calorie counting, food delivering– you name it! 
Truth is, many don't make the cut. The overwhelming number of apps out there often leads to countless installs and consequently, uninstalls.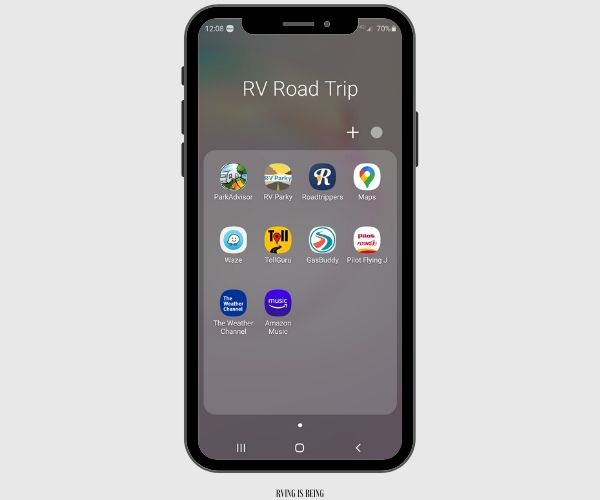 Despite the myriad of mobile apps out there, some can be extremely helpful in this day and age. In fact, go into your Play Store or App Store and discover plenty of apps tailored to RVers.
Get ready to start scrolling!
There are apps for finding RV's, navigating to RV friendly stops, locating dump sites, and discovering parks and campgrounds. You'll even find unique apps custom to trailer leveling, toll calculating, pet safety, free overnight parking and more. 
The above listed are all hot topics of RVing. However, when it comes to all of the different mobile applications out there, the ideas are awesome– but the quality? Truthfully, finding a useful app capable of meeting all or if not most of your travel needs is really like finding a needle in a haystack.
Over the years of RVing, a few apps have stuck around on my phone screen that are definitely worth installing.
10 Apps Worth Installing for Your RV Adventures
RV Parks and Campgrounds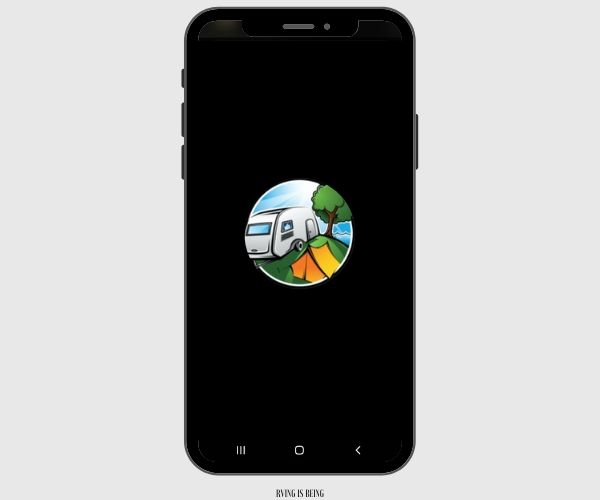 RV Parks and Campgrounds by ParkAdvisor is a mobile application created to help adventurers find the perfect RV park, campground, or related place of interest. Available to both Android and iOS users, this app lists over 40,000 RV parks, campgrounds, rest areas, gas stations, stores and more in North America (USA, Canada, Mexico).
The straightforward control panel with two modes of view makes it extremely user friendly while offering customizable features tailored to travelers needs and preferences. Map view displays pinpoint locations that are easily distinguishable by symbols explained in the map legend. By zooming in, users can view even more locations in the surrounding area.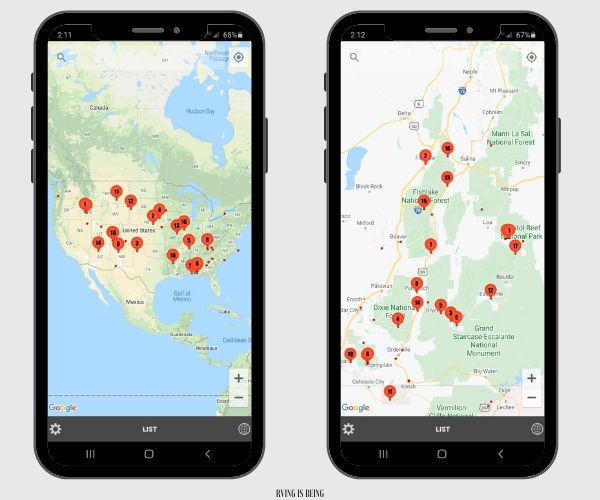 List view displays a list format including commercial RV Parks ratings, amenities, and distance away from your location and can be sorted by top results, rating, reviews, distance and more. Once a location is selected, users can view detailed information, such as contact information, photos, amenities offered and reviews. Simple one-click buttons give users the option to quickly call, view the business website, submit an edit or launch directions.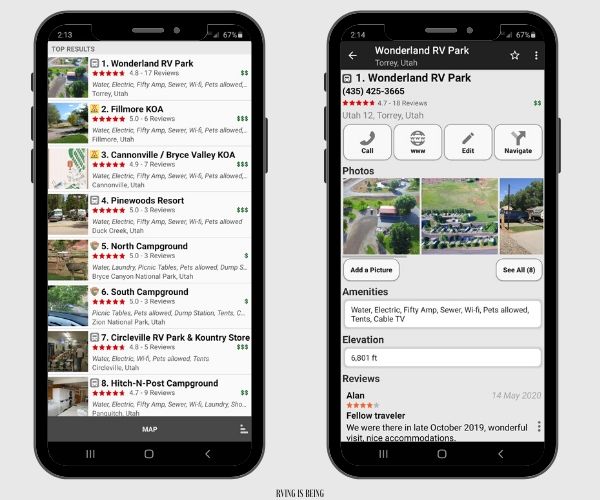 The amount of locations included within this app is amazing! 
Locations include: 
Commercial parks including KOAs, Jellystones, 1000 Trails and 55+ resorts

National Parks, State Parks, Public Lands, City Parks, Military, Army Corps and Fairgrounds

Walmart, Costco, and Sam's Club to park overnight or grab needed items, Cracker Barrel often with truck parking, and Camping World for RV supplies

Sports Stores including Gander Mountain, Cabela's, REI, Dick's Sporting Goods, and Bass Pro for overnight parking and RVing supplies
Gas stations and truck stops such as Pilot, TA, Loves, Petro Center and others
RV dump stations
Low clearance areas
Rest areas
AND MORE!
No service? This app uses a local database which keeps some of the information available to travelers when service is unavailable or slow. 
The RV Parks and Campgrounds app is a great app that helps RVers discover wonderful places based on their needs and preferences. While a ton of information is included in the free version, a Pro Version is available for $7.99 and provides access to even MORE features and capabilities.
---
RV Parky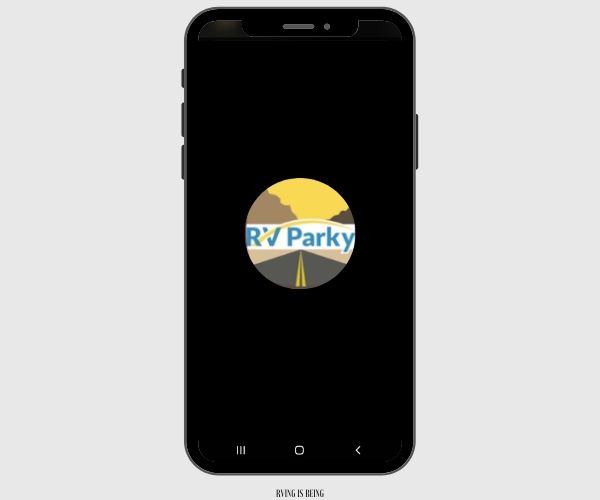 RV Parky, is another helpful app that serves as a trip planner and campground search directory. The app, available to Android and iOS users, starts with a clean dashboard making it easily maneuverable and very user friendly. When searching for RV parks, two modes of view keep the app well manageable: map and list view. Map view features pinpoints of RV friendly locations where filters adjust the results to meet travelers preferences. Likewise, the list view lists all pinpoints within the selected map area.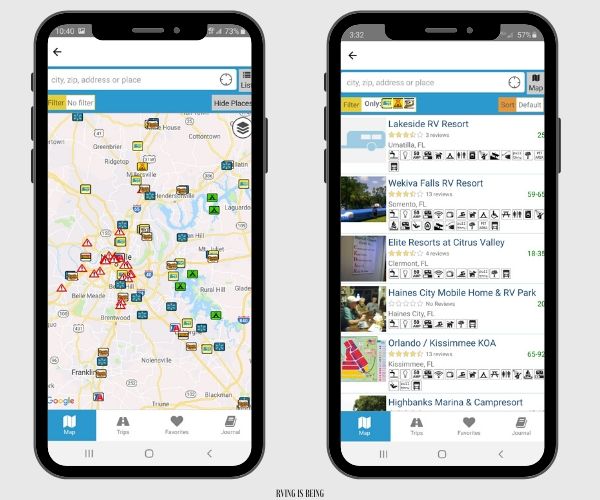 Users can select any RV park or point of interest and view ratings, reviews, photos, amenities and pricing points. It also includes options to call, view the business's website, edit the info presented, leave a review and navigate to the location– all within the click of a button.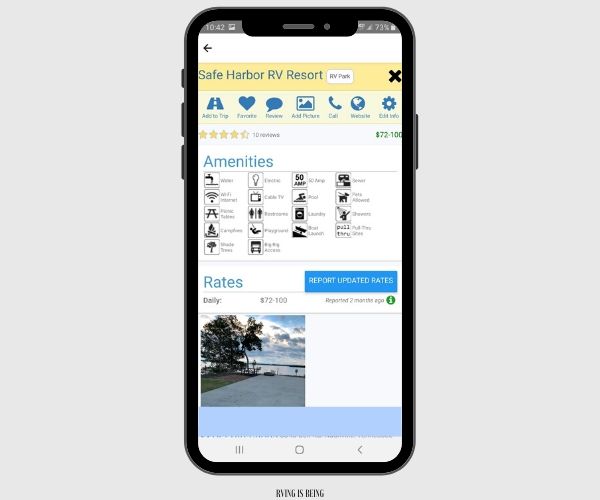 Locations include: 
RV parks, public parks, military parks, adult 55+ parks, KOAs and Jellystones 

Stores such as: Walmart, Cabela's, Cracker Barrel and Camping World to park overnight or grab needed items
Gas stations and truck stops: Pilot, Flying J, TA, Love's and others
Rest areas
Road warnings
AND MORE!
Additionally, users can customize their search even more and select the amenities and/or facilities they require to find their desired locations. Filter with these options:
Water

Electric
50 amp
Cable TV
Pull-thru sites
Shade trees
Wi-Fi
Pool
Pets allowed
Dump Station
Propane
Handicap accessible
Boat launch
Big Rig access
AND MORE
Lastly, RV Parky includes another AMAZING feature… TRIP PLANNING! Users can create road trips adding stops along the way. This neat trip planner displays locations in an orderly fashion while keeping track of dates, miles traveled, hours on the road, and fuel usage. It's a great way to get an idea of how many hours of driving a trip will take and how much money you'll need to set aside for fuel.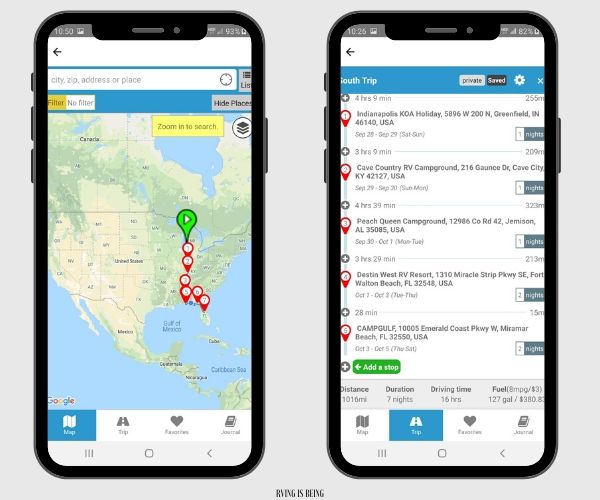 ---
Roadtrippers
Roadtrippers includes convenient trip planning for the adventurous travelers out there. This app integrates components made for all types of adventurers (not just RV campers) with Android and iOs devices. 
Users can discover interesting places along the route and plot points to visit or stay: such as restaurants, national parks, roadside attractions, campgrounds and hotels. 
Want to take the trip of a life-time but need help planning? Check out the pre-made trip guides for suggestions and inspiration. With a plethora of information and research done for you, users can view a particular trip guide, preview the route, and save an editable copy for offline use!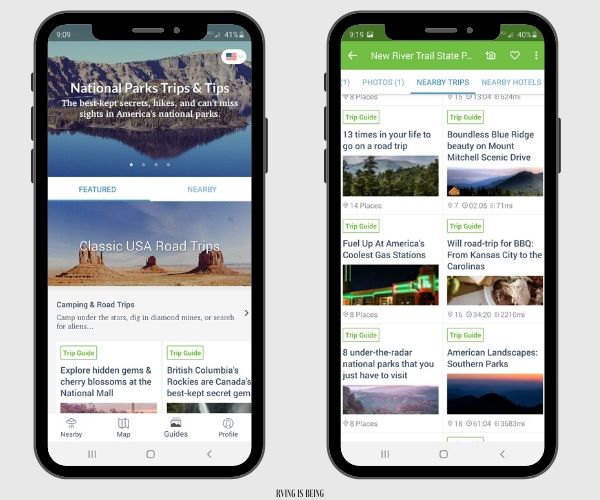 Roadtrippers allows users to sync trips across various devices. For example, make trip plans, stops, and add favorites on a desktop, then view it going down the road through a smartphone app. 
Now for the big question… Is it free? This app is accessible without signing up for Roadtrippers Plus. Although limited accessibility, users can create trips with up to seven waypoints, save points of interest, and view the awesome trip guides. Upgrade to Roadtrippers Plus ($29.99/year) for 150 waypoints, offline maps, different map styles, exclusive deals, and offers an ad-free experience. 
---
Google Maps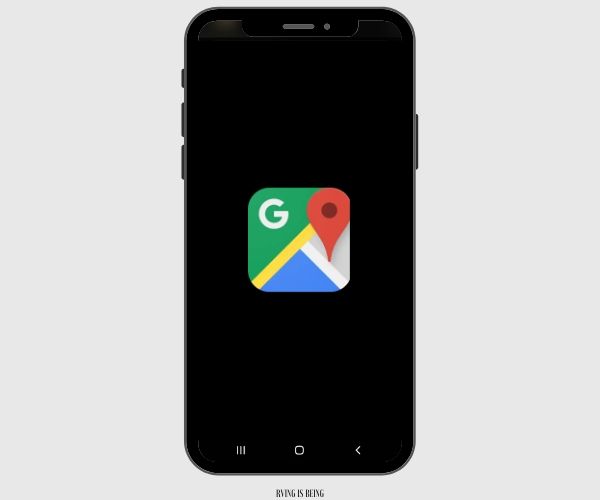 Google Maps is a web mapping service developed by Google. It's not just tailored to RVers specifically, however, it is extremely RV-friendly. Also, the amount of information provided and accuracy is pretty spot on! In fact, see 15 Awesome Things Google Maps Can Do For RVers!
Google Maps not only is a navigation application, but strives to provide travelers with real-time traffic conditions, route planning, street maps, 360 degree panoramic views of streets and more.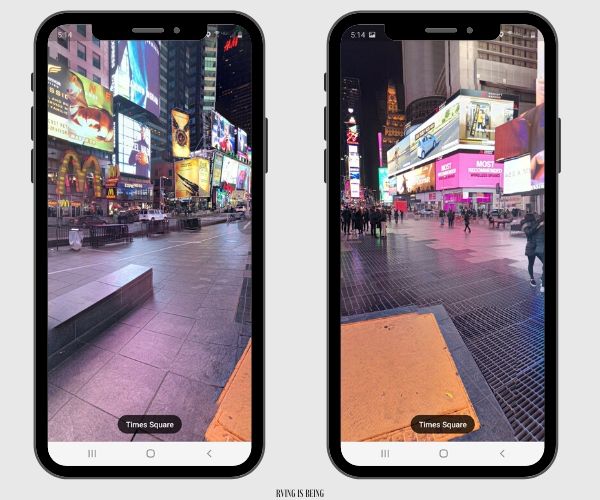 One of the best things Google Maps includes is visualization for travelers. Images of turns, intersections, and exits are extremely helpful for travelers. I don't know about you, but missing exits or having to turn around in a 40-footer is not fun. For many, SEEING an actual image helps them know what to look for, what lane to be in and what a campground entrance looks like.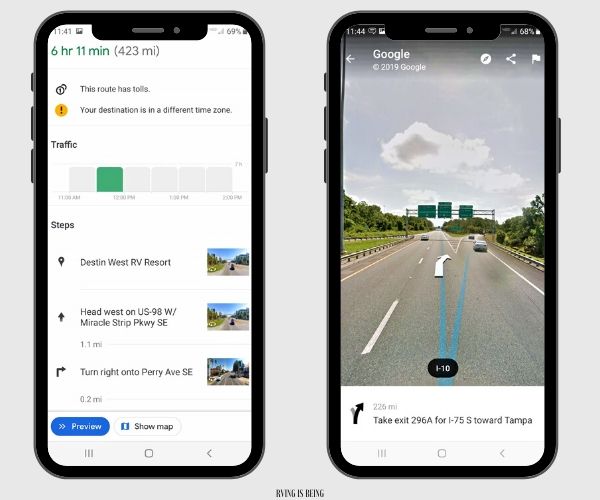 Users can create trips using the desktop and share it through their devices. This is especially useful for group traveling where everyone has the directions for each stop and travelers can share their location so everyone can stay informed, see where others are and make sure they are on the same path.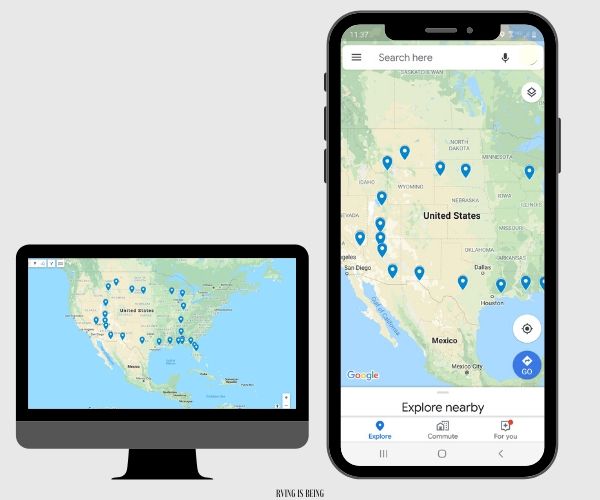 For more about this app, see how I use Google Maps and everything it can do for RVers. Also, see a detailed post on how we find RV-friendly gas stations using Google Maps. There's more to this app than just navigation!
---
Waze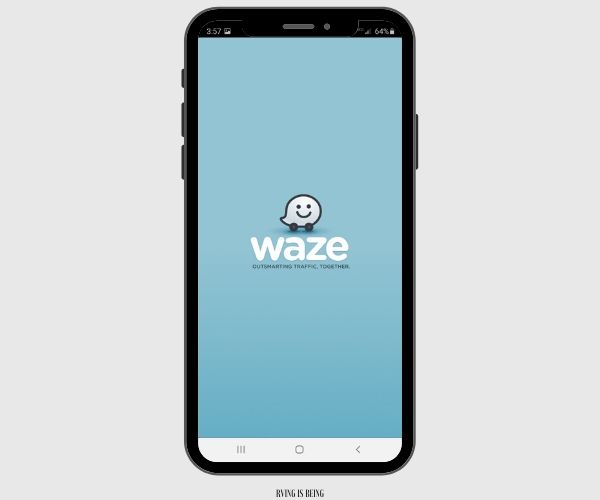 Similar to Google Maps, Waze offers real-time directions from your current location to your desired destination. While traveling and using the app, Waze collects recent data on roads, traffic, and driving conditions to predict ETA's and guide drivers accordingly. Different from other navigational apps, Waze is community driven and continuously updated by fellow drivers on the same roads. 
It all works by Wazers, or app users. They come together reporting and relaying information to each other. Over 100 million users share input keeping Waze continuously updated with the happenings on the path ahead. For example, Wazers can report: accidents, construction, cars on the shoulder, traffic jams, speed traps, road hazards, and other obstacles providing other "Wazers" fast information and the shortest route possible!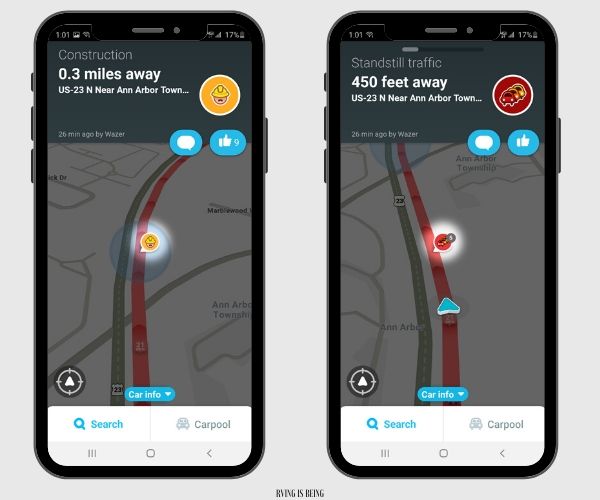 As an app user, you can also report incidents you encounter, giving other Wazers a "heads-up" and helping them get to their destination smoothly. 
Ever hit a dead stop and wonder what's going on ahead? Wish you could ask the car a mile down the road what the deal is? Is it a car accident? What's all the police lights for? Is the road closed? How bad is the backup? 
That's what Waze is for. Waze, not only provides directions but helps travelers avoid situations to get them where they need to be — ON TIME.
Unfortunately, we can't eliminate road construction, traffic accidents, or fender benders… But we can, with the help of Waze, communicate these things quickly, be aware, and plan the route accordingly.
---
TollGuru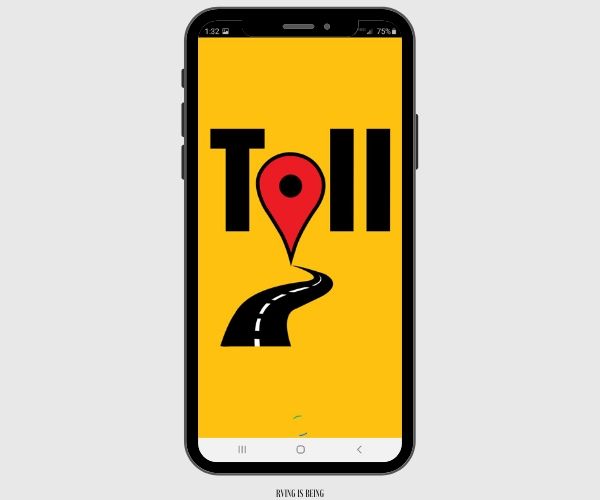 You don't really think about tolls until you're in a recreational vehicle with three axles and towing! Axels add up, costing you a hunk of money going through some tollways!
TollGuru is a neat app that allows users to plan and compare routes for tolls, fuel costs, and time spent on the road. This free app calculates tolls and gas costs across all toll roads, bridges, turnpikes, and tollways in the US, Canada, Mexico and India. 
Enter your start location and destination. Stops can be added for a multi-stop trip. Select your mode of transportation (car, truck, trailer, RV, bus, or motorcycle) and axles. For the most accurate information, fill out your vehicle's fuel efficiency and current fuel prices.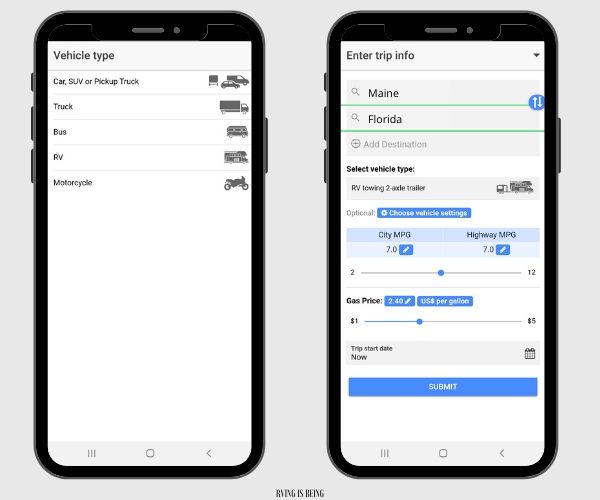 TollGuru provides the fastest, cheapest, and preferred routes for your trips. View a comparison summary of these routes to make the best decision for your travels. Conveniently launch directions right from the app to quickly get you where you need to go.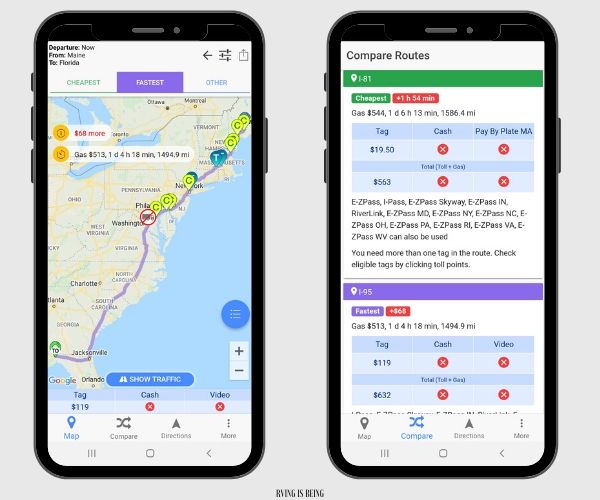 As RVers, expenses of a trip are nothing to take lightly. Other than camping reservations, many travelers forget to work in the fuel and toll costs. The TollGuru app is a convenient app to have for travel planning!
---
GasBuddy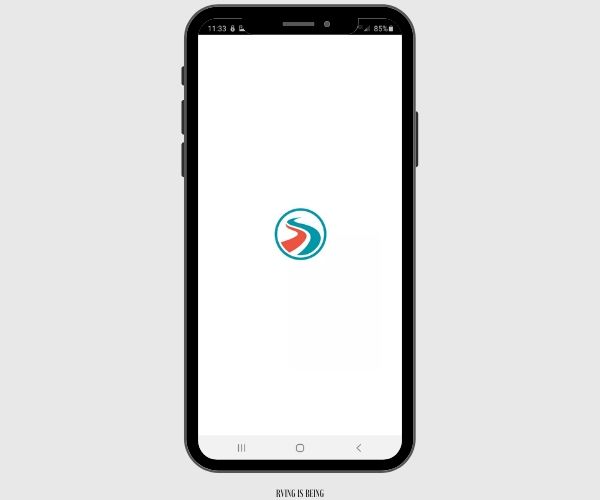 RVers know that a hunk of the vacation jar is going to go towards fuel– especially when their rig gets eight miles to the gallon… GasBuddy is a travel and navigation app that helps users save at the pump! This award-winning app serving drivers in the US and Canada, is one of the highest-rated apps in the Apple App Store and is also available to iOS, Android, and Windows users. 
GasBuddy helps users track down the cheapest gas stations nearby. As fuel prices change so frequently, GasBuddy uses the community for prompt updates and current information. Users who help keep GasBuddy's information up-to-date get rewarded with points and can enter to win free gas!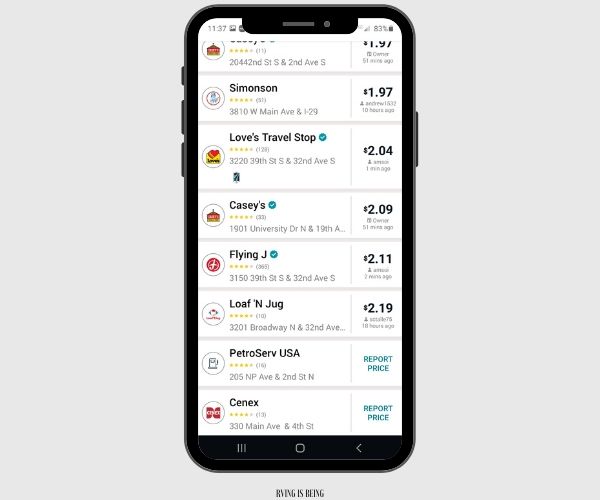 For as much time as RVers spend on the road and fueling up, GasBuddy not only informs them of the best gas prices in town, but also gives travelers the opportunity to save some extra cash while helping others get in on the good deals as well. Plus, the amenities and reviews that travelers can add about the gas station– maneuverability, spaciousness, and other helpful information– are extremely helpful to the RV community.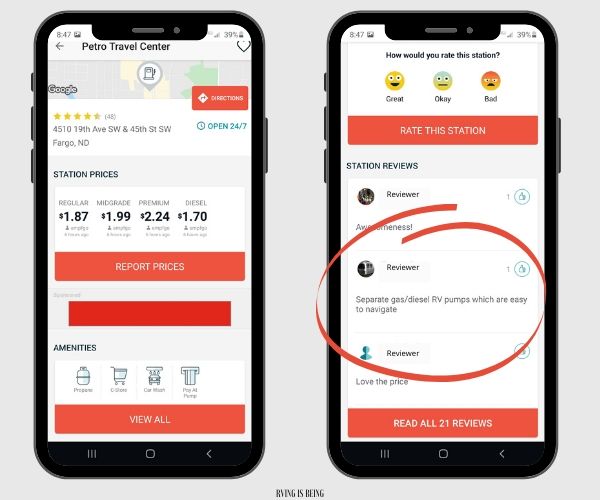 Sort by distance, brand, fuel type, and more. I mean, when are fuel stops ever just about filling up the tank? I know for us it means someone's getting a refreshing drink and salty snack! For others, it could mean a lucky lotto, propane, air pump, service repairs, or a restaurant for a midway meal.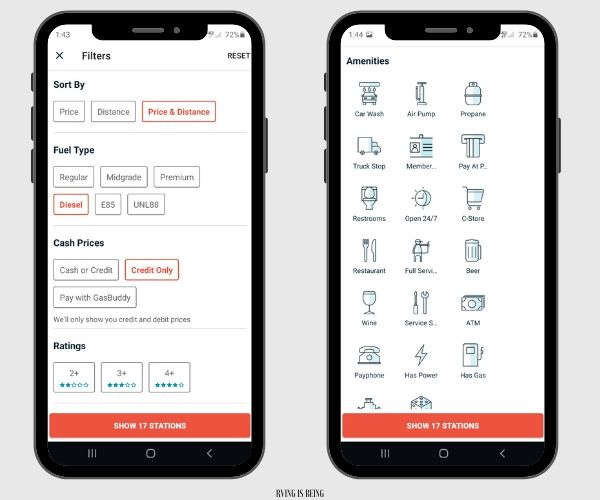 For avid travelers, RV adventures– or even toy hauler owners with UTVs or ATVs that burn through gas frequently– GasBuddy can be a great app to have in hand and can be downloaded for free on your mobile device.
---
Pilot Flying J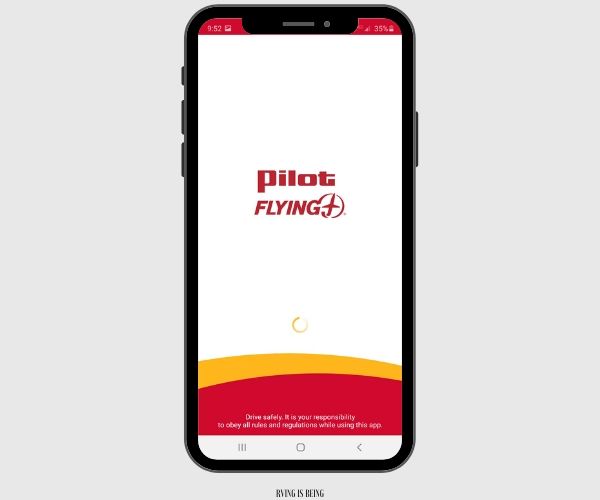 Thinking from a RVer perspective–or Big Rig perspective for that matter– making fuel stops isn't all about the prices. Now, I wish we could swing into the cheapest mainstream gas station to fill er' up! But, we have to base our stops more on maneuverability. With that in mind, that's why we love using the Pilot Flying J app.
Over the years of traveling, we've found that we favor Pilot Travel Centers and Flying J Travel Plazas. As a North American chain of truck stops, they not only cater to truckers, but welcome big rig RVs, down to Minnie Winnies, and even the family sedan! They offer travel conveniences to basically everyone on the road.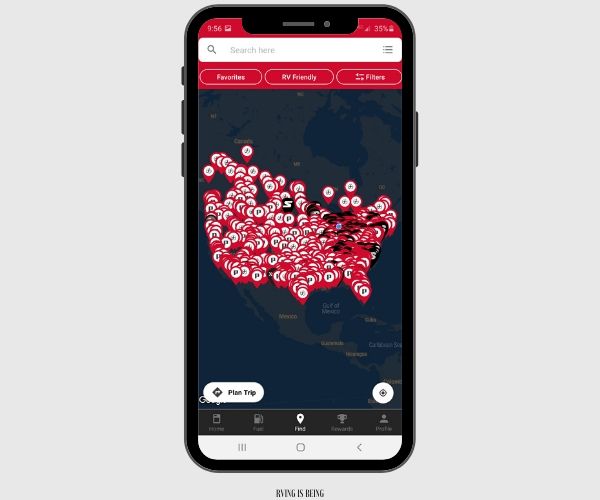 Large diesel pushers, super C's, 5th wheels, or toy haulers around the 40-foot mark need a lot of room to maneuver. Not only that, they need spacious fuel islands, where some may need DEF, propane, a dump station, or potable water on their travels. Pilot Travel Centers and Flying J Travel Plazas are set up for large rigs and often conveniently located right off of highways for easy accessibility. 
The Pilot Flying J app helps truckers and RVers locate Pilot and Flying J stations. Users can find a location based on what type of fuel their rig requires and amenities they prefer. 
For instance, travelers who are often on the road for long periods of time, generally want to make one convenient stop where they can fuel up, grab a bite to eat, rest their eyes, use the restroom, grab a few items, use an ATM and more.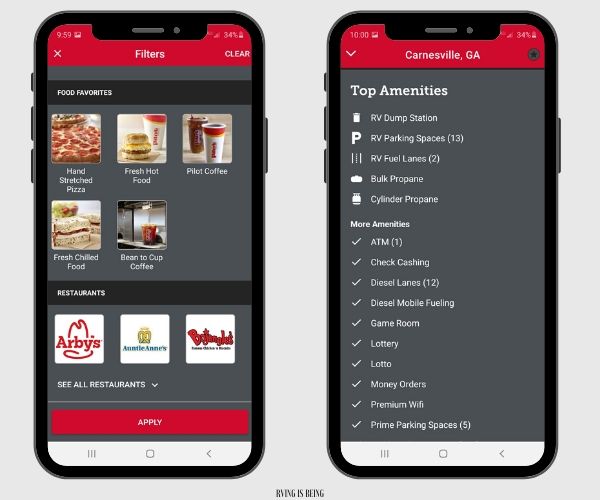 The app lets users select exactly what they are looking for. It provides fuel prices, directions, and even shows the number of parking spots! This is extremely helpful for RVers who wish to take a short break from the road or even park overnight.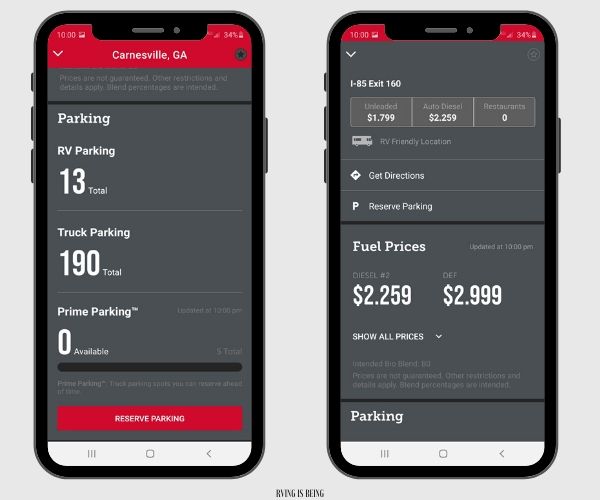 Although many think that these truck stops are only for truckers, many Pilot and Flying J locations welcome the RV community. Get the app on your device for your next journey!
---
The Weather Channel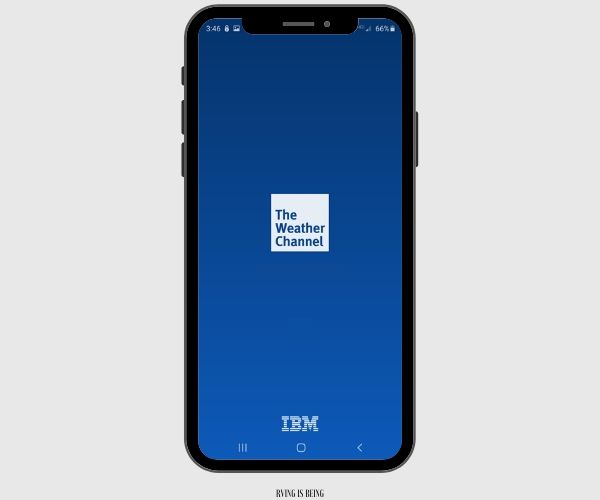 It's extremely important for RVers to know the weather at all times. Fortunately for many who have vacation plans, the weather is closely watched as fingers are crossed for sun! Not only is The Weather Channel App handy for discovering the destination's likeliness of sun, wind, or rain — it's crucial for the journey as well.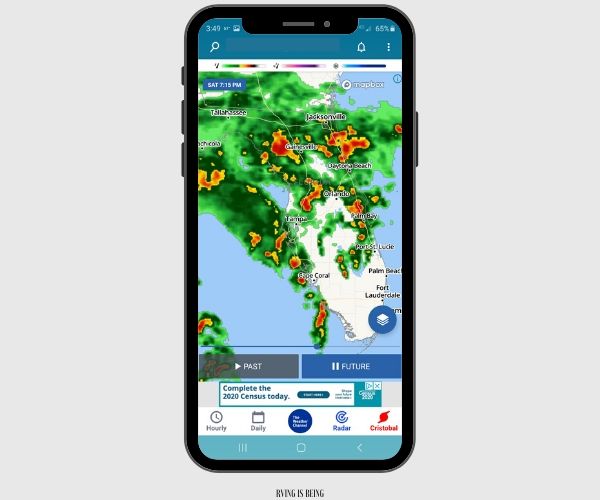 Knowing the weather elements greatly impacts us… For instance, check out what happened to us after a heavy rainfall and failure on our part to avoid this muddy mess. Muddy grounds, slippery roads, and heavy winds can be disastrous for RVers. The best thing travelers can do is be prepared for the conditions ahead and plan accordingly.
---
Amazon Music

Every roadtripper needs a great playlist! I don't know about you, but the same songs get to me after hours and hours on the road. Not only that, but good luck finding a decent station to come in off the beaten path.
For this reason, the Amazon Music app has had a special place on my phone screen for years. Amazon Music is a music streaming platform and online music store. It features more than two million songs, including thousands of stations, playlists, and podcasts.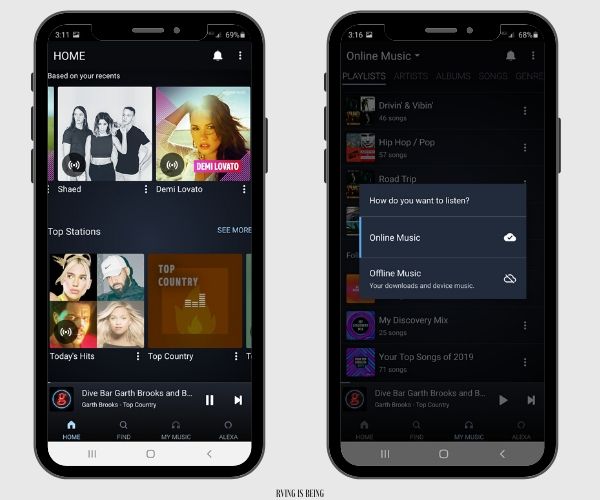 If you're a music lover, you may be interested in Amazon Music Unlimited
. This gives users unlimited access to more than 100 million songs. This includes new releases and even more playlists and stations. You will never get bored of the same song or station! Listen to some great tunes along the journey and at the campsite around the bonfire.
Now, listen to this RVers… It's completely ad free, with unlimited skips, and OFFLINE listening! Save your streaming data and don't worry about cellular signal when on the road. Download songs and create your special road trip playlists to listen to offline! (This is also great for air travel.)
---
Rving is Being original. It's not a 'one size fits all' gig. The same goes for travel apps. Each RVer travels at their own pace, camps in their own way, and requires different accommodations. Hence, one travel app may work for one, but not for another. Even so, it's hard to find (if at all) one app that checks off every box on your preference list. However, there are apps out there, like above, that do a pretty darn good job at assisting, informing, and complementing our travels! 
Also, keep in mind and plan accordingly that most apps require cellular data. App navigations greatly assist us, but never rely only on technology as it may freeze or lose signal. Always have a backup plan when it comes to navigational apps.
Lastly, always remember to keep your eyes on the road and leave the cool apps up to the passengers!
What are your favorite RVing apps?
RVING IS BEING adventurous.
Related posts