Disclosure: Bear in mind that this post may contain affiliate links, meaning I get a commission if you decide to make a purchase through my links, at no extra cost to you. Please read my disclosure and privacy & terms for more info.
---
As RV owners or renters, it's a wonderful thing to be able to haul belongings along to our dream destination.
Though when traveling, the motorhome or travel trailer is packed up, slides are in, and certain items become inaccessible.
Based on our travels, we've learned to keep a few travel supplies just a short reach away!
RV Road Trip? Keep these Items a Reach Away!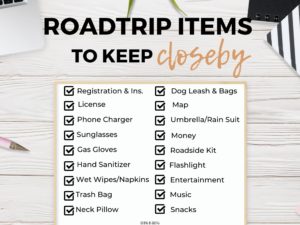 Registration, Insurance, & License
Like in any vehicle, the last thing you want is to be stuck digging around searching for these. Keep these in an easily accessible location like the glove box or in an expanding organizing file tucked in the overhead storage cabinet of the motorhome. A file can hold important documents such as: registration, insurance, reservation confirmations, pet records, important numbers (doctor's office and vet clinic), and keepsakes gathered along the way.  
---
Phone Charger
No one ever wants a dead phone in case of a breakdown or emergency.  If you will be running maps or music through your phone, it's a good idea to have it plugged in along the way. 
---
Gas Gloves
Fueling up can get a bit messy. Although some truck stops offer disposable gloves for customers, it's helpful to keep a few right in the driver's seat back just in case! 
---
Hand Sanitizer
On our road trips, we touch gas nozzles, door handles, money, and who knows what else– then we go reaching into our travel snacks. Keep a sanitizer close to keep your hands clean and everyone healthy on your road travels.
---
Wet Wipes/Napkins
No road trip is complete without something salty, something sweet, and something to rinse it down. Have some napkins or wet wipes close by for quick clean up!
---
Trash Bag/Empty Grocery Sack
Keep an empty trash bag or grocery bag close by to collect trash and keep your vehicle clean. This may also come in handy just incase a traveler is to get car sick.
---
Neck Pillow 
Keep tired travelers comfortable with a travel neck support.
---
Dog Leash and Poo Bags
Our pets need to make quick pit stops too! Have a leash and these Earth Rated Poo Bags right in the back of the seat pocket for convenience.  
---
Map
These days almost everyone uses navigation from a form of technology. Still, it's wise to have a paper map or at second form of navigation close by– just in case. 
---
Money/Change for Tolls
Axels add up for us RVers! Having a baggy full of change close by in the glove compartment or back of the driver's seat will come in handy for toll roads.
---
Tools/Roadside Emergency Kit
A tool box can't necessarily be an "arms reach away". Despite what compartment these are in, do not jam these tools under heaps of other camping supplies. Have these tools in an easily accessible location you can quickly get to.
A few ideal things are:
---
Flashlight
Odds are, your roadside emergency kit is in an outside compartment. If it's dark out, you'll need a flashlight to get to the emergency kit. Likewise, a flashlight or a headlamp will come in handy if having to hook up at a campsite late at night. Consider a handsfree lantern flashlight light like the LE Rechargeable Camping Lantern or the  Luminoodle. This portable LED light rope includes a rechargeable lithium battery pack with magnets so that it can be stuck on any vehicle, RV, tent pole, bike– anything metal! It also converts into a lantern!
---
Umbrella/Poncho/Rain Suit
If your avid RVers, odds are you've had to hookup or tear-tear down in the pouring rain. A rain suit, like Frogg Toggs is extremely convenient to have for this.
---
Travel Games/Entertainment
Don't forget to pack a few games and activities to keep antsy riders busy. The Crayola Color Wonder Stow and Go works perfectly for creative travelers! 
---
Good Tunes
Amazon Music
Unlimited is great for travelers! Amazon Music Unlimited features tens of millions of songs including playlists and stations. Aside from being completely ad free, songs and playlists can be downloaded for offline listening— perfect for road trips or air travel. I simply select a playlist and bluetooth it through our motorhome. You will never get sick of the same song over and over! 
---
You never know what items you need or wish you had until you've hit the road! Being prepared significantly helps for a smooth and enjoyable road trip ahead.
What items can you add to this list?
RVING IS BEING prepared for the journey ahead.
Related posts