Bear in mind that this post may contain affiliate links, meaning I get a commission if you decide to make a purchase through my links, at no extra cost to you. Please read my disclosure and privacy & terms for more info.
---
Dogs make great campsite companions. Nothing beats watching a beautiful sunset, relaxing in the sun, or enjoying a peaceful bonfire with those who mean the most.
It doesn't take much for a happy dog. Yet, there are a few pet-friendly products perfect for around the campsite that your dog will love and so will you!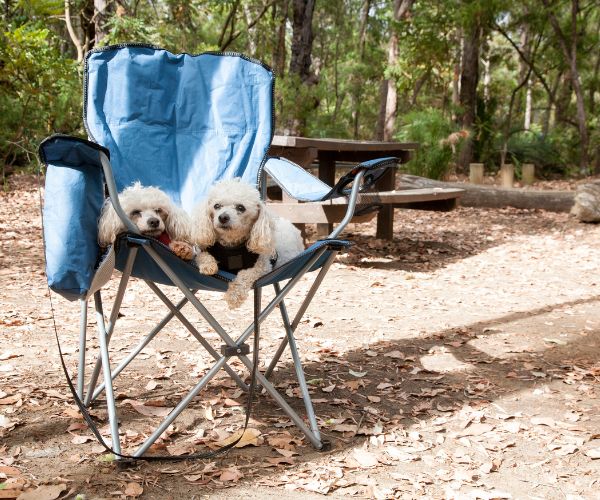 Dog Accessories and Gear for the Campsite
Raised Cot
Keep your pet cool (or warm) off the ground with the Outrav Raised Dog Cot. The elevated hammock avoids too hot or too cold ground temperatures, keeping your pet comfortable no matter where you are or what time of year it is. Conveniently collapse and store in an outside storage compartment for the next camping trip!
---
Shaded Pet Canopy
Everyone loves the thought of warm, sunny weather. However, shade is essential for us and our pets, especially when we are in extreme temperatures we aren't used to. Odds are, you'll be spending plenty of time outside on your exciting camping adventures. The Floppy Dawg Just Chillin' Elevated Dog Bed includes a removable shade canopy– perfect for those hot, sunny days. The breathable mesh bottom allows air flow while the elevated cot keeps your pet comfortably off the hard ground.
---
Tie-Out Stake
The Dogit Cork-Screw Dog Tie Out Stake is light-weight, easy to install and remove, and is simple for storing anywhere in the camper. It is a popular campsite-friendly option, keeping your pet secure while allowing them to roam the campsite safely.
---
Swiveling Pet Tie-Out
Over the tangles? The SUREswivel 360 degree Swiveling Pet Tie-Out keeps your pet secure on a leash without those nasty tangles! With the 360-degree swivel motion, the tether will not wrap or twist around the base. A portable anchoring stake makes the install and removal easy so that you can bring it along on all of your travels! 
---
Pet Pen
Speaking of tangles… Is it just me, or does your dog seem to get tangled around something within 10 seconds of hooking them up? How many dog years does it take for them to learn how to untangle the 20-foot cats-cradle they got going on throughout the campsite?! Well, an outdoor pen like the MidWest Homes for Pets Exercise Pen may be the right thing for your pet and you.
---
Pet Playpen
Over the years, we've seen a variety of camping companions– from cats and dogs to guinea pigs and rabbits. The Ruff 'n Ruffus Portable Foldable Pet Playpen comes in three different sizes for whatever unique pet you decide to bring along. It is RV-friendly, conveniently folds flat for traveling and storage, and pops up in seconds. Your pet can go leash free while enjoying the fresh air outside, yet stay safe and secure in this pen. 
---
LED Dog Collar
Know where your pet is at all times during late night bathroom breaks or starry nights around the bonfire. The BSEEN LED Dog Collar is a user-friendly and simple option for pet visibility. The glowing collar is rechargeable and can be cut down to the perfect size to fit your pet. Easily clip it on once the sun goes down!
---
The Illumiseen LED Dog Collar is another LED collar option. This comfortable, adjustable LED collar helps you and others see your pet at all times. Use with the matching Illumiseen LED Dog Leash for added safety when going for walks, hikes, or late night bathroom breaks. Vehicles can better see your dog in advance with this bright collar and leash combo, significantly adding to your safety. Change the light between steady, rapid flashing, or slow flashing.
---
Dog Bowl
Hydration is crucial for animals spending large amounts of time outside. The AmazonBasics Stainless Steel Dog Bowl is durable, slip resistant, and easy to clean.
---
Basecamp Bowl
The RUFFWEAR Basecamp Bowl is another great and durable option to keep your pet hydrated.  Use inside or outside.
Pet Loader
Thin and steep motorhome or travel trailer steps can be difficult for pets to climb. The PET LOADER collapsible steps provide a secure and strong platform for your pet to step on. The wide step and gentle incline puts less stress on a dog's joints, protecting them against injury and pain. The Pet Loader comes in multiple size options to ensure the proper fit for your recreational vehicle and pet's needs.
---
Portable Pet Shower Attachment
Camping can get a little dirty, especially for our excited furry companions! The Kurgo Portable Outdoor Shower for Pets turns any plastic soda bottle into an outdoor dog shower! Clean them off before heading back into the camper. This is perfect for boondockers or campers who do not have a water hose readily available.
---
Deshedding Blade Brush
Don't let the goofy design fool you. These de-shedding blade brushes are amazing! You'll end up with a whole other dog after using this thing!
---
Paw Cleaner
Have a happy camper with muddy paws? The Dexas MudBuster Portable Dog Paw Cleaner helps remove the dirt and mud from your dog's paws, keeping them clean and your RV too. Simply add a little water, insert the muddy paw, twist so the gentle silicone bristles scrub in between the pads, and pat dry.
---
Pet Stroller
Pet strollers not only make it easy to bring your companion along, but they also help those pets who have trouble walking, who are older, or have joint pain, arthritis, or other walking complications. The Paws & Pals Pet Stroller can be used in convertible mode with the canopy down or fully zipped, keeping your pet safely contained while still viewing the world go by. The breathable mesh allows fresh air and sunshine while protecting against bugs and insects. The Paws & Pals Pet Stroller conveniently folds compactly making it extremely RV-friendly.
---
Pet Stroller
Likewise, the Pet Gear Stroller for Cats/Dogs has a no-zip entry for no hassle. Features include a large a panoramic view, three position canopy, safety breaks, and shock absorbers. The large wheels and Air Ride tires are exceptional for different types of terrain offering added comfort. The front wheel also locks stabilizing the stroller for walking over rough and bumpy terrain or if you want to take your pet for a jog.
---
Dog Pool
Cool off your pet with the FrontPet Foldable Dog Pool. It is constructed from tough PVC material for durability throughout travel and use. Drain and fold to store on your way to the next campsite. This can also be used for a pet bathing tub after a fun hiking, exploring, or swimming activity!
---
You may like: Dog Accessories & Gear for the CAMPER and Dog Accessories & Gear for the ADVENTURERS
RVING IS BEING complete with our companions.
Related posts