This post contains affiliate links, meaning I get a commission if you decide to make a purchase through my links, at no extra cost to you. Please read my disclosure and privacy & terms for more info.
---
Thinking about what to gift your RV-loving friends and family?
Check out these HOT camping gifts and stocking stuffers that– not only heat up a chilly campsite– but warms the heart and soul this holiday season!
HOT Camping Gifts and Stocking Stuffers this Season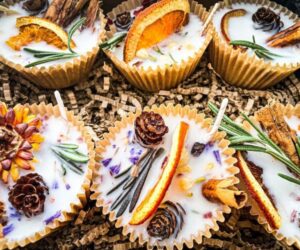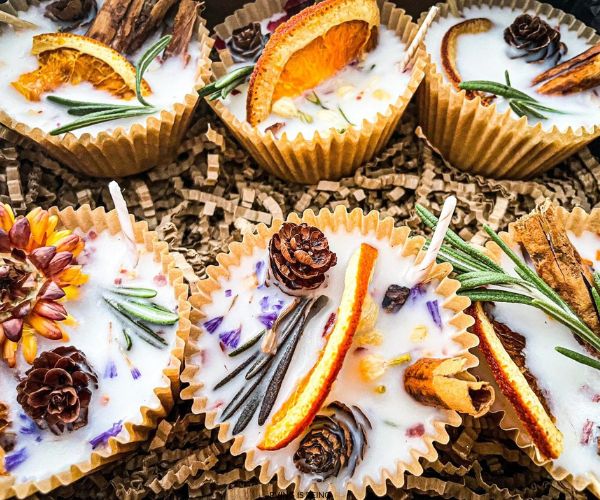 Nothing's better than starting the night out right with a toasty fire surrounded by people you love. Gift your camping family or friends with a firestarter or even a few! From simple starters to decorated shapes and sizes, your loved ones won't forget these gifts are on board for those chilly campsite nights. In fact, check out some more fantastic firestarters here! 
---
Gift the ultimate fire poker any fire aficionado would love! Not just a poker, the Walden Fire Stoker Poker can be used as a stick to move logs around and as a stoker where one can blow through the poker to re-ignite flames!
---
Store S'more ingredients in ONE PLACE so that you can quickly grab and go! (Ingredients not included.)
---

Here's a method campers can rely on– even through the most challenging weather! Gift an outdoor enthusiast with storm-proof matches. Plus, things like this make the perfect stocking stuffers! The UCO Stormproof Match Kit includes 25 windproof and waterproof matches, 3 strikers, and a match case. The matches will relight after being submerged in water while the waterproof case keeps contents dry.
---
If you know a ski-loving, ice-fishing, mountain-hiking winter warrior, gift them a pair of roasty- toasty hand warmers! We all know, a comfortable camper is a happy camper! Hot Hands have been around a while and never fail outdoor enthusiasts during cold camping evenings. These small but mighty, disposable, single use items are awesome to have and can quickly make a group of campers more comfortable during late night bonfire stories! Looking for an indispensable option? This rechargeable pocket warmer heats up fast and can be charged with a USB-C charging port or used as a power bank to charge electronic devices. 
---
A heated vest is sure to warm the soul! Now, you'll be shocked at how much more you're willing to do and experience the great outdoors when you're comfortable and not frozen to the bones. Gift heated apparel and it's guaranteed your loved ones will gain that adventurous spirit back.
---
You'll find that cast iron skillets often are a staple piece in RV kitchens. Why? Because this one pan is extremely durable and can be used over a fire; on the grill; on a gas, electric, or induction stove; and in the oven. Its versatile cooking methods along with heat distribution, durability, and pre-seasoned material, make this a hot gift for new camp enthusiasts!
---
Create the juiciest burgers with crispy, cracked edges with a Smashed Burger Press. They'll become the new camp favorite!
---
Many RVers are constantly up and at 'em all vacation long! From hiking trails to museums– or even a mean game of Cornhole– friends can be on their feet the majority of the day. In fact, their back and body may feel yesterday's adventures even when vacation is done and over with. A portable, heated back massager makes the perfect gift for avid or full-time RVers. You'll see in Does this make me look like a Glamper? that ours has traveled all over the country providing that much needed massage after a long day of adventure!
---
Your traveling family or friends will love cuddling up in a nice, warm heated blanket throughout the chilly camping season. This warm gift won't get left behind and will for sure be a staple piece wherever they may travel!
---
Make sure your loved ones are staying nice and warm this season in their home-on-wheels! A space heater can quickly warm up a camper while drastically cutting down on needed propane to heat the rig. Look for one with safety features and a digital thermostat, like the TaoTronics Tower Heater or Honeywell 360 Degree Heater. These energy saving heaters are built to be safe, have programmable thermostats for efficient heating, and are compact for small spaces– especially RVs with limited floor space.
---
If you know friends or family who take camping to a whole other level, then the POP Design Camp Chair is the perfect gift for them! This chair features USB-powered heating technology that heats the seat up to 110 degrees with the push of a button. Similarly, the POP Design Bleacher Seat is perfect for chilly outdoor games. With a heating element like the POP Camp Chair, this stadium seat allows you to watch your favorite sports comfortably with a portable design that can be easily hauled along.
---
Portable propane fire pits are getting more and more popular among the RVing community. For example, the Outland Firebowl features a compact and easy-to-transport design that is safe to use during most campfire bans or restrictions. Absolutely no firewood is needed– eliminating sparks, embers and smelly bonfire smoke. This is not only safer at the campground, but campers also don't have the hassle of purchasing bundle after bundle of firewood.
---
Bake delicious biscuit dough cups with the Wolf'em firepit roasting sticks and fill with your favorite fillings.
---
What's better than enjoying a nice hot coffee or hot chocolate over a sunrise or a sunset? A beverage that stays hot! A heating mug that keeps drinks warm throughout a stroll around the campground or even on long travel days makes the perfect stocking stuffer for an RVing family member!
---
If you know an adventurous winter weather dweller, a shoe dryer like the DryGuy Travel Boot Dryer would make a great gift! It's portable and compact– ideal for travelers and will definitely get its use over the winter months.
---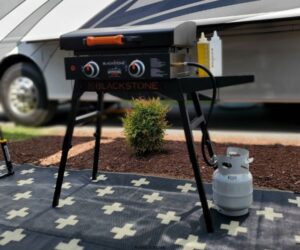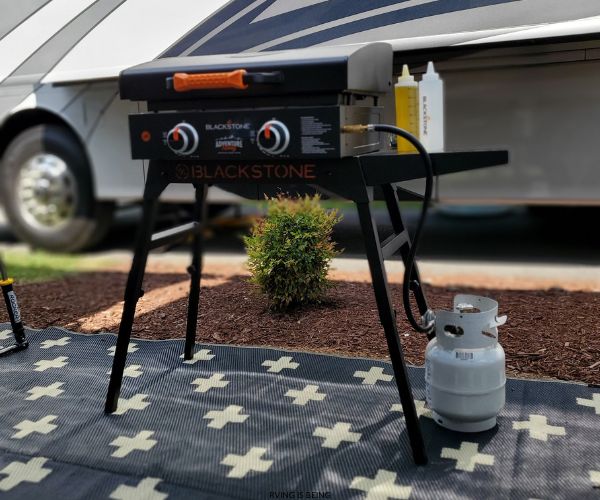 The Blackstone Adventure Ready 22″ Propane Griddle is the ideal package for any campsite! Featuring a 361 square inch cooking surface with dual 'H' burners producing 24,000 BTUS for fast and even cooking. Take it tailgating, camping and more with a convenient folding stand and bulk adapter hose.
---
For more gift ideas, check out: Gift Ideas for Different Types of RVers!
RVING IS BEING warm & cozy over the holidays!
Related posts