This post contains affiliate links, meaning I get a commission if you decide to make a purchase through my links, at no extra cost to you. Please read my disclosure and privacy & terms for more info.
---
Check out these luxury camp accessories that transform anyone's camping into glamping! These splurge-worthy gadgets and gear make the perfect gifts for travel enthusiasts and RV owners. 
Luxury Gifts & Gear for Campers, Glampers & Travel Enthusiasts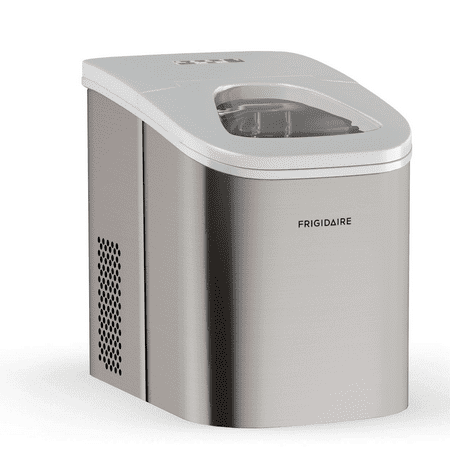 Portable Ice Maker
Camping is all about good food, delicious drinks and great times. The Frigidaire Ice Maker makes a batch of ice every seven minutes! It's perfect for cookouts, gatherings and outdoor reunions. Buy on Amazon or Walmart
---
Portable Pizza Oven
Cook delicious, restaurant-grade pizza in just 60 seconds with Roccbox. Gas or wood fueled, (wood burner as additional accessory option), with a thick stone floor and dense insulation that reaches 950°F. Its safe touch silicone jacket protects wandering hands, while a built-in thermometer helps cook to perfection. The detachable burner and retractable legs makes portability easy so you can enjoy pizza at the campsite. Buy on Amazon
---
BBQ Croc 3-in-1
With three tools in one, this innovative barbecue tong grabs, flips and cleans. It's perfect for everyday grilling, camping, tailgating and more. Features an integrated bottle opener and a snap on flashlight. Buy on Brookstone
---
Quick Set-Up Screen Shelter
The Clam Venture 5-Sided QuickSet Screen Shelter is small enough to be packed and transported yet big enough for a table and a few people inside. It's great for on-the-go, offering no-see-um mesh and protection from the sun and rain. The best of all– setup in 45 seconds! Buy on Amazon, Camping World, or Walmart.
---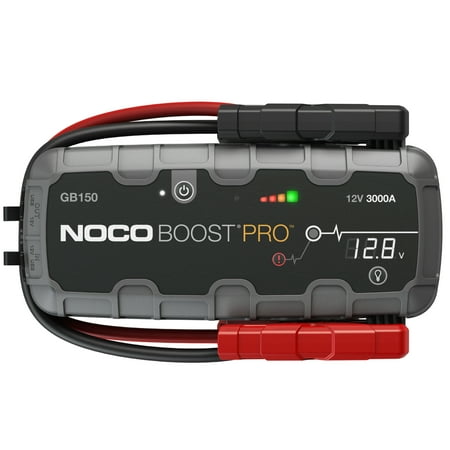 Portable Jump Starter
NOCO creates premium jump starters, batteries and battery chargers, along with a wide range of accessories. The GB150 is a powerful, ultra-portable, lithium-ion jump starter for 12-volt batteries. It's a powerful battery booster suitable for gasoline engines up to 9 liters and diesel engines up to 7 liters, such as a truck, RV, ATV, boat, lawnmower and more. Also doubling as a portable power source, it can power 12-volt devices like a tire inflator, power inverter or recharge USB devices, like a smartphone, tablet and more. For assistance or emergency situations the GB150 features a high-output 500-lumen LED flashlight with seven light modes –low, medium, high, flashing, strobe, and emergency SOS. It holds its charge for up to one year without being recharged. Buy on Amazon or Walmart
---
Portable Rocking Bassinet
Compactable, portable and convenient for the family. This rocking bassinet folds up and fits into a portable carry bag so that little family members can enjoy traveling the great outdoors too! Along with the rocker, it comes with an optional canopy and netting so that your baby can get fresh air, yet be protected while cozy in the bassinet. Buy on Amazon or Camping World.
---
Lamzac The Original Inflatable Lounger
As popularity grows with these air-filled sofas, the Lamzac® is made of high quality, TPU-coated ripstop nylon. Fill within seconds– no pump required– and easily deflate and store in the small carrying case. Relax at the campsite or take it anywhere like the beach, festivals, parks and more. Buy on Brookstone
---
Zero Gravity Lounge Recliner
Folding in half to stow, these mesh reclining chairs by Best Choice are great for on-site relaxation. Built with weather-resistant fabric and a heavy duty frame for years of comfort. Buy on Amazon or Walmart
---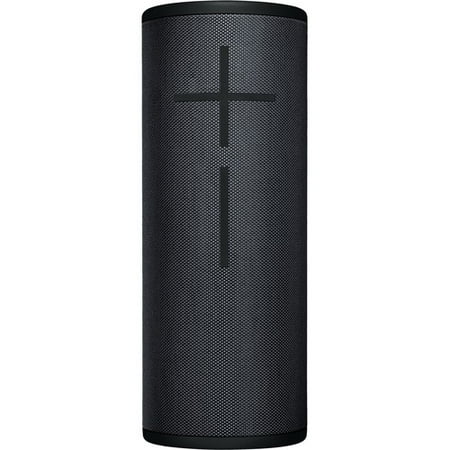 Portable Waterproof Bluetooth Speaker
The Ultimate Ears MEGABOOM 3 is a super portable, bold bluetooth speaker with 360° crystal clear sound lasting up to 20 hours of battery. Virtually indestructible and waterproof, it is made to float and with a IP67 water and dustproof rating, meaning it can be totally submerged in water for up to 30 minutes. Create the ultimate surround sound experience and pair 2, 3, 4 and more speakers together. Buy on Amazon or Walmart
---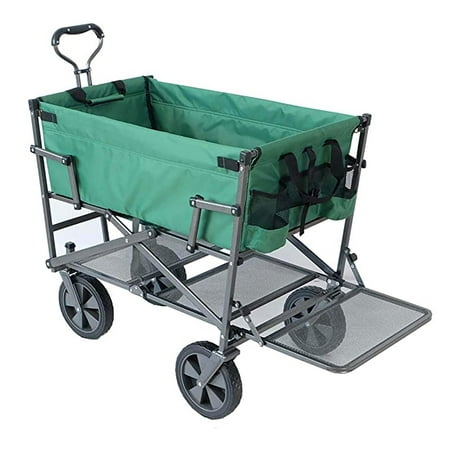 Collapsible Utility Wagon
Easily transport camping gear with the Mac Sports Collapsible Double Decker Utility Wagon. It includes an adjustable handle and two mesh cup holders while made of durable fabric. With areas to stow camp chairs, gear and more, you can conveniently take to the campsite, beach, or picnics. Sets up in seconds and folds to approx. 29.5″ x 20″ x 8″. Buy on Amazon, Camping World, or Walmart
---
Portable Fridge Freezer
Keep food and beverages cold on the road with the Dometic Dual-Zone Portable Refrigerator/Freezer. The state-of-the-art compressor delivers better cooling, freezing and power consumption, making it ideal for travel. A durable ExoFrame and strong spring-loaded aluminum handles makes it complement rugged trips and outdoor adventures. Control temperature via soft-touch buttons or through an app with Wifi or Bluetooth. Buy on Amazon or Camping World
---
Yeti Boomer Dog Bowl
Perfect for kibble, water or campsite treats and tough enough for travel. It's durable, rust resistant, and won't budge with a non-slip base. Buy on Amazon
---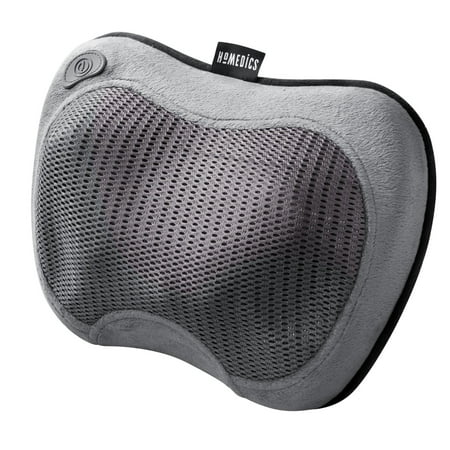 Portable Back Massager
Relieve back pain after a long day of hiking, driving, or exploring. In a compact size including rolling massage balls and the option of heat, this back massager is ideal for on the road. Buy on Amazon or Walmart
---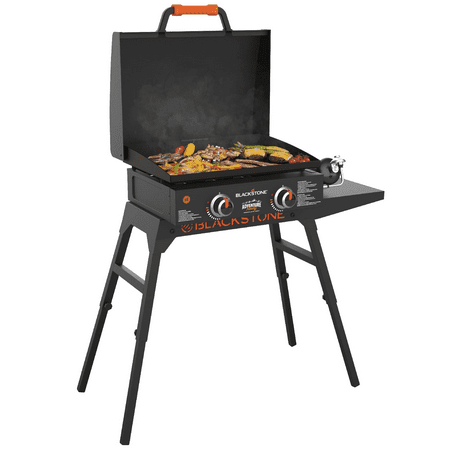 Blackstone Propane Griddle
With a convenient folding stand and bulk adapter hose, the Blackstone Adventure Ready 22″ Propane Griddle can go anywhere. Featuring a 361 square inch cooking surface with dual 'H' burners producing 24,000 BTUS for fast and even cooking. Buy on Walmart
---
Chef's Fork Pro
Grill out at the campsite and get the perfect temperatures every time. This fork knows the ideal cooking temperatures for 9 different types of food with an LCD screen and flashlight. Buy on Brookstone
---
iDeaPlay 26″ Electric Mountain Bike
Go farther and explore more with theiDeaPlay 26″ Electric Mountain Bike. With pedal assist and throttle power, adventurers can confidently ride for miles, get up and over steep climbs, and glide over terrains without getting exhausted or stopping the ride short. Riders can go up to 40 miles on a battery charge and up to 20 MPH. 26″ tires adapt to snow, beach, city roads, and tough trails. Buy on Brookstone or Camping World
---
DirecTV Winegard™ Trav'ler® Pro
Never miss your favorite show on the road. Winegard Trav'ler antennas make it easy to watch satellite programming anywhere in your RV. Stows to less than 10". Buy on Camping World
---
Yeti Trailhead Camp Chair
Relax after a long day at camp. Conforming and eliminating pressure points, the Yeti Trailhead Camp Chair is easy to take anywhere and includes a carry bag. It's made of tough materials and is solid, durable, and won't break down under UV rays. Buy on Amazon
---
GETXGO Fireproof and Water-Resistant Backpack+Document Pouch
Protect your essentials from the elements. Constructed with high-quality, double layer coated fiberglass that can withstand up to 1000°C (1832°F) with reinforced closures and a heavy-duty zipper that is also fire and water resistant. Keep money, passports, important documents, or electronics safe and portable when traveling. Buy on Brookstone
---
Yeti Rambler Half Gallon Water Jug
Stay hydrated all day long with Yeti's half gallon jug. It keeps cold drinks cold and hot drinks hot. Dishwasher safe and rust resistant. Buy on Amazon
---
Projector with Built in DVD Player
Enjoy movies on a big screen with this portable mini projector. Directly play movies from your favorite discs. Take camping, picnics, gatherings and more. Listen through the built in speakers or connect to your Bluetooth speaker or headphones wirelessly. Compatible with most devices and has HDMI, AV, VGA, USB, Micro SD Card ports. Connect to a TV stick, Laptop, PC, USB Flash Drive, Tablets etc. (It does not support Blu-ray discs). Use indoor or outdoor creating endless entertainment. Includes a carry bag and tripod. Buy on Amazon or Walmart
---
iDeaPlay P12 Folding Bike
With portability in mind, this 6 speed, lightweight, 20 inch bike folds easily to take along on your adventures. Incorporating an aluminum step-through frame and adjustable seat for comfortability. Folded size is 32"x12"x25". Buy on Brookstone or Camping World
---
Digital Metal Detector
Discover coins, jewelry and artifacts over hours of outdoor fun and excitement with the Lone Star Pro Metal Detector. It features three operating modes for different types of hunting and an easy to read LCD display. Buy on Amazon, Camping World, or Walmart
---
Junior Metal Detector
Find hidden treasures and explore what's out there with the Bounty Hunter Junior Target I.D. Metal Detector. For ages as young as 6 years old, this easy to use metal detector helps eliminate unwanted items and target valuables with three target I.D. categories that tells you what's in the ground before you dig. Buy on Amazon, Camping World, or Walmart
---
Salomon Men's Speedcross 6 Trail Running Shoes
Get the traction you need on long hikes and tough trails with Salomon's Men's Speedcross 6 Trail Running Shoes. The aggressive grip, weather protection, and stability make these the ultimate camp shoe. (See the Women's Speedcross 5, here.) Buy on Amazon
---
GETXGO Pre-filled GO Kit Fire+Water Resistant
The GETXGO® Pre-filled Fire+Water Resistant GO Kit is the all-in-one emergency kit for home or traveling. Packed for real world use and life on the go. Each contains tools, supplies, and instructions to prepare you for emergencies in an easy to understand way. Contains emergency and survival tools, first aid supplies, medications, wound care, and safety tools. Buy on Brookstone
---
Oklahoma Joe's Pellet Grill/Smoker
Featuring an innovative Pit Control 2.0 system with dual-sensor temperature control, campsite foodies can accomplish delicious, mouthwatering meals. Whether low-and-slow smoking or high-heat grilling, campsite cooks can choose from 200°F for smoking to 650°F for red-hot direct heat using the built-in Sear Mode. Buy on Amazon
---
RVING IS BEING adventurous
Related posts