Bear in mind that this post may contain affiliate links, meaning I get a commission if you decide to make a purchase through my links, at no extra cost to you. Please read my disclosure and privacy & terms for more info.
---
Anyone else blind as a bat driving at night?!
I don't know about you, but I could squint hard at a bright pair of headlights headed my way without any idea how far away they are– let alone see them in my peripheral vision for the next five minutes down the deer-ridden highway…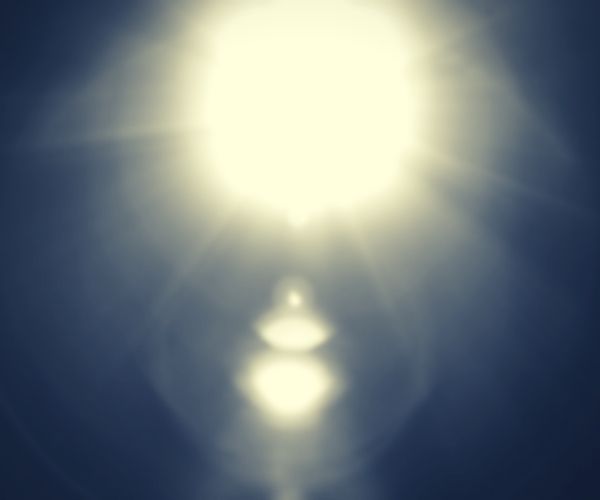 While you wouldn't catch some out driving after supper, other travelers may prefer to take the midnight route!
Why drive late at night? 
Beat that early morning traffic or after work congestion! No one wants to start a trip off on the wrong foot. If bad traffic tends to get you down, then by all means, plan around the busy times!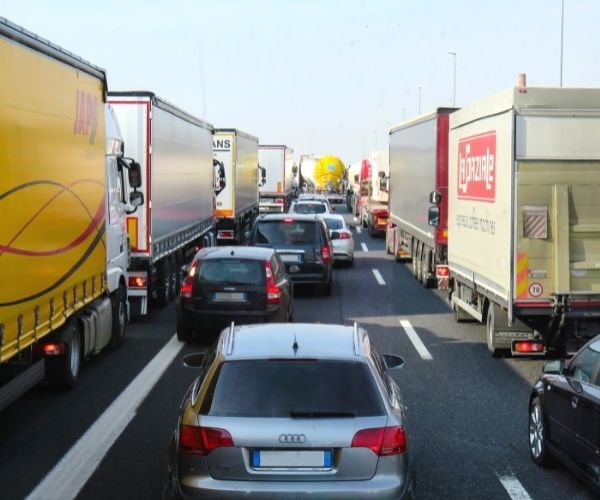 Keep in mind, some workers have careers on the road which are time crucial and essential positions. In fact, not everyone in those Minni Winnies are retirees chasing the sun! If hitting a big city at rush hour risks strict ETA's, then may plan to hit the road late the night before to get a jump on projected traffic.  
According to the National Highway Traffic Safety Administration (NHTSA):
Traffic usually picks up in the U.S. between 9 a.m. and 5 p.m. on weekdays due to work. Rush hour on weekdays, between 5 and 7 p.m. are usually more dangerous due to the increase in drivers on the road. 
Skip the construction. Oooh– don't even go there with an RVer about construction… Driving a 40'+ rig is already hard enough! Now add in hundreds of cones to squeeze between– that and a CONCRETE BARRIER! Might as well get ready for a hard right toward Anxietyville!
Hitting construction zones late at night, when workers and machinery are not present, can relieve drivers of those stressful and time consuming obstacles!
Less stressful and more peaceful! Maneuvering around other vehicles on a busy highway and being constantly on your toes can lead to one tense trip! While drivers must be vigilant regardless, night time driving can seem more peaceful to some. Less traffic, no morning rush, left-turns are no biggie, you can take your time, and forget that horrible sun glare! In fact, some of the best road trips are done on an open highway with good tunes and under the beautiful, bright stars!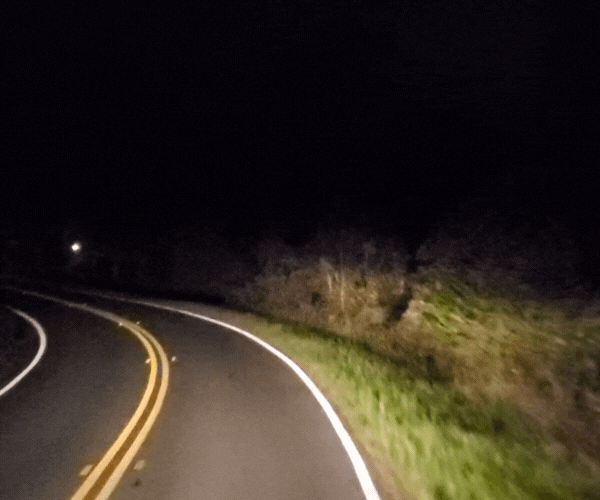 Children may travel better. Traveling for hours on end can be hard on young riders– and even more challenging for frequently traveling families. Hitting the road when children are winding down and ready for bed can ensure a few solid hours of rest while, at the same time, guarantee a happy camper come morning!
After all, don't forget a neck support! While late night travel may help pass time while they catch some ZZz's, make sure they are safely secured and comfortable for the ride!
No Pitch Black Pit Stops Ok, so we've all seen those scary, horror movies where they always end up at the most terrifying abandoned truck stops or hotels out in the middle of nowhere… Now, is every place like that? Heck no! But, sure there are places (especially on some midwest highways) that could give you the heebie-jeebies if you get stuck there at three in the morning!
Night time traveling allows you to motor through the night and stay at rest areas, truck/RV stops, or RV parks during the day. Some travelers may prefer this, considering locations in the daytime are well-lit, frequently occupied, and can be safer.
Late Night Driving Tips for RVers
Whether you're a late night road tripper or you get caught out after sunfall– use these tips to drive safely in the dark! 
Make sure your mirrors are positioned correctly, plus clean! If you wouldn't trust the mirror before a date, then don't trust that sucker going down the road! Position your mirrors accordingly and keep them clean! Consider towing mirrors to spot headlights far behind the rig.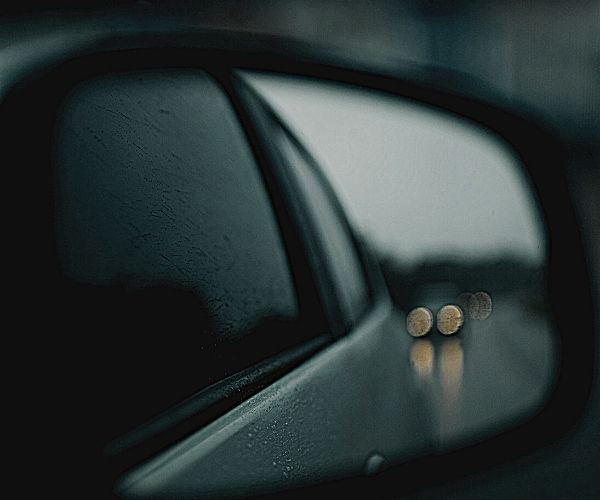 Light it up! Lights are a must at night! Before taking off, do a walk around and test to make sure headlights, turn signals, running lights, and brake lights are shining bright when activated.
Take the weather into consideration! Rainy nights not only make a large windshield glare, but impairs EVERYONE'S vision, also adding some slippery road conditions to the mix! Always try to look at the weather before getting behind the wheel (or have a copilot look while traveling). Inclement weather and RVs don't do well together– especially at night when the driver's vision is impaired and the wind is blowing the rig around!
Make sure your windshield wipers are new this camping season just in case you're caught in this!
Not sure of your application? View Camping World's application guides–found here–to get the correct wiper blades.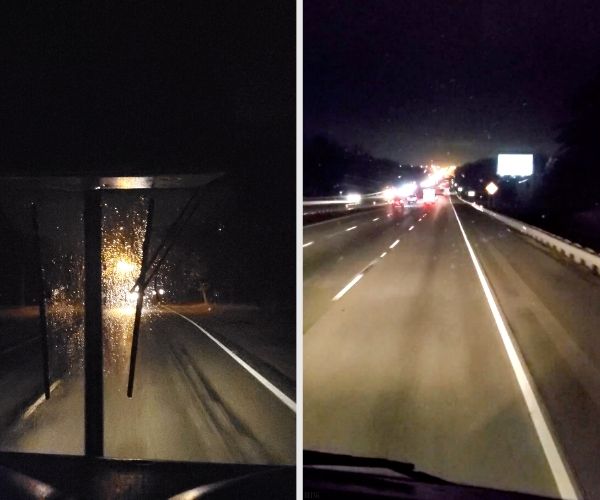 Don't keep driving if you're tired. Really, in any vehicle, this is a no-brainer… However, especially in a 40,000 pound, rolling brick, going 60MPH… Seriously, find a safe place to park it and call it for the night! 
Dim the dash and GPS. Flip these to 'night mode' so that the lights aren't a distraction or impact your night vision.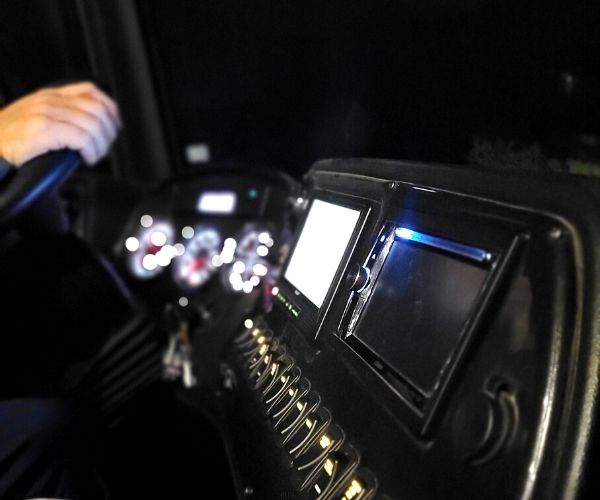 Drive slower. Sure, motorhomes are known to be the 'turtles-of-the-highway'. However, the amount of RVs and people taking up this new lifestyle is growing– DRAMATICALLY! That means, there's a LOT more people out there driving these things… and, boy, do they have things to do!!! With that being said, just remember… We've all been stuck at home, we've all been waiting to get out, and we've all been ready to HIT. THE. ROAD.
In other words, you can see how easy it's going to be wanting to push the pedal to the metal on an open road when it's just the stars watching. Just remember, slow and steady wins the race! 
Stay on large highways and main roads. If it's not a big thick line on the GPS, then DON'T take it! FORGET that it's two minutes quicker! After all, a faster route does not mean it's an RV-friendly route!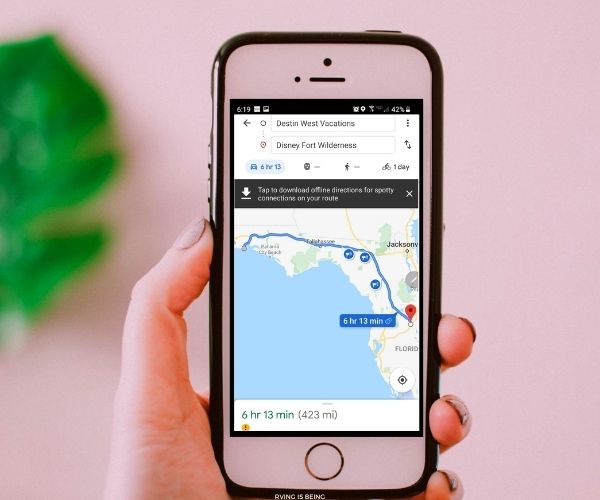 Remember, many of us are using GPS systems that don't necessarily know we are driving around 35-foot boulders-on-wheels. Really, many devices just advise the quickest way, regardless of a low bridge, a hard right, or a dirt road– which, would be easy for a Prius, but potentially challenging or even inaccessible for RVers.
If you are unfamiliar with the area, look for truck friendly routes. Generally, if truck drivers can take that route, you should be able to maneuver it in an RV unit too! 
Keep the gas tank full. While pumps may be less busy and easier to maneuver around at nightfall, keep in mind that some locations may close up early– leaving you stranded if the gas tank gets too low, too late! Fill up before hitting the road and try to always have a plan for the next fuel stop. If you must stop at night, try to find a well-lit business that's closely located right off the highway.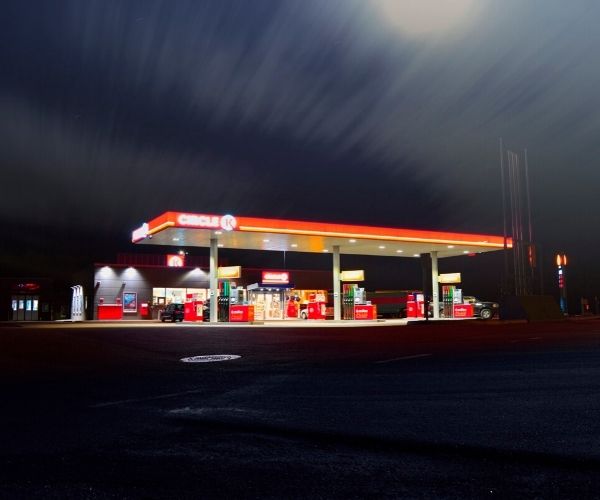 Use those blinkers! Many still do not know these cool doodads exist! Even if you tend to skip the turn signals in your daily-driver, use them in your rig! Others on the road will appreciate it!
Watch out for critters! "Tank," "Guzzler", "Dream-Wanderlusters," or "Trailer Trash"– you can call your RV whatever you want during the day– but these rig's alter ego's can easily become the "Critter-Gitter" by night.
Unfortunately, wildlife is more active at night. This, along with lack of vision and depth perception can be highly risky for drivers. If you are to encounter an animal, brake to a controlled stop. Swerving could cause the unit to sway, resulting in a more dangerous situation. Then again, in any event, it's extremely important to be alert, awake, and watchful for animals, people, or vehicles along the roadside regardless of the time you're traveling!
Late Night Arrival Tips
Call the campground before late arrival. Although spontaneity tops-off traveling, it doesn't mesh so well with the hospitality industry… While you're jamming down the road at one in the morning, campgrounds, parks, and resorts must close up shop! Meaning, you must prepare for late arrival. If not, you may be pulling up to a locked gate!
So, let the campground or park know as soon as you do, that you'll be pulling in after dark. For one, it's considerate to the campground owners. For two, it can be helpful on your end as well! You'll probably need the gate code, bathhouse access codes, trash pick-up times, map, and WiFi password before hitting the sack.
Book a pull-thru site. Many favor these sites for transient stays because they are usually the easiest to park in and depart from– allowing many to stay hitched overnight for an early morning departure. Plus, who wants to back a 40-foot rig up into a site in the MIDDLE OF THE NIGHT?! Speaking for your camp neighbors, they probably don't want you trying to park that thing at three in the morning either…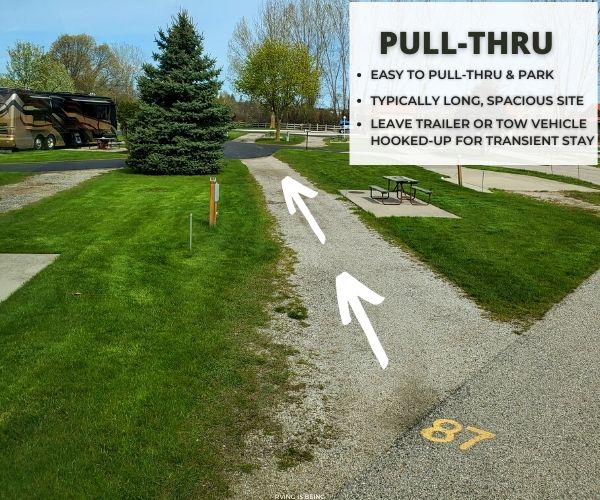 If in doubt, check it out. Ever have trouble finding the site and correlating pedestal in a large park you've never visited before? Now imagine that at night! Before squeezing your RV down every row to find your assigned site, get out and walk the path! Scout out the campsite on foot, locating the site pad and pedestal. Move the picnic table if needed and keep an eye out for low branches causing roof interference. Also, be mindful where you're parking. For example, it's dark therefore it's hard to see what kind of area you're parking it in. Not only that, but often travelers are tired, making a crash-landing on any site extremely easy to want to do… However, be cautious of soft ground and difficult sites to maneuver in and out of. Make sure to pack a headlamp to help watch out for pedestals, picnic tables, and pet poo!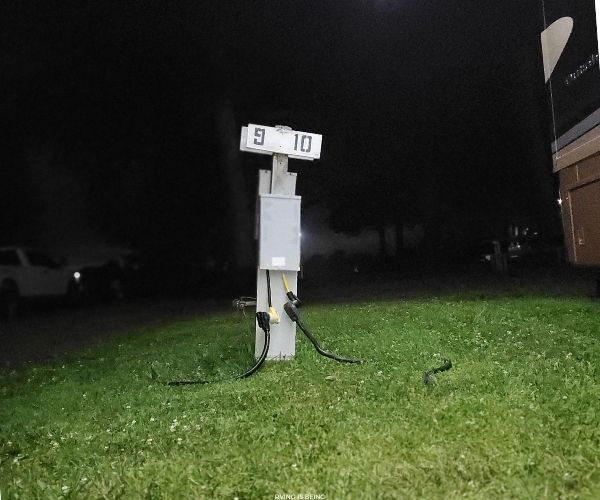 Be considerate. Let's get one thing straight… It's NOT inconsiderate traveling or arriving at a campground at night. In fact, RVs are filled with all different kinds of people– families, travel nurses, vacationers, remote workers, and more– with schedules much different than nine-to-fives. So, while it's not inconsiderate arriving at a campground at night, it IS inconsiderate not ACTING like it's nighttime upon arrival! With that being said, simply park and hookup the essentials as quietly as possible! Do what you'd like others to do in a similar situation!
---
RVING IS BEING safe on the road.
Related posts