Bear in mind that this post may contain affiliate links, meaning I get a commission if you decide to make a purchase through my links, at no extra cost to you. Please read my disclosure and privacy & terms for more info.
---
It's raining, it's pouring, camping doesn't have to be boring! 
Camping is a rain or shine experience.
In fact, inclement weather is a risk campers must take and unfortunately, most won't find an accommodating rain-check policy at any campground or RV park. 
Still, don't let vacation showers get you down! Here are some ideas, activities, and space saving products for a rainy day. 
RV Camping | Ideas For A Rainy Day
Outside the Camper Activities
 Play in the rain
If weather permits, of course, you bet we will be outside playing in a warm rain and stomping in puddles!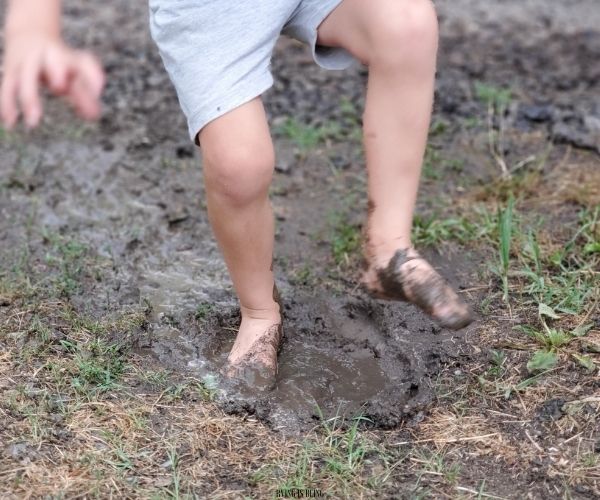 Make rain play even more fun with the right gear!
Totes Kid's Umbrella is a rainy-day fav! They come in all kinds of fun, colorful designs. The transparent feature allows kids to always see what's ahead while walking through the rain. Additionally, the dome-like design keeps them dry while ensuring no others nearby get poked by the tips. Buy on Amazon or Walmart.
Don't let little ones get drenched with this Rainslicker from Carter's. Buy on Amazon.
Crocs Rain Boots are available in bright colors with a waterproof design to keep feet dry and cozy. Buy on Amazon or Walmart.
  Relax outside
Not for getting drenched? Put the awning out or set up a canopy. Still, make sure it's not windy nor lightning present. Otherwise, nothing's better than getting some fresh air and feeling the calm breeze under a soothing rain.
The Clam Venture 5-Sided QuickSet Screen Shelter is small enough to be packed and transported yet big enough for a table and a few people inside. It's great for on-the-go, offering no-see-um mesh and protection from the sun and rain. The best of all– setup in 45 seconds! Buy on Amazon, Walmart, or Camping World.
The JBL Portable Speaker has been a great campsite sidekick through the years! Did I mention it's WATERPROOF?! From beaches, pools, bonfires, off-roading trails, boating and more– this durable speaker has been through it all! Buy on Amazon, Walmart, or Macys.
 Clubhouse/Arcade activities 
If summer showers are putting you in a funk, check-out what kind of activities the campground hosts for their guests. Many have weekly or even daily activities scheduled at the clubhouse like game nights, crafts, movies, and more!
If you've exhausted your campground amenities or are needing to get out of the camper and DO something, jump on Google and search near you:
Go to an indoor jump park: Need something to burn some energy? RVs can seem a little cramped over time, especially with energetic little ones. Indoor trampoline parks are the perfect activity to break up the gloomy day! 
Check out local attractions: Check out the city's aquarium, museums, science centers, planetariums, libraries, malls, or escape rooms!    
Go to an indoor pool/Waterpark: If swimming was the number one thing on the vacation list, but the weather isn't giving you a break, make your wishlist come true! If near a city, search for an indoor pool or waterpark! See if a hotel near you offers a day pass for swimming! 
Go to a movie theater: So the weekend wasn't supposed to include electronics… But, as RVers know, traveling entails unknown paths and perhaps a few bumps in the road. In other words, things don't always go as planned! Time for a new route!  
Go bowling: Rain still getting the family down? Find a bowling alley near you to keep up the spirit! 
Go to a roller rink: So old school right? Well, prove to the kids it's just like riding a bike! 
Dine out: If the weather's not looking very promising along with not much to do around town, sometimes dining out and watching the storm pass is the perfect change of scenery you need. Plus, you don't have to come up with an alternative bonfire meal! 
Inside the Camper Activities
  Play games 
With a plethora of board games, card games and interactive games out there, it's no wonder games are the ultimate rainy day "go-to."
Checkout fun, indoor games like:
6-in-1 Funpack: Including Go Fish, Old Maid, Crazy Eights, Memory Match, Slap Jack, & Animal Playing Cards
  Activity books/Coloring packs
These are a rainy day must! Still, one thing you'll want to do is look for all inclusive, space-saving, activity packs. Everyone loves to bring out their inner Picasso, but at the same time, you'll have to go for RV-friendly supplies that won't take up loads of space or that have many pieces to get caught under the RV slides. For example, the Crayola Color Wonder Stow & Go and EZDesk Travel Activity Kit not only holds the paper as a sturdy lap easel for your little artist but also stores the coloring paper and markers inside!
  Crafts
Coming from a limited-space perspective, keep the crafting supplies minimal. Look for crafting kits that include all of the supplies and that can be stored easily. Another idea is to prep crafts for little travelers first, so you're not lugging the entire craft box along!
You'll see in The Best Baby Gear for Your RV that the Bumkins Splat Mat goes everywhere with us. In fact, it's not just great for dinner time– throw this under the kids when baking or making crafts!
  Paint rocks 
The Artistro Paint Pens are very kid-friendly, dry quickly, and allow little artists to make precise designs– without large, messy brushes and paint cups. When it stops raining, hide your beautiful creations around the campground for other campers to find!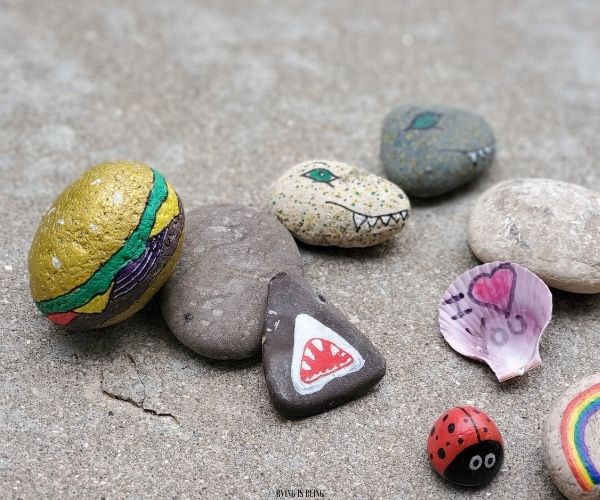 Cook/Bake
Make cookies and decorate them! Have a cookie mix in the pantry or refrigerated cookie dough for minimal supplies and efficient pantry storage. Go with the camping theme! The Welcome to Our Campsite Cookie Cutters will perfectly complement the experience! 
  Snack and play!
Get creative with a rainy day snack. Let the kids build their own treat before gobbling it down! For example, Jello or pudding mix is super easy to have on hand. Make it fun by creating a pool, beach, or dirt theme– like below! 
Pool Theme: Blue Jello, Teddy Grahams, Lifesavers Gummies for the pool tube, AirHead Xtreme bites for the pool raft.
Dirt Theme: Chocolate pudding, crushed Oreos for the dirt, Gummy Worms, and chocolate rocks (the campground store had them– and they went perfectly with the "dirt-cup" theme!)
Beach Theme: Vanilla pudding, crushed Graham Crackers for the sand, Teddy Grahams, AirHead Xtremes Belts cut in pieces for the beach towels, and Cocktail Umbrella Picks for the umbrellas.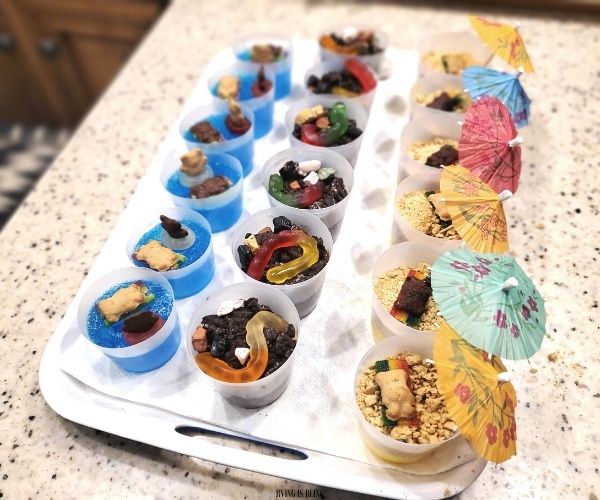 Movie and popcorn
A movie night is a great way to end the rainy day. Don't forget the popcorn! Consider bringing a new movie along special for rainy days.
  Create a scavenger hunt
If the weather is keeping you indoors, giving you a little extra time on your hands, create a scavenger hunt for the kids (for when the rain clears up).
I created a quick scavenger hunt below with a few toys and treats (optional) from the campground store. The best part is, you can make your scavenger hunt "age appropriate" and with as many steps as you wish! Of course, treats and small prizes are completely optional (the clues, let alone, are fun for little ones) and it's a fun campsite activity for the whole family!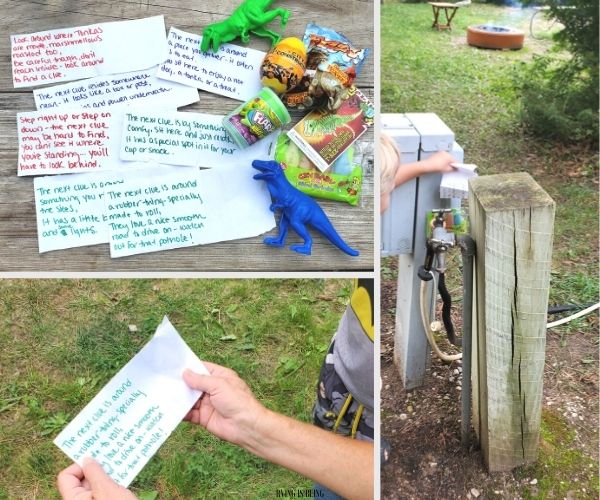 Adults! Don't let a rainy day get you down! Check out these additional ideas for the older crowd.
Outside the Camper Activities
Go to a winery, brewery, or distillery: Do some local tasting or take a tour of the facility.
Go to a sports bar: Enjoy local food and drinks, watch sports, and meet new people!
Sit at a cafe: Enjoy a specialty coffee and watch the storm roll by.
Try a new restaurant: So, the bonfire meal you had planned unfortunately has to wait. Try a new restaurant! Check out places with live music or entertainment to help time pass by.
Enjoy live music/Indoor concert: Do a Google search near you or ask the campground desk of fun goings-on close by.
Dave and Busters: Skee-Ball anyone? It's the perfect place to be on a rainy day!
Casino: Feeling lucky? Check out the casino near you. Not a gambler? Go for entertainment or, my favorite, the BUFFET!
Go to a spa/Get a massage: When's the last time you treated yourself? A massage would go nicely after that long hike or mean game of volleyball the other day!
Check out a comedy club: Rainy day getting you down? Have a good laugh to lift your spirit!
Go shopping/Walk the mall: As if we don't have enough camping gear…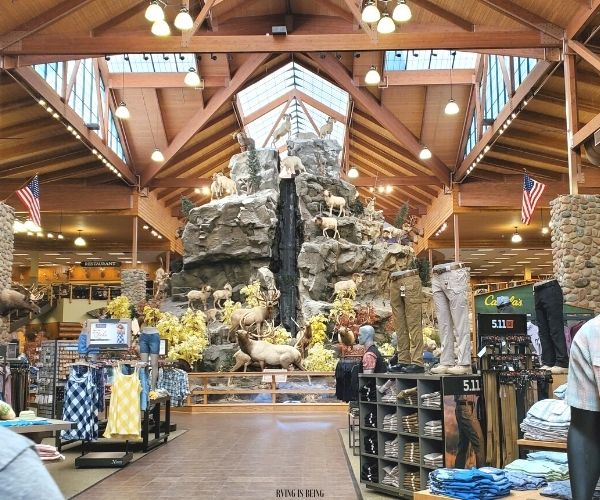 Workout: Burn some rainy day energy at the campground's fitness center. No fitness center? Do a quick, no equipment needed, workout in the privacy of your own camper. YouTube has tons of workout videos designed for every fitness level. A yoga mat and resistance bands are super space-friendly and great workout accessories to bring along. 
Inside the Camper Activities
Movie marathon I get it. Many of us try to limit electronics when camping– but guess what– RVing doesn't always go as planned. Get comfy and watch those movies!
It's a good idea to have a coaxial cord on hand if the campground you are staying at offers cable.
Crafts: Now is the time to channel your inner creative side and explore your packed Pinterest boards!
Cook or bake something: Unless you're a full-timer or avid RVer, you're not going to have many ingredients to work with. Time to get creative with what you have!
Although camper space is already limited, try to plan ahead on your vacations and pack ingredients special for rainy days or unplanned downtimes. A simple dry muffin, cake, or soup mix can store well and doesn't take up a lot of space in the pantry. Don't forget compact bakeware for your RV oven!
Organize your phone's photo gallery: Don't we all have 10,000 pictures taking up precious space on our devices? Now, is the perfect time to go through and clean up those bad selfies and accidental inside-your-pocket photos! Plus, looking at all of those great memories in your hand is going to help get you over the rainy day blues.
Research your next vacation destination: Now is the perfect time to plan your next RV trip! Where's it going to be next?
Although camping doesn't always go the way we had planned, RVING IS BEING adaptable to our surroundings and optimistic through the obstacles put in our path. Perhaps a gloomy day could push us to explore farther, try things we'd never thought of before, meet new people, or simply cherish the special down time together– creating some of the best moments and memories yet!
RVING IS BEING cheerful on a rainy day.
Related posts