This post contains affiliate links, meaning I get a commission if you decide to make a purchase through my links, at no extra cost to you. Please read my disclosure and privacy & terms for more info.
---
It's summer time!
No matter where your vacation destination lies– you'll probably encounter some summer scorchers! 
We've splurged on a few summer toys this season for plenty of fun while helping combat the heat at the campsite. Whether or not your vacation destination has a pool, these toys will promote hours of fun while cooling those little campers off.
Check out these favorites for the campsite.
Plus, don't forget the sunscreen!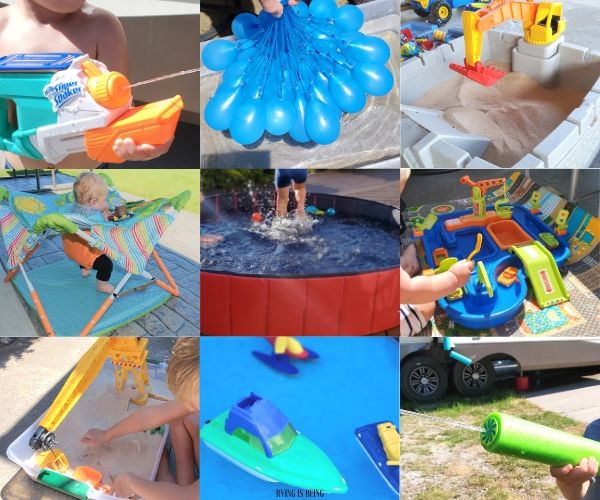 Beat the Summer Heat with these Campsite Toys & Activities
Find a creek! Camping's all about the great outdoors, right? Let them cool down on those scorchin' days. Water-friendly shoes and sunscreen are must-haves!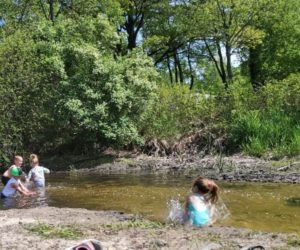 ---
Create endless fun with this fireman water blaster that comes with a backpack tank to help limit refills while promoting fun, pretend play! 
---
Everyone loves water balloons! Well… I bet parents beg to differ due to the grueling process of filling and tying! Well, not anymore with ZURU Bunch O Balloons! Have balloons in seconds as they rapidly fill and self-seal. Just remember to always pick up the balloons when done having an awesome water fight at the campsite.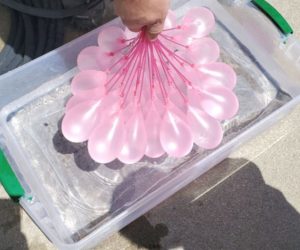 ---
Don't want to mess with picking up balloon pieces? Opt for Splash Bombs!
---
Adding some super soakers, water blasters, or squirt guns into the mix is a great way to beat the summer heat! Fill a tub with water for quick and easy refills. Game on! 
---
This heavy duty, collapsible pool is actually a DOG POOL! Save space and your breath (no inflation required) with this foldable pool that simply pops up and folds down for easy portability. Made with pets in mind, the pool is extremely durable and includes an easy drain system to empty, fold, and save for the next trip! Don't forget some toys to toss in! Little ones can go fishing or drive ships in the "sea"!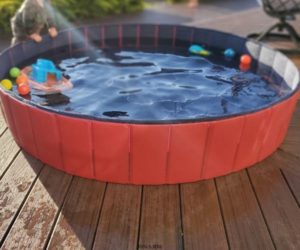 ---
A fun water table is a great way for children to stay cool and comfortable in the heat. The Little Tikes Frog and Pond Water Table breaks down, fitting in most RV cargo areas while making it convenient to bring along.
---
Struggling on finding enough storage space in your motorhome or travel trailer? The American Plastic Toys' Sand & Water Play Set is a small and space-friendly water table, perfect for RV storage. Likewise, the AQUAPLAY Children's Lock Box Play Set is a portable water play set promoting endless amounts of fun while folding up like a suitcase to stow! 
---
What's better than a cold treat on a scorching hot day? How about having a blast while making a delicious dessert?! This Play and Freeze Ice Cream Ball offers a creative way to make ice cream. Have a fun game going by rolling this around and then cool down with a refreshing dessert.
---
Beat the Summer Heat with these Campsite Toys & Activities
We all wish for clear skies and plenty of sun when camping. However, be careful of going overboard!
After all, too much sun exposure can make the remainder of vacation awfully uncomfortable for youngsters.
Consider taking a break from the sun while still having fun with these outdoor activities:
Worried about getting too much sun at the beach? How about bringing the beach to you! A campsite "sandbox" is a great outdoor activity children can enjoy right on-site while placing it in the shade to limit sun exposure. The Little Tikes Big Digger Sandbox allows kids to dig, build, and sculpt a construction site! Or, create your own RV-friendly sandbox. Who knew a bag of sand in a bin and a few toys could entertain for HOURS?!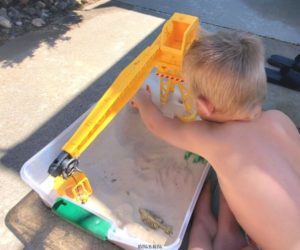 ---
On scorching days, shade is a must! Protect your youngsters outside under a picnic table with an umbrella for shade. The Little Tikes Easy Store Picnic Table with Umbrella folds for portability and storage. Keep them entertained and paint rocks, play Jenga, do campsite crafts, or play card games.
---
Likewise, provide a shaded area with the Ocean World Beach Tent. Its super compact design makes it ideal for on-the-go and quickly set up in five minutes.
---
For babies, sun tents, domes, and shaded activity seats are ideal when outside. As you'll see in The Best Baby Gear For Your RV, the Fisher-Price On-the-Go Baby Dome and Redmond Beach Baby Pop-Up are two go-to products that provide a protected area for babies to play or nap outside. The closing canopies shelter them from the sun and also protect them from bugs while COLLAPSING FLAT for hauling/storage in the RV! 
---
The Summer Pop 'N Jump may also look familiar! It provides a shaded activity center for growing babies to enjoy while getting fresh air outside. It folds similar to a camp chair for easy storage in the RV cargo area.
---
Relax in the shade in a comfortable hammock! It's lightweight, easy to pack, and is a hit with the whole family.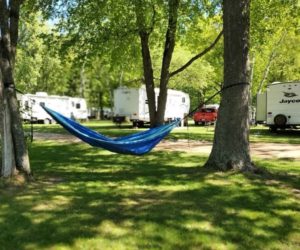 ---
Don't forget:
RVING IS BEING ready for some fun in the sun!
Related posts