Bear in mind that this post may contain affiliate links, meaning I get a commission if you decide to make a purchase through my links, at no extra cost to you. Please read my disclosure and privacy policy & terms for more info.
---
H

elloooooo Spring!

Camping season is right around the corner! 

It's time to break out the camper and get it ready for some great adventures this season! 

Now is a great time to schedule an RV maintenance appointment for your travel trailer or motorhome. Whether winterized and stored throughout the winter months OR used year-round, it should (annually at the least) get serviced. Maintenance work and inspections are crucial to keep recreational vehicles safe and in good working condition. Maintenance along the way can save owner's from significant damage and repair costs down the road. 

Firstly, I highly recommend getting your trailer or motorhome serviced by a professional. Just like searching for any other service–research, research, research! Read reviews and ask other camping friends, family, or the front desks at local RV parks of a reputable RV service technician.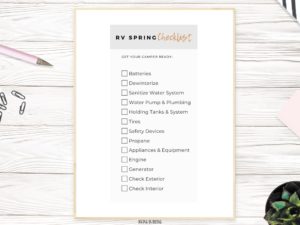 Below, is a helpful checklist as a general reminder of what to do to prepare travel trailers and motorhomes for the season. If choosing to carry out some of the steps below yourself, it's important to read your owner's manual for unit specific guidelines because every motorhome or trailer is different. 
It is extremely important that you read your owner's manual for unit specific winterizing and dewinterizing guidelines.
Do you have all the boxes checked off your RV Spring Season Checklist?
1.Maintain Batteries. Many owners protect and store RV batteries in a warm location during the winter. Naturally, they will discharge over time. It's best to routinely check them and charge them throughout the winter. A battery maintainer, like the DieHard Smart Battery Charger and Maintainer or Battery Tender Charger and Maintainer, maintains batteries while preventing overcharging. Charge, reinstall (if removed) and check over the batteries for cracks and corrosion. For proper battery maintenance, it's important to check with the manufacturer of the batteries. Having a good battery set and taking care of them is essential, especially if you plan on doing a good amount of boondocking!
---
2.Flush out Antifreeze. Whether you winterized the rig or had a company come out and winterize it for you, it now has to be dewinterized. The non-toxic RV antifreeze, often used when winterizing, needs to be drained out completely. Hookup the RV intake to a water source and make sure to hook up to the sewer as well. Turn on all faucets and make sure the gray tank is open to flush the water out. Flush until the water runs clear. Generally, the fresh water tank does not get antifreeze nor the water heater during winterization (this is bypassed). The black tank can be rinsed and flushed as well.
---
3.Sanitize Water System. Sanitize the freshwater system after antifreeze is flushed out for safe and sanitary water. Due to the RV sitting for months, the system should be cleaned of any mold, mildew, and bacteria. Some travelers use diluted bleach. Others choose a bleach-free route using hydrogen peroxide, vinegar, or baking soda due to bleach being harsh on some RV materials. Although this may be true, there are opposing views with these alternatives failing to fully kill the harmful bacteria in the system, not to mention them leaving strong odors and aftertastes. To combat funky smells and aftertastes, many RVers turn to Camco TastePURE Spring Fresh Water System Cleaner after their preferred method of sanitizing. This bleach-free cleaner stops odors and bad tastes and is also good for periodic cleaning, freshening, and deodorizing.
Now, is also a good time to replace your Camco TastePURE RV and Marine Water Filter. This can be attached inline to the water source and RV to filter all of the water going into the unit for safer, cleaner water.
---
4.Water Pump & Plumbing. Redirect water into the water heater before plugging into shore power so that you don't burn out the element. Fill the fresh water tank and turn on the water pump to make sure it is running correctly. The water pump should run to build up pressure and shut off. Listen carefully. If it does not shut off after building pressure, there could be an open valve or a sign of a leak. Test all valves, run inside faucets and fixtures, flush the toilet, and check the outside shower for drips, pools of water, or any evidence of leaking. Carefully inspect plumbing for leaks by looking under the sink area and around the toilet.
---
5.Holding Tanks & System. Check waste tank valves, sewer connections, fittings, seals, and dump hoses. Inspect for cracks and leaks. Often the new season is a great time to purchase new hoses! Additionally, clean and treat the black tank to help prevent odor. The Camco RV Toilet Max Treatment Drop-Ins helps break down tissue, waste, and help control odors. These drop-ins are easy to use and contain a blend of oils that trap unwanted odors in the tank without harmful pesticides, biocides, or formaldehyde. Likewise, the Happy Campers Organic RV Holding Tank Treatment is a highly concentrated, biodegradable, water-activated mineral blend. As many chemical tank deodorizers include perfume-y smells to help with odors, this works to eliminate odor without masking smells.
---
6.Check Tires. Check air pressure and inflate to stated PSI. While doing so, inspect for signs of wear, worn tread, dry rot, and cracks.
Don't forget to inflate and check the spare! It has, most likely, lost air over time. Blowouts are incredibly scary, dangerous, and costly by damaging the coach. Regularly check, inspect, and have your tires aligned and balanced for a safe journey ahead.

---
7.Safety Devices. Make sure the smoke alarm, LP detector, and carbon monoxide detectors are in working order. Change the batteries if necessary. It is crucial that these safety devices are functioning properly. Likewise, it never hurts to have an additional detector device, like the Kidde Nighthawk Plug In Carbon Monoxide, that can be plugged in for added safety.
---
8.Propane. Firstly, make sure to check off number seven. Place tanks back on the mount (if removable). Connect and check for leaks. Be aware of smells and use a Portable Methane Propane Leak Sniffer or an approved LP leak solution like Camco's Gas Leak Detector Spray to check for bubbles forming– which are signs of a leak.
---
9.Appliances & Equipment. Check your appliances and mechanical equipment to make sure they are working properly. Turn the furnace on, test the water heater on propane (make sure there is water in it), test the stovetop, and test the refrigerator on propane (if applicable).
---
10.Service AC Units. It is important to inspect or have the AC units inspected to make sure they are working efficiently. It may be wise to schedule AC maintenance before the hot weather hits! 
---
11.Check Engine (Motorhome). Start 'er up! Change the fuel system filters and engine air filter if needed. Check oil and top off fluid levels of coolant, brake, and windshield washer fluids. Inspect gauges and test all driving lights and turn signals.
---
12.Check Generator. Check the generator and around it for leaves, debris, and rodents. Start it up! Check and replace oil if needed.
---
13.Jacks and Levelers. Check for hydraulic leaks (if applicable), inspect levelers, connections and hydraulic lines, and test.
---
14.Slide-Outs. Inspect the slide seal and covers for damage or debris. Make sure the slides are in good working order by extending them and lube the mechanisms if needed with Camco Slide Out Lube.
---
15.Awning. Make sure the awning is intact and the mechanism is operating properly. Inspect for debris, tears, and mildew.

---
16.Exterior Steps. Extend the exterior steps and make sure they are in good working order. Lube hinges if needed. 
---
17.Electrical Hookups. Inspect the electrical cords for any damage, such as: cracks, gouges, or cuts. Make sure the plug connects to the cord securely. Check the plug prongs for bent or loose prongs. Replace the power cord if needed with the service your unit requires– 30 amp or 50 amp.
---
18.Inspect the Roof. Inspect the roof, roof vents, edges, and corners; inspect sealant and look for cracks, gaps, broken seams, gouges, and scratches from branches. Reseal if needed. I highly encourage RV owners to inspect the roof more than once a year! The quicker you catch a crack or broken seal, the better!

---
19.Inspect the Exterior Side Panels, Doors, and Windows. Check seals for leaks, cracks, or separation, and reseal if needed.
---
20.Inspect Lights and Turn Signals. Take a look at the headlight covers and turn signal lens for cracks or damage. Make sure they all work.
---
21.Under Coach/Undercarriage Storage. Inspect the undercarriage and all exterior storage areas for debris, leaks, or evidence of critters.
---
22.Check Interior of RV:
Inspect for any signs of rodents.

Inspect all appliances. Replace water filter in the refrigerator if needed. 

Inspect furniture for wear and tear.

Stressing #7 again! Make sure the smoke detector, carbon monoxide detector, and LP gas leak detector are in good working order.

Check the ceiling, windows, doors, slides, and vents from the inside for leaks, broken seams, or cracks. Discolored panels or ceiling areas are signs of water leaks.

Inspect fire extinguishers' pressure gauge or inspection tag and replace if the pressure is inadequate, expired, damaged, dented, or rusted.

Change air vent filters.
---
Time to CLEAN!!
See how I clean our motorhome interior for the camping season!
RVING IS BEING prepared for the journey ahead
Related posts