This post contains affiliate links, meaning I get a commission if you decide to make a purchase through my links, at no cost to you. Please read my disclosure and privacy & terms for more info.
---
With spring right around the corner, it may seem like everyone is in full-out 'camping mode'– getting the camper out of storage, booking sites, and packing up for a great season ahead.
While more and more families are taking the plunge and purchasing a travel unit– just remember, don't let the soon-to-be summer time pressure you into doing the same…. At least not yet!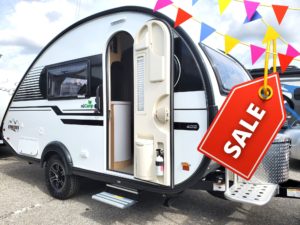 When is the Best Time to Buy an RV?
Generally, the BEST time to buy an RV is during late fall and winter months.
Typically, RVing "season" runs spring through fall. Shopping for units during camping off-season (late September through February) may be the best time to find the RV of your dreams– plus score some killer sales!
Here's why…
Better Deals with Less Demand
RV dealerships often have better deals in the fall and winter season– especially in northern climates. The end of camping season and cold weather causes less demand for campers and RVs. In fact, most northern RV parks and campgrounds close for the season– leaving very few options for winter travelers to park and use their rigs. Without the demand spring brings, dealerships are more likely to give discounts to see units move off the lot in slow times. 
Used RVs Go Up for Sale
Drive around your local area when camping season is coming to a close (late September and October) and you'll most likely see RV units scattered along roadsides with bright "For Sale" signs! After another camping season on the books, many owners consider upgrading to newer rigs or simply find RVing isn't for them anymore. Before winter comes, they don't want to worry about storing and winterizing the rig yet another year. Rather than spending the money on maintenance and storage or having a big eye sore taking up space and depreciating in their yard, many owners list low prices to get the RV off their property and money in their pocket!
Deals on Last Year's Model 
With any product, customers can't wait to get their hands on the newest, coolest model! Similarly, in the RV world, there's high demand for the latest and greatest features as well. As brand-new models come out, most dealerships make room for the incoming rigs. Plus, dealerships don't want to sit on a ton of old inventory and are willing to give big discounts to get the older models gone. It's worth checking out last year's models as they're often not much different from the new ones. 
Keep in mind…
It's Not Always About the Best Deal or Time of Year
It's important to realize that buying a RV unit isn't always about getting the lowest price possible or waiting until late fall rolls around. Rather, it's ultimately about purchasing the RV of your dreams and from a reputable dealership that is there for you before the sale and after. You may find it's worth splurging on the right rig and service that's going to give you the best experiences and adventures ahead!
If you don't find the perfect rig throughout the winter months, don't worry! RVs are sold year-round and those hidden gems are out there and everywhere! Expand your search results and be prepared to travel some distance if the perfect one is to become available.
Consider renting an RV unit for the time being! It's a great way to hit the road while keeping your eye out for the perfect unit to come along. Plus, it allows you to test out certain makes, models, and floor plans that would best suit you for your adventures! (Check out: New to RVing? Why You Should Rent First Before Owning)
You may like: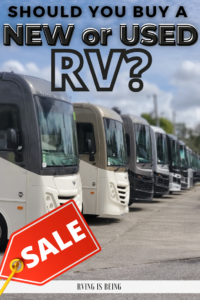 RVING IS BEING mindful of the investment!
Related posts