Bear in mind that this post may contain affiliate links, meaning I get a commission if you decide to make a purchase through my links, at no cost to you. Please read my disclosure and privacy & terms for more info.
---
Camping season is right around the corner.
Friends and family are busting out their camper and toys prompting you to question if it is time to take the plunge!
Debating on buying your first RV? 
If you are new to the RV scene, fully consider renting out a camper and a campsite for a few nights.
Why?
To test the waters and see what the whole "RV Life" entails!
New To RVing? Why You should Rent First before Owning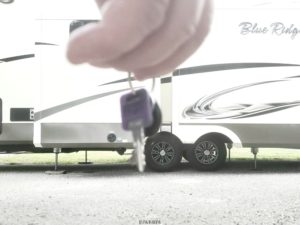 Here are 5 reasons why you should rent a recreational vehicle before making the big decision to own.
1.

Try Before You Buy

Most people typically don't purchase a car without a test drive. Renting an RV is the perfect time to try out what could be a lifelong journey full of amazing adventures. With so many RV renting platforms, a variety of motorhomes and trailers are available to try before you buy! It is the perfect chance to get a feel for things and see if this hobby or lifestyle is right for you! 

Give It A Few Strikes

Potential RV owners should contemplate renting out a camper a few different times. Why? There are SO many different components and customizable features that go into RVing. For one, recreational vehicles come in all shapes and sizes. Travelers have a plethora of choices when it comes to types, models, layouts, and designs of RVs to fit their family, hobbies, or personal preferences.

Secondly, campgrounds, resorts, state parks, and boondocking locations are all different and have something special for every personality type and interest. Try it out a few times before confidently making a decision in the RV lifestyle!
---
2.

Learn What There Is To It

Renting an RV is a great learning experience and chance to figure out if owning a camper is for you or not. Renters, who often start out unfamiliar with RVs, can learn from renting a rig without being completely on their own or in the dark. It's a great time to soak up everything there is to know about RVing.

There's an abundance of things to learn such as: towing or driving an RV, fueling up and fuel costs of RVing, different rig requirements (amps, hookups, site length), the arrival and departure process, the list of supplies and products you will need to stock your own RV with, different campground amenities and rates, and more! Renting a camper first is a great way to–not dive– but ease in, and learn from experience without making a HUGE commitment yet. 
---
3.

Determine What RV Is Right For You

RVs come in all different shapes, sizes, layouts and designs. First there are motorhomes: Class A, Class B (Campervans) and Class C. Then the towables: 5th wheels, toy haulers, travel trailers, and teardrop trailers. Don't forget pop-ups and truck campers!

From there, travelers can choose from an abundance of layout plans ideal for their family. ATV owners may consider toy haulers for their off-roading vehicles. Mid-bunk plans may work better for larger families. Smaller truck campers may work great for travelers trying to get in the thick of things for hunting and fishing.

Don't forget about the design! From color, appliance, seating, and lighting. No wonder it is such a big decision– it's literally like buying another house!

Renting out a couple different RVs does not have to check off all the boxes on your wishlist– but it will help you in determining what works and doesn't work for you. 
---
4.

Make Sure You Can Pull Or Drive An RV

Many often overlook this and are captivated by the amazing destinations and fun adventures RVing can bring. It's just driving right? We do it every day! And surely, anyone can drive or pull a recreational vehicle with a valid Driver's License (depending on certain state regulations). But, it doesn't mean that some of us… should…

Handling a large 40-foot motorhome or 5th wheel can be challenging for some. Not only that, but you may find that driving is stressful, tedious, or simply not for you. Before taking the plunge and having your first time ever driving an RV be out of the dealer's parking lot– rent one and test these unknown waters. Taking it a short distance at first will get you familiar with what you will have to do if you choose to buy your own. 

Taking the wheel not for you?  Consider renting with delivery so that the camper is placed on site for you. Have your heart set on owning, just not driving? Look into getting a seasonal site so that you do not have to move the camper! 
---
5.

Is It Really Worth Buying?

During the process of renting a recreational vehicle and camping in it, you may find that renting, NOT buying, is simply the way to go!

Consider the time and money you will have into camping. Is it worth forking out the money and purchasing your own camper only to use it a handful of times during the year? Also, think about stocking, fueling, storing, winterizing, maintenance, repairs, and insurance. After all, maybe you are better off renting and leaving the not-so-fun part to someone else.

Check out RVshare.com! The customizable renting process puts suitable motorhomes and travel trailers right at the tips of your fingers. Select the type, design, accommodations, accessories and more– creating your ideal form of vacation!
---
RVshare is a popular RV rental marketplace where renters and owners come together to rent or rent out their recreational vehicles. Search for an RV to rent and get a feel for the RV lifestyle! 
Check out: Renting VS. Buying
RVING IS BEING keen… not green.
Related posts