Bear in mind that this post may contain affiliate links, meaning I get a commission if you decide to make a purchase through my links, at no extra cost to you. Please read my disclosure and privacy & terms for more info.
---
Fueling up is something many of us typically don't look forward to, especially when driving a large RV… 
Class A motorhomes, fifth-wheels, and larger travel trailers need a generous amount of space to maneuver and can have difficulty making tight turns around fuel islands. Plus, reversing can be near impossible if you throw a toad (towed vehicle) into the mix, causing quite the challenge at a congested gas station. 
Let's face it. No RV owner likes fueling up, but it's part of RVing! By planning ahead and locating an RV-friendly gas station— fueling up can be a breeze! 
Finding an RV-Friendly Gas Station
---
Remember…
Try to research your fuel stops before you depart.

Keep in mind, there are some rural stretches out there without any services! Depending on where you are traveling, it's wise to have a plan considering the miles you can go on a tank of gas.
NEVER wait until the fuel light comes on. Now, read that again…
Start searching for a fuel stop around 1/2 to 1/3 tank. If you are traveling alone, keep your eye out for the big blue highway exit signs. (These service sign billboards usually come one after another near exits advertising food, gas, and lodging locations.) Look for popular truck stations (mentioned below) or gas stations that state "Diesel" –these may be a bit more Big Rig friendly for Class A motorhomes and larger RV units. Also, consider pulling into a rest area and searching near you using your phone or navigation system.
Locate a Truck Stop or Travel Center: Look for: Pilot Travel Centers, Love's Travel Stops, TA's, and Flying J's. Why? Truck Stops and Travel Centers are made for the big guys… Actually all kinds of guys! Some even have dedicated RV lanes! Nonetheless, m

ost

of these are built with large maneuverable areas, wide lanes, semi and/or RV parking, DEF fluid, and many amenities for those on the road for long periods of time.
---
Truck Stops for RVs
Can any RV use a truck stop?
From our experiences, I'd leave the truck stops, more importantly, truck fuel lanes, for large 40+ foot diesel motorhomes or rigs. (Keep in mind, truck lanes at truck stops are usually diesel – only.)
Remember, be courteous to truck drivers! Common etiquette in the truck lane is to fuel up your rig, pull it forward, and then go inside to pay– so that the next truck behind you can begin fueling.
Smaller RV units can generally make most gas stations work, aiming for the outside pump. However, for larger gas units, a designated RV lane may be ideal. Many Pilot Travel Centers and Flying J's have specific RV lanes, most with both regular and diesel at the pump.
How to find a Truck Stop or Travel Center? 
There are many great resources out there that connect RVers with RV-friendly locations such as: apps, books, forums, and websites. However, we are going to explore the good ol' Google Maps App! 
---
Finding a "Big Rig" (RV) Friendly Gas Station using GOOGLE MAPS! 
1.Co-pilots, at 1/2 to 1/3 tank of fuel, open up the Google Maps App.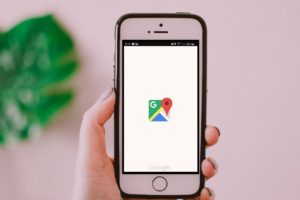 ---
2.Select Satellite View. Satellite View gives us a detailed aerial view of the business layout: the driveways, the lot size, and even down to the parking spots!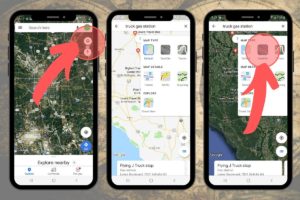 ---
3.Search for a gas station along your route. This can be as simple as entering "gas station" into the search bar– or more specifically, "Love's Truck stop," "Pilot," etc. (Our go-to's are Pilot's, Love's, Flying J's, or TA's.) All of the corresponding gas stations will appear in the map area.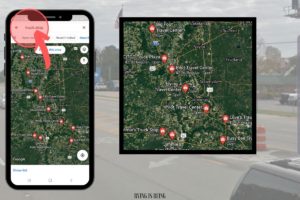 ---
4.Start zooming in on location options within your designated radius while considering your fuel tank status. (Zoom in or out with a two-finger spread or pinch.)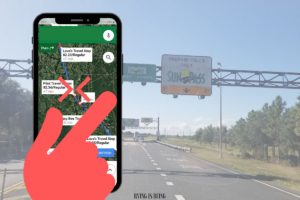 ---
5.Inspect the given location points from Satellite View. Within seconds, you can tell (see the below screenshot), which fuel station has a generous amount of room for a large motorhome.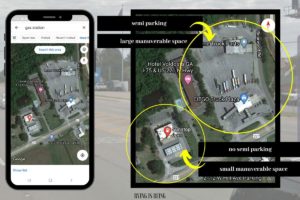 When it comes to finding a gas station for a Class A towing, we want: an easy off and back on to the highway, a large maneuverable area for our rig to take wide turns, a good amount of fuel islands, a large parking area with plenty of semi/RV parking preferably pull-thru parking spots (reversing is a no-go while towing into or from parking spots), an area for the dogs, and an eatery or restaurant would be nice too for a quick meal! This is a lot of preferences but you'll find many locations out there that fulfill your requirements. You just have to look!
---
6.As seen from the screenshot images below, you can make certain: (a.) a gas station is on your path ahead (b.) the gas station has easy access off the highway AND back on to the highway (c.) there's a large maneuvering area for Big Rigs with a TOAD (towed vehicle) (d.) there's plenty of parking OR pull thru parking if you need it while towing (e.) and other amenities you require or prefer: restaurants, picnic tables, lawn space for quick pet breaks, etc.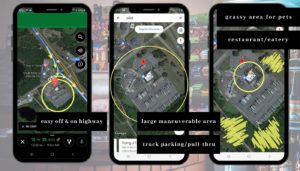 ---
7.Finally, take a look at the entrance you'll be using. Typically larger fuel centers have a Car/RV entrance and a Truck entrance. This helps what to look for upon reaching your destination.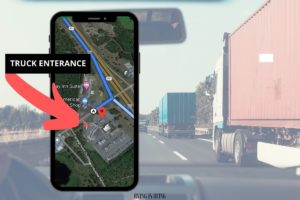 ---
8.Once you have scouted out and found a location that looks like it'll work for you and your RV, hit directions and Google Maps will take you there!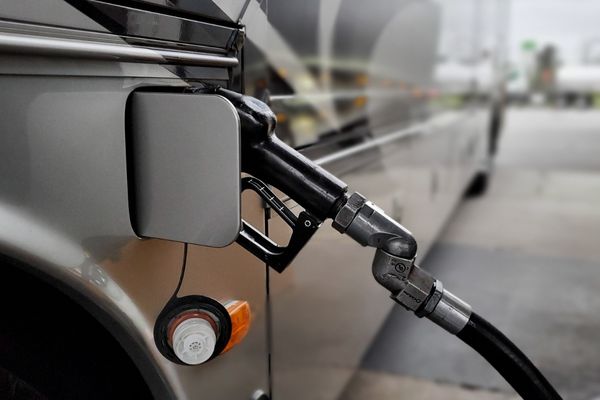 You may like:15 Awesome Things Google Maps Can Do For… RVers!  
---
Sometimes you just have to roll with it…
If you are avid travelers like us, there will be times when you just have to take what you can get! Traffic changes, incidents happen, and plans change. You may not always find "RV-Friendly" locations, but by using Google Maps and viewing a premises in satellite view first, it can give you an idea if you can make a particular gas station work or not. The best you can do is try to plan ahead and NEVER wait until the gas light comes on! 
RVING IS BEING fueled up and ready to go!
Related posts