Check out the Ultimate RV Packing List below!
It includes everything you need to stock your RV– the necessities, the nice-to-haves, and the just plain extras!
Will you need all of these items?
Absolutely not!
Every RV is different and those traveling within are too. That's the beauty of RVing. Make your special "home-on-wheels" suitable for you!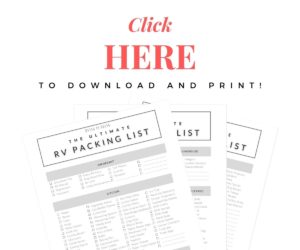 Simply click, download to view, and print if you wish! Check-off what you have, cross-out what you don't need, and write in your ideas!
RVING IS BEING ready to roll!
Related posts