Bear in mind that this post may contain affiliate links, meaning I get a commission if you decide to make a purchase through my links, at no extra cost to you. Please read my disclosure and privacy & terms for more info.
---
There's no one distinct amenity that classifies a business as a Campground, RV Park, or RV Resort. Having camped at countless locations here's our take on the general atmosphere and differences between them.
After all, we've learned to never judge a book by its cover.
Campgrounds, RV Parks, RV Resorts… What's the Difference?

RV Resorts
Think of the trending term, "Glamping" (aka Glamorous Camping). You'll find that many RV Resort atmospheres portray a resort-style feel where many locations have guests enter through a security booth and into a gated premises. Roads can be nicely paved with spacious, level, concrete site pads. Amenities range from pools and spas, fitness centers, clubhouses, convenience stores, eateries, and tennis courts. Sites generally include full hookup; 30 and 50 amp power, water, and sewer connections. Additionally, WiFi and Cable TV are usually included. As a result, prices tend to run higher at upscale RV resorts. Not only do certain RV Resorts have specific class limitations– but some even tailor to Class A only with rules regarding RV age and condition of the rig.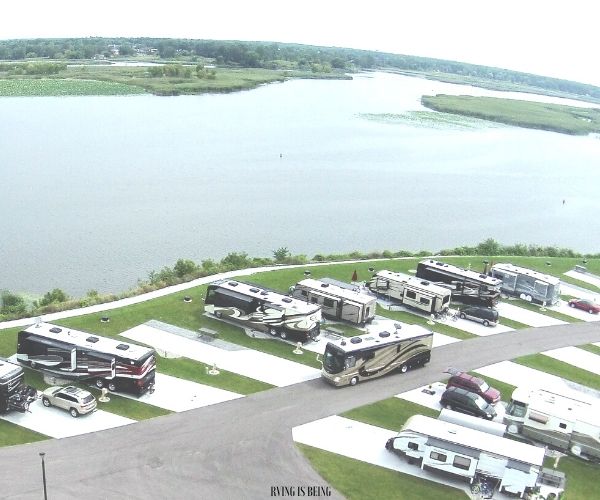 ---
RV Parks
RV Parks are generally known to welcome the whole RV family; motorhomes, 5th-Wheels, travel trailers, pop-ups, Class B's, truck campers–you name it! The atmosphere can range from, as the name suggests, a more populated trailer-park-like atmosphere– incorporating park models or mobile homes in with RV guests. On the other hand, some RV Parks can take on a woodsy and secluded camp-like setting. Amenities vary from park to park. We have found some to be higher-end, generously offering various amenities for entertainment and comfort. Others have limited amenities geared more towards transient guests with the convenience of being easily accessible in a location right off the highway.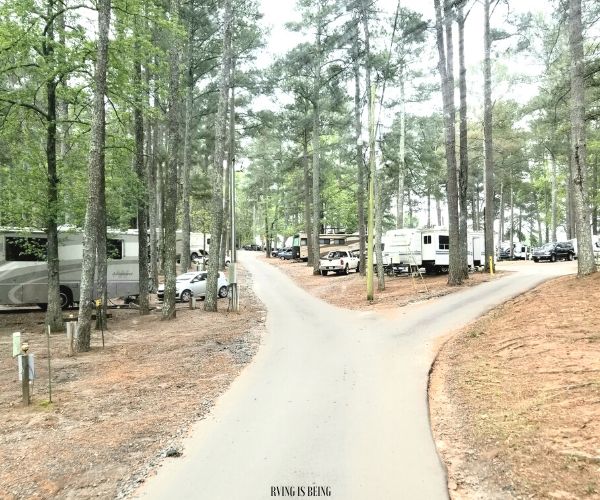 ---
Campgrounds
Camping has generally been known to consist of a relaxed atmosphere surrounded by a rustic setting. Nowadays, it seems like the twenty-first century has brought a huge range of amenities and modern facilities into the camping equation! Yet for the most part, campgrounds still bring to mind a good ol' tent or camper in the middle of the wilderness. We often picture campsites situated around lakes or streams with trees and plants grown in between camping neighbors. Hookups can be sparse in some campgrounds or vary from site to site. Sewer connections may not be available on-site but rather in the form of a shared dump station. Public shower stations are typically nearby while individual sites can even include their own picnic table, fire pit, or grill. Campgrounds welcome most campers and tents, however some cannot accommodate Big Rigs due to size or necessary RV amperage. Additionally, campgrounds are usually priced lower than RV Resorts but may offer a greater outdoor experience for those who love nature and outdoor activities.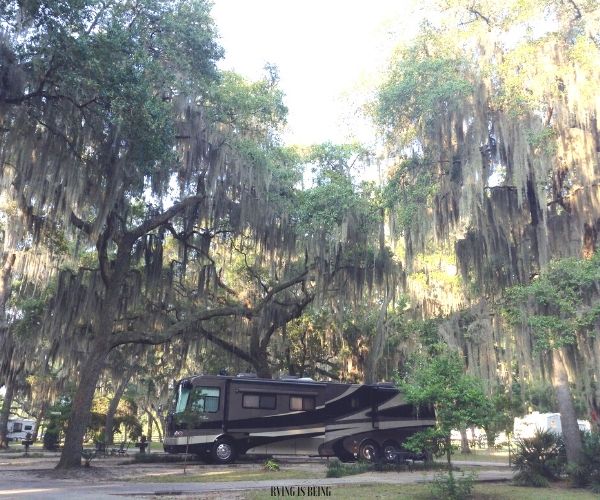 ---
Whether a RV Resort, RV Park, or Campground, it is important not to assume certain amenities or characteristics because of the company name. It's always important to research the place; read reviews, call and ask questions, view the photo gallery, and take their location into account. In the end, it's all about finding and trying new places! 
RVING IS BEING willing to try new places.
Related posts