This post contains affiliate links, meaning I get a commission if you decide to make a purchase through my links, at no extra cost to you. Please read my disclosure and privacy & terms for more info.
---
RVING IS BEING adventurous and spontaneous, right?!
Theft should NEVER have to cross our minds when going on fun RV trips.
In fact, in such friendly and peaceful camp atmospheres, it doesn't seem likely!
Unfortunately, theft happens…
Theft happens everywhere, but when you think about it, campgrounds can be the perfect place for thieves to lurk!
For one, RVers haul along a LOT of things. From necessities, accessories and gear, to recreational toys and games– they bring it ALL! Although bringing everything from home along makes vacationing a breeze, RVs tend to have less security than the typical brick and mortar home.
Secondly, (speaking about a lot of things) campers DON'T normally have conveniences like storage sheds or garages, let alone privacy to keep their items out of sight and safe! I mean, have you seen those family campsites with multiple bikes, scooters, chairs, and toys peppered around the camper?! These are constantly visible to passersby. 
Thirdly, a campground is full of adventure seekers– CONSTANTLY COMING AND GOING. In other words, campsites are constantly turning over, similar to hotels. During their stay, many leave the camper, exploring the town or trails nearby. Looking at it this way, can make an opportune time for unlawful crooks to steal and skedaddle in the midst of everyone's adventures! 
Keep in mind, thieves come in all forms. They can be other campers in the same campground OR residents from neighboring areas. After all, a busy campground can give crooks an overturning buffet of options! 
Now, things like this don't happen every day in a campground.
Still, all it takes is one time to ruin your vacation or perhaps worse– ruin your love for ADVENTURING! WE NEVER THOUGHT IT WOULD HAPPEN TO US! But, IT DID– and now we simply roll with a bit more caution… and safety accessories! 
Check out these tips to stay aware and proactive about keeping your RV and things safe!  
Protecting Your RV and Accessories from Theft
Consider these points to protect your things and try to avoid this situation altogether!
Lock Your RV & Cargo
First things first! During the camping season, lock your RV whenever you are not on-site. It's a no-brainer, but many don't do it!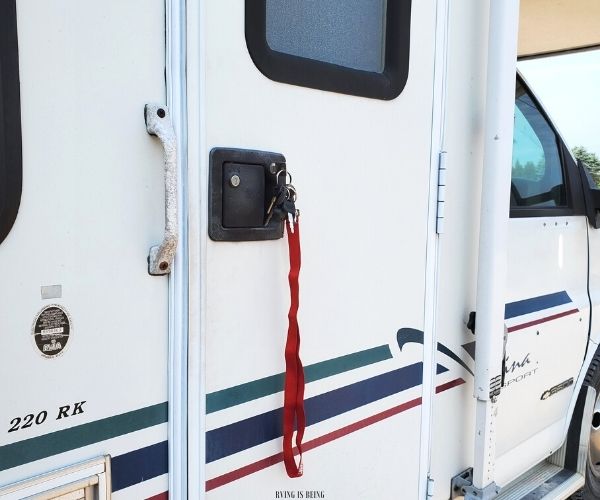 Why?
Well, for one– no one wants to carry around and risk losing the trailer keys. (That would be a big vacation blunder…) And two, because campgrounds always feel so peaceful– like a neighborly, trustworthy community. It sure doesn't feel like anything bad would ever happen around people who are grilling out with friends, playing campsite games, and laughing around a bonfire. 
Well, the truth is, theft doesn't happen. Sure, we read about unfortunate events on social media or know a relative who was a victim of theft. Yet still, you've probably heard many other campers say, "In all our years of traveling, we've never had a problem!" Sound familiar? 
Regardless, it's important to lock your RV! Lock it whenever you are away from the camper. Also, don't forget to lock the cargo storage compartments and personal vehicle as well! 
A keyless entry is the way to go! Keypads are extremely convenient for RVers while providing security, peace of mind, and ease. Kits are available for eager travelers to install themselves, otherwise consult your local RV technician.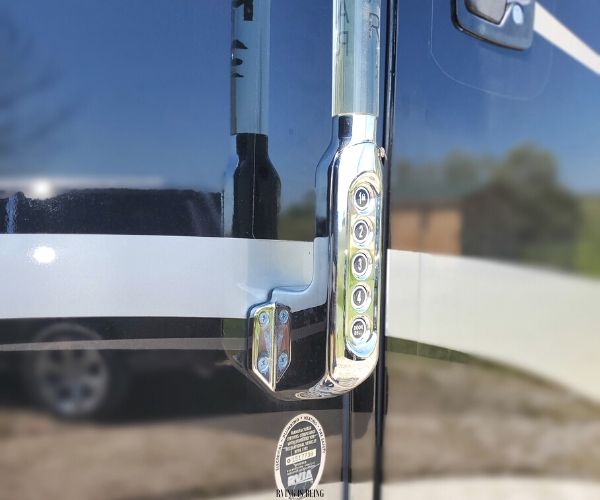 Aside from a keyless entry system, a RV key box can aid in storing spare keys that you may not want to take on your excursions in fear of losing.
For example, one might want to lock their RV for security but not want to haul their only set of trailer keys to the unforgiving beach! At the same time, that good ol' "hiding spot" in the outside compartment or wheel well could be easily breached…
Therefore, it's time to kick the hiding spots up a notch! A magnetic key holder or a HitchSafe Key Vault can provide RVers a secure, inconspicuous compartment to store extra keys while out and about for the day.
---
Don't Leave Stuff Out 
While you shouldn't be afraid to use your brand new RV accessories, gadgets and gear (come on, that's why we buy the coolest camping things!)– simply gather all belongings and stow in the RV or in a locked compartment when you are leaving the campsite and at the end of the night. 
Last year, our site neighbors had a case of beer and camp chairs stolen! Despite the item, thieves generally look for anything EASY. Although it's convenient leaving toys and accessories out for the next day, it's better to haul items in for the night rather than come out to things missing. Stow items like chairs, coolers, grills, alcohol, bikes, strollers, portable speakers, and fishing gear. Stolen items can really put a damper on the entire vacation. Remember, out of sight is the easiest deterrent!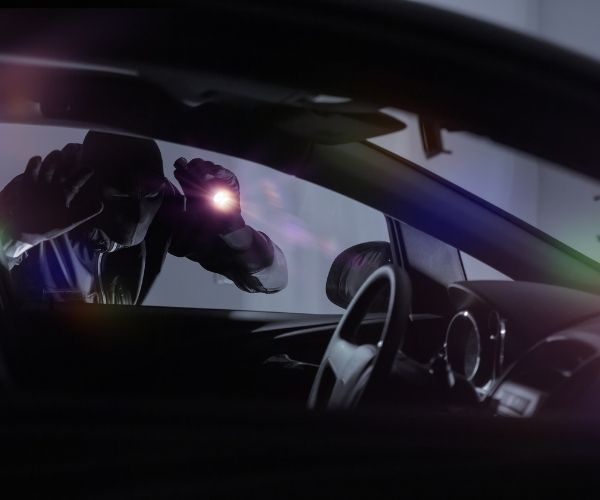 At the very least, stow particular items in totes and push underneath the trailer. Not broadcasting your belongings to everyone at the campground will encourage passersby to keep on moving and not think twice!
Like mentioned, thieves generally go for easy items they can grab fast. They don't want to rummage through tubs increasing the possibility of getting caught. Aside from storage bins, deck boxes work great for seasonal or long term campers. They are large– making it unlikely to get hauled away and can also be locked.
---
Lock Up Your Bikes
If unlocked and easy to get to, bikes make a popular item of theft because they are easy to jump on and make a nonchalant get-away. Always lock them up and with a high quality chain lock!
Out at dinner our bike was cut, yes– CUT off the back of the RV that was locked to the bike carrier. Obviously, in this case the thieves came prepared and cut the cable lock.
When it comes to bike locks, in all honesty, you get what you pay for. Don't get me wrong, a simple cable bike lock will protect and deter criminals. In many cases, just the sight of a lock will discourage those with bad intentions… Yet, to those who come prepared, bike cable locks don't stand a chance to simple cable cutters.
After our bike was stolen, we replaced our locks with Kryptonite New York Chains. These guys are HEAVY DUTY… The manufacturer even states that, "In the unlikely event the product is defeated when used property, Kryptonite will pay out up to a certain value depending on the security value of the product." Owners can even register their keys online so, if the keys are ever lost, Kryptonite will ship you new keys.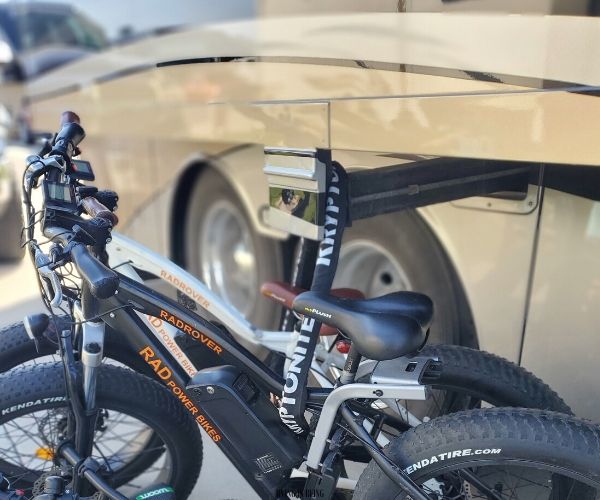 Some may find the Kryptonite locks are a bit excessive and hard to haul around. Alternatively, the Abus Steel Chain Lock is another great option. Made of special hardened steel and drill protection, the chain provides security while the fabric sleeve prevents the chain from damaging accessories. We find that this alternative lock can easily be transported around town and isn't quite as heavy as the Kryptonite New York Chains.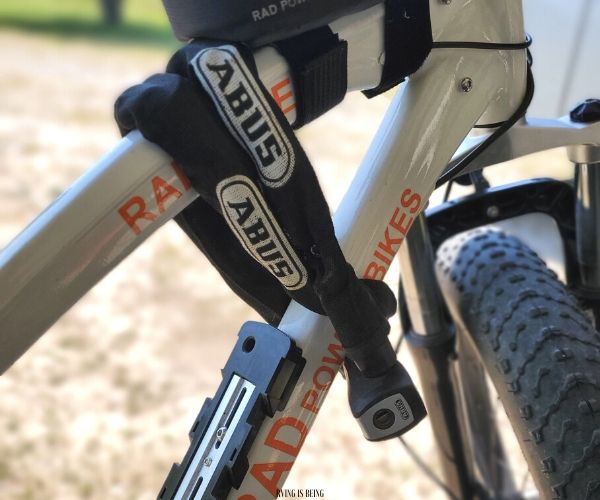 For added security, we run a lock through the bikes and around the bike rack. 
When the bikes are taken off the rack they can be locked directly to the motorhome at the campsite.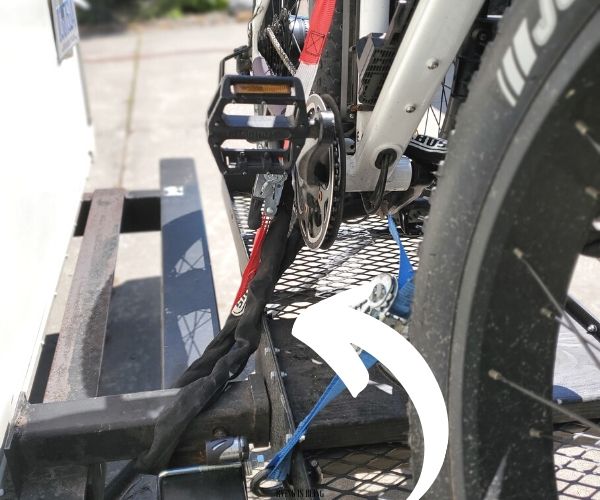 Although these locks can be compromised by grinders, the heavy duty elements and thickness of the chains greatly discourage thieves– or at least make it harder for them! Plus, in a public location or busy campground– the probability of someone getting away with using a grinder is slim.
Camping Hack: For costly bikes, I highly recommend looking into bike insurance. Bicycle insurance agencies are available if your home insurance agency does not cover theft away from your home. Accordingly, take a picture or write down the bike's serial number. This greatly aids in finding your bicycle if it is stolen. The serial or VIN number is commonly referenced by law enforcement and pawn shops should it get into the wrong hands. 
---
Lock Up High Dollar Items
One thing you learn from camping is that campers LOVE to accessorize… Seriously, once an RV unit is yours, you become best friends with the UPS driver delivering those brand new RV gadgets and accessories!
Unfortunately, like said above, thieves come in all forms. Sometimes as non-campers living in the area and sometimes as campers themselves. A thief is a thief right? Why does this matter? Point is, I never understood how much goldarn money went into accessories until we started RVing! That means, if there's a happy camper who turns into a midnight snatcher, they know campers… For example, they know the majority of campers leave their units unattended while exploring the area and they also KNOW THE HIGH DOLLAR CAMPING ITEMS!!!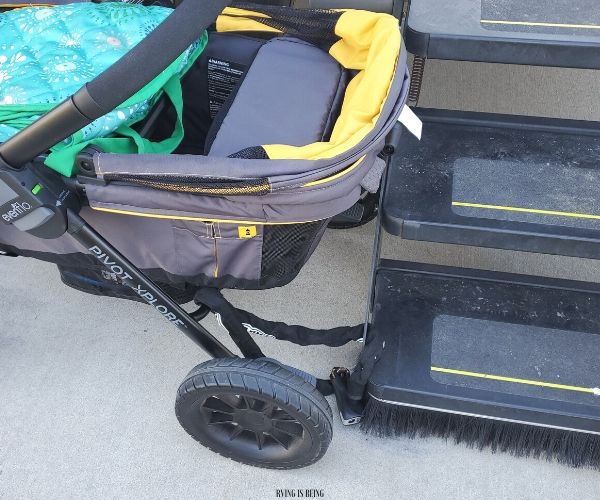 Did you know that some EMS devices run $300 dollars or more?! Accordingly, coolers can be pricey. Water pressure regulators aren't anything special– but once they start getting those shiny gauges on them— now we're talking. A nice generator
will set you back a thousand or so. A hitch, portable fire pit, grill, stroller/wagon— you get where we are going here… THIS LIFESTYLE ISN'T CHEAP!!!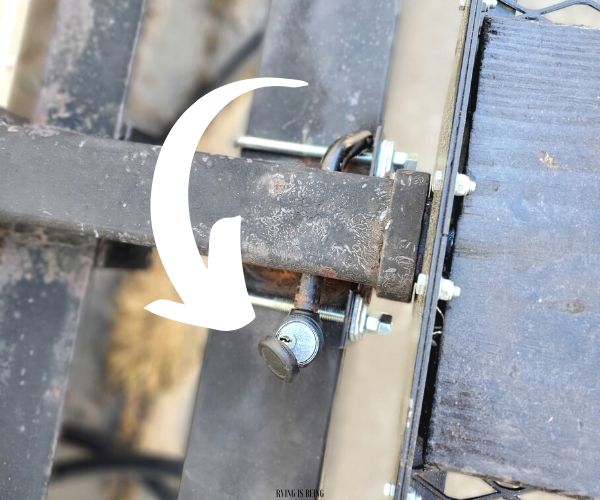 If worried about theft, secure high dollar items with cable locks or chains (if possible). Run cable locks through your surge protector or lock it to the electric pedestal if possible. Cable locks can also be used through grills, portable fire pits, strollers, bikes/scooters, kayaks or paddleboards if left out on the campsite overnight. Use a Yeti Bear Proof Lock or chain the cooler to your RV, tree, or picnic table. Likewise, a hitch lock will guarantee your pricey hitch won't go anywhere.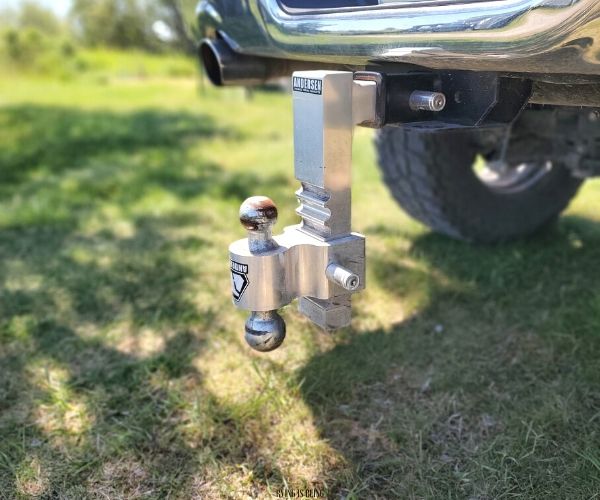 Unfortunately, we may not be able to lock up every RV accessory. Quite frankly, it may be impossible securing every gadget and accessory you own. However, locking up the pricey items, especially the ones highly visible to passersby, will greatly discourage those campsite crooks!
Camping Hack: Surge protectors can be easily unplugged and taken. To deter attention from the bright display at night, use a lock, black electrical tape over the display lights that may catch an eye, or make a simple cover. A cover can also protect it from the weather.
---
Protect Your Valuables
As stated before, out of sight is the easiest deterrent. Gear can be brought in for the night, stowed in cargo, or locked up. But, let's take it a step further…
Let's say a criminal could access your RV. Which, some of us may shrug it off and think, "Eh, joke's on them. Have fun stealing some paper plates, stale marshmallows, and cheap body wash!" Yet to others, avid travelers, or even full-timers, a huge chunk, if not, all of their life is in that rig! Some people may bring along laptops to work remotely, jewelry, large amounts of money, or even personal information many would file and lock away in a permanent residence.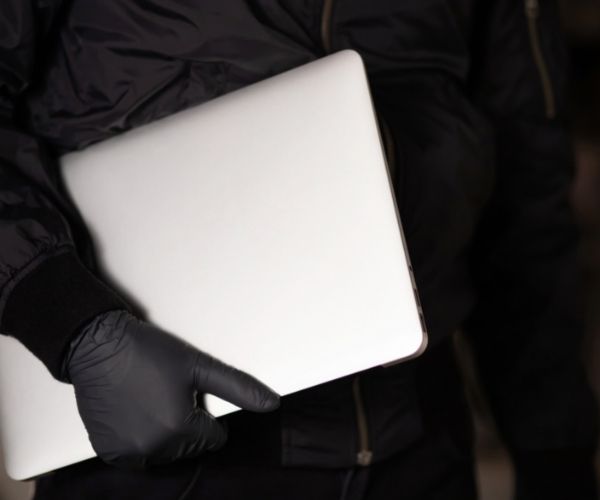 Obviously, if you can– leave important things at home. If you do have to bring precious valuables along, put costly items in a security safe if leaving the RV for a while. Some RV units come with safes installed. If yours does not, a lock box safe can be mounted in the motorhome or travel trailer closet cubby.
For workampers or those on the job especially, keep your money tucked away in a secure place. For important or irreplaceable paperwork, consider a locking document safe. Unfortunately, someone could run away with an unmounted lock box. Still, a locking mechanism can help discourage thieves and prevent unauthorized individuals from viewing important documents. Accordingly, in the event of a fire, fireproof lock boxes can also protect your valuable belongings!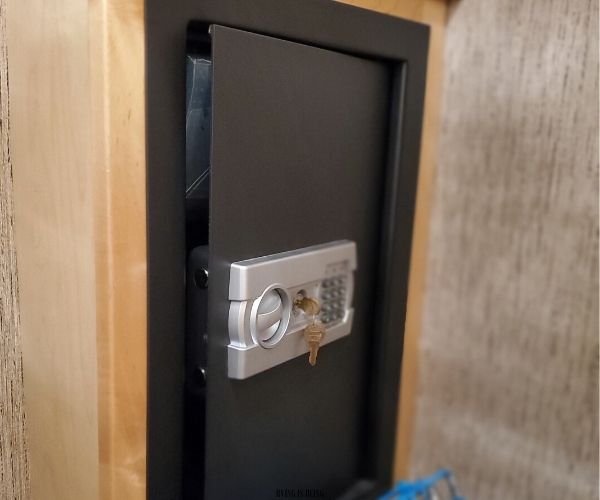 At the same time, always keep your mobile devices and laptops password protected. Nowadays our phones can store so much of our personal data within them. Same with laptops. It can be devastating if they ended up stolen and even more so regarding what happens to the information accessed.
Camping Hack: RV's come with all kinds of nooks and crannies for storage. In fact, manufacturers are very clever with storage as they work to make RV living as efficient as possible! Find the hiding spots in your rig. For example, dining tables, dining chairs, under the couch, and under the steps can have small storage compartments that many would overlook. Check out your space and even consider DIY-ing your own secret cubby!
---
Watch Your Wallet, Credit Cards, & Passwords
RVing often entails traveling throughout different states and making many stops. You'll be pulling out your wallet frequently to pay for fuel, groceries, restaurants, shopping, and attractions. Keep a close eye on your wallet and always double check you have it before leaving a location.
Likewise, you'll have many out of state purchases on your travels. This can make the chances greater for someone to snatch a hold of your wallet or credit card information. Watch your banking statements closely. I highly suggest getting text alerts any time anything alters your bank account. 
Accordingly, WiFi is a preferred amenity for many travelers in the RV camping community. Although you'll be thrilled with super fast WiFi provided at your destination, be careful of your web-surfing! THIEVES LURK ONLINE TOO! Unfortunately, even password protected networks DOES NOT mean they're entirely safe and secure for personal use. It's safest not to log in to any sites that require passwords and avoid websites that hold any sensitive information, banking credentials, or credit card information.
Also, when entering passwords, purchasing products, or banking online, you're better off using your own phone provider's encrypted data plan– rather than a campground or RV park's WiFi.
---
Camp At A Secure Campground
Again, theft can happen anywhere. However, parks or resorts with gated premises or onsite security can help curb thieveish opportunists! When researching campgrounds for future vacations, look at the amenities offered. Often locations will state if the grounds are gated or if they have 24 hour on-site security for their vacationers guests. Also, read reviews! If a handful of reviews are popping up regarding theft or lack of security– then it's wise to take precautionary measures over your belongings– or even rethink that specific destination altogether!
---
Trick Those Trespassing Thieves
One of the easiest deterrents is to trick those nosey thieves! For example, make your RV look occupied. If it looks like people are inside, crooks are less likely to snoop.
Keep a light on, or turn on a radio or TV to trick people into thinking someone is there. 
Consider adding a couple "visitors." It may sound silly, but especially for solo travelers, faking an extra person can help deter unwanted criminals. Set the largest pair of men's boots you can find outside right by the entry door. It gives the illusion that someone else (as a matter of fact, a very big person) is present at the camper. Another option, set out a jumbo dog bowl or ginormous rawhide outside the camper door. Someone will be less likely to try to enter thinking a "Brutus" or "Beast" lives there!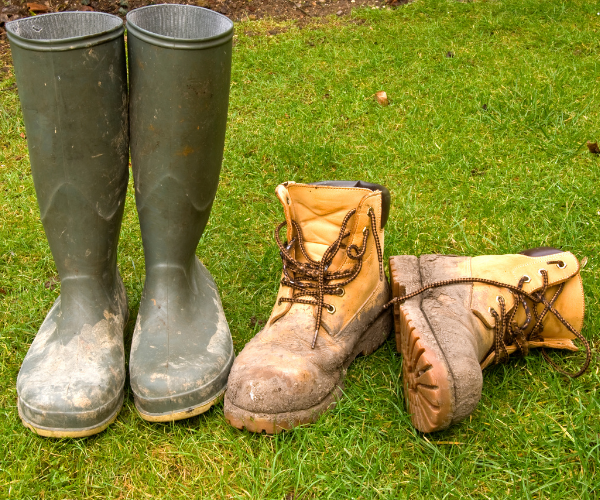 Whether you have a security system or not, a simple security sticker may help discourage criminals while only costing a few dollars! 
---
RV Security Systems
Not messing around? Mobile cameras and video surveillance systems are available to protect your things and give you peace of mind.
Reolink Go is a wire-free mobile security camera that operates on 4G-LTE and 3G networks. It's an ideal video monitoring solution for areas with limited or no WiFi access. This portable and weatherproof system is great for camping and vacation homes and can work indoors and outdoors. Accordingly, no power outlets are needed as Reolink Go can work with a long lasting battery or can be connected to a solar panel for non-stop power. Users can receive instant app push notifications, email alerts, sound alarms, or even customize voice recordable alerts when motion events are detected. 
VOSKER is a similar security camera system that operates without Wifi or a power source and uses 4G-LTE mobile connectivity. VOSKER cameras run on rechargeable batteries while the Vosker V200 includes a built-in solar panel to extend the battery life. Its weather resistant features allow for outdoor use wherever it is needed– even in remote locations. Users can quickly set this up in a few minutes, view day and night photos, receive mobile alerts, and choose different plans suitable to their needs.
Arlo Go is another LTE mobile security camera option that is 100% wire-free, certified weather-resistant, with advanced motion detection and night vision, while long-lasting rechargeable cameras livestream and record in HD quality. Cameras can be mounted to property or simply taken with you anywhere and placed accordingly. The Arlo app allows you to stay in control at all times. Users can view live anytime and receive instant email or mobile alerts whenever motion or audio is detected. Seven days of cloud storage is included while other Arlo Smart Plans are available based on travelers needs.
Motion-sensor lights and GPS tracking systems also aid in protecting your RV unit and adding security. If you are worried about mounting lights to the rig itself, check out the Equipt Motion Sensor with bendable legs that allow the light to be hung anywhere.
---
RV Unit Theft
Not only do break-ins happen, but unfortunately, ENTIRE RV UNITS ARE STOLEN TOO– out of storage lots, back yards, and driveways. In fact, some of our good friends went to get their travel trailer ready for the camping season…. AND IT WAS GONE!
Jump online in RV groups and see posts upon posts of stolen units… While it's rare to happen at the typical campsite, most RV theft happens to unoccupied, parked units. For example, at storage facilities, at home, on the street, parked at a relative's back-forty, and even during quick road trip pit stops.
Thieves either hook up to travel trailers with a "getaway vehicle" or break into a motorhome in order to attempt a successful, yet unlawful mission. Of course, with specific planning, tools, and resources at hand.
Try to park your unit in a busy, well-lit area. Pole barns, garages, gates, or fenced in areas are ideal, offering out of sight or more challenging hurdles for thieves to undertake.
Winter Storage Precautions
You will almost always find a disclaimer in every storage facility contract stating they are "NOT RESPONSIBLE FOR LOST OR STOLEN PROPERTY." While many facilities offer gated premises, security codes, or video surveillance, it's extremely important to fully understand the terms of the rental agreement and select a reputable facility. With that in mind, consider the storing and parking tips below before parking your RV in storage.
---
Storing & Parking Tips
Have a good insurance policy.
Try to select a storage facility or campground with on-site storage that is gated/fenced/barbed wire, has good lighting, video cameras, or security.
Remove all valuables from your unit– including the batteries, TVs, and generator (if possible).
Lock the RV and cargo area. Make sure all windows are locked.
If your unit does not have a ladder already installed, park away from anything that could be used to get up onto the roof of the rig (some thieves, thin bodied ones, at that— have been known to go through the skylight or fan vents.)
Position the rig so that it is NOT easy for someone to quickly hookup and drive off.
Use a coupler, gooseneck, or king pin lock.
Consider lockable wheel chocks.
Leave the jacks down, making the RV less mobile.
Make your RV less appealing. Shut the blinds and cover the windshield (if motorhome). An RV Cover may help in discouraging thieves by hiding the unit and requiring a tad more work for them to access–perhaps causing them to move along!
---
Unfortunately, stuff happens… Not only can theft be devastating to a vacation but it can affect one's eagerness to travel. The best us RVers can do is try to take precautionary measures to keep our accessories, RV and lifestyle safe!
RVING IS BEING safe and secure.
Related posts