This post contains affiliate links, meaning I get a commission if you decide to make a purchase through my links, at no extra cost to you. Please read my disclosure and privacy & terms for more info.
---

As you've read in the recent, Spruce Up Your RV Kitchen with these Decorative (Plus Useful) Accessories, you've seen how to add a splash of trendy decor to the kitchen, all while incorporating accessories that are USEFUL! 
Now it's time to hit the Living Room! 
As RVers, camping units use every inch of space efficiently. While there's the cutest camping decor out there, let's face it– we don't have all the room in the world for knick-knacks, vases, wall decor, and furniture like a more permanent residence would. Not only does everything added have to be space-friendly, but it also must be able to handle the bumpy roads ahead. That's why we will be decorating for FUNCTIONALITY! 
Check out the decorative, yet functional accessories below. It doesn't take much to transform your travel trailer or motorhome into a cozy living space that shows off your style while complementing your adventures!  
Liven Up Your RV Living Room with these Decorative (Plus Useful) Accessories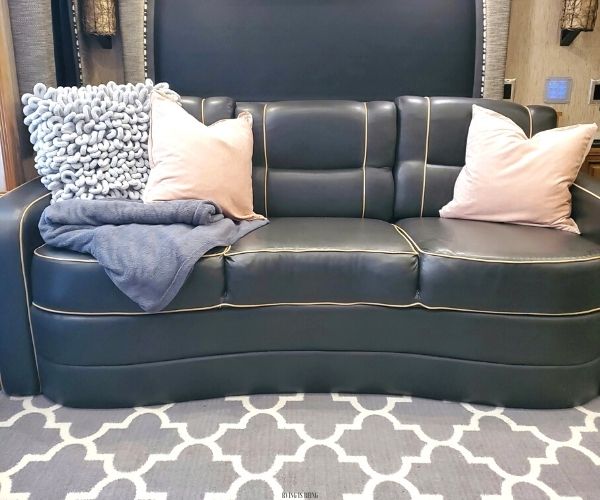 A comfortable, low pile area rug can quickly liven up a living area, adding comfort to the hard floors while being easy to vacuum or shake clean. RV space tends to flow from one room to another, often with the living area merging to the kitchen, dining, and so forth. A large area rug helps break up the open floor plan, creating visual boundaries and defining the living area– making a more home-like feel. 
---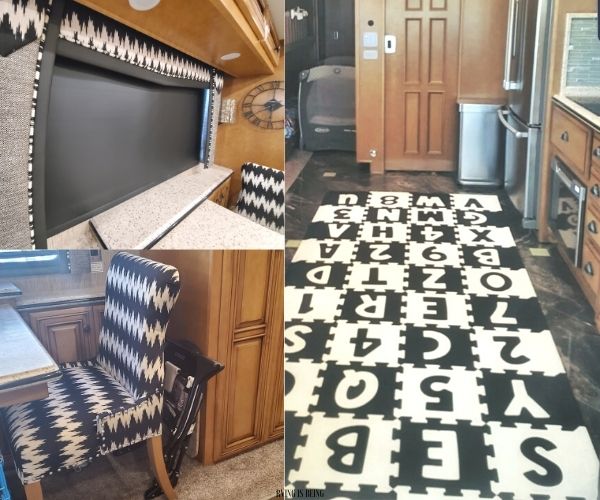 Let's not forget about the traveling families out there! As seen in The Best Baby Gear for Your RV, we replaced the living room rug entirely with connecting foam tiles during the baby-proofing stage. During this stage, rugs won't stand a chance. Not only that, but hard RV flooring isn't very toddler friendly. Personally, we preferred the majority of our motorhome flooring NOT look like a unicorn exploded everywhere– so opted for white and black foam tiles that matched the interior accents (shown above). In fact, if colorful A,B,C's and 1,2,3's baby tiles aren't your style, there's comfortable sets that are more a subtle area-rug-style and others that look exactly like wood grain flooring. These connecting tiles can create the perfect-sized, comfy, yet still classy, and most importantly, baby-friendly RV area– preventing any painful falls, slips, or bumps on the original hard floor. Truth is, baby or not, your feet will thank you for this super comfortable, padded flooring. Another plus– they are SO easy to clean! 
---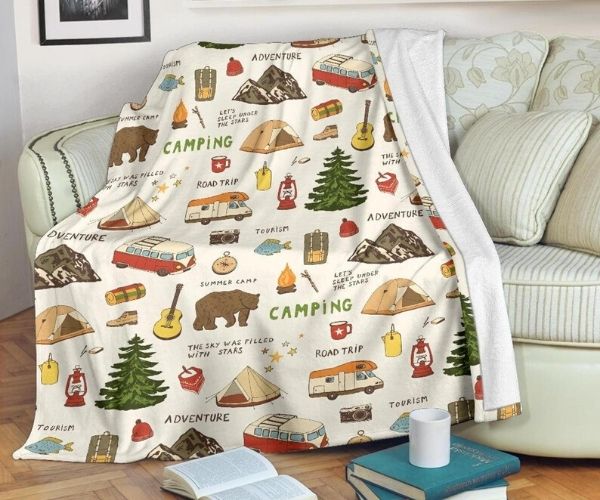 Every cozy abode has a warm throw blanket or two! Plus, they're not just for looks. Cover up and save on your propane during the chilly months! 
---
 Just like rugs and throws, couch pillows are another comfortable and functional item for an RV. A simple set of pillows can quickly add flare to any rig. Swap out colors for a seasonal update or liven up your space with a cute, camping theme! 
---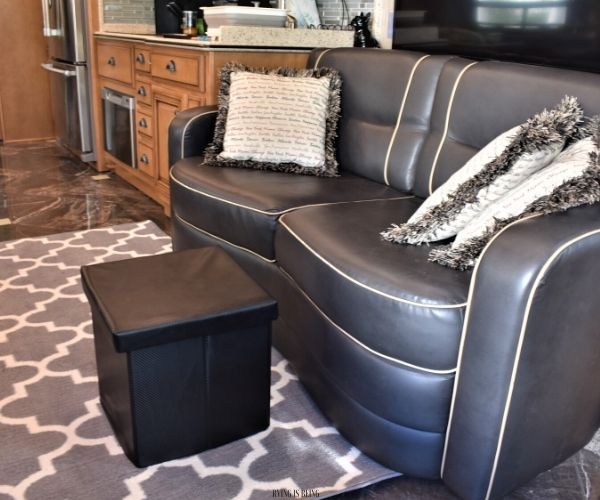 A matching ottoman can help break up living area space while adding storage. Keep your cozy throws, magazines, or kids toys contained while having a place to put your feet up. Ottomans come in a variety of styles. From tufted, square, circle, rectangle, faux-leather, and more! This one (above) is small enough for a motorhome, but can still store a good amount of supplies. It also collapses flat when not in use, which is perfect for RVers! 
---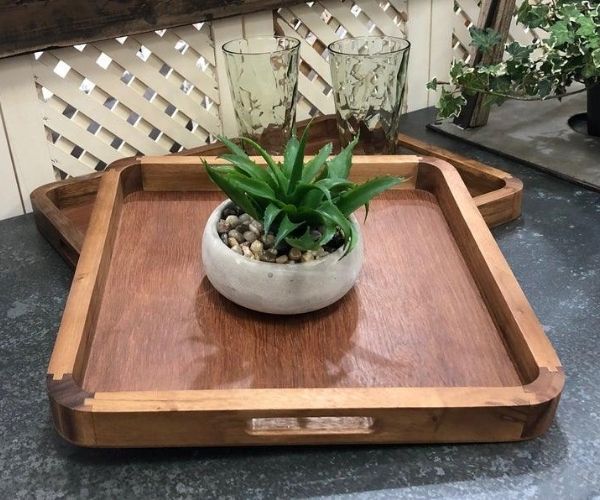 Unfortunately, campers may lack counter space or end table space in the living area. While many have a booth or dinette to set a nice, hot cup of coffee on, the living area may be in need of a place to set a beverage or snack. An ottoman tray can turn any piece of furniture into the perfect end table you need. Plus, it doubles as a serving tray for delicious camping picnics outside! 
---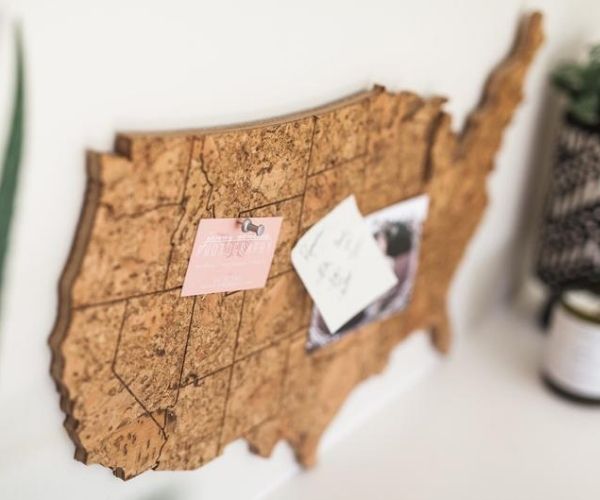 If you have a bare wall that could use a splash of decor, opt for something that is lightweight and won't shatter if it is to fall off the wall during a bumpy journey. (Also, keep in mind, the bare wall can not be affected by the slide-outs extending or retracting!) This cork board USA map by Geo101Design adds a decorative touch to a plain wall while keeping track of your exciting road trips! It is also very lightweight and can be hung easily with command strips. 
---
Another way to spruce up a boring wall panel is to add a chalkboard! From tons of wall hanging options, you can choose to mount a chalkboard, hang one to easily remove during travel, or stick one on the wall with a vinyl decal for a less permanent and lightweight option. Liven up the space with inspiring travel quotes or hand drawn pictures. Plus, write down important notes for the day; like a campground's address, Wi-Fi password, gate code, or scheduled itinerary! 
---
Traveling to different time zones can leave you a bit messed up– especially if you have planned excursions. A wall clock serves both functional and decorative purposes for those adventurous travelers! The Wall Clock
 (above) can add a cute, camp-theme splash of decor to any camper wall!
---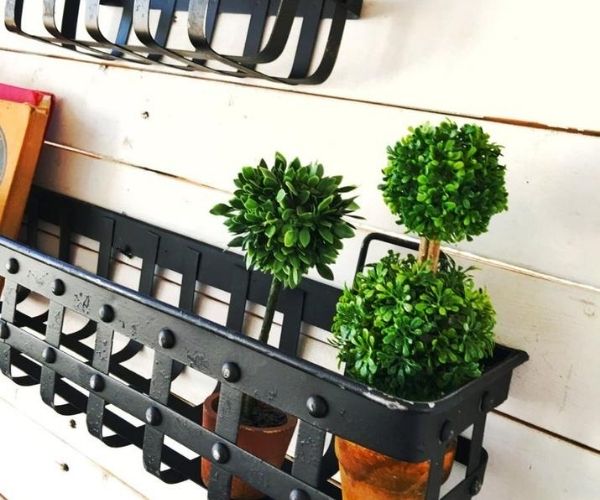 Organize campground brochures, pamphlets, magazines and more with these decorative wall baskets that use vertical space! These significantly help declutter RV countertops, creating a clean and tidy room. The Metal Iron Wall Baskets (above) adds a rustic look to your RV interior while keeping paperwork and decor nice and secure for the ride. In fact, the possibilities are endless, when it comes to hanging wall organization. From trendy file organizers, to hanging bins, and stylish wall pockets— decorate your home-on-wheels while organizing at the same time!
---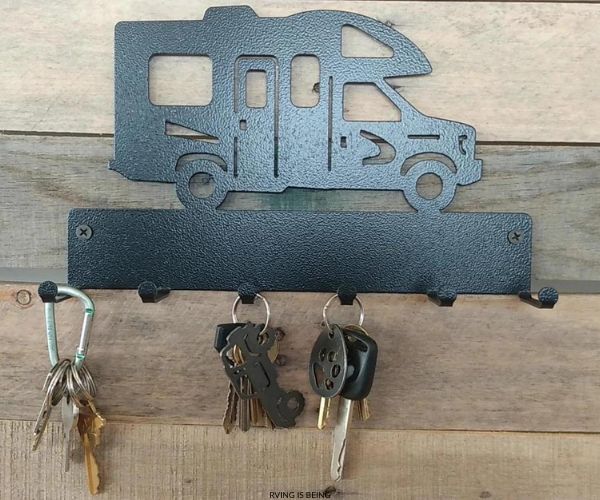 BurkeMetalWork on Etsy.com makes decorative key holders featuring a motorhome design and camper design to organize keys while traveling.
---
Ready for a little remodeling? You've seen how a backsplash adds such an elegant upgrade to an RV kitchen in Spruce Up Your RV Kitchen with these Decorative (Plus Useful) Accessories. Similarly, creating an accent wall or brightening up dull walls can transform the entire RV interior. Consider adding shiplap, wall decals, or peel and stick wallpaper.
---
It seems like almost every RV comes with those padded, window framing valances often matching the interior colors. While some may not mind the manufacturer's taste, others may look to upgrade this distinctive piece in trailers or motorhomes. Remodeling the window treatments can significantly brighten up and modernize any camper unit– making it instantly feel like more of a home. Plus, now is a great time to include those Custom Day/Night Shades
you've been wanting for privacy and a good night's sleep!
---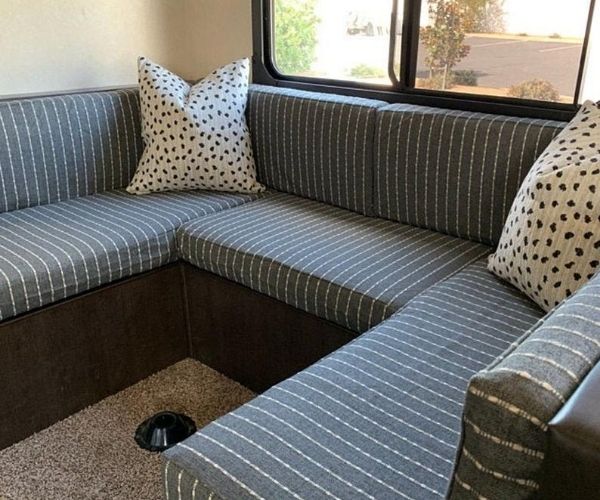 Revamping the original seating can change everything! Check out the RV Camper Cushion covers and Upholstery by DeeanasDesigns (above) where your old RV booth or dinette seating can be customized to fit your style and layout. 
---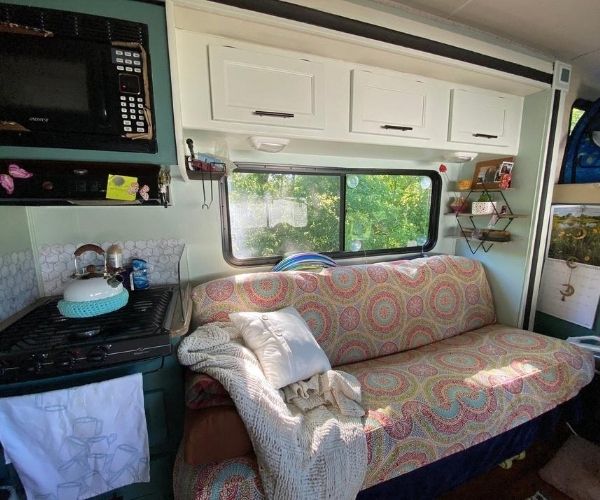 Likewise, quickly change up the fabric while protecting your RV seating with slip covers. Customize your area with your own choice of fabric and measurements through GlampNChicks shop or select from a variety of colors with the Easy-Going Stretch Sofa Slipcover.
---
RVING IS BEING functionally decorative.
Related posts