Bear in mind that this post may contain affiliate links, meaning I get a commission if you decide to make a purchase through my links, at no extra cost to you. Please read my disclosure and privacy & terms for more info.
---
RVing is a bit different from living in a stick house or apartment, however, decorating your space will add the perfect touch and make it feel like your home away from home. The key is finding embellishing items that are functional.
While the RV kitchen is a main area in a travel trailer or motorhome, adding a few touches here and there will instantly make it look and feel just like home!
Here's a few accessories that will quickly spruce up your RV kitchen without adding clutter.
Spruce Up Your RV Kitchen with these Decorative (Plus Useful) Accessories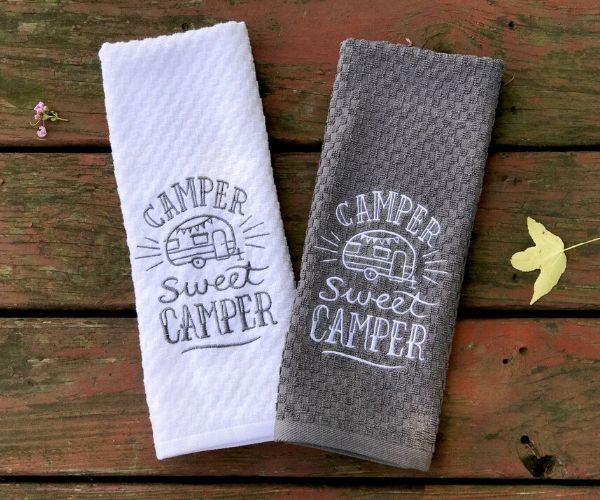 Hand towels are essential products for the RV kitchen. Why not make them part of the decor too? A cute set of hand towels like these Camper Sweet Camper Kitchen Towels are not only super absorbent but add an instant "homey" feel to the kitchen.
---
Nothing ties your kitchen together more than a coordinating set of kitchen essentials. This Camper Sweet Camper Kitchen Set comes with an oven mitt, pot holders, and hand towels to dress your kitchen up while, most importantly, aiding in some wonderful camp recipes! Save some drawer space by hanging up the oven mitts or pot holders for functional wall decor!
---
For you frequent travelers, there's still ways to spruce up your countertop without worrying about fragile items shattering. For example, this Outshine Vintage Tin Cookie Jar is much more durable for the road. By the same token, the tin metal incorporates that "camp feel" as it decorates the countertop while keeping those sweets nice and fresh!
---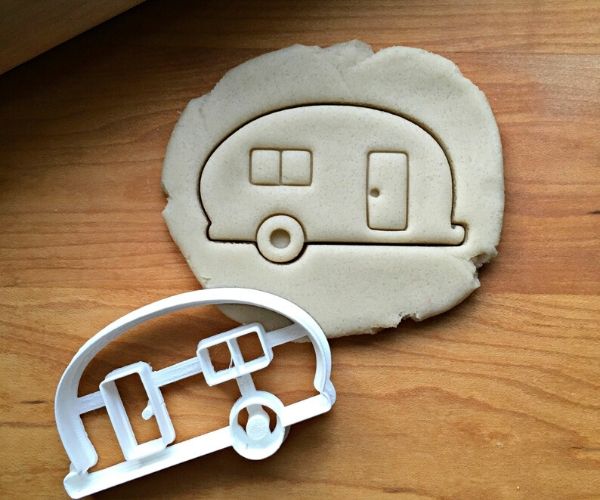 You're going to need something to fill up the cookie jar! Enhance the camping spirit with adorable, camper-themed cookies! This Camper Cookie Cutter comes in different sizes to create the perfect finishing touch to your kitchen (while they last… of course.)
---
Along with delicious camp recipes comes refreshing beverages! Add a splash of decor while protecting your RV surfaces with these themed Camping Coasters.
---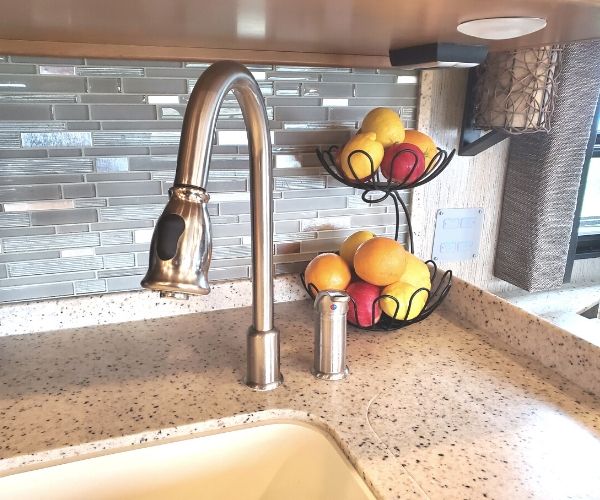 It's easy to say that a fruit holder doesn't scream "camping." However, it does add a "homey" feel to any abode. Although the typical short-term camper probably doesn't think twice about a fancy fruit holder, many long-term seasonals incorporate things they would at a permanent residence. After all, the RV perhaps is their permanent residence! While this 2-Tier Bloom Fruit Bowl is useful, I also like that it is decorative and uses more vertical space instead of a large amount of kitchen counter space– which is already so limited as is.
---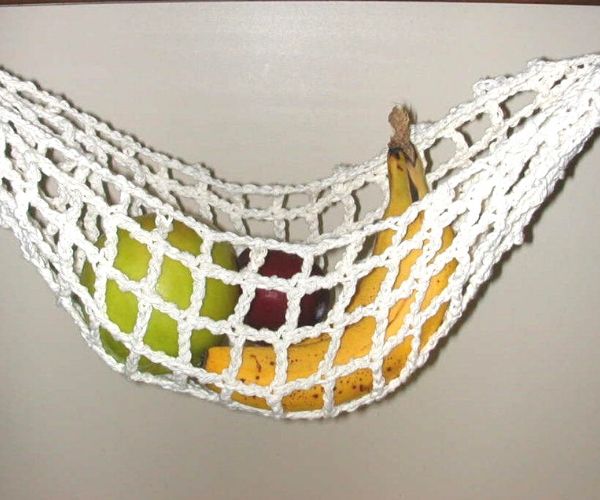 Now, if you need absolutely all of the kitchen counter space you can get, a fruit hammock is a unique way to store fresh fruits and veggies! This Fruit Hanger/Holder frees up counter space and can be hung under the cabinets, in a corner area, or flush on a kitchen wall.
---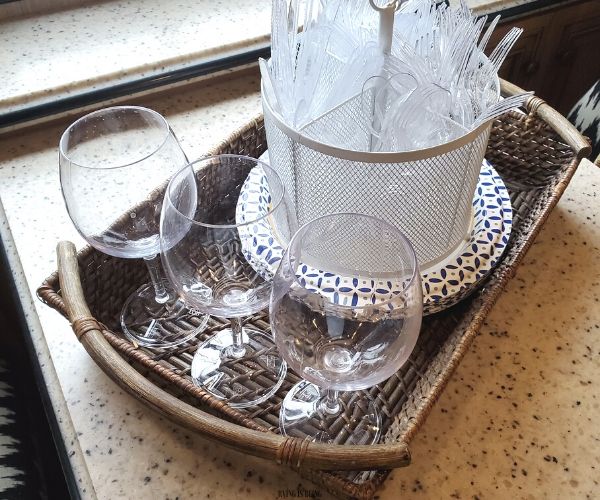 Many campers love to incorporate the camp theme throughout their dinnerware and serveware. Something about decorative dishes, serving platters, and drinkware adds to the overall camp esthetic and setting. Rattan serving trays, woven divided platters, wooden cheese boards, and wooden salad bowl sets perfectly complement a rustic picnic setting while holding, carrying, or containing items.
---
Include a splash of greenery inside! While camping puts us in the heart of the wilderness, indoor plants bring a little more of the outside in– even boosting our mood and improving our health. If you're a seasonal camper, caring for a plant will be easier. For you weekend retreaters, an Aloe Vera will never do you wrong! Plus, you'll be thankful for it when you've stayed out in the sun a bit too long! Nonetheless, this Camper Mini Planter is adorable for any RV countertop. If counter space is hard to come by, wall planters like these trendy Geometric Wall Planters are great for decorating walls!
---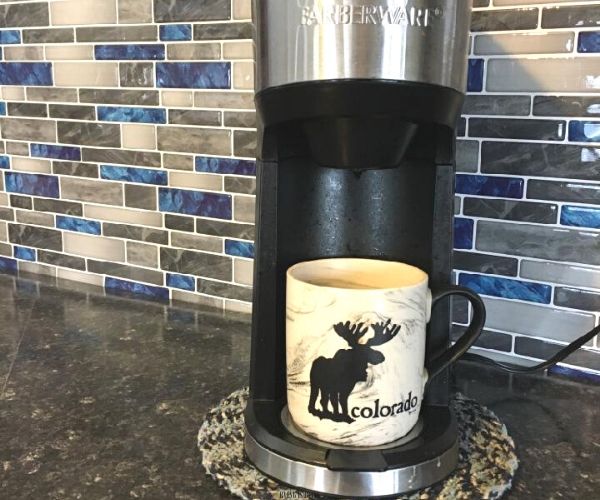 Is your kitchen looking dull? Revamp the kitchen by adding a stylish backsplash! The cool thing about this backsplash is that it simply peels and sticks! Doing a small accent wall behind the stove or under the cabinet area can transform your entire RV kitchen!
---
If you have ever attended an open house or even looked through RVs at a dealership, there's a reason behind all the table staging. It instantly adds life and positive energy, giving that area an enticing and homelike feel. However, if you're an RV owner, you're probably thinking that setting an RV table for pure looks is downright ridiculous… The plates wouldn't make it two seconds down the road, plus (if you're like us) the table is needed for 100 other things. However, it doesn't take much to spruce up a plain table. Add a centerpiece (pictured), include placemats to accent or coordinate with the interior colors, or even customize the dinette or booth cushions.
---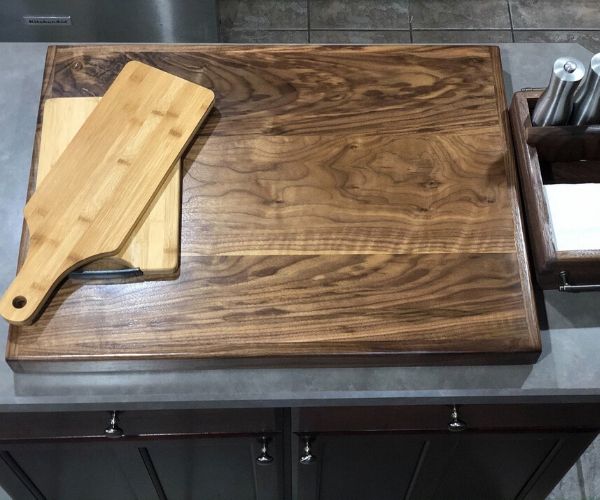 If your RV does not include a stove or sink cover, adding a cover to these not only provides extra space to work on, but also helps create a tidy and spacious looking RV kitchen counter. Plus, it can double as a beautiful, decorative feature!
---
So, there's nothing special about a dish drainer, however, these typically stay out on the kitchen counter for extended periods of time. While there's nothing wrong with a functional dish drainer to get the job done, it can be quite an eye sore. The way I see it, if they are going to be out on the counter most of the day, mind as well tie them in with the other accessories! For example, if you have a beautiful, wooden cutting board, coordinate by adding a matching Bamboo dish drying rack. Likewise for white or stainless steel accessories.
---
Camping is all about togetherness, destinations, and amazing FOOD! Add a little spice to your meals and your kitchen! Let those spices and seasonings decorate the area for you! Hang spices (pictured), use a magnetic spice kit, or have a decorative spice rack right on the counter. This livens up the kitchen while saving storage space for other gadgets!
---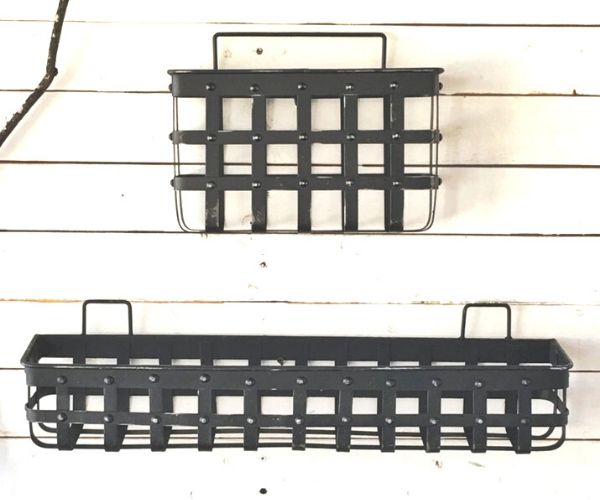 Campers should always take advantage of unused, vertical space wherever they can. This could be on plain walls unaffected by slide-outs, behind the stove area, or along the backsplash. Hanging baskets, like this metal iron wall basket, are not only trendy, but can be used for anything. Store kitchen utensils, camp recipes, food items, cooking gadgets, and more!
---
RVING IS BEING functionally decorative.
Related posts