Bear in mind that this post may contain affiliate links, meaning I get a commission if you decide to make a purchase through my links, at no extra cost to you. Please read my disclosure and privacy & terms for more info.
---
RV-friendly toilet paper is specifically made to break down quicker and more completely than standard bath tissue. By disintegrating rapidly, pieces of tissue are less likely to clog and compromise your RV's plumbing system.
Top 10 Toilet Paper Picks for Your RV Travels
Check out these top products created special for RV use!
1.Firebelly Outfitters RV Toilet Tissue
This premium 2-ply camping toilet paper is proudly made in the USA by a family owned, veteran owned business. Made specifically with RV holding tanks in mind, this toilet tissue contains no dyes or parabens and is 100% biodegradable– safe for your RV sewer tank. Recently, they've upgraded the process to provide an even softer and thicker feel, while still rapidly dissolving more than standard bathroom tissue preventing clogs and tank issues. Check out their concentrated deodorizer treatment, here.
---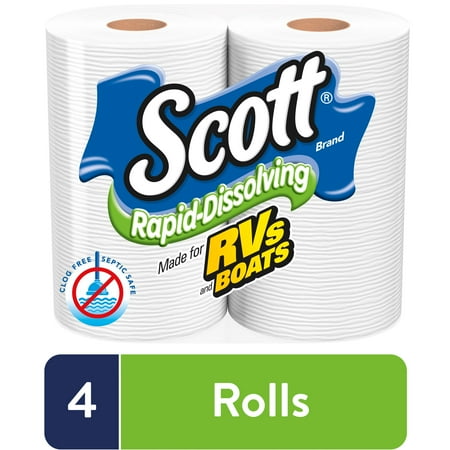 2.Scott Rapid-Dissolving Toilet Paper
Scott's Rapid Dissolving tissue is proven to pass water-breakup tests, even regarding it as the #1 choice for RVs and boats. The strong, 1-ply sheets are clog-free, biodegradable, and free of perfumes or scents. Additionally, Scott toilet paper is sustainably sourced, meeting FSC certifications and made in the USA from domestic and imported materials.
---
3.Thetford Aqua-Soft Toilet Tissue
As the world's leading manufacturer of mobile sanitation products for RV, marine and more, Thetford prides themselves on high-quality products designed to make mobile living easier and more convenient. Not only do they offer tank-safe toilet tissue, but also a whole lineup of RV sanitation solutions: such as toilet treatments, deodorizers, portable toilets and permanent toilets. Thetford's Aqua-Soft 2-ply toilet tissue is specially designed to work with RV and marine waste systems being highly absorbent and quickly dissolving– preventing clogs from forming in RV holding tanks.
---
Designed and approved for use in RV and marine sanitation systems, Camco's 1-ply toilet tissue provides a strong, absorbent, and comfortable clean. It's septic tank safe, biodegradable and fast dissolving. 
---
5.Freedom Living RV Toilet Tissue
This 2-ply TP is durable enough for the task at hand yet dissolves completely in minutes. Featuring soft but strong textured sheets and 100% biodegradable.
---
6.Thetford Campa-Soft 2-Ply Toilet Tissue
Safe and biodegradable for all waste water tanks and septic systems. The fast-dissolving, 2-ply toilet tissue is designed to break up faster than standard toilet paper reducing clogs in black tanks and allowing the waste to flow more easily through the RV sewer hose.
---
7.Better Boat Store Boat + RV Toilet Paper
Proudly standing behind the quality of their products, this family owned American business is committed to making premium products for your boat or RV. Their rapid dissolving toilet paper is strong, yet super soft with a textured surface for an optimal clean. Not only is it gentle on your RV unit's waste holding tanks– but it's also dye and fragrance free, making it also gentle on your behind and the planet!
---
8. Valterra RV Softness Toilet Tissue 
Valterra's Softness 2-Ply Toilet Tissue is safe for septic systems and has been tested for rapid breakdown, ensuring a clog-free RV tank.
---
This RV/Marine toilet tissue is safe for all RVs, camping and marine septic systems. By dissolving quickly, little residue is left behind, helping keep tanks clog-free and healthy. Grentay toilet paper is completely biodegradable, hypoallergenic, BPA, fragrance and chemical-free. Additionally, Grentay RV toilet paper is not made from trees. It's made using using bamboo (panda-friendly and not from their own food source).
---
10.Nature's Call RV, Boat, & Home Toilet Paper
Made from 100% bamboo fiber, this toilet paper is a safe, environmentally friendly alternative to other RV toilet papers. In fact, it's FSC Certified, which is a mark of responsible forestry, and proudly owned by a USA Military Veteran Family. Features ultra-soft, 2-ply absorbent tissue that rapidly dissolves helping prevent clogs and backups. 
---
Check out: How to Dump Your… Dump! Step-by-Step Instructions PLUS Terms, Tips & Tricks for a Smooth Process
RVING IS BEING adventurous
Related posts