Bear in mind that this post may contain affiliate links, meaning I get a commission if you decide to make a purchase through my links, at no extra cost to you. Please read my disclosure and privacy & terms for more info.
---
A Travel Tree is a great holiday tradition to begin while on the road! 
Traveling over the holidays is becoming more and more popular. Some northerners pack up and hightail it out of the cold weather every year, enjoying the holidays from their home on wheels. Others, are now turning to memorable road trip experiences rather than the traditional presents under the tree.
Wherever home may be for the holidays, there's still room for a little decor to bring on lots of holiday spirit!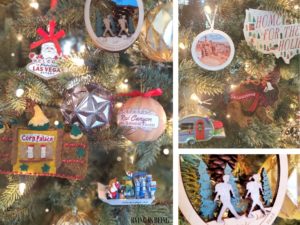 RV Travel Tree
As travelers, we always look for a souvenir to help us remember the destination and experience of a trip or vacation. Nothing beats living in the moment itself, but we find ourselves holding onto physical items in remembrance of the nostalgic memories.
Space is often limited in a motorhome or travel trailer, causing us to run out of room for campground mug collections or other destination knick-knacks found at the gift shop. 
A Travel Tree is a great way for travelers to decorate for the holidays and collect keepsakes from parts of the world they've visited! In fact, many national parks, campgrounds, and tourist attractions carry ornament souvenirs in their gift shops.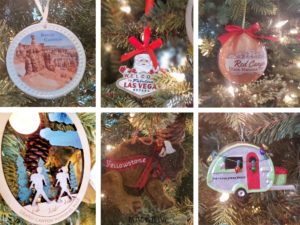 Not only is a Travel Tree space friendly, but it also holds so many memories! Our little tree started out as a small 18-inch tall tree, perfect for the motorhome dash. Year after year, ornaments filled the little tree as our mileage grew.
And the BEST PART, these souvenirs won't be forgotten. They will make an appearance every year!
Without a doubt, decorating your own Travel Tree will always start some great stories! It's a great way to reminisce over the journeys and adventures you've had.  
Consider a collapsible pop up Christmas tree for another space-saving option!
No Gift Shop Ornament?
Make your own! Find sea shells, pine cones, or fill an empty clear ornament with treasures. It's a great craft to do with kids to add to your holiday collection!
Ornament Storage
Store your special ornaments in an ornament storage box. One with separate compartments for each ornament is ideal, so they stay protected on bumpy roads ahead!
Do you have a Travel Tree or collect travel ornaments? 
You may like: Gift Ideas for Different Types of RVers
RVING IS BEING on a joyful journey.
Related posts