Bear in mind that this post may contain affiliate links, meaning I get a commission if you decide to make a purchase through my links, at no extra cost to you. Please read my disclosure and privacy & terms for more info.
---
Camping is a wonderful experience for the whole family!
This pet friendly lifestyle allows campers to be together in the comforts of their own space while exploring the world.
What else is there to ask for?
Although Fido seems to be in pure bliss, there are a few dangers we need to be aware of to keep him safe and out of harm's way.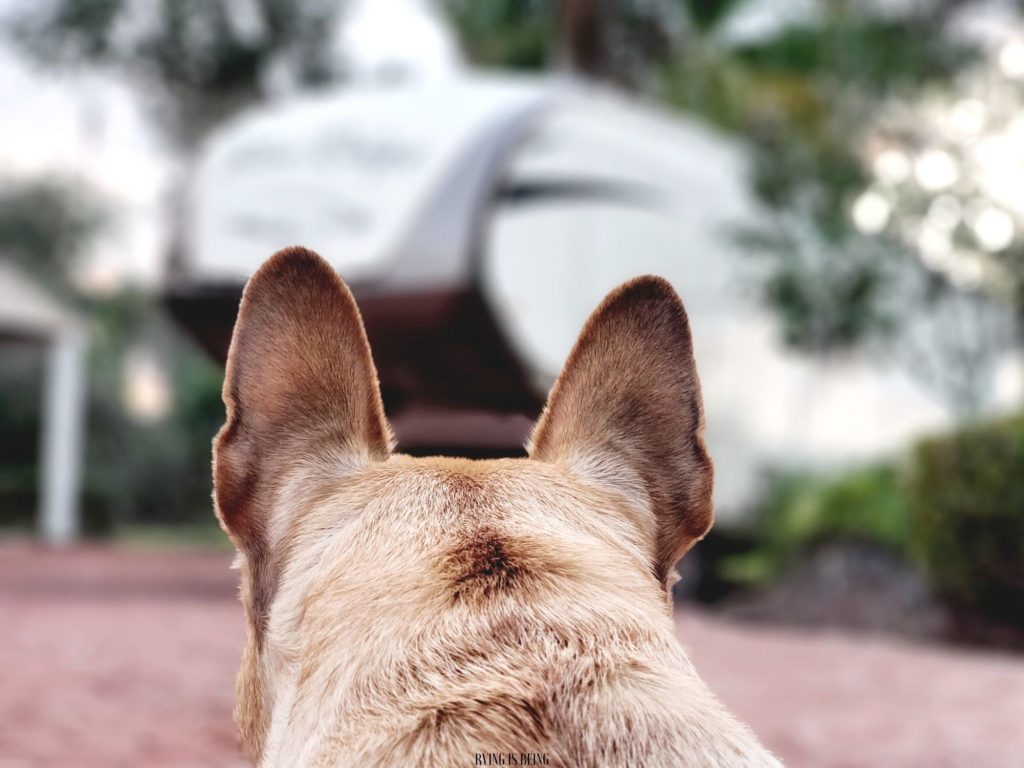 Bringing Your Pet Along? Watch Out for these Common Pet Dangers when RVing
Traveling Trembles
RVing can be an amazing experience for us humans and our furry family members! However, your pet's health and wellness should always be number one priority.
Traveling down the road can be stressful to a pet. While there's a long list of soothing and calming remedies out there– from calming sprays, to stress relieving supplements, anxiety jackets and more– be sure to always check with your veterinarian before giving your pet any calming remedy for travel.
Not only that, but pets can get motion sickness too! Make sure your pet has a secure and comfortable traveling area, perhaps with a familiar blanket from home and a favorite toy. Have water always available on the road trip. A no spill dish like the Road Refresher No Spill Dog Water Bowl or Highwave AutoDogMug can work great down the road.
For extremely antsy or stressed out riders, talk to your veterinarian to determine what the best option for your pet may be.
Keep in mind, although you want your pet to tag along, it may be best for them to stay safe and comfortable at home with relatives or a caring pet sitter.
---
Down the Road Danger
Antsy or excited riders bouncing around the vehicle is NOT safe for you, your pet, or anyone in your path! Ideally, your pet should be safely secured in the backseat or in a crate —not in the passenger's seat and NEVER on the driver's lap. This can cause distraction, loss of control, and pose a huge safety risk for everyone on the road.
Secure your roadside companions with a secure tether like the Mighty Paw Dog Seat Belt, preferably attached to a harness rather than a collar. (If any sudden stops or turns occur, a harness– like the Pawaboo Dog Safety Vest Harness— will be safer on your pet than a collar.) The 2PET Foldable Dog Crate is another travel option to keep your pet contained and comfortable during the ride.
---
Slide Interference 
As much as you'd hate to think about this, you must be warned… Trailers and motorhomes have nooks and crannies present when the slides are either deployed or retracted where pets may like to hide. As you know, slide-outs are extremely powerful mechanisms destroying anything in their way. Always make sure to visually SEE your pet the entire time deploying or retracting slides.
---
Germs Germs Everywhere
Ever notice how many campers bring along their furry family members? A LOT!
Campgrounds are even noticing this growing pet trend and are accommodating them more and more through adding dog parks, runs, pet drinking fountains, waste stations, gift shop products, and more!
With so many pets in one area it is extremely important to get your pet vaccinated, keep vaccinations up to date, and always keep their current records with you. (Many campgrounds require proof of vaccinations upon arrival.) Kennel cough, canine influenza, and intestinal parasites can be easily transmitted through shared parks, pet relieving areas, and communal water bowls. Accordingly, dogs playing near one another can also spread fleas and ticks. Be sure to administer flea and tick medication routinely and do a tick check before returning home.
Although germs, parasites, and tiny critters will always be present, the best you can do for your furry camping friends and others is to be proactive! For instance; stay on top of their health, clean up after them, and keep them clean! Likewise, stock up on doggy bags, invest in a portable water bottle, and keep a few antibacterial paw wipes– like Biga's Deodorizing Hypoallergenic Pet Wipes— in the camper to help keep your pet and camper clean!
---
Investigating the Site
Odds are, you'll be rolling into a campsite recently occupied. The first thing your pet will probably want to do is investigate the new and exciting surroundings! Before letting your pet outside the camper, do some investigating yourself. Make sure the site is clean from trash, food, bones from a leftover cookout, or other pet droppings that could make them ill or harm them. 
---
Run Away Pet
It's important to realize that your pet is in a completely new environment with new noises, smells, and constant happenings! Then again, it is easy for a pet to slip outside the camper as much as you go in and out throughout the day. Always keep your pet on a leash and have a collar on your pet with your contact info– just in case they are to get loose. In fact, Go Tags can be customized and come in many different forms of tags; stainless steel, slide on, glow in the dark, and in different colors.
Although we hate to think about losing them, it's very important to have a current printed photo with a pet description on hand. A photo can be used to quickly share with the campground office and to make copies to notify other campers. 
---
Pet Altercation 
With a considerable amount of animals sharing the same turf, it can become an area of potential altercation. Like mentioned before, always keep your pets leashed!
You'll typically find that other pet owners are respectful and courteous of you and your pet's space. Yet the camping season brings a wide range of different animals… and humans…
From time to time, you may run into other pet owners or dog lovers who might push campsite boundaries or pet space. Don't be afraid to politely tell other campers to not pet your dog or bring their dog right up to yours for a "meet and greet" if your dog is displaying nervous or anxious behavior. A cute bandana or harness, like the Dexil Nervous Non-Pull Harness, may help in keeping others at a comfortable distance so that your pet can become acclimated to the new camping experience.
---
Carbon Monoxide Poisoning
Carbon Monoxide Gas is invisible, odorless, and can be deadly. It is crucial to have a working carbon monoxide detector in your RV. (It's also not a bad idea to have an extra plug-in as backup like the Kidde Nighthawk Plug-In.)
RV campers and their pets could potentially be at risk for carbon monoxide poisoning if proper ventilation is inadequate or appliances need repairing. As a result, the invisible gas can fill the size of a camper fast. It is important to have safety devices in place and be aware of possible situations before they arise. Accordingly, know these 5 signs of pet carbon monoxide poisoning.
---
Fire
The National Fire Protection Association (NFPA) estimates that 20,000 RV fires occur every year. After all, RV's are like compact houses. This means there's a lot of electrical, mechanical, and household appliances in close quarters along with gasoline, propane, bonfire supplies, firewood, and other combustibles.
For this reason, it's necessary to have regular maintenance checks performed by a service professional. Be sure to test your smoke detector, ensure your RV's carbon monoxide and propane detectors are properly functioning, and have fire extinguishers on board. Also, ensure the RV power cord is connected to shore power properly and in good condition.
These Pet Inside Finder Stickers may be handy to have on windows or RV doors. In case of an emergency, others will quickly know how many pets there are inside the camper.
---
Extreme Temps
Camping involves spending a lot more time in the great outdoors. In this case, be mindful of extreme temperatures hurting your pet. Never leave your pets outside, especially alone, for long periods of time. Always have water and shade available. The YETI Boomer Stainless Steel Dog Bowl is a durable, rust-resistant dog bowl– perfect for outside use. Correspondingly, the SUPERJARE Outdoor Portable Dog Bed keeps your pet off the hot ground and shaded from the sun. Speaking of hot, remember to feel the cement before taking your pet on a long walk as hot surfaces can burn their paws!
---
Power Outage 
It doesn't take long for campers to heat up or cool down just like our everyday vehicles do. Power outages, electrical surges, or cutting shore power to your RV can cause the temperature to quickly reach dangerous levels for your pets. When temperatures are warm enough to need AC, take caution about leaving your animals alone in the camper.
Thankfully, there are pet monitoring systems out there created to give you peace of mind, like the MarCELL Cellular Temperature/Humidity Monitor, MOTOROLA LTE/3G/4G Cellular-Connected MultiSensor, and RV PetSafety Temperature & Humidity Sensor.
---
Poisonous Plants/Dangerous Animals
Poisonous plants and animals differ from state to state. With this in mind, know what to watch out for! If you're unfamiliar with an area, upon arrival ask the campground registration desk what to look out for– for you and your pet.
Additionally, never let your pet off leash or out of sight when walking or hiking trails. In the matter of seconds, a pet can take off after an animal or taste a poisonous plant. A secure, comfortable harness like RUFFWEAR's and a hands-free leash (if you'd like both hands free for exploring) will help keep your pet at your side while enjoying the exciting outdoors. 
---
Camp Activities & Excursions
Odds are, your pet will find themselves tagging along on new, exciting excursions! While it can seem so easy with the coolest pet companions to get up and go, it's important to be prepared for them– the best we can. 
For water related activities make sure to have a pet flotation device like EzyDog's. When out and about, consider bringing a portable water bottle, an extra leash, and of course, don't forget the poo bags! 
---
TIP: One of the first things you should do after arriving and getting set up at a new campground, is locate a nearby vet (preferably with 24 hour emergency). Save the contact information in your phone or write it down in the event your pet needs quick, medical attention! 
You may like: 
RVING IS BEING together. Pets and all.
Related posts
Disclosure: This website contains affiliate links, meaning we will get a commission if you decide to make a purchase through the links, at no additional cost to you. Additionally, this website is an Amazon Associate.  As an Amazon Associate, the owner of this website earns a commission as a result of certain qualifying purchases. CERTAIN CONTENT THAT APPEARS ON THE SITE TO WHICH THIS SITE LINKS ARE AFFILIATE LINKS.  THIS LINKED CONTENT IS PROVIDED "AS IS" AND IS SUBJECT TO CHANGE OR REMOVAL ANY TIME. Please read this Site's disclosure and privacy policy & terms for more information.
Good Sam Roadside Assistance: Built With The RVer In Mind! Plans Starting at $49.95 Shop Now!