Bear in mind that this post may contain affiliate links, meaning I get a commission if you decide to make a purchase through my links, at no extra cost to you. Please read my disclosure and privacy & terms for more info.
---
You've recently seen 100+ products and accessories for your RV kitchen. Now, it's time to move on to the BATHROOM!
Check out the ultimate products and accessories for your RV bathroom! Just like the last list, this has a little something for every kind of motorhome, travel trailer, or camper out there! 
It includes everything you might need to stock your RV bathroom– the necessities, the nice-to-haves, and the JUST. PLAIN. EXTRAS.
Now, there's no way you can fit 100 products or more in your RV bathroom. Seriously, have you seen some of these RV bathrooms? You can basically be on the toilet, in the shower, while washing your hands all at the same time… They are SMALL.
With that in mind, simply scan through the list for ideas that could work perfectly in your unique home-on-wheels! 
100 + Products & Accessories for Your RV Bathroom | The Necessities, Nice-to-Haves, & Just Plain Extras
Sink Area
Soap Dispenser One of the best components of RVing is the adorable camp-themed products and accessories to decorate your space! For example, this soap dispenser from the Bridge Collection would look great on an RV bathroom counter! However, be sure to stow breakable items securely during travel!
---
Mountable Soap Dispenser RV bathrooms tend to be less spacious with smaller sink areas for our belongings. In fact, sometimes there's not much counter space at all! Go for a mountable soap dispenser like the Better Living Products EURO UNO Soap Dispenser. It installs in minutes using 2-way tape!
---
Small-Space Soap Dispenser Worried about mounting something to your walls? This compact Soap Dispenser suctions to the side of the sink without taking up any counter space!
---
Hand Soap Dish Favor bar soap instead of liquid? Keep it a reach away, right next to the sink in the TOPSKY holder.
---
Toothbrush Holder RVers either store their toothbrushes on the counter, in the cabinet, or in a travel bag. No matter your space or lack-of– there's tons of organization options perfect for you! Check some out below! 
---
Toothbrush Caddy For those who like to keep toothbrushes on the counter, opt for a slim holder with a no-slip base. With different sizes to choose from, the Joseph Joseph Bathroom Organizers have something for every layout! 
---
Hanging Toothbrush Holder With plenty of designs to choose from– hang your toothbrushes up and out of the way– using vertical storage space! Consider designs like Pop-A -Toothbrush Holder, to trendy designs like the E-ROOM TREND for your RV bathroom!
---
Countertop Caddy Have some counter space to work with? Keep your bathroom items secure and organized on the bathroom counter in the Joseph Joseph EasyStore Organizer. The non-slip base keeps it in place while toothbrushes, razors, makeup, or lotions are easily reachable. (Match your Joseph Joseph products for an efficient countertop and a super trendy look!)
---
Corner Organizer Alternatively, make use of corner space with a vanity stand like the iDesign Clarity 2-Tier Shelves or Chris.W Corner Organizer.
---
Under Sink Caddy It can be tough setting brushes, makeup, or other toiletries out on a small counter. With limited counter space, keep items secure and together in a caddy tote just a short reach away. Simply grab out and set on the counter when getting ready or grab and take to the bathhouse!
---
Under Sink Storage Keep your toiletries, linens, or bathroom cleaners organized in stackable bins like the mDesign Plastic Bathroom Bins, sliding basket organizers like the SimpleHouseware 2 Tier Sliding Cabinet, or expandable racks like the SimpleHouseware Under Sink Expandable Shelf. Remember, an organized space means an efficient space!
---

Hand Towels Add a cute set of hand towels to your camper bathroom! Want a coordinating set? The 3-Piece Love Camper Towel Set is the perfect addition for your camper bathroom– tying everything together.
---
Towel Hook No towel hook? Don't fret! With tons of options out there, hang your hand towels with peel and stick adhesive, over-the-cabinet options, or mountable accessories!
---
Shower Area
Shower head Swap out that old, standard RV shower head! The Oxygenics PowerFlow RV Shower Head Kit features five spray settings that are designed for high performance in RVs!
---
Corner Caddy Organization is key when it comes to RVing. Although shower designs vary across the board– one thing most RV showers have in common is limited space! Still, the good news is that we can add in our own shelving wherever we need! Often corner organization is the best space to keep our shower supplies. From tension rods to adhesive shelves— find what works best for your space!
---
Hanging Shower Caddy The mDesign Over Door Bathroom Caddy offers space to store a variety of products. It easily hangs and can be quickly moved if needed. Similarly, the Simplehuman Adjustable Shower Caddy secures to the shower head. Its rust proof and quality design allow campers to adjust the shelves making it suitable for their shower space and needs.
---
Suction Caddy It's difficult to find a powerful suctioning caddy. These things always seem to fall off the walls during travel. However, the LEVERLOC Suction Cup Organizers push-button, suctioning design is secure and durable– which, for a rolling travel trailer or motorhome, is a must!
---
Shower Pocket Keep your shower tidy without having to mount shelving! The Shower Pocket Organizer connects to the shower curtain and has six mesh pockets to easily store shower items.
---
Soap Holder Need a simple soap holder in the shower? Simple peel and stick with strong adhesive backing.
---

Shampoo Soap Dispenser Have a few shampoo bottles cluttering the shower? The Better Living Products EURO UNO Soap Dispenser is the perfect accessory! This dispenser can be easily mounted for a sleek and simple shower solution. Also, check out the Three Chamber Dispenser for multiple soaps and shampoos!
---
Shower Curtain Want to add a splash of decor to your bathroom? Switch out the shower curtain! The "Live, Love, Camp" Shower Curtain and rug set will do just that!
---
Expanding Shower Rod Need a bit more elbow room? The Extend-A-Shower Expanding Shower Rod gives you up to 30% more washing room. When you're all dried off, it flips back inside the shower!
---

Shower Door Add a heavy-duty, anti-mildew Pleated Shower Door that shuts tightly for mess-free showering.
---
Shower Mat Avoid slipping in your RV shower with a small shower mat. Then again, many RV showers designs are unique– often small and oddly shaped. Try a triangle or square mat in your space!
---
Shower Seat The Adjustable Bath and Shower Seat can be used in a bathtub or shower stall. It features slip resistant feet, easy grip handles, a notch to hold the shower sprayer, and is made with a durable plastic seat.
---

Over The Shower Hooks Every camper should have a couple over-the-door shower hooks in their bathroom.Why? Because they have multiple uses! For one, flip the hook on the outside of the camper shower to create an instant towel hook. Secondly, flip them towards the inside of the shower to hang bathing suits after a day at the pool. Thirdly, grab one and throw it into your bathhouse caddy just in case the campground stall doesn't have enough hooks for your personal items. Remember, there's leftover soap, slimy suds, and germs on public restroom floors! Keep your things away from the floor and dry!
---
Bath Towels No RV bathroom is complete without a soft set of bath towels! The 3-Piece Happy Camper Towel Set adds a beautiful touch to your bath!
---
Bathhouse Caddy Many campers head to the campground or resort's bathhouse for their showering needs. From caddies to totes— there's TONS of organization options to suit your preferences and style!
---
Shower Deck Using the bathhouse showers? Watch out for those slippery floors with the Portable Shower Deck. This sturdy platform not only protects you from slippery falls but adds a barrier between you and the bathhouse floor. Fold it up and it becomes a carrying case for your shower accessories!
---
Toilet Area
Toilet Paper Of course, firsts things first, only use toilet paper specifically designed for RVs! From Firebelly RV, Scott's RVs & Boats, Thetford Aqua-Soft, and more– find your preferred brand!
---
Wall Mounted Toilet Paper Holder Believe it or not, some RVs lack a mounted toilet paper holder, which leaves many to question, "Where does the roll of toilet paper go?!" Well, with so many different bathroom layouts, that's often up to the owner to figure out– and sometimes it's not that easy. The good news is, there's options out there for any big, small, or unique design. Looking for super simple and sleek? The mDesign Modern Toilet Paper Holder mounts to your bathroom surface while the open arm makes refilling easy. Don't want to mount to your walls? Use an adhesive holder! Worried about the roll rattling off during travel? Consider mounting one vertically!
---
Hanging Toilet Paper Holder The mDesign Over the Tank Toilet Paper Holder is a great option if you're not into mounting or sticking anything onto the walls. Of course, I know what your thinking… "RVs don't have tanks!" However, this can work perfectly over a nearby cabinet door.
---
Free Standing Toilet Paper Holder Have some unused space beside the toilet? Don't let this go to waste! Why not throw some extra toilet paper rolls there too with a free standing toilet paper holder with reserve? (By storing extra rolls here, you free up storage space elsewhere!)
---
Storage & Organization
Cupboard Bars RVers know that the bumpy journey can rattle everything inside their cabinets and cupboards. Keep your items secure with extendable tension rods. Simply twist and pull. No tools needed, no drilling and no damage!
---
Cabinet Organizer You'll see in RV Storage & Organization | Baby Edition that the mDesign Plastic Storage Bins work amazing for our medicine cabinet! With separate compartments, these keep everything tidy and secure for travel.
---
Floating Shelves & Baskets Remember, use vertical space whenever you can! Floor space is limited as is in any RV. So are drawer, cabinet, and storage spaces. Create more room for your toiletries by installing shelving or baskets. (Not to mention, this frees up drawer and cabinet space too!) Hang shelving under the medicine cabinet, above the sink, or on an empty wall. Keep in mind, things must be able to travel down the road. Opt for shelving with rails like Peter's Goods Floating Wall Shelves. Similarly, wall-mounted baskets can hold towels, bath supplies, or other accessories while also looking stylish in your RV bathroom!
---
Plastic Bins RVers can never have too many bins! Keep toiletries, linens, and extras tidy and contained!
---
Floor Cabinet/Shelf No RV bathroom has any extra space for a cabinet or shelf, right? Wrong! You just have to think RV-friendly! This thin, toilet vanity is sleek and small– adding extra storage where you may think could never fit! Likewise, the mDesign Narrow Vertical Dresser Storage and IRIS 3-Shelf Slim Unit both have a compact and lightweight design– perfect for tight spaces. Check out your space and see if one could work for you!
---
Space Saver Sink Counter I'm sure every RVer can agree that they wish there was a bit more counter space in the bathroom. Anyone else's brushes, makeup, or toiletries keep falling into the sink? Time to make some space! Check out the Matte Make Beaty Counter. It quickly unfolds to instantly create a tray over the bathroom sink! When finished, fold it up and store! Combine this with the Lay-n-Go for the perfect bathroom setup!
---
Drawer Organizers RV drawers are often thin, making drawer organization difficult. Create a tidy space with assorted bins by mixing and matching different sizes to fit any drawer!
---
In-Cabinet Over-Door Organizers Items like hair dryers, styling tools, and brushes can be large and clunky, taking up a considerable amount of drawer space. Keep your hair care tools tidy and a reach away while also out of sight for an uncluttered appearance. This Over-the-Cabinet Door Hair Dryer Hook conveniently holds a hair dryer so that it's nice and handy to reach after a shower. Have more tools? The generously sized mDesign Farmhouse Over Cabinet Door Storage Basket can hold multiple hair tools and products!
---
Over Door Storage Finding extra storage space in an RV is difficult already–especially in the bathroom. Many turn to over the door organization options because it's one of the only vertical and empty spaces available. In fact, unless your rig has pocket doors, the door area is quite large for storage! Check out the Simple Houseware Over Door Wall Mount that comes in an assortment of colors to choose from and features large clear window to see what items are stored inside. Store makeup, hair accessories, toiletries, medications, and more. Plus, if you need even more storage space there's a 6 pocket design available.
---
Towel Rack Need extra towel space? Throw the Over Door 3 Bar Towel Rack over the shower door or any standard bathroom door. Similarly, the mDesign Towel Rack stores towels, yet mounts securely to the wall adding a decorative and functional touch to the bathroom.
---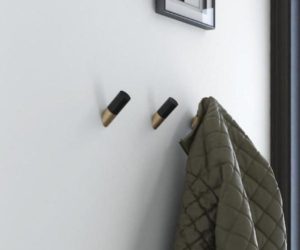 Towel Hooks Looking for something simple, small, but functional in your limited bathroom space? Add a small hook anywhere that works for you. As seen in Liven Up Your RV Living Room with these Decorative (Plus Useful) Accessories, hooks don't have to be boring! These tiny pieces can also be trendy, adding a splash of decor!
---
Other Bathroom Accessories
Bath Rug Adding a bathroom rug not only is comfortable but gives this space an instant homey-feel. Plus, it keeps you from slipping and excess water from sitting on the RV floor.
---
Tissue Holder So, you've recently seen Pop-A-Towel in 100+ Products and Accessories for your RV Kitchen… So what's next? There's Pop-A-Tissue for your RV bathroom! This easy to install dispenser holds tissues upward or downward and fits most tissue brands.
---
Mirror Bad lighting? The My Foldaway Mirror features bright LED lights on both sides of the double-sided design. Additionally, as the name suggests, it folds conveniently for storage!
---
Night Light No need to turn on the bright, bathroom light– disturbing other sleepers! The Mr. Beams Battery Powered Motion Sensing Stick Anywhere Night Light easily sticks to walls to light the bathroom or hallway to the bathroom.
---
Dehumidifier High humidity can wreak havoc to an RV. In fact, cooking, showering, and weather can cause moisture build up, which over time, can lead to wood rot, mold, and mildew. A dehumidifier can prevent and avoid these issues down the road. The PureGuardian Small Space Dehumidifier reduces humidity in small areas. Its portability and auto shut off feature make it worry free and easy to place where needed. No power? DampRid has always been one of our favorites. With a variety of options available (hanging, Hi-Capacity Absorbers, Drop-In Tabs, and more) simply leave these in cabinets, cupboards, or out in the open as they attract and trap excess moisture from the air.
---
Ceiling Fan Speaking of high humidity, one of the best ways to avoid moisture build up is to always open the ceiling fan when showering to draw air out. In fact, if you're looking to upgrade your bathroom or living area fan, the Dometic Automatic Deluxe Fan-Tastic Ceiling Fan Vent quickly removes stuffy air from your RV and within seconds and can draw fresh, clean air in. This can be done by a reverse switch that sets the fan blade directions– airflow in or out– by owner preference. It also has a built-in thermostat to help maintain desired temperatures along with a rain sensor.
---
Laundry Hamper Unfortunately, there's not much space in an RV for a bulky laundry hamper. However, there are RV-friendly options out there! For example, the Caroeas Slim Laundry Basket easily fits in very narrow spaces. Accordingly, the Camco Pop-Up Utility Container can be used for laundry as well and collapses to store! Working with super limited space? Opt for a laundry bag to get the job done!
---
Clothing Steamer Some may think, "Who needs a clothing steamer when they are CAMPING?!" While it may sound awfully "Glamper-ish" to some (in fact, you'll see it again in: Does This Make Me Look Like a Glamper?) you'd be surprised over the amount of campers who actually live, work, or use their home-on-wheels for their career, business meetings, or events. Despite your business attire often being tucked away or folded compactly to fit in the RV, a steamer like the Conair Turbo Hand Held Fabric Steamer dewrinkles clothing within seconds!
---
Over-the-Door Clothing Organizer Steam items or hang clothing for business meetings, events, or leave hand-wash only items to dry on the Over-the-Door Closet Valet.
---
Step Stool Any hard to reach areas on board? No matter if it's for you to reach the top cabinets or small children to reach the sink, a folding step stool can help!
---
Bathtub Unfortunately, many RVs do not have a bath tub. Without one, shower time can be a bit difficult for babies and perhaps, not fun at all. If you're avid travelers or even full-timers, consider having an inflatable bath for your traveling babies on board!
---
Cleaning Products & Supplies
Bathroom Cleaner As you read in RV Spring Cleaning | Interior Edition— it's extremely important to select products safe and suitable for your RV surfaces. With that being said, check out Unique RV, Thetford, and Valterra brands for your RV bathroom! 
---
Squeegee A squeegee can quickly clean and prevent water spots in RV showers. Have one hanging inside and use after every shower for a spotless look! 
---
Broom/Mop A Swiffer Sweeper Dry + Wet All Purpose Floor Mop is super RV-friendly for your floors. For example, the handle comes apart for small space storage and dry or wet refills are available for both sweeping and mopping. Reusable pads are also available instead of mop refills, allowing campers to easily wash and reuse– while using their preferred floor cleaner!
---
Tank Treatment RV tank treatment is essential and helps ensure an efficient working system. In fact, most toilet treatments help breakdown toilet paper and waste, avoiding clogs and septic issues, while cutting down on sewage smells. After all, there's multiple products out there based on ingredients and personal preferences. Check out: Happy Campers Organic Tank Treatment, Camco TST Toilet Treatment, Thetford Holding Tank Treatment, or Star Brite Instant Fresh Toilet Treatment.
---
Toilet Brush RV toilet materials tend to be more delicate than home toilets. The Soft Swab Toilet Brush is ideal for RV, marine, and home use– featuring soft fibers to safely clean plastic and porcelain toilet bowls. When finished cleaning, the cone sleeve removes excess water before storing. Similarly, the Slim Bowl Brush has a small profile– ideal for many RV bathrooms with tight spaces next to the toilet. No floor room for a toilet brush stand? The Sellemer Bathroom Toilet Brush and Holder mounts up and out of the way! 
---
Toilet Bowl Cleaner Again, look for cleaners that are gentle on your RV surfaces. Pure Power Toilet Bowl Cleaner contains no harsh chemicals while effectively removing hard water deposits. Aqua-Foam Toilet Cleaner is easy to use, requires little water, and cleans the bowl without scrubbing. It also is safe for plastic, porcelain, seats and other toilet components.
---
Trash Can Having a hard time finding a bathroom trash can that fits in your space? Don't worry! There's many slim designs to choose from! Check out the mDesign Slim Trash Can, Umbra Skinny Sleek & Stylish Trash, or the Simplehuman Slim Profile Trash Can.
---
Hanging Trash A hanging trash may work best in uniquely designed bathrooms or tight spaces. For example, the iDesign Classico Steel Over the Cabinet Plastic Bag Holder fits over standard cabinet doors and can hold garbage bags or reusable grocery bags for your trash. Similarly, the simplehuman 10 Liter In-Cabinet Trash Can hooks securely on a cabinet door for easy use while keeping the trash hidden– creating a clean and tidy looking bathroom.
---
You may like 100 + Products and Accessories for Your RV Kitchen.
Need help packing? Check out the Ultimate Packing List. Print. Check. Travel.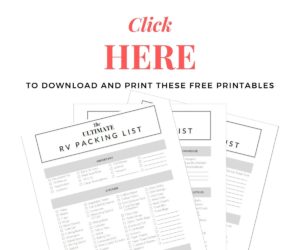 RVING IS BEING organized for the journey ahead!
Related posts