Bear in mind that this post may contain affiliate links, meaning I get a commission if you decide to make a purchase through my links, at no extra cost to you. Please read my disclosure and privacy & terms for more info.
---
It's that time of year. Summer is around the corner and for many that means CAMPING SEASON!
Time to take the camper out of storage, get it ready for the season, and give it a good deep clean!
It's very important to have a professional perform routine maintenance, system, and safety checks.
First things first, before stocking up for summer, a
deep clean
needs to be done.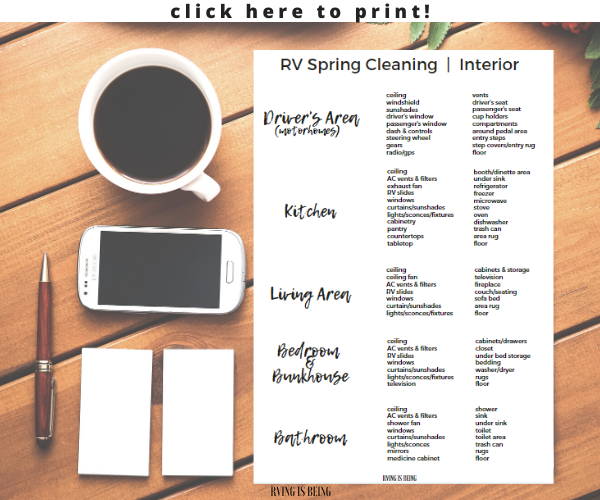 Here is my cleaning routine with products I prefer. I start from the front of the rig and work my way back. Every cabinet and cupboard gets opened, inventory is taken, and unused items are removed.
A good rule to use is that if it wasn't used last camping season it's out of there! There is only so much space in a motorhome or travel trailer. Doing a deep clean is also a great time to inspect the interior for any damage that may have occurred over the winter.
Please find what routine works best for you as well as products that you find appropriate for your RV's materials. Your Owner's Manual will include guidelines for correct interior care.
---
Supplies You May Need:
Keep in mind, to use water or to run a cleaning cycle on a washer, dishwasher, or to wash bedding in the RV- you MUST BE HOOKED UP TO WATER AND SEWER (or have enough freshwater water/space in the holding tanks).
Please refer back to your RV Owner's Manual and use products you prefer and that are safe for your motorhome or travel trailer materials.
---
First, open up all the windows and do a fresh air exchange. This gets the stale air out and will also help our lungs as we kick up the months of dust while spraying some cleaners! 
Get a trash bag ready for any trash along the way.
Also, delegate a bin for "unneeded items". These are items you don't necessarily want to toss in the trash but that you don't want in the RV either. Remember, space is limited in a camper. If you did not use something last camping season, get it out of the camper!  
---
Driver's Area (for motorhomes)
Dust from top down (start from the ceiling at the front of the rig and work down so that any dust that falls will be dusted off next and so forth.)
A Swiffer Duster Heavy Duty Super Extender can help dust places that are hard to reach. Dust the windshield, driver and passenger windows, dash, around gears and buttons, vents, cup holders, and compartments.
A vacuum with small attachments can help suck the dust out of cracks and crevices.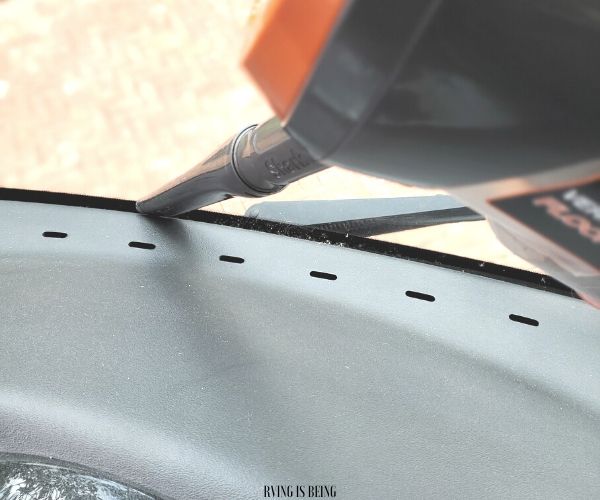 The Shark Rocket Ultra-Light Vacuum with the Home and Car Detail Micro Tools Kit–is perfect for cleaning the tiniest of spaces.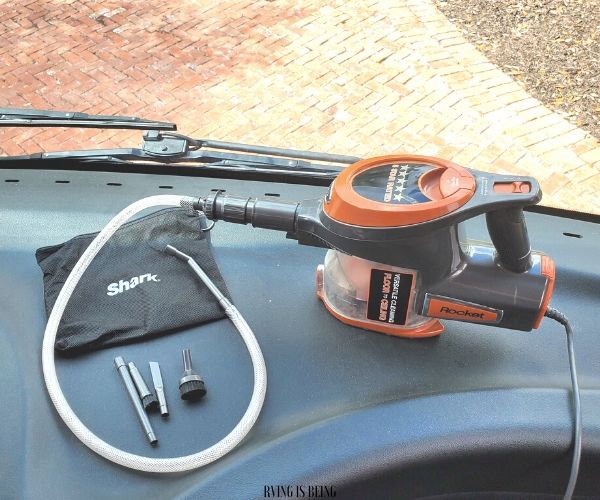 The Micro Tools Kit fits into cracks where the regular wand cannot reach.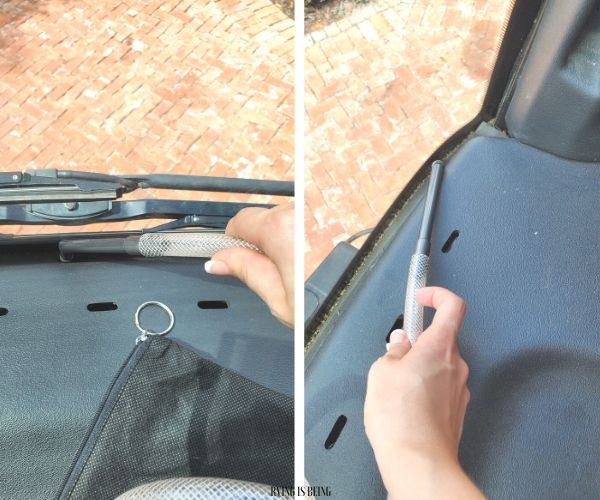 After dusting and vacuuming hard to reach areas, clean the windows with glass cleaner. Most RV manuals recommend an ammonia-free glass cleaner.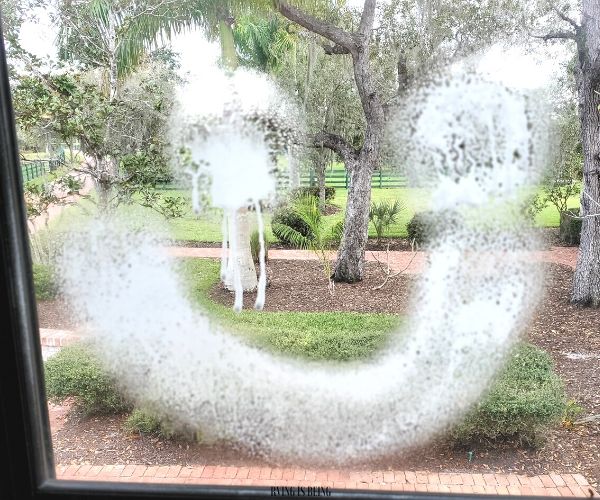 Use a soft cloth to wipe everything down. Microfiber Cleaning Cloths are non-abrasive, can be used wet or dry, and really seem to pick up dust well.
Use an RV-safe dash cleaner (car dash cleaner) or a mild detergent with lukewarm water.
It's important to use a gentle cleaner with RV materials such as panels, laminates, countertops, and floors. Some harsh and abrasive cleaners may not be compatible with your camper and can damage surfaces as well as plumbing if washed down the sink, toilet, or shower. Be sure to refer back to your owner's manual!
Wipe down the dash, around the gears, buttons, steering, vents, and cup holders. Wipe down the seats, armrests (non-fabric), door and door handle, and any cabinets above the driver's and passenger's area.  
A UV protectant, like 303 Aerospace Protectant Wipes, can help keep items looking newer and last longer by preventing cracking and fading.
During frequent camping trips, I like to use Seventh Generation Disinfectant Wipes to disinfect the frequently touched areas like the: steering wheel, buttons, knobs, navigation screen, and door handle.
You may like: Germies Through RV Journeys | Cleaning Tips and Hygiene Hacks to Keep You Healthy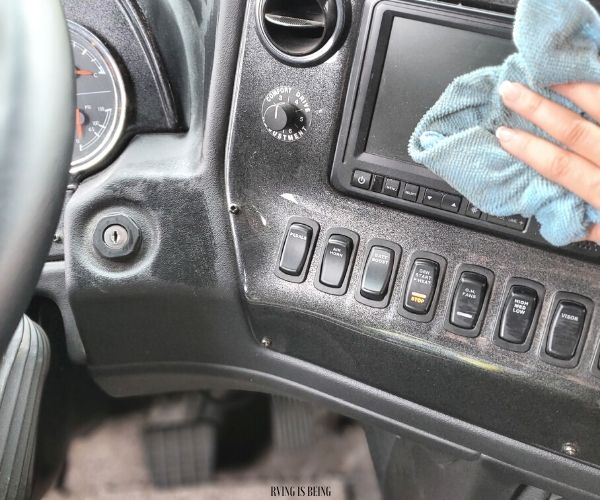 Vacuum around the driver and passenger seats, steps, and shake out any entry rugs. If the motorhome cockpit seats are fabric, lightly vacuum to prevent an accumulation of dirt. If you have entry step mats or covers, they can– most likely– be washed outside with water and dish soap. (Be sure to check the care instructions.) Rinse, and let them fully dry outside. The new year may be time to splurge on new rugs and entry step mats!
---
Living Room
Move into the living room and dust the ceiling, ceiling fans, around the lights, along the slides, and around the vents. 
When dusting, pay special attention to the interior slide frames. Ours, for instance, has a lip near the ceiling that catches all kinds of dust and bugs! A dry microfiber cloth does a great job picking up dust and dirt.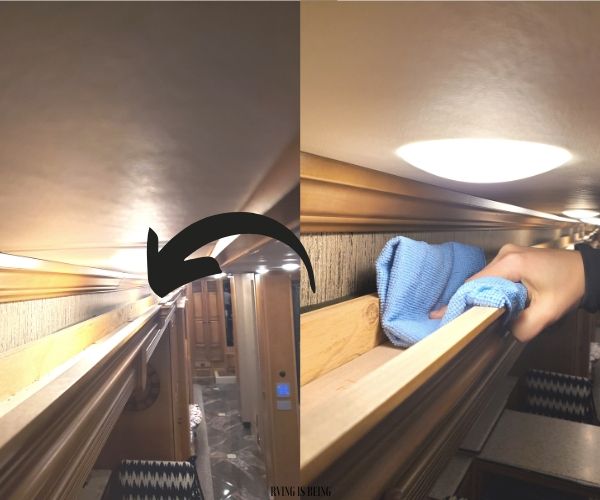 Remove vents and clean filters. (All systems are different. It is important to refer to your owner's manual for proper maintenance and cleaning.)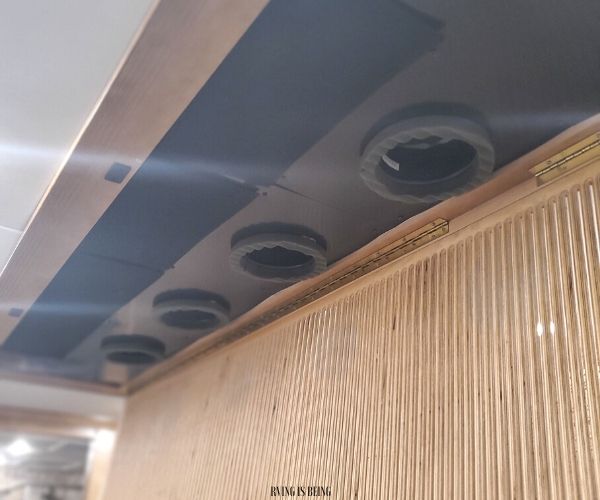 I clean the vents with a lukewarm, damp cloth and rinse out the filters a few times with water. If needed, replace your filters.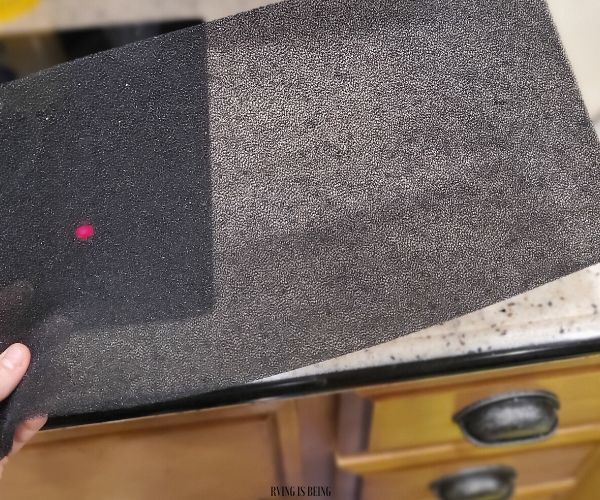 While you have the ladder or step stool out, now is also a good time to test the smoke detector and replace the batteries or maintain as directed by the manufacturer. Thanks to my handy-dandy cooking, it keeps this device on its toes all season long…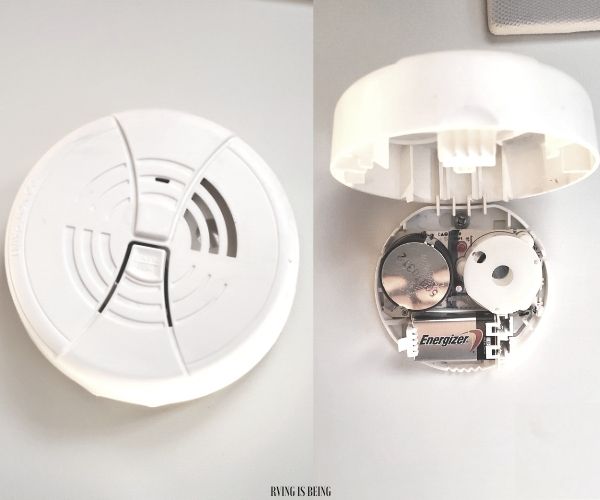 Work your way back dusting or vacuuming in the tight areas around the windows, window shades, wall lighting/sconces, television, countertops, and fixtures.
Clean windows and mirrors with a glass cleaner. (I like to clean the glass and mirrors after dusting, so that dust is not kicked back up onto the clean glass, but before wiping down items with a damp cloth. This ensures that any window cleaner I spray that hits any other material will be wiped off.)
After dusting, wipe down light fixtures, window shades, and ledges where dust really clings with a damp cloth. Be careful of window treatment, curtain, shade, or valance material. My owner's manual instructs to dry clean only. As dust clings heavily to these, I hand dust, carefully vacuum, and wipe with a damp cloth.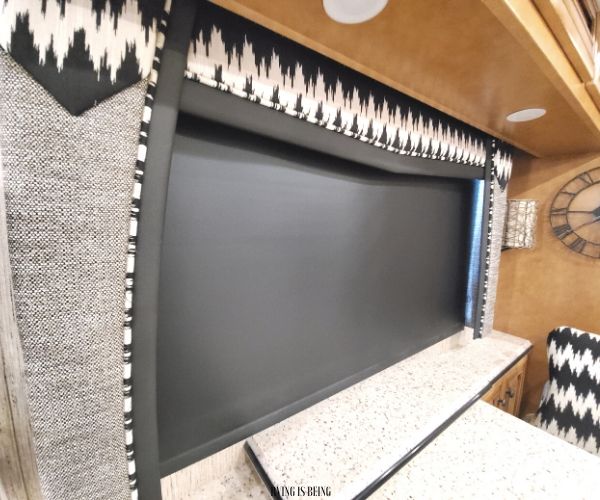 Use a damp cloth to wipe down the furniture (if leather or like-material). Make sure to get in between all of the cushion cracks. If your family is like ours, you'll find a few items that went missing months ago… (Use a furniture cleaner if recommended by your manufacturer.)
If your furniture is fabric, vacuum thoroughly to remove the dust– getting in to all of the cracks and crevices and spot-clean as needed. Pull out the sofa-bed and toss any bedding to the side. Vacuum inside the sofa-bed area. 
Wipe down the cabinets (open each cabinet to do inventory and organize), ledges, and TV area. Wipe over or dust the CO and propane detectors but be careful not to spray any cleaners directly into the detector as it may cause false alarms. 
Disinfect heavily touched items: remote controls, light switches, cupboard handles, window cranks, etc.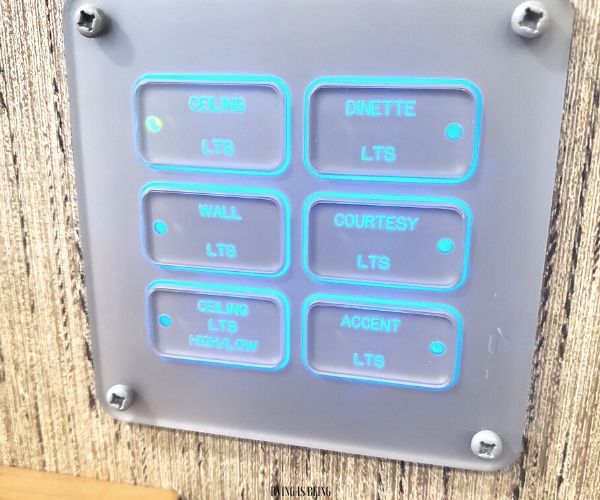 Vacuum or sweep the living room area floor. 
Dirt can get trapped between the floor and under the slide outs. While slide mechanisms all differ, our slide outs roll out and drop into place, becoming flush with the floor. To deep clean, I temporarily retract the slides just enough to lift the slide up and off the floor. As you can see, it creates a crack to the outside so that sand, gravel, or small rocks can be wiped out from under this area.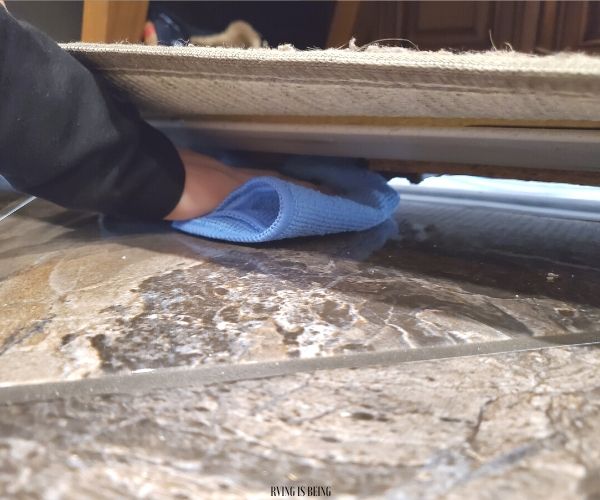 Vacuum or wash (if possible) area rugs and replace if needed. For area rugs stains, I like to use Whip-It. It is made from naturally derived plant ingredients and is a safer cleaning option for our family and pets. And quite frankly, when I saw this magical substance take a whole glass of red wine stains right out of white carpet within seconds, I was sold!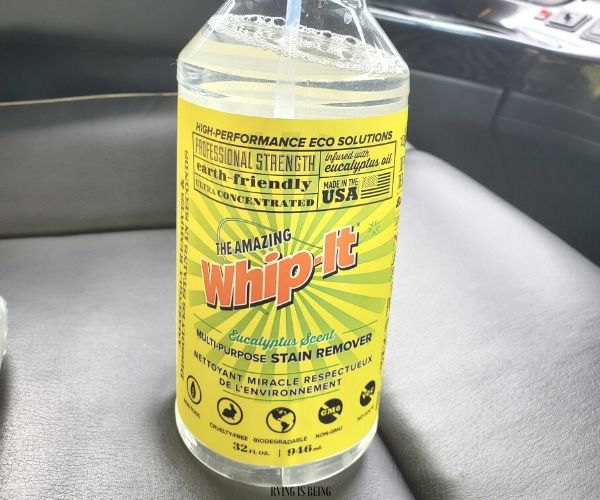 Be sure to be tossing out and taking inventory of things needed as you go!
---
Kitchen
Dust away ceiling cobwebs, the exhaust fan, along the slides, in the windows, over curtains or sunshades, in and outside of cabinets, pantry, and under the sink area. Now, is a great time to organize under the sink area. Is it just me or does this cabinet always get out of control?! Also check for any leaks!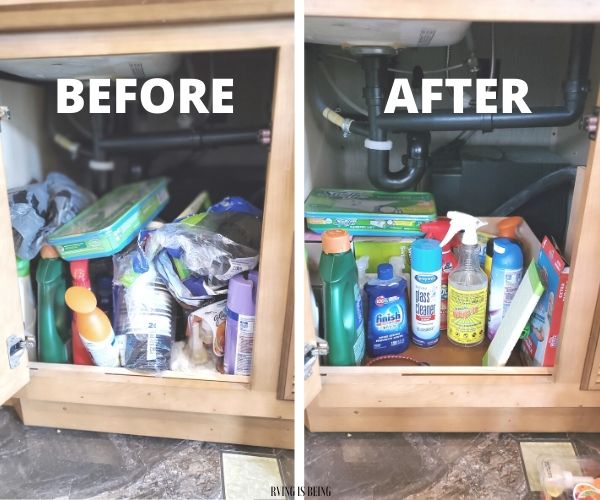 Clean windows with a glass cleaner.
Clean the countertops, table or booth area, refrigerator, inside the refrigerator and freezer, microwave, stove, oven, cabinets, pantry, sink, and the trash can. Wipe down or take out shelving in the refrigerator and wash. Let stuck on foods or sticky liquids soak a few minutes before scrubbing off. Use a toothbrush for hard to reach areas in these appliances. For scuffs or marks that won't budge, gently try Mr. Clean Magic Eraser Pads.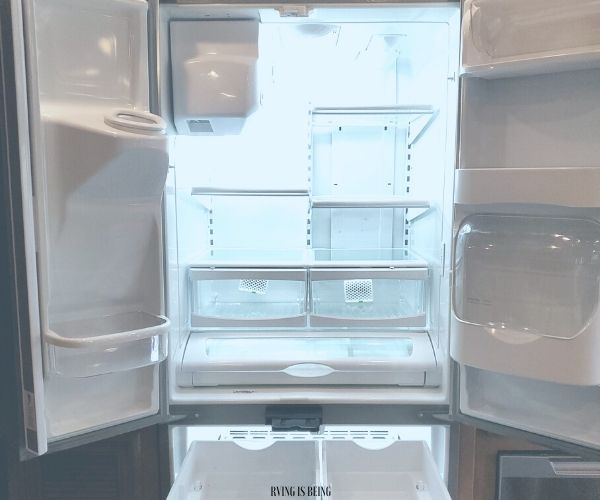 If your RV has a dishwasher (eye roll…I know, so much for "roughing-it" right?), now is a great time to run a cleaner through it like Finish Dual Action Dishwasher Cleaner or PurTru Dishwasher Machine Cleaner – All Natural. (Make sure to be hooked up to water and sewer!)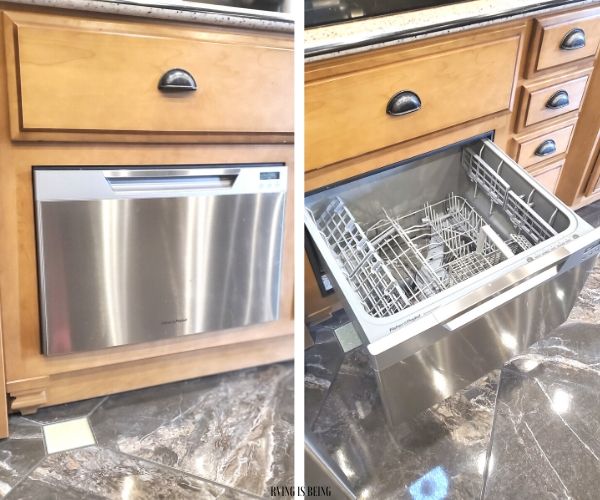 Disinfect heavily touched items: refrigerator handle, freezer handle, microwave handle or panel, cabinet handles, faucet, and trash.
If the inside of cabinets get too grimy during winter storage, you may want to wash pots and pans, dishware, and cutlery.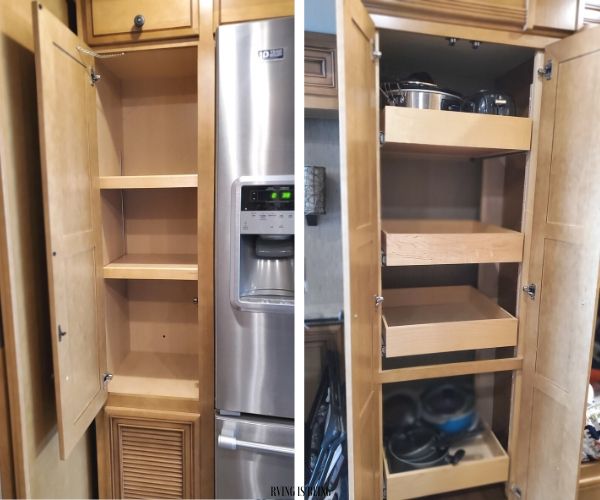 Vacuum or sweep the kitchen area. Make sure to get into corners and slide areas making sure grit and dirt do not obstruct the slides.
---
Bedroom/Bunkhouse
Just as you did in the kitchen and living area, dust the ceiling, vents, around slides, windows, television, closet area, and lighting.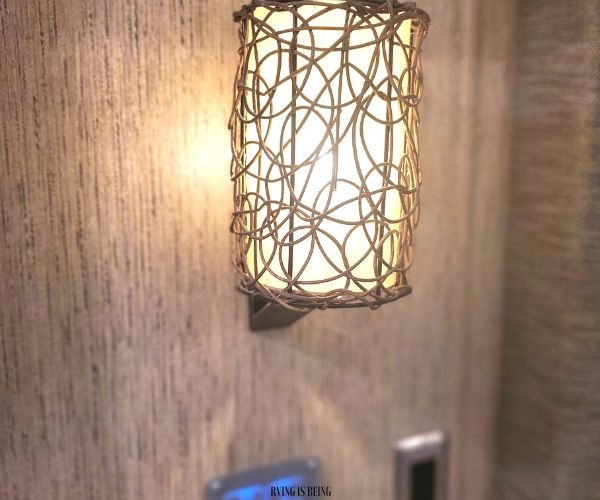 Clean windows and mirrors. 
Wipe down shelving, dressers, and drawers.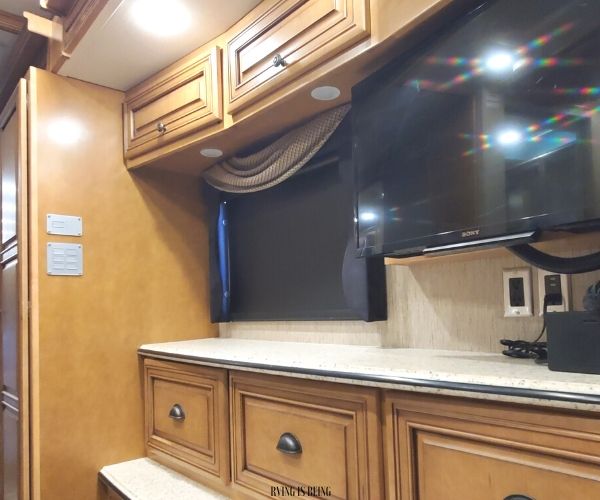 Vacuum area rugs, inside closet area, and under the bed storage area.
Wash or replace bedroom rug if needed.
---
Bathroom
Dust the ceiling, vents, bathroom fan, and around the window. 
Clean the window and mirror.
Clean the inside the medicine cabinet. I like to pull everything from these cabinets and vacuum inside because it is lined with carpet material. It also gives me a chance to go through items one by one, replacing toothbrushes, toothpastes, restocking allergy meds, replacing bug bite creams, and tossing expired or unneeded toiletries.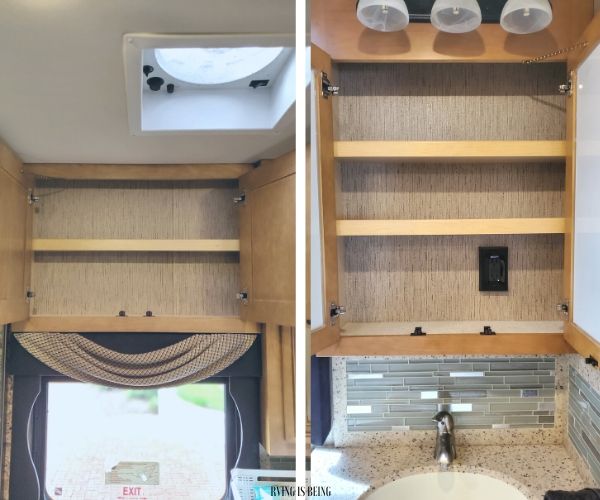 Clean the sink and sink area. A cleaner like, Thetford Aqua-Clean Kitchen & Bath Cleaner is strong, safe and powerful and easily cleans countertops, sinks, showers, and toilets.
Likewise Mean Green Anti-Bacterial Multi-Surface Cleaner kills 99.9% of germs, disinfecting and deoderizing surfaces that are touched every day. It does not contain bleach, harsh acids, or phosphates.
Clean under the sink and be sure to keep an eye out for any leaks.
Clean and disinfect the bathroom trash can.
Clean the shower with bathroom cleaner and rinse. Glass showers are quick to look scummy with water spots and foggy glass panels. The best way to keep your shower looking squeaky clean throughout camping trips is to use a squeegee like the Command Bath Shower Squeegee and Small Hook. Discard any old shower products. Now is a good time to replace all shampoos, soaps, razors, loofahs, or shower sponges.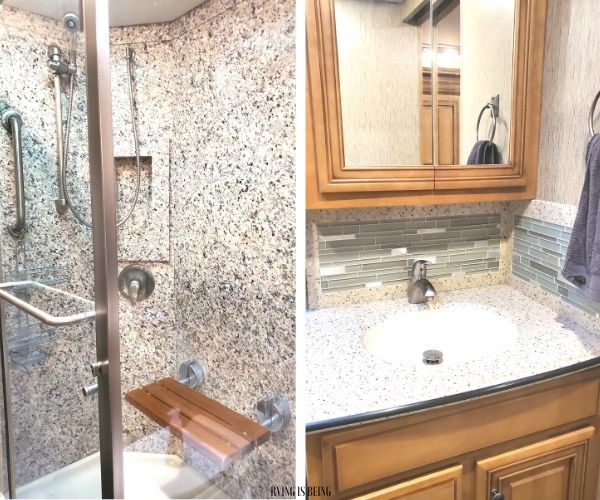 Clean the toilet with toilet bowl cleaner and soft brush
.
RVs contain either porcelain or plastic toilets. Keep in mind, certain household cleaners can have high concentrations of bleach and other harsh chemicals. This can be very hard on RV toilets, sinks, and showers that are plastic materials and can also be hard on the plumbing systems made of soft rubber and plastic seals. Likewise, a highly abrasive brush can scratch plastic surfaces in the sink, shower, or toilet.
An RV safe cleaner like: Star brite Toilet Bowl Cleaner – Marine & RV Formula, Thetford Aqua-Foam-Porcelain and Plastic Toilet Cleaner, or Unique RV Toilet Cleaner may be appropriate for your bathroom's materials. Accordingly, a seal lubricant like Thetford Toilet Seal Lubricant & Conditioner works with RV or marine toilets by protecting seals through lubricating the plumbing, preventing waste from sticking. 
Allow plenty of water to rinse down any cleaners you have used in the sink, shower, and toilet. This helps rinse the materials as well as plumbing of any chemicals used. Then, empty the gray and black tanks so that chemicals are not sitting in there. Once emptied, fill up the black tank with a couple gallons of water and add your holding tank treatment.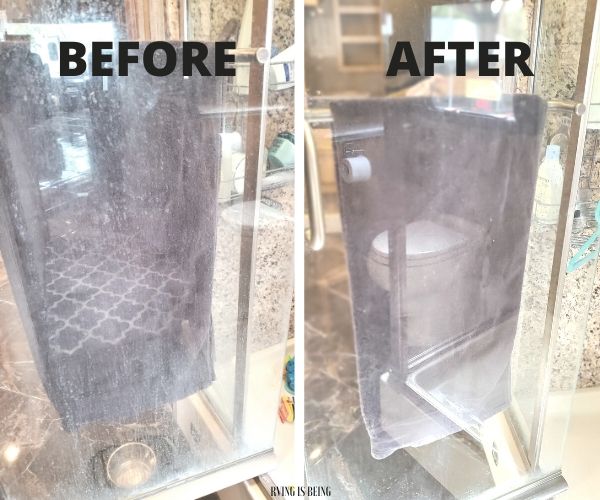 Sweep or vacuum the bathroom floor. Wash rugs and replace if needed.
---
Washer/Dryer
If you have a washer and dryer or washer/dryer combo in your RV, it's a good time to give them a cleaning! Run a cleaning cycle or check with the manufacturer how to do a deep clean.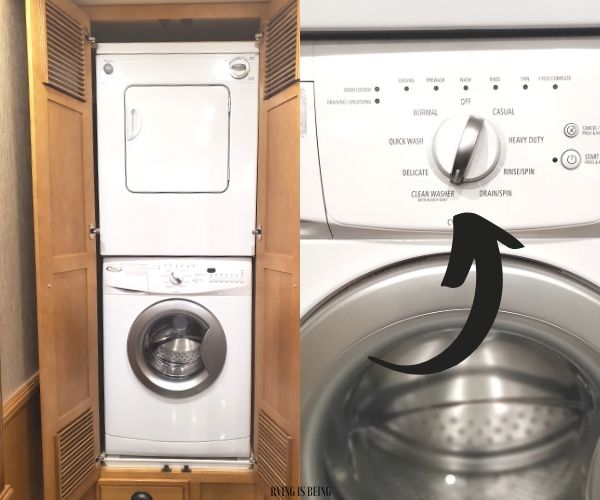 ---
Swiffer/ Mop
Swiffer or mop the entire motorhome or trailer floor. A detachable Swiffer Sweeper is great because it is so RV-friendly and collapses down to be stored in a small cleaning cabinet. The Swiffer Sweepers come with all kinds of refills and attachments that pick up dirt, dust, allergens, and hair off our floors. With dry and wet attachments, it's basically a broom and mop all-in-one. 
There's Swiffer compatible options that allow RVer's to reuse as well as use their own floor cleaning products they prefer. For example, these mop pads that fit Swiffer Sweepers are reusable, washable, and can be used wet or dry with whatever cleaning product you choose!
I usually start in the bathroom, mop the floor, and then remove that Swiffer pad. Replace with a clean Swiffer pad and start from the back of the RV and move to the front so that you end at your door and do not have to step on a wet floor!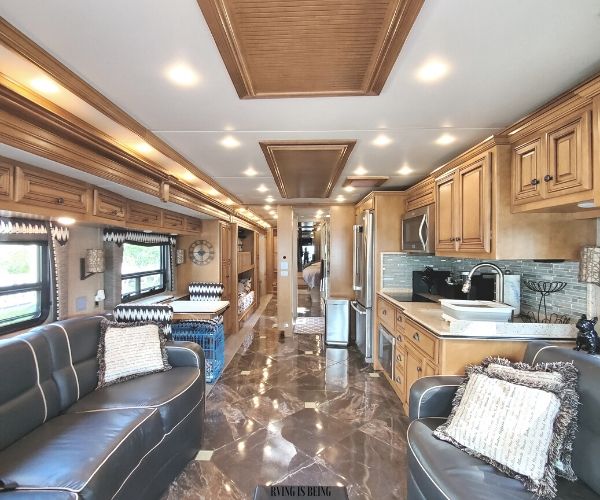 ---
Linens & Bedding
Throughout the cleaning process, you are going to kick up all kinds of dust and spray cleaners all over the RV. Because of this, I like to wash the bedding and all other linens last.
Gather and wash all linens: kitchen towels, wash cloths, oven mitts, cloth hot pads, bathroom hand towels, and shower towels.
Gather and wash bedding, blankets, and throws.
Mattresses collect dust, allergens, odor, and maybe even mold, bed bugs, or dust mites! Due to this, I highly recommend a mattress protector. These significantly help keep mattresses clean and in tip-top shape. The SafeRest Premium Hypoallergenic Waterproof Mattress Protector protects against dust mites, fluids, perspiration, allergens, and bacteria. 
To clean soiled or heavily stained mattresses or foam toppers, mix up eight ounces of hydrogen peroxide, two – three tablespoons baking soda, and two drops of dish soap in a spray bottle. Spray all over the mattress and heavily on dirty areas. Let this sit overnight and dry. It's best to repeat the mixture again the following day. Spray again and let it dry throughout the night. Once dry, thoroughly vacuum up the dry baking soda, dust, and other particles.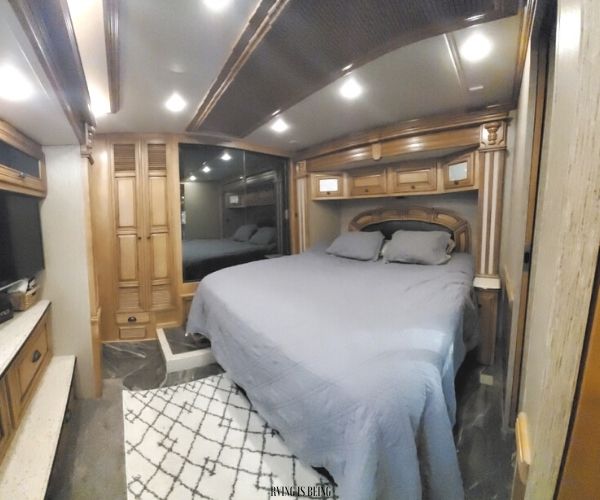 Wash any dog beds, food mats, and pet blankets.
Replace any old linens or bedding if needed. 
---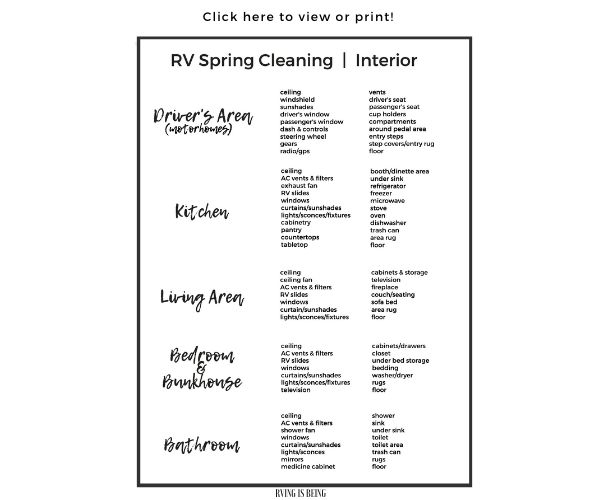 RVING IS BEING squeaky clean for the camping scene!
Related posts