Bear in mind that this post may contain affiliate links, meaning I get a commission if you decide to make a purchase through my links, at no extra cost to you. Please read my disclosure and privacy & terms for more info.
---
Many choose the RV lifestyle because it allows them to bring their pets along! Pets are part of the family too!
Here's a few products to keep inside the camper to make life easier for both you and your pet.
Dog Accessories & Gear for the Camper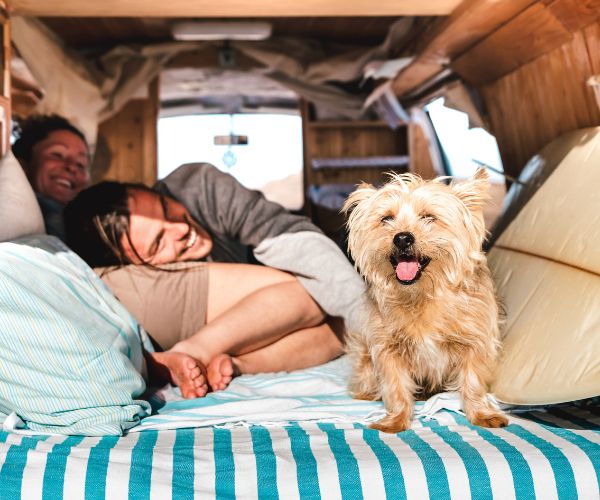 Pet Steps
Make your pet feel right at home! The Pet Stuff Pet Steps With Fleece Cover
helps your pet climb up to the couch without having to lift them.
---
No-Spill Water Bowl
The Road Refresher No Slobber, No Spill Water Bowl is travel friendly and ideal for cars, boats, and RVs. The patented, floating plate keeps just enough water to drink, yet prevents jowls from soaking up any extra– avoiding further messes down the road.
---
No Mess Mat
A rubber mat and set like the URPOWER Stainless Steel Dog Bowl with Non-Skid Silicone Mat catches water and food from the messiest eaters and drinkers. Plus, it's easy to clean! 
---
Neater Feeder
The Neater Feeder Express is a great all-in-one option for messy drinkers and bumpy rides. Spilled food is separated and caught within the top while a catch basin catches any spilled water– keeping the feeding area nice and clean.
---
Pet Screen 
Help ensure your pet can't damage or break through your entry screen door with the Lippert Screen Defender Entry Door Screen Protector.
---
Pet Booster Seat
Keep your pet comfortable and secured during the ride with the Pet Car Booster Seat
. Easy-to-attach webbing straps make it simple to secure with an attached tether to hold your pet for added security.
---
Car/Camper Steps
These extra wide dog stairs are foldable, weighing only 13lbs, but heavy duty– supporting up to 250 lbs. A non-slip paw print coating prevents pets from slipping while going up and down.
---
Travel Bag
The Tidfy Dog Travel Bag is a handy week or weekend organizer that keeps everything your pet needs in one convenient spot. No more hauling separate bowls, treats, toys, and food bags around. With collapsible food bowls included, pack the essentials for your pet: food, treats, toys, first aid supplies, grooming equipment, a blanket, and more. Have the essentials already packed and simply add fresh food and treats when you're ready to go! Use this for weekend trips, grab this in an emergency, take to the pet sitter, and more!
---
Pet Kennel
Kennels provide a nice, secure area for a pet to feel safe and comfortable, especially when driving or leaving the motorhome for a quick errand. All travel trailer and motorhome layouts are different, however, most kennels can be placed in large nooks, under the table, or in the bottom bunk for dogs to use when they wish. The MidWest Homes for Pets Dog Crate comes in an assortment of sizes and collapses flat for travel.
---
Travel Bed
A travel bed keeps pets comfortable at the campsite and during road trips. The Chuckit! Travel Dog Bed bed rolls up compactly, is durable with rip-stop nylon, and can be used indoors or outdoors. No more trying to stuff large, bulky dog beds in the washing machine or only washing the covers! Throw this whole thing in the washing machine! It does not lose its shape after the wash and comes with a built in loop to hang dry. 
---
Snoozer
The Snoozer Cozy Cave nesting bed gives your pet a nice, warm place to burrow in while the cave-like design gives your pet a secure and safe feeling.
---
Furniture Protector
Protect your furniture just like you would at home with a couch or seat protector. The Furhaven Pet Furniture Cover (pictured) features comfortable fabric quilting while being water-resistant for spills or accidents. For a blanket-style, the Furhaven throw is an electricity-free, self-warming blanket with an encased thermal mat to work with your pet's natural body heat. It also features a waterproof interior coating to protect furniture from accidents.
---
KONG
The KONG – Classic Dog Toy keeps pets busy by providing a chewing, teething, fetching, or weight management toy that can be stuffed with peanut butter, kibble, KONG Easy Treat, or other treats your pet favors. Freeze treats inside to keep your pet extra busy in the camper!
---
Gnawtlers
These all natural, healthy elk antler chews are a great dog bone for aggressive chewers. Gnawtlers are also great for dental hygiene with no odor and no mess. What's even better, Gnawtlers are naturally shed and gathered from the forest floor with absolutely no animals being harmed in the making!
---
Hyper Pet Doggie Tail
This interactive Hyper Pet Doggie Tail captures interest and encourages play! The Hyper Pet Doggie uses unpredictable movements, sounds, and features a crinkly tail. It's perfect for a rainy day inside the camper.
---
Training Treats
Zuke's Natural Training Dog Treats are a great item to have in the camper. RVing is a learning curve for not only us people but pets too! When we first started Rving it was crucial for our dog to learn to not dart out of the camper as soon as the door opens, to not bark at common campground noises, to obey around other dogs, and to yield when going for a campground walk. Tiny treats like these help train and praise a dog for good actions while not overfeeding them.
---
Pet Hair Remover
Motorhomes and travel trailers have tighter living quarters, meaning more dog hair per square foot! The Brellavi Pet Hair Remover works great over decor pillows, bedding, throws, and clothing.
---
Rescue Sign
Should an emergency arise, alert others that your pet is inside with this suction cup Rescue Pet Sign
.
---
You may like: Dog Accessories & Gear for the CAMPSITE and Dog Accessories & Gear for the ADVENTURERS
RVING IS BEING prepared for the pups.
Related posts