Bear in mind that this post may contain affiliate links, meaning I get a commission if you decide to make a purchase through my links, at no extra cost to you. Please read my disclosure and privacy & terms for more info.
---
Toad, Blue Boy, Seasonal, GAWR
WHAT DO THESE TERMS MEAN?!
Check out these RV camping terms and lingo you'll frequently hear in the RV community! 
RVers Ultimate Glossary | Terms, Lingo, & Definitions
Basement (cargo) The storage area below the living area quarters of the motorhome, accessible from the exterior of the unit. Many campers pack outdoor camping gear like: chairs, grills, an outdoor mat, or camping toys in this area.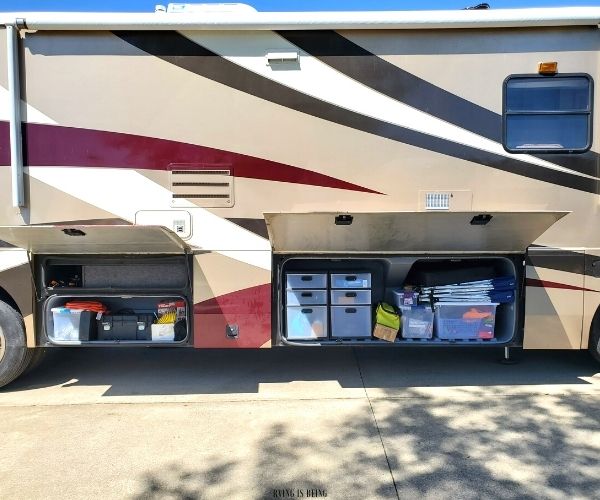 Big Rig (motorhome) While many refer to "Big Rigs" as tractor trailers, many RVers have adopted this term for Class A motorhomes, or, generally any large RV unit close to that 40-foot mark.
Black Water Another term for waste water from the RV toilet.
Black Water Tank (black tank) Collects the waste (or black) water from the toilet, located at the underbelly of the RV unit.
Blue Boy A portable waste tank that allows travelers to empty the RV holding tank contents into– to then transport and empty at a dump station.
Boondocking (dry camping, dispersed camping, primitive camping) Many would consider boondocking a form of "roughing-it-but-with-a-rig"– where travelers park on underdeveloped land without any hookups, amenities, or facilities. This means, no water, sewer or electrical services!
Booth Refers to the booth style RV dinette in many RV living areas, which generally serves as both a dining area as well as a sleeping area. These are also referred to as "booth-to-bed dinettes".
Breakaway Switch Think if a trailer didn't have chains or some kind of safety braking system if they were to become detached in an accident! They could UNCONTROLLABLY roll down the highway at 60+MPH until it comes to a stop! For this, fifth-wheels and larger travel trailers have a safety device, known as a breakaway switch, in case it ever becomes detached in an accident from the tow vehicle. Powered by a 12-volt battery, this activates the trailer's brakes, slowing and stopping the unit. 
Bumper Pull (travel trailer) Now, this doesn't really connect and pull from the tow vehicle's actual bumper. However, a "bumper pull" refers to the basic way of towing where the trailer tongue connects to a hitch secured on the back of a truck, SUV, or motorhome.
Bunkhouse A bunkhouse is just as it sounds– a room with multiple bunks! This could look like two bunks on each wall, a bunk and sleeper sofa, bunks and an entertainment center, etc. These layouts are perfect for big families or travelers that need multiple sleeping quarters!
Cabover (truck camper, slide-in) An RV, or recreational vehicle, that is transported in the bed of a pick-up truck. 
Camper Trailer (caravan, camper, travel trailer) A towable unit that provides living/sleeping accommodations.
Camper Van (Class B motorhome) A vehicle, often looking like an oversized van, that provides both the transportation (motor) and living/sleeping accommodations. The biggest difference between a camper van and a caravan is that a camper van is self-motorized, therefore does not need to be towed along by another vehicle. 
Cargo Carrying Capacity (CCC) Your RV unit should include a sticker or panel regarding important weight information. (Ours is found on the inside of a kitchen cabinet.) As stated per our manufacturer, the CCC is: "Equal to GVWR minus each of the following: UVW (unloaded vehicle weight) and full propane weight." In other words, the CCC is the maximum cargo weight (such as camping gear, belongings, people, etc.) you CAN NOT exceed in your camper unit.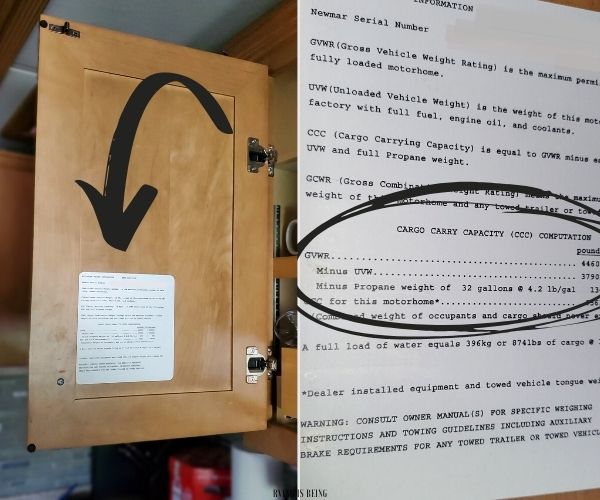 Chassis When speaking about motorhomes, the chassis is the frame, or foundation, of the unit– including the engine, transmission, drive train, axles, and wheels. 
Class A Motorhome These are some of the largest motorhomes and look similar to a flat-nosed tour bus! Class A's often find themselves at the top of the line when it comes to mixing travel with luxury. Built on a heavy-duty chassis, they offer plenty of living space and storage, as you'll find many reaching 40+ feet long!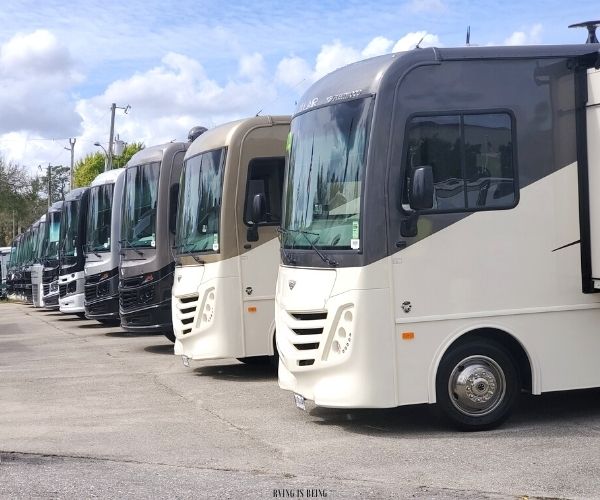 Class B Motorhome (camper van) As mentioned above, these smaller units can often be mistaken for an oversized van! While things may seem small and compact, these campers are a lot easier to drive and maneuver (than huge Class A's, C's, or fifth-wheels)! Get this, they still have sleeping, living and sometimes even showering quarters! 
Class C Motorhome Another class of motorhomes that are most recognizable by the sleeping area extended over the cockpit! Many Class C RVs find themselves sized anywhere between a Class A and a Class B– meaning generously sized living and sleeping quarters given the 20 to 30 feet they are, while being reasonably easy to maneuver and fit into campsites! Although Class C's are known as the middleman of RV's, we can't forget the Super C! This rig is a diesel, Class C motorhome on a heavy duty chassis, with a powerful engine hauling sometimes 45-feet of luxury amenities! Resembling almost a souped-up, luxurious semi truck– these rigs are sure to catch attention going down the road!
Coach (motorcoach, motorhome, house) For one, "coach" often refers to a big rig with a large price tag. However, to others in the RVing community, "coach", "motorcoach", "RV", "Winnebago", even "camper" (motorized) — all typically refer to the motorhome in question! Secondly, some refer to just the house portion of a motorhome as the "coach"– separate from the chassis (engine, transmission, frame, etc.) 
Cockpit The driver's area in a motorhome.
Converter Converts standard 120v AC power into 12v DC power in an RV. For example, when you plug your RV into either 30 or 50 amp RV shore power at a campground's site pedestal, you'll receive 120-volt AC (alternating current power). A converter then converts this into 12-volt DC (direct current) to power the 12 volt appliances in the unit.
Diesel Puller ("FRED"- FRont End Diesel) A motorhome with a diesel engine in the front.
Diesel Pusher A motorhome with a diesel engine in the back– powering, or regarding the term, "pushing", the rig.
Dinghy (dinghy towing, TOAD) Many may have heard the term "dinghy" describing a small boat. Yet in the RV community, dinghies refer to really any vehicle or boat being towed (also known as "dinghy towing") behind an RV. 
Dry Weight The actual weight of a vehicle or trailer as it's built and ready to be shipped from the manufacturer. Most particularly, an RV's dry weight means without fuel, any liquids (including the holding tanks), camping supplies or passengers.
Dump Station (sanidump, sanitary station) As RVers, you'll get very familiar with dump stations, or in detail, designated sanitary sewer systems where raw sewage (from RV holding tanks) may be properly disposed of. These stations can be found at many RV campgrounds, state parks, truck stops, rest areas and more! 
Fifth-Wheel (fiver) This type of RV camper is termed by the type of hitch mounted in the back of the towing vehicle using a kingpin and receiver. This type of hitch mount directs the weight of the trailer over the rear axle. Originally, this was termed when a similar invention was used on horse-drawn carriages and wagons. A horizontal "wheel" (really a coupling component) was added to pivot. Thus, terming the "fifth-wheel!"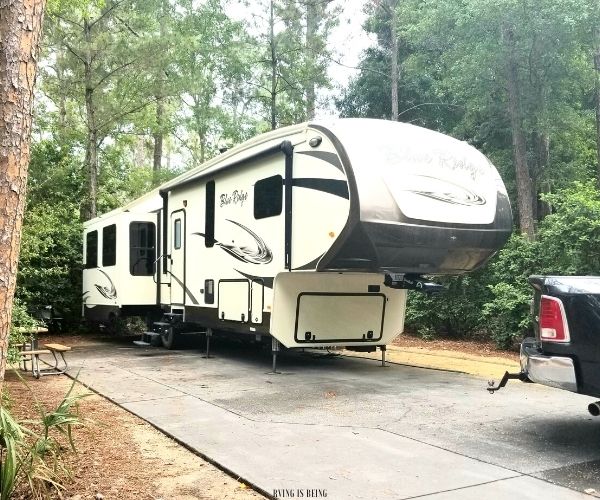 Fiver Another term for a fifth-wheel RV!
Flat Towing (four-down towing) This general type of dinghy towing involves a tow bar attached to the appropriate car, SUV, or pickup while towed on all four wheels behind the rig. 
Full Hookup This popular campground term means the whole SHEBANG at the campsite– water, sewer and electric! With this combo, RVers have it made! For example, you'll have an on-site water source, a sewer line right at the site for emptying tanks, and electricity for AC units, lights, and appliances. 
Full-Timer (full-timing) Someone who is a "full-timer" or that "full-times," lives in an RV! Whether stationary or not, many people of all ages and with different kinds of careers decide to hit the road and become full-timers! 
Fresh Water Tank Designed for potable water only, this tank holds and supplies water to your RV sinks, shower, and toilet.
Galley Tank The "galley tank" generally refers to the gray tank! Some RV units have an additional gray tank fed by the kitchen sink only. RV manufacturer's may describe this as the "galley tank" in the owner's manual.
Gooseneck Similar to a fifth-wheel, a gooseneck uses a hitch that mounts in the bed of the truck using a ball and coupler. These can usually be found more on industrial trailers and horse trailers. 
Gray Water Another term for the waste water from RV sinks, showers, washer and dishwasher (if your rig has one).
Gray Water Tank (gray tank) Collects the waste (or gray) water from the sinks, shower, and washer. This tank is located under the RV unit.
Gross Axle Weight Rating (GAWR, FR= front axle, RR= rear axles) GAWR, is the maximum weight allowed on the axles of a vehicle. Take a look at the VIN tag or Weight Tag. This specifically outlines the maximum weight the front and rear axle can support. It's extremely important to never surpass these safety ratings by the manufacturers!
Gross Combination Weight Rating (GCWR) All of these weight ratings can be confusing! However,  when it comes to GCWR, think towing. So, if you tow anything, this pertains to you! Take a look at your weight information sticker/ panel. For example, ours states: "The maximum allowable loaded weight of this motorhome and any towed trailer or towed vehicle." In other words, this is the number you need to know and more importantly, abide by, to keep your "vacation-train" rolling safe down the road!
Gross Trailer Weight The total weight of the trailer and its cargo. We're talking everything including the weight of the actual trailer plus everything loaded in! (For example, cargo, passengers, pets, food, fluids, and camping accessories.)
Gross Vehicle Weight Rating (GVWR) Yet another safety rating regarding weight information is known as the Gross Vehicle Weight Rating . (It's also listed on your information panel.) The GVWR is defined as, "The maximum permissible weight of this fully loaded motorhome." In detail, it's the maximum weight rating your rig must never exceed to operate safely. Keep in mind, this includes the weight of the vehicle, plus its payload, meaning all the passengers, gas, water, holding tank contents, camping supplies and weight of other belongings inside. This rating can also be referred to as the "Maximum Loaded Trailer Weight."
Holding Tanks Something must hold your fresh water and wastewater along for the trip! The RV holding tanks are the appropriate containers for this and can store gallons, and gallons… and I mean GALLONS of liquids and waste! RVs generally have a gray, black, and fresh water holding tank situated in the undercarriage, providing you those necessary home-away-from-home amenities!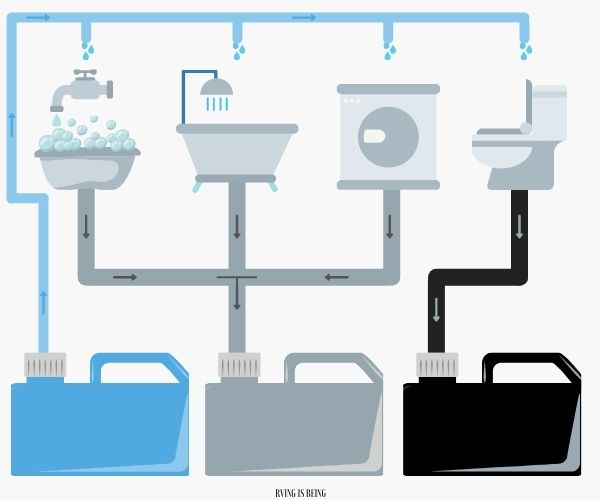 Hookups Our home-on-wheels require water, sewer, and electric for full or prolonged use! Therefore our RV unit must be "hooked-up" to these services. The term "hookups" refers to water, sewer, and electricity. Campsites with all three are known to be: "full hook-up".
Honey Wagon A truck, trailer, or even campground work cart which transports a large tank– either driven or towed around the property– to pump out RV waste tanks. 
Inverter An inverter does the opposite of a converter. It transforms DC Voltage to AC Voltage or 12V to 110V in an RV. Consider situations like traveling down the road or boondocking. In situations like these, shore power may not be available to hookup to where the converter would then take over and run things like TVs, space heaters, microwaves, etc. Instead, an inverter can come in handy, converting the 12V current into 120V current and allowing you to use those must-have appliances! 
Jake Brake (Jacobs brake, engine brake) For diesel owners, this is an engine braking mechanism that helps control speed and slow down a vehicle.
King Pin The round shaft extending off the fifth-wheel front that slides into the hitch in the bed of the truck, thus connecting the fifth-wheel to the truck for towing. 
King Pin Weight (pin weight) The downward weight pressing on the fifth wheel hitch by the rig.
Late Arrival Although campgrounds have check-in times for arriving campers– not everyone makes it on time! Some pull-in after sundown, or in other words, arrive late. As an RVer, it's important to call certain RV campgrounds or resort locations if you're bound to get in late or hit an obstacle on the way over. Why? When you mention the term "late arrival," the front desk may have a procedure for those pulling in at night. For example, they may give you a registration packet, provide you the rules and regulations, notify you of any gate or bathhouse access codes, or offer wifi access passwords to make your late arrival and stay go as smoothly as possible! 
Late Departure Similar to the above, campgrounds often have specific check-out times to ensure the camper on-site leaves on time and before the next camper is due into that same site. Late departure is a later check-out and exit from the site than posted by that particular campground– is sometimes offered for free or a minimal fee. Just make sure to check with the front desk first! 
Level (leveling) Whether a short stay or long-term, it's extremely important to property level your RV. This means the unit should be leveled side to side and front to back, either by blocks, manual jacks, or if you're lucky, by an auto leveling system. In fact, the unlevel feeling would be the least of your worries! An unlevel rig means stress to the frame and components, potentially damaging the plumbing, slides, fridge, cupboards and more!
Leveling Jacks (jacks) These are metal legs that extend from the frame and are used to level the RV unit.
LP (liquid petroleum) LP refers to propane. Some campgrounds offer convenient on-site LP.
Loft When it comes to sleeping space in a trailer, or lack of, things can seem a little cramped. Lofts offer extra sleeping quarters and more privacy for travelers while, at the same time, not compromising much of the living space below! Tucked up and over the kitchen or living areas, lofts use the upper, ceiling space of the unit, creating a cozy nook, sleeping area, kids "play room", storage, and more!
Long-Term Ever notice camper units with built on decks, patios, or sheds on their site? These are most likely long term campers. Campers who are parked on-site for a long time without moving are also called stationary. Regardless of how they spend it, (stationary or on the road) "long-term camping" is generally camping for the month(s), season, or longer!
Macerator Pump An RV macerator waste pump is either a portable or built-in device used for dumping RV black and gray holding tanks. Aside from the typical gravity-fed, three-inch, "stinky-slinky" you're most likely familiar with, macerators consist of a grinding and pumping system that chops up waste, pumping it through a smaller hose into a toilet or sewer cleanout. What's the perks? Macerator pumps can help campers empty tanks at home, pump waste uphill, and empty tanks into sewer inlets longer distances away! (See how to use one here!)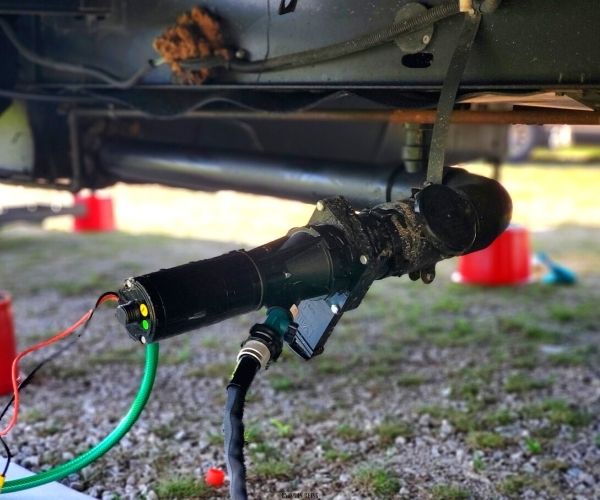 Motorhome (MH, motorcoach) Motorhomes refer to motorized recreational vehicles (RVs) that offer living accommodations on the road. The three types of motorhomes are Class A, B, and Class C!
Newbie An RVer's term for someone completely new to RVing. Hey, we were all one once, weren't we?! 
Non-Potable Water Take note around dump stations for "Non-Potable Water" signs. This is NOT suitable for drinking. On the other hand, campers will use this to rinse, flush, and clean the black tank after dumping!
Park Model A park model, also known as a recreational park trailer, is a unique type of RV to add to the mix! While these offer transportable, living accommodations at campgrounds and RV parks, they are more for long term, stationary use or even permanently placed onsite at their destination.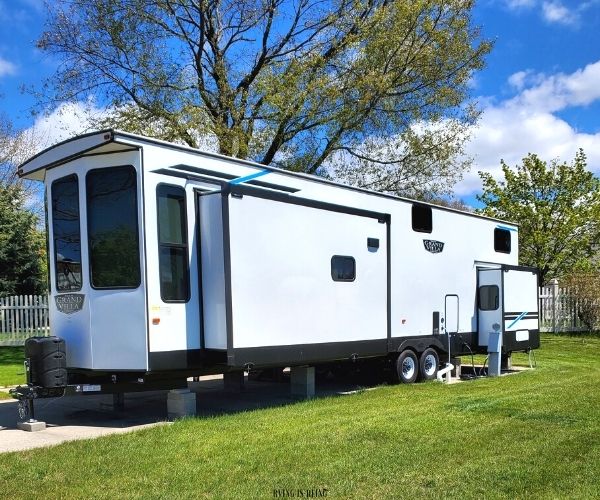 Part Timer An RVer who spends part of their time in an RV! Really, many owners are part timers– traveling during the camping season and storing the rig during the off-season. Some just the weekends where others spend the entire season in their RV then return to their sticks-and-bricks!
Partial Hookup Rather than full-hookup, partial hookup can either mean electric and water hookup or electric only at a campsite. 
Payload The load of stuff your vehicle is carrying, is also known as payload. This includes you, your stuff, and all the cargo!
Payload Capacity The payload capacity refers to how much payload, or weight, a vehicle can carry safely down the road.
Power Pedestal You'll notice that every RV campsite (that offers electric) has a power pedestal nearby, offering 30 amp, 50 amp, or both. Confused which one is yours? Just remember your pedestal should generally be on the right (driver's) side of your unit– where your rig's connections are! Pedestals can often have corresponding site numbers or even multiple hookups connections shared between campers. They can also feature cable connections so campers can enjoy cable services if offered by the RV park!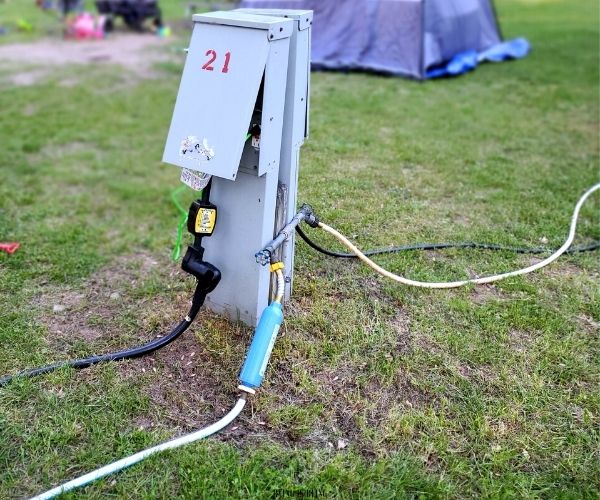 Poo Pyramid It may sound gross or even silly, however, there is such a thing as a "Poo Pyramid" in the RVing community… and it can be a camper owner's worst nightmare…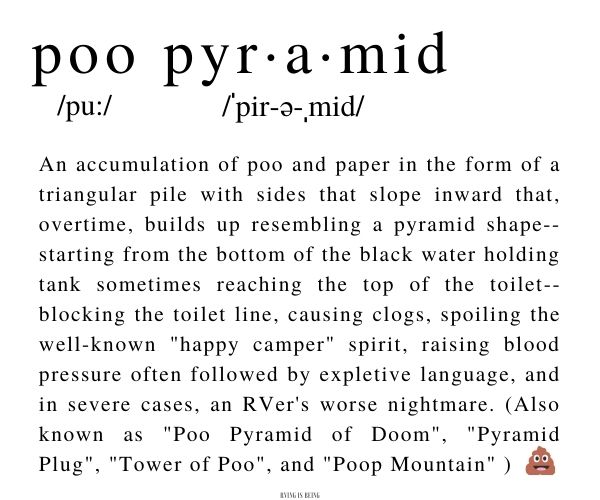 Potable Water Aside from non-potable water, potable water is safe to drink or use for food preparation.
Pop Up (fold-out, tent trailers) This type of towable trailer collapses down for convenient portability, space efficiency, and easy storage! Resembling a flat box during travel, these expand up (rather than incorporating slides)–offering larger living and sleeping. Pop-ups are a great alternative to tent camping and are more fuel efficient, lightweight, and can cost considerably less than the typical travel trailer.
Pull-Thru Site Many favor these sites for transient stays because they are usually the easiest to pull in, park, plus depart from– allowing travelers to stay hitched overnight for an early morning exit!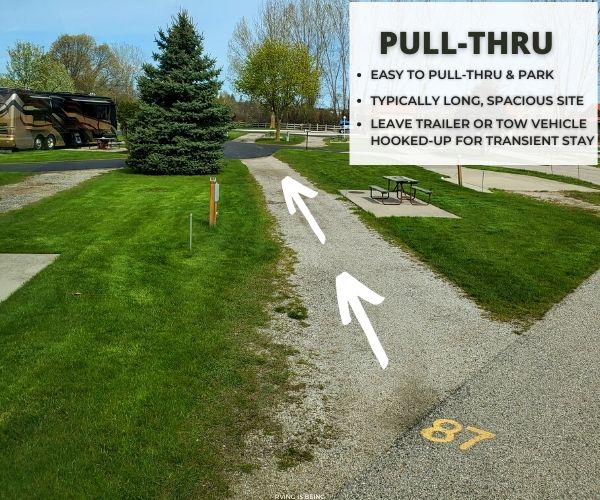 Rig Another name for an RV in the RVing community. 
Sani-Dump (sani-station, dump station) A sani-dump is another word for a sanitary dump station or sewer dump station. This is where RVers dump their waste holding tanks. 
Seasonal Long-term campers who rent or purchase a site for the camping season are often referred to as "seasonal's". Many seasonal campers park their RV on-site and leave it as a vacation home. Read more about seasonal camping, here!
Shore Power RV shore power is a 120V power source– such as a campsite's pedestal or an outdoor outlet that, when connected, provides electricity to run various appliances.
Slide Out (slides) An RV slide out is a section of your RV wall that mechanically extends and retracts. This increases living quarters, providing more space when parked, while still retracting in for compact travel.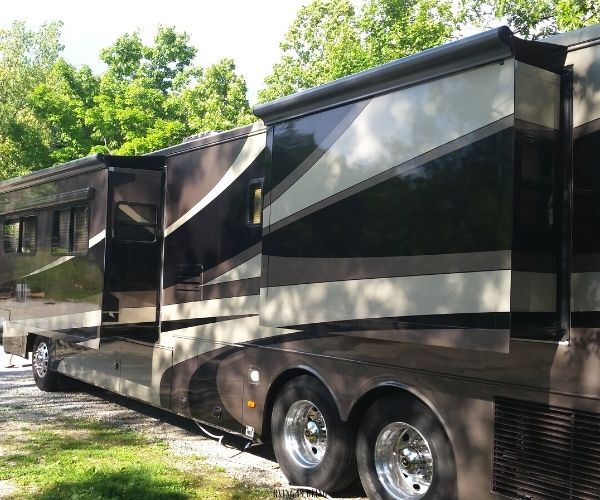 Snowbirds Many camper owners jump in their rigs and head south for the winter! These warm- weather-chasers are known as "snowbirds" and generally stay somewhere warm throughout the entire chilly season up north!
Stabilizer Jacks After your recreational unit is leveled, stabilizer jacks stabilize the unit from rocking and swaying as you walk throughout it.

Sticks-and-Bricks A term often used in the RVing community referring to a permanent, stationary home.
Stinky-Slinky Another term for the 3" RV sewer hose that is used to empty the holding tanks! See how, here!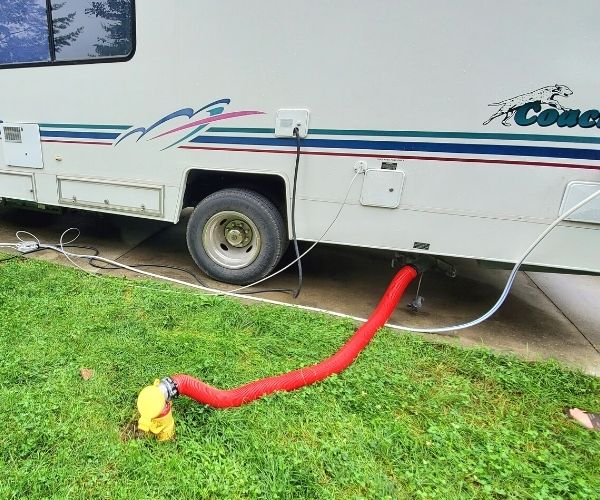 Super C (Class Super C Motorhome) This diesel Class C motorhome is built on a heavy duty chassis and large frame with a powerful engine hauling up to 45-feet of luxury amenities! 
Sway Control Does your trailer tend to sway or pull from side to side through cross winds or when passing large vehicles? Sway control gear is ideal if your trailer is unstable behind the tow vehicle!
Toad (dinghy) RVer's slang terminology for a towed vehicle! Get it? "Toad" = "Towed" (AKA "dinghy")
Tongue Weight (TW, tongue load) The downward weight the tongue of the trailer exerts on the hitch of the tow vehicle. For trailer owners, this is important to understand as this weight affects steering, handing, traction, and sway.
Tow Rating This rating states the manufacturers maximum weight limit the vehicle can safely tow.
Toy Hauler This can be either a fifth-wheel, motorhome, or travel trailer that features a garage in the rear where fun toys can be hauled along! With a large ramp, campers can haul ATVs, motorcycles, bikes, golf carts and other large accessories wherever they go! 
Travel Trailer (TT, camper trailer, camper, bumper-pull, caravan) Any towable camper is called a "travel trailer." This umbrella term regards all recreational units hitched and pulled by a tow vehicle. After all, this includes pop-ups, tear drops, fifth-wheels, toy haulers (non-motorized), airstreams, and micro campers! These incorporate compact living quarters, basic amenities, and can feature a slide section of wall ("slide outs") giving campers much more room when parked at the campsite!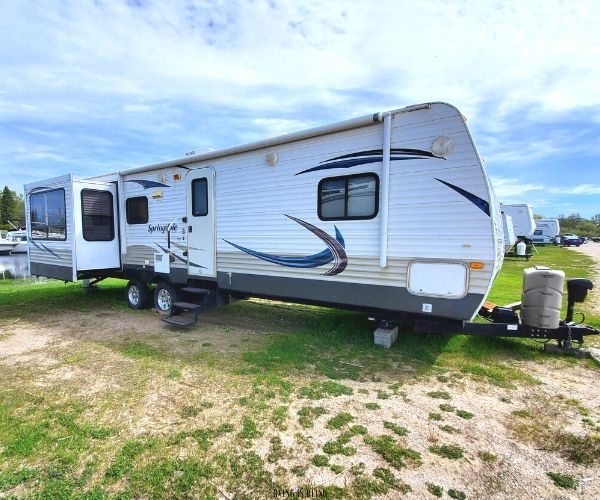 Triple Towing Have you ever seen a motorhome– towing a SUV, towing a boat? This is called "triple towing", and is known to be quite "ballsy", for lack of a better term, amongst the RVing community! 
Underbelly The underneath area of an RV.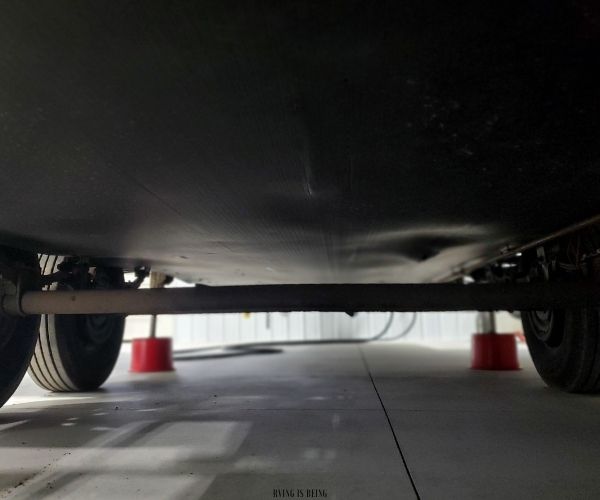 Unloaded Vehicle Weight (UVW) The weight of the vehicle as built at the factory.
Wally World In the RVing community, "Wally World" or "Camp Wally" refers to Walmart! Many permit RV overnight parking and offer travelers a convenient pit stop along their travels.
Water Pressure Regulator In the RVing community a water pressure regulator, is a small, but significant MUST-HAVE for RVers! Firstly, pipes and plumbing are more delicate in recreational vehicles. Secondly, water pressures can drastically vary from location to location, often exceeding RV manufacturer recommended psi. Because of this, high pressures can burst or crack RV lines. A water pressure regulator regulates shore water pressure coming out of the spigot to an appropriate pressure before entering your RV, protecting your rig's plumbing system from potential disasters.
Weight Distribution System  A number of hitch systems are available to help ensure a smooth, level ride while allowing you to tow up to the maximum capacity the hitch allows. Despite the name, these don't pack the trailer for you! Your trailer CAN NOT be overloaded or weight distributed improperly!
Wet Bay Although layouts differ, a wet bay typically refers to where the water connections, filter, and outdoor shower is in an exterior compartment of the RV.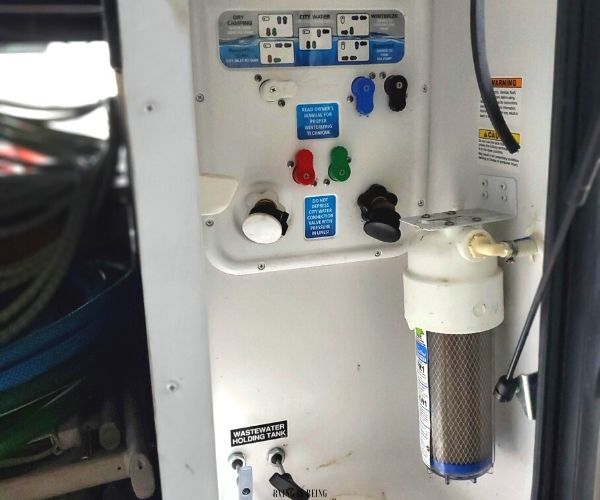 Winnebago A popular, mass-produced motorhome, hit the road in the 70's and has been a leading manufacturer of those well-known "Minnie Winnies" we see peppered throughout campgrounds today! Although a Winnebago is an RV brand and manufacturer, some travelers refer to any Class C motorhome as a "Winnebago."
Workamper (Workamping) The term "workamper" ("work" + "camper") is a form of employment in the camping industry. Workampers generally live on-site in their own RV and are typically compensated through a site for their long-term/seasonal job. Job duties can range from overseeing the park, checking-in guests, turning over rentals, property security, or cleaning facilities. 
RVING IS BEING knowledgeable.
Related posts