This post contains affiliate links, meaning I get a commission if you decide to make a purchase through my links, at no extra cost to you. Please read my disclosure and privacy & terms for more info.
---
It's no doubt we need to pack the essentials for everyday routine, but during travel, we've learned to fill the diaper bag to support out of the ordinary situations!
Let's face it. Different situations arise when traveling. And quite frankly, trekking by land, sea, or plane entails far more spontaneous events and surprises than those sudden diaper explosions or sick passengers on hand… 

Unfortunately when venturing away from the camper, you can't pack everything– and you certainly wouldn't want to lug around a 30 pound diaper bag! But, you can pack a few small items that can desperately help in challenging travel situations.
Get ready to pack more items and supplies for the unknown than the known!
---
CLICK BELOW TO SEE THE DIAPER BAG CHECKLIST!

---
Here's some accessories and gear to pack (for baby and toddlers) when adventuring away from the campsite!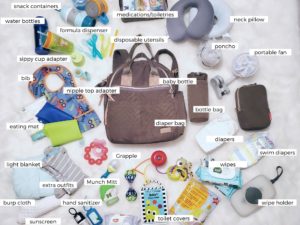 What's In My Travel Diaper Bag
Travel-Friendly Diaper Bags
Diaper Bag Firstly, backpack diaper bags are handy. As RVers, you will be making quick stops, visiting new areas, and getting out and about more than usual. A backpack style is comfortable, secure, and allows you to be hands free! Which, trust me, is highly needed with kids! 

Baby Carrier If you choose to leave the diaper bag behind for a short hike or quick stroll around the park, a great baby carrier is the Infantino Carry On Baby Carrier. Although it cannot fit everything the baby bag can– it allows for the essentials. Store your phone, keys, a diaper, wipes, and a pacifier in the SIX POCKETS! 
---
Travel Bottle & Feeding Products for the Diaper Bag
Portable Breast Pump Pump systems are getting even better for travelers! The Medela Freestyle Flex Breast Pump was created for mothers on-the-go and its small design is perfect for adventuring families. Really short on space? Opt for the Medela Harmony Portable Breast Pump. Sometimes super simple and small is ideal for the travel bag! 
Formula Packets If you are formula feeding, some brands make travel packs that are extremely convenient for quick bottle making. For example, Enfamil and Similac brands make "to-go" formula packet singles that are very beneficial for travel. Similarly, turn your preferred brand of formula into "to-go" pouches with Bellababy Pouches— where any brand of formula powder can be packed and sealed for easy use on the go. Travelers may favor the small, compact size and disposable design rather than clunky, plastic, formula containers– especially those working with minimal diaper bag space.

Formula Dispenser The good news is that the large formula tub can stay behind! Only bring what's needed with a formula container and dispenser. With multiple compartments, this easily stores pre-measured, formula servings or even small snacks.

Bottles The PopYum Dispensing Baby Bottle is a great option for traveling families. Containing formula in the top compartment, parents can press the button and mix a bottle within seconds– all with one hand! Additionally, the bottle, water, and formula is all in ONE location– no need for separate containers rattling around the diaper bag nor any two-handed balancing a bottle, pouring, and mixing all while making sure nothing hits the floor!

Nipple Top Adapter If far from a store, the absence of a bottle can put a damper on any adventure. A portable nipple top adapter can be a lifesaver if something out of the norm were to arise. This top converts almost any water bottle into a baby bottle!
Portable Bottle/Food Cooler Your travels may take you on lengthy excursions or outings during the day where milk or foods will have to be kept cold until use. Checkout the Skip Hop Insulated Breastmilk Cooler, Tommee Tippee Insulated Bottle Bag, or Medela Breast Milk Cooler to conveniently store cold items until consumed.

Portable Bottle Warmer For warming baby bottles on-the-go the Tommee Tippee Closer to Nature Portable Travel Bottle Warmer does not require electricity– making it a great travel option no matter where you may be. 

Food Pouch Reusable food pouches are perfect for the travel diaper bag. Their slim design makes them easy to store any soft foods or liquids on the journey. 
Water Bottle Keep little ones hydrated on-the-go.
The Thermos Funtainer is functional for taking along to attractions, parks, or hikes. The push button lid keeps the straw clean and helps prevents germs at busy attractions while the stainless steel, vacuum insulation keeps drinks cold for hours. Likewise, the Nuby Snack N' Sip stores yummy snacks in the cup along with a refreshing drink. No need for separate snack and drink cups!
Water Bottle Tops Growing babies and toddlers out of the bottle phase may still require a sippy or spout to drink from. An adapting sippy top, like the JellyCap, quickly converts bottled beverages into sport or straw bottles. Use these during travel or at least have one as a backup plan in case a sippy cup is forgotten, lost, or broke! 

Sippy Cup Lids/Straws These silicone sippy cup lids turn any glass or cup into a spill proof sippy cup! They are perfect for outings, restaurants, picnics, or excursions where toddler-friendly items aren't always available. Need a straw? Check out the Boon Snug Straw! The best part– these are so small and flexible to easily include in any diaper bag, backpack, or purse! 
Disposable / Reusable Utensils Throw a few of these in the travel bag as handy "back-ups."
Snack Containers There's so many varieties of fun, snack containers out there! From snack-catching, snack-stacking, snack-organizing, to silly-snacking and snacks with sipping! Pack one or a few to accompany great adventures ahead!
Collapsible Snack Cups These silicone collapsible travel cups are perfect for throwing in your purse, diaper bag, stroller, or car. They collapse SO small and are very handy to have when you aren't fully prepared for a sudden snack attack! This way, you can buy one big bag of popcorn and not have forty fingers in the bag at once and everyone can can have their own snack or drink cup!
Eating Mat/Disposable Mat On your adventures, your dinner table may be in the form of a restaurant table, picnic table, or even your lap on a quick pit stop! A placemat not only protects your little ones food and utensils from germy surfaces, but it also helps when it's cleanup time! Whether using a reusable mat or a disposable food mat— their compact size makes both super convenient to throw in the diaper bag, no matter the eating situation. 
Portable Highchair Unfortunately, the luxury of a highchair from home while out and about is hard to come by… Although highchairs may not exactly be a diaper bag item– a portable highchair is worth mentioning as one has complemented our outings and excursions many times! In fact, the Original Easy Seat Portable High Chair is great for locations with a chair to strap it on while folding compactly for the diaper bag. 
Folding Booster The Chicco Pocket Snack Booster is actually small enough to fit inside most diaper bags, if you had to. (While it's not the smallest, you may have seen in RV Storage & Organization | Baby Edition, how it collapses small enough to fit right in our motorhome pantry drawer! Another beneficial aspect is that it also can be used anywhere and doesn't require a chair to strap on to. As a matter of fact, it can be used on seating or as the sole seat itself!)
Portable Booster Additionally, the Summer Pop 'n Sit, as seen in The Best Baby Gear for Your RV, is a portable booster seat with a tray that conveniently folds for travel. This can easily be carried or tossed in a stroller or vehicle for any situation.
---
Travel Diapering & Potty Products for the Diaper Bag
Travel Changing Mat Baby changing stations are not always available. Having a clean mat to change the baby on is essential when traveling. Most diaper bags come with a folding, changing mat that conveniently stows in the bag. After use, I prefer to spray these off with a Lysol spray or wipe it down with an antibacterial wipe before putting it back into the diaper bag. A disposable changing pad liner may also be convenient to take on your travels and simply toss! 
Potty Cover Protect your children from germs in public restrooms at rest stops, restaurants, airports, and other facilities. These individually packaged, disposable, to-go seat covers can be easily stored in a diaper bag, vehicle, or purse. The large, overflowing size covers the entire surface of the toilet and sides protecting your little traveler.
TravelJohn This is my newest addition to the diaper bag! Now, if you're out of the diapering stage, you'll probably have a few close calls when out adventuring– or perhaps a screeching brake stop (or two) alongside the road… Not only do you have a toddler who waits until the very last second to say something– but, you're plopped in an unfamiliar location where bathrooms may not be 10 seconds away! Thanks to TravelJohn, you'll feel better knowing it's there, just in case.

Wipe Case Wipes are crucial! A portable case makes them convenient to attach to the stroller or diaper bag for easy reach. If your family is like ours, we have wipe packages in the stroller, car, diaper bag, purse, beach bag– EVERYWHERE! This can be easily attached wherever you may need them for quick access.

Diaper Baggies We've all been in situations where a dirty diaper has to catch a ride in the diaper bag until the nearest trash! Diaper baggies like the Munchkin Arm and Hammer Diaper Bag Refills can contain these little stink bombs until they can be properly disposed of. These baggies are also handy for sealing soiled clothing, dirty burp cloths, or wet clothing that may happen along the way. 
---
Travel First-Aid & Wellness Items
First Aid Kit The Welly First Aid Travel Tins are perfect for tossing in the diaper bag. This handy, compact first aid Human Repair Kit includes bandages, hand sanitizer, hydrocortisone cream, and triple antibiotic ointment. Welly tins come in a variety of supplies made to fit any adventurous family! From Bravery Bandages, Superhero Supplies, to Quick Fix Kits and Oops Equipment— find what works best for your travel diaper bag! 
Medications/Ointments/Toiletries: Depending on diaper bag space, pack the ultimate priorities first and then see what else you have room for! For instance, consider including: Baby and child medications, parent medications, a first aid kit (bandages, diaper cream, first-aid antiseptic, and anti-itch relief) sunscreen, tweezers, and nail clippers or file. Items like: Kleenex, travel sized toiletries, stain removers, sanitizing sprays/wipes, and toilet covers are super convenient to have on hand as well. As mentioned earlier, many of these travel items can be pre-packed, aiding you when you have to quick, grab and go!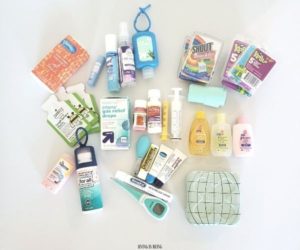 Bug Repellent Campers are used to the great outdoors and one thing they always have on hand is bug repellent! Make sure to pack your favorite brand if adventuring deep into nature! 
Sunscreen Adventures can put us in some hot locations with limited shade. Unfortunately, we can't always haul an umbrella or canopy around on every outdoor activity. Sunscreen for the whole family is crucial! 
Sanitizer & Sanitizer Wipes Hand sanitizers should be in every diaper bag, purse, vehicle, stroller– you name it! As you've read in Germies Through RV Journeys, we encounter many bacteria ridden surfaces and travel around thousands of other travelers all touching, sharing, and using the same seating, handrails, countertops, door handles, drinking fountains, rides at attractions, and more! Protect you and your children from those inevitable germs while stopping the spread to other traveling families! 
Diaper Bag Pouch Clear pouches help organize small items in the diaper bag and help quickly find what you need.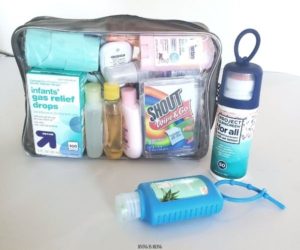 ---
Travel Accessories & Gear for the Diaper Bag
Pacifier Pouch/Clips Can't stand pacifiers hitting the floor or ground? Keep pacifiers tethered! (Pacifier clips also work great with burp cloths, toys, and teethers on your journeys.) Another innovative item I've recently tried, is the RaZbaby Keep-it-Kleen Pacifier. It closes when dropped so the nipple stays clean and safe from germs! Genius, huh?!
Munch Mitt
 If you have a teether on your hands, you'll love the Munch Mitt on your travels. We've lost pacifiers and teethers from getting thrown off a stroller but never the Munch Mitt! It secures on your little ones hand, preventing them from dropping it on the floor or ground!
Grapple The Grapple is any parents dream product! No picking up toys off the floor or ground, cleaning them off, and giving them back to the baby– only for them to be tossed down again! The Grapple suctions to most smooth surfaces tethering babies favorite toys.
Ponchos/Umbrella When vacation hits, many of us have an eventful week or weekend planned. From attractions, events, excursions and more, travelers often commit rain or shine! However, a downpour can really put a damper on an adventure. Throw a few ponchos in the diaper bag! These are compact and convenient– keeping you and your diaper backpack dry. 
Thin Blanket Aden + Anais large, swaddle blankets always stay in my diaper bag. For chilly, weather it adds an extra layer and for hot days it can help block the sun while letting a light, breeze through.
Backpack Leash If you have a walking toddler, you'll understand… What I thought was silly once– is absolutely amazing! This lightweight, safety harness– in the form of a backpack– gives learning walkers (more like runners) the freedom to explore while keeping them close and safe to you at all times. If traveling to national parks, outdoor attractions, or even theme parks, a safety harness can be a significant piece of gear. 
Fan For hot days, a portable fan can be packed in the diaper bag and clipped onto a stroller, car seat, or picnic table. 
Napping Gear The crazy thing about traveling is that kids seem to be able to fall asleep anywhere and in the most uncomfortable looking positions! There's tons of portable bassinets, cribs, and baby beds out there… In fact, in the post: The Best Baby Gear For Your RV I've listed tons of items we've owned over the years when full-time RV living. For example, the SwaddleMe By Your Side Sleeper, Baby Delight Snuggle Nest, and even the Fisher-Price On-the-Go Baby Dome are great portable beds. However, we are only talking about diaper bag items and unfortunately, I have yet to find small enough napping gear that is, literally, diaper-bag-friendly. So, an item I can at least suggest that can be thrown into a diaper bag would be a child neck support pillow. A neck pillow can help those kinked necks, whether tired out in a car seat, stroller, child bike seat, or child carrier.  
Portable Sound Machine A good nap can change everything! Help drown out the background noise with a portable sound machine while your little ones get a quick rest in– no matter where you are!
Activity Books On The Go Wipe Off Activity Pads, No Mess Coloring Books, and Reusable Sticker Sets are perfect for keeping children content while out and about.
---
Don't forget the basics:
diapers
wipes
extra outfits
food/formula
bottles
burp cloth
blanket
lovey/pacifier
---
CLICK BELOW TO SEE THE DIAPER BAG CHECKLIST!

---
Just remember, camping adventures entail amazing moments, unforgettable memories, surprises, challenges, and many unknowns. While we strive to pack exactly what we need to keep every little adventurer content and comfortable, sometimes things happen!
We are going to forget things, mess up nap schedules, lose a pacifier or two, survive on snacks for a meal, and have close calls finding a bathroom… Some situations may take more leniency, less uncertainty, and a bit of creativeness to make it through. Try to enjoy EVERY experience and make great memories!
RVING IS BEING well prepared for your journey ahead.
Related posts