Bear in mind that this post may contain affiliate links, meaning I get a commission if you decide to make a purchase through my links, at no extra cost to you. Please read my disclosure and privacy & terms for more info.
---
Let's move on to the BEDROOM! As you've recently seen, we've tackled RV kitchens, living areas, and bathrooms. Now, it's time to explore products and accessories for your RV bedroom!
Typically every rig has a designated area to catch some much needed Zzz's. Whether your rig just has a bedroom or multiple sleeping areas like bunks, a separate bunkhouse, or a loft– these rooms are very important for campers to have their own space for rest and relaxation.
Not only are some travelers interested in extra sleeping space, but also wish to incorporate room for working on the road or even a spot to enjoy a craft or hobby. Some even need more storage space and turn to bunks, lofts, or bunkhouses to meet sleeping and storage needs.
With that in mind, RV bedrooms, bunks, lofts, or bunkhouses can be customized however you want! Here's 100+ products and accessories that may work for in these areas! 
It includes everything you might need to stock your RV bedroom and/or bunkhouse– the necessities, the nice-to-haves, and the JUST. PLAIN. EXTRAS.
Scan the list and see if something catches your eye that would work perfectly in your space!
100 + Products & Accessories for Your RV Bedroom| The Necessities, Nice-to-Haves, & Just Plain Extras
Bed & Bedding
Mattress First things first, vacation is about adventures and relaxation! We all know camper mattresses aren't the best. Ok, in all honesty, most are horrible… A quality mattress is worth splurging on for some peaceful sleep! Don't forget the bunks!
---
Mattress Topper An easy way to gain some quality sleep is by adding a mattress topper! Not only does this save a hunk of change, but it's a quick and simple fix for many uncomfortable mattresses! The Comfort Tech™ Serene Foam® Mattress Topper and 3″ Gel Memory Foam Combo Topper add a thick layer of comfort to your RV bed!
---
Mattress Protector Let's not forget about protecting your investment throughout your journeys! Keep your mattress in tip-top shape with a mattress protector! A simple protector will do, or go for a water resistant mattress pad that adds a layer of comfort while also protecting the mattress below.
---
Sheet Set Create the perfect place to sleep with comfortable bedding– starting with sheets! Why not go with the cute camping theme?! Check out RV sheets by: Camco Life is Better at the Campsite, HowPlumb RV Camping, or The Lakeside Collection Happy Camper!
---
Sheet Clips/Bed Bands Everyone knows RV beds come in all kinds of weird shapes and sizes. Unfortunately, loose and catawampus sheets become the new norm in RV life. However, not anymore with bedsheet clips or bands! With a variety of designs to choose from (Bed Band, The Rubber Hugger, Bed Scrunchie, Raytour Bed Sheet Straps, and more) your sheets will never move or come off again! 
---
Comforter Set Create a peaceful and trendy room with a cute comforter set! Check out sets by: The Lakeside Collection Happy Camper, HowPlum RV Camping, or The Lakeside Collection Our Favorite Place is Together!
---
Sleeping Pillows Quality sleep on vacation is a must! Select the perfect pillow for you to wake up refreshed and ready for adventure!
---
Decor Pillows Although just for looks, add the cute camping theme or a pop of color with some decor pillows on your bed! 
---
Throw Don't forget a soft throw with your bedroom set for those chilly nights. Plus, an extra blanket or two can help save on propane! 
---
Support Pillow Lay or sit comfortably in bed with the Comfort Supreme Bed Wedge Pillow or Contour Flip Pillow. Both add support for sitting or can elevate your legs after a long day hiking.
---
Bedroom/Bunkroom Closet
Hanging Closet Organizer Use every inch of vertical storage space you can! Organize shirts, sweaters, shoes and more with a hanging closet organizer. The Simple Houseware's or StorageWorks instantly provide extra shelves or shoe storage in an instant and collapse when not needed! 
---
Carousel Organizer Ready for a souped-up version of a closet organizer? The Smart Design Carousel Organizer has it all! With five shelves and 40 pockets you can easily store and access every pocket with a 360° swivel hanger.
---
Hanging Closet Hamper Limited floor space for a hamper? Get it up and out of the way with a hanging closet hamper! This neatly hangs in the closet to keep your bedroom nice and tidy– keeping dirty clothes hidden.
---
Hangers Velvet hangers are great for RVs and help keep clothing from sliding off during travel. With limited closet space, also look for multi-hanging solutions like Wonder Hangers, Pants Hangers, or Magicool Cami Hangers!
---

Shoe Rack So, camping isn't a fashion show… However, you'll need space for everyone's hiking, beach, and bathhouse shoes! With narrow space at the entry way, you may need to incorporate a shoe rack into your bedroom closet. The Simplify 16 Pair Shoe Rack neatly contains and stores shoes for the whole family! Similarly, the Shoe Stacker can be customized to the space you have and saves space by allowing you to neatly stack shoes vertically— without squishing any below!
---
Security Safe If your RV closet doesn't have a safe, you can add one! Of course, not bringing anything valuable along is the best way to prevent theft. However, some avid RVers or full-timers must bring valuables with them! Help protect your valuables with a mountable security safe. Now, security safes come in a variety of sizes, prices, and can include different safety features. Whatever option you choose, just remember that one of the biggest deterrents in preventing theft is not making it easy for the thief! For other preventable measures, see: Protecting Your RV & Accessories from Theft.
---
Bedroom Storage & Organization
Bins If you've read other posts, you'll know us RVers love bins, bins and more BINS! Why? They keep items contained for the ride and organized in those oddly shaped overhead cabinets, cupboards, under the bed areas, or closets! Try Teyyvn Baskets for deep overhead cabinets, EZOWare Stackable Baskets for cupboards or closet areas, and Rubbermaid Stackable Containers for under the bed!
---
Bedside Organizer Lacking nightstand space? This bedside organizer simply slides under the mattress to hold in place. It has five pockets plus a bottle holder to keep your bedtime essentials close and contained! Likewise, the Joywell, mDesign, or the Kikkerland Bedside Caddy all feature a similar design to slip right under any mattress!
---
Cup Holder Need space for your favorite beverage in a loft or bunk? Add an adjustable drink holder where it's most convenient!
---
Essentials Holder Additionally, where do you put remotes, snacks, or reading glasses in lofts, bunks, or over-cab beds– where there's no nightstands or end tables?! The Cup Cozy Deluxe Pillow acts an essentials holder wherever you want! Set on the floor, couch, or bed and have your relaxing goods secure and right next to you. Even better, the insulated design keeps beverages cold or hot longer and fits most mugs and cups!
---
Bunk Wall Organizer Add a loft or bunk organizer for children to store their essentials. The Bright Life Bedside Shelf sticks to most walls to hold phones, glasses, and other small items. Need more space? Line the Horizontal or Vertical Types side by side!
---
Floating Shelves The Wallniture Set of Floating Shelves work great for storing books in a loft or RV bunk. The functional design holds items during travel while tidying up loose items!
---
Smart Phone Caddy No more losing your phone in bed with the Command Smart Phone Caddy! Simply stick where needed!
---
Dresser Catchall Have a designated spot to set your watch, phone, keys, or other essentials at night with a trendy catchall! In fact, select one that goes with your RV bedroom theme. For example, this decorative bear paw catchall would go great in a rustic-themed RV bedroom!
---
Jewelry Holder Minimize the possibility of losing valuable jewelry at the pool or beach! Keep it safe and sound in a jewelry holder! Take it a step further a choose a small box or hanging organizer that zips shut to make sure small items can't fall out during travel. The last thing you'd want is your items to rattle off the counter and get stuck under the slide outs or in other cracks and crevices.
---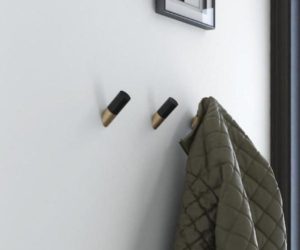 Hooks  As seen in Liven Up Your RV Living Room with these Decorative (Plus Useful) Accessories, hooks don't have to be boring! These tiny pieces can also be trendy, adding a splash of decor while providing space to hang your robe, headphones, or keys in your bedroom or bunkhouse!
---
Floating Shelves & Baskets Remember, use vertical space whenever you can! Floor space is limited as is in any RV. Create more room for your items by installing shelving or baskets– while adding decor to the walls too! Opt for shelving with rails like Peter's Goods Floating Wall Shelves to show off and contain your items at the same time. Similarly, wall-mounted baskets can hold essentials while looking stylish in your RV bedroom!
---
Shoe Pockets Time to get creative with shoe storage! The Canvas Shoe Pockets attach to bed bases for neat and out of the way storage! These pockets can also be used for books, reading glasses, remotes, chargers, and more! 
---
Remote Holder Can't keep track of the remotes down the road? Install a remote holder! The Camco Oak Accents and TotalMount Remote Holder installs without leaving any holes in your walls. 
---
Laundry Hamper Need a laundry hamper for a small space? Try the Caroeas Slim Laundry Basket. Accordingly, the Camco Pop-Up Utility Container can be used for laundry as well and collapses to store! Working with super limited space? Opt for a laundry bag or hanging closet hamper to keep dirty clothes out of sight and in the closet.
---
Bunkroom & Bunkhouse Ideas
Foam Flooring Want to turn your bunkhouse into a toddler room? You'll see in The Best Baby Gear for the RV how we used interlocking foam mats to create a custom-sized, padded toddler friendly floor. Still, it's not just for RVing families! Anyone can add a little comfort to their floors whether a playroom, craft room, office, or workout area! If those colorful A,B,C mats aren't your style there's some that look just like wood flooring. Plus, they are super easy to clean!
---
Curtain for Lofts & Bunks Privacy can be hard to come by in a motorhome or travel trailer. Adding blackout curtains to loft beds or bunks can help family members or friends establish one's space while creating a dark and peaceful place to rest.
---
Curtain Track Privacy bunk curtains can be installed with a curtain rod or curtain track that can be customized and curved around those oddly shaped corner bunks!
---
Folding Desk Many campers find themselves enjoying hobbies or finding new ones in the peaceful atmosphere around them. In fact, some turn their bunkhouse into a personal office or craft room! Bring on your inner crafting, scrapbooking, or writing with a folding desk. The GreenForest Folding Desk has two tiers for your laptop and other office supplies. No assembly is required and it folds flat for storage. Similarly, the Need Small Desk, SOFSYS Modern Folding Desk, and the Tabletote Plus Portable Desk all adjust and collapse for RV storage when they aren't in use. 
---
Office Chair Sometimes working on the road can be challenging without the typical "office space" to work in. In fact, I find myself more productive at an actual desk than trying to work from the bed or couch. Create your designated work area in your RV with space saving furniture. For example, this office chair easily folds for efficient storage under the desk when not in use. Likewise, a folding stool or chair can be used at a desk or as an extra dinner chair while storing nicely when not in use.
---
Standing Desk Really tight on space for a desk? Opt for a standing desk! From fold down desks to drop-leaf tables, there's space-friendly options for every kind of camper on the road!
---
Portable Bed Sleepovers can be a bit challenging in a camper without any extra sleeping quarters. If you've exhausted every sofa sleeper, dinette or bunkbed, consider a portable cot, air bed, or a roll out mattress for extra campers!
---
Seating & Sleeping A bunkhouse can double as another area to sleep as well as a spacious area for kids to hangout! If you're looking to add a few seating and sleeping options think about furniture that has multiple uses. For example, the Giantex Convertable Sofa, Giantex Fold Down Floor Couch, or Your Zone Flip Chair all offer seating and can be easily folded into sleeping areas.
---
Bedrail/Bumper Keep children in the bunks safely with the Regalo Swing Down Bed Rail or Foam Bed Bumper. Additionally, RV bedrooms can be awfully tight making getting in and out of bed difficult. Add a support rail to the master bedroom, like the LumaRail with a LED Nightlight for assistance and peace of mind.
---
Bunk Ladder Don't forget a sturdy bunk ladder to climb safely in and out of a top bunk, cab bed, or loft! 
---
Storage Drawers In Storage and Organization | Baby Edition, you'll see how we turned our top bunk into storage– and I mean, all storage! When you think about it, full-timers or avid RVers may need a bit more space for essentials. If you have an unused bunk or closet space, add stackable storage drawers to maximize vertical space!
---
Other Miscellaneous
Sound machine With radios, groups at bonfires, and a frequent flow of traffic in and out of a campground– noise can make a peaceful night of sleep challenging. A sound machine can help drown all the unwanted noise out, letting you catch some Zzz's and wake up ready for adventure!
---
Fan Likewise, drown out noise and create a nice cool place to rest. There's a variety of fans out there. For example, check out a 12 volt like the Hopkins Oscillating Fan, remote control such as the Rowenta, or a rechargeable like the Crane USB Fan. 
---
Washer & dryer So Glamper-ish, right? Well, if your avid RVers of full-timers, a washer and dryer can be extremely convenient, especially in areas without laundry amenities! Check out a Stackable Washer Dryer Set or combo and see if it's right for your travels! No room? Look into a  portable washing machine. If you're boondocking a manual non-electric portable washing machine may be ideal! 
---
Clothes Drying Rack Naturally dry clothes to save energy while on vacation! The Honey-Can-Do Tripod Clothes Drying Rack holds up to 36 garments at once! The best part? It folds for RV-friendly storage! Similarly, the Witmor Folding While Spacemaker Drying Rack is a simple solution to air drying clothes. It also folds flat and slips easily in a closet or slim area.
---
Ironing Board Some may question why one would even need to iron their camp clothes… I mean, they are CAMPING!? Although this may be true, think about those full-time RVers living in their rig. For example, not everyone's full-time living experience is about long hikes and bonfires. In fact, many use their rig like a home and head to work from there. On the other hand, some choose to use their RV like a hotel and travel to attended weddings, business meetings, concerts, excursions, and more– requiring business casual and cocktail attire. If you find yourself needing dressy attire on the norm, consider the ironmatik Space Saver Ironing Board which holds the iron and hangs out of the way when not needed!
---
Steamer On a similar note, if you don't want to go the ironing board route, check out the Conair Turbo Extremesteam Handheld Fabric Steamer. It's a staple product for RVers and is compact enough for any RV drawer, storage cupboard, or suitcase.
---
Bedlift Kit Make access to under bed storage easy with a bedlift kit. Strong hydraulic lifts hold up the bed safely so you can maximize storage space and pack efficiently for travel!
---
Bed Extender So, RV mattresses typically have one thing in common… They are shorter than your standard mattress! Convert your RV mattress into a full size queen by inserting these extender foam sections between the headboard to gain length so those taller campers can sleep comfortably!
---
Dehumidifier High humidity and condensation can really take a toll on RVs. Combat it quickly with a dehumidifier. The PureGuardian Small Space Dehumidifier reduces humidity in small areas. Its portability and auto shut off feature make it worry free and easy to place where needed. No power hookups? DampRid has always been one of our favorites. With a variety of options available (hanging, Hi-Capacity Absorbers, Drop-In Tabs, and more) simply leave these in cabinets, cupboards, or out in the open as they attract and trap excess moisture from the air.
---
Laptop desk for bed Want to read, write, or work from your comfortable bed? In fact, you don't need a separate office or room to bring out your crafty or creative side– or even to work remotely. The Sofia + Sam Memory Foam Lap Desk allows you to turn your bed or floor into a work desk– and even has a USB light option and wrist rest! If that's not enough, the Cooper Desk PRO has it all! This versatile desk can be used as a laptop table, dinner tray, floor table, gaming desk, reading/writing table, or bed desk. It also has a built-in tablet groove, storage drawer for cables or chargers, and comes with a book stand. Plus, the book stand and legs stow underneath the table for efficient storage!
---
Blackout shades Anyone else like a dark room to sleep? Now you can sleep in pure darkness no matter what time it is with these RV Manual Roller Shades!
---
Reading Light/Nightlight Want to read without keeping others up? RV bedrooms often lack nightstand areas where a lamp could be beneficial. With this in mind, use a personal reading light! From push lights, to clip on, or even rechargeable lights– consider what would work best for your interests and space!
---
You may like:
100 + Products and Accessories for Your RV Kitchen
100 + Products and Accessories for Your RV Bathroom
100+ Products and Accessories for Your RV Living Room
Need help packing? Check out the Ultimate Packing List. Print. Check. Travel.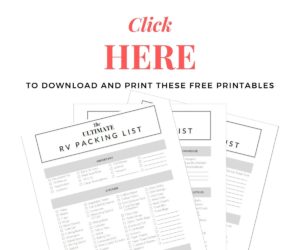 RVING IS BEING at home wherever you're parked.
Related posts