Bear in mind that this post may contain affiliate links, meaning I get a commission if you decide to make a purchase through my links, at no extra cost to you. Please read my disclosure and privacy & terms for more info.
---
New to RVing or not, checklists can help get vacation started in the right direction!
Follow the RV arrival and set up steps below for a smooth entrance and quick set up!
RV Arrival and Set Up Checklist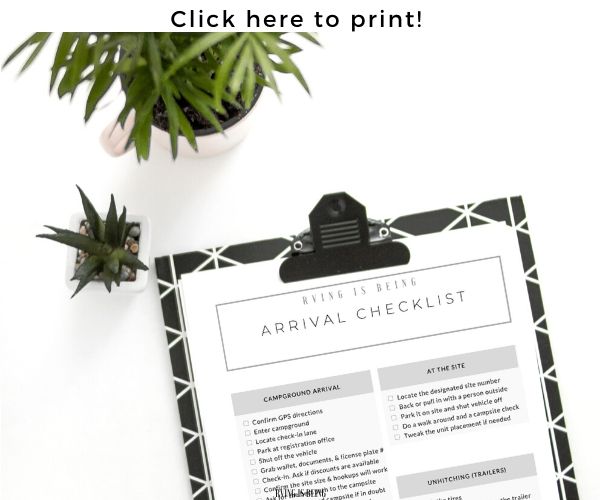 Campground Arrival
Before arriving, confirm that GPS directions are correct. Take a look at the campground entrance on the Google Maps app so that you know what the entrance looks like and what to watch for.
Arrive at the campground and look for the registration area.
Slowly maneuver into the Check-In lane while not blocking other lanes. Stop where noted.
Throw 'er in park and shut off the vehicle! So many people leave their RV running during the short check-in process. DON'T DO THIS! Park and shut it off!
Put your dog in the crate if you don't want them trying to drive the motorhome or bouncing all over the dash while you're checking-in!

Grab your wallet, confirmation documents, dog records, and snap a picture of the license plate on the way into the office– just in case they need it.

Check-in. Ask if they include discounts for RV memberships or military.

Confirm that the site assigned will fit your rig and requirements. 

If you have a Big Rig, ask if the route to the campsite is Big Rig accessible and what the best way to get there is. If you are unfamiliar with the campground or are arriving late at night, it's not a bad idea to take the tow vehicle for a drive or walk and scout out the path and site you are assigned. Remember, it's so much harder to turn around or back up if you get stuck down too sharp or narrow of a path! If in doubt, scout it out!
Receive your check-in pamphlet with directions to the site, campground information, gate codes, rules and regulations, and Wi-Fi password.
Ask if the campground has an area to unhook your tow vehicle or where to place your dolly/boat trailer if it cannot fit on your site.
If the campground does not offer full hookup, determine where the dump station and fresh water fill is to visit on your way to the site.
Ask any other questions you may have. For example: 

What time does the office/pool close? 

Do they bring firewood to the site? 

What activities are going on? 

Do they have propane?

Jump in and drive slow to your designated campsite.

Stop at the dump station and fresh water fill station, if needed.

If you have a toad (tow vehicle) unhook it at the designated unhook/hookup area.
At the Site
Locate the designated site number.

Back-in or pull-in accordingly. It always helps with an extra pair of eyes outside the RV. 

Park it on-site and shut the vehicle off. (I can't stress this part enough! So many, quick jump out to check if they are parked good enough– but I have seen TWICE now where the air brake was not pulled and the vehicle has rolled away!)  

Do a walk around. Make sure the camper is placed within the site where the slides can extend and be clear of the pedestal, trees, and branches. Also make sure that the awning and satellite have room to extend. Does it look like the site will be level enough? Is it built for rain runoff? Are branches too close to scratch your rig? If you prefer satellite for your stay, does it look like you will get a signal? 

At the same time, do a walk through the campsite. Is there anything dangerous or damaging to make the site not work for you or your family? 

It's better to check now, and get your site changed, rather than get all parked and set up, THEN have to switch sites. 

Jump back into your rig if you need to adjust the trailer or motorhome to your liking. 
Unhitching (trailers)
Chock the tires.

Unhook the truck (sway bars, tow chains, electrical cord) and move the truck forward to clear the trailer. Ever have the auto level go wrong? Get the bed of the truck out of the way.

Select auto level or manually level it.
Set Up
Everyones set up routine is going to be different. For example, we put our motorhome slides out first and then level because that's what our manufacturer states to do so that it does not twist the full wall slide. Other owners level first and then put the slides out. Some may prefer to hookup to sewer and water first before they put their slides out so that they don't nail their head on the slide! OUCH! Also, some prefer to hook their trailer up to electric first and then put the slides out so that it uses shore power instead of battery power. Either way, carry out a routine you find suitable as well as check with your RV manual or manufacturer!
Determine your suitable order:
Deploy the steps and handrail. 

Extend the slides outs.

Level with blocks or jacks.

Hook up the electric. First make sure that the breaker is off. Plug the electric cord into shore power securely. Remember a surge protector! Then, flip the breaker on.
Hook up to water with your fresh water drinking hose. Don't forget a water pressure regulator! 

Turn the propane on.

Hook up to cable (if available).
Hook up the sewer connections. 

Turn the water pump off.

Turn the hot water heater on.

Confirm the refrigerator is on.

Turn on AC or heater. 

Open the cupboards and fridge very carefully for fallen objects during travel.

Turn on and raise the TV antenna or satellite dish if you have one. Run your channel program. 
Personalize Your Site!
Plop down your welcome mat.

Position the picnic table to your liking. 

Bust out some camp chairs!

Set up the grill.

Remove your bikes from the rack. (Be sure to lock them up when you're not at the campsite!)
Tip: Before you head out and have some fun, grab that campground pamphlet and snap a picture of the map, phone number, address, and gate code. Although the pamphlets are very helpful, they often get left behind in the camper when out and about. Odds are your phone will always be with you so you'll have the info you need at any given time! 
Be sure to check out the RV Tear Down and Departure Checklist!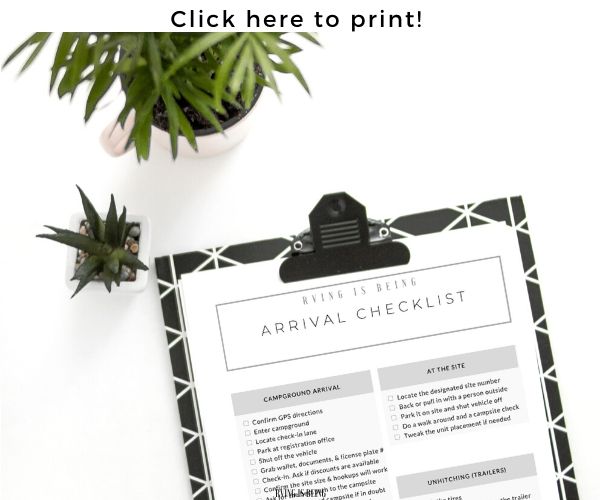 RVING IS BEING set up and ready for some fun!
Related posts