This post contains affiliate links, meaning I get a commission if you decide to make a purchase through my links, at no extra cost to you. Please read my disclosure and privacy & terms for more info.
---
A portable macerator pump can come in handy in certain situations.
Check out this guide on how to use one and why one would either be necessary or benefit your camping situation.
Using a Portable RV Macerator Waste Pump
What's an RV Macerator Waste Pump?
An RV macerator waste pump can either be a portable or built-in device used for dumping RV black and gray holding tanks.
Aside from the typical gravity-fed, three-inch, flexible "stinky-slinky" you're most likely familiar with, macerators consist of a grinding and pumping mechanism that chops up waste and tissue by sharp blades inside the macerator. This chopped-up material is small enough to be pumped through a thin hose into either a portable tank, toilet, or sewer cleanout.
Portable RV Macerator Waste Pumps
---
Why Use a Portable Macerator Waste Pump?
Rather than relying on gravity to carry waste to a nearby sewer inlet, macerator pumps give campers the ability to pump gray and black water longer distances at home or to farther sewage inlets unattainable with a 3-inch sewer hose. 
Despite the typical full-hookup site where a stinky-slinky will do, certain situations may arise where a macerator pump is beneficial, even necessary, to properly empty RV waste tanks. 
For example, say you're camping with inconvenient hookups. Whether a sewer inlet is a great distance away or at an uphill location, a macerator pump can push waste tank contents long distances and at inclines to an inlet. Likewise, for camping spots that lack a dump station altogether, a macerator pump would be ideal for pumping into a portable tote placed in a truck bed that can be easily transported to an appropriate sanitary dump. On another note, what if you're moochdocking, or camping on a friend or family's property. Instead of packing up and driving to an RV dump station, a macerator pump gives campers the ability to pump out their holding tanks to an appropriate receptacle, such as a home sewer cleanout or toilet. 
Ability to dump longer distances.
Ability to pump waste water at an incline if a sewer inlet is uphill or up and into a tote in a truck bed.
Can be less stinky than the typical "stinky-slinky".
Can be easier to clean up and store.
---
What's Needed
Macerator Hose or Garden Hose (designated for black tank matter only)
Sewer cleanout, campground sewer inlet, or nearby toilet within 50-feet (or as noted by the waste pump manufacturer)
---
Keep in mind, only dump into a sewer cleanout line. NEVER dump into storm drains or on the ground. Depending on your location, check for any local ordinances against emptying RV holding tanks into a home sewer cleanout.
Lastly, always refer back to your RV unit's owners manual and the macerator pump manufacturer's user manual when carrying out this process.
---
Using a Portable Macerator Pump
1.Remove the cap from your RV sewer pipe. Install the portable waste pump to your RV sewer pipe by twisting clockwise to lock.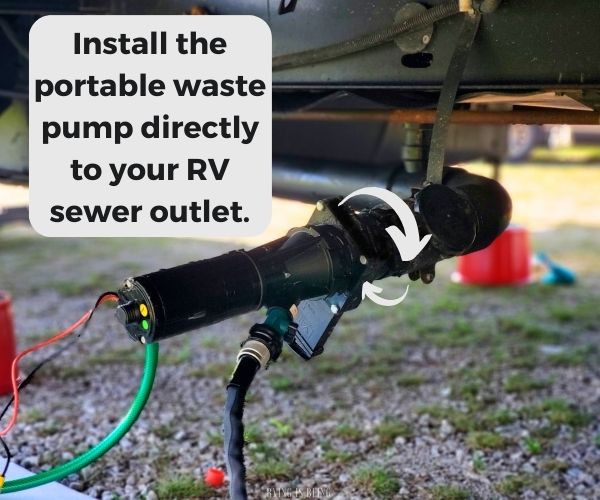 (If you are unfamiliar with emptying your tanks, check out: How to Dump Your… Dump! Step-by-Step Instructions PLUS Terms, Tips & Tricks for a Smooth Process)
2.Attach a waste/garden hose or macerator hose to the discharge port adapter. Keep in mind, whatever hose you choose: garden hose, rubber hose, macerator hose, etc. make sure that it is designated for waste water and never used for anything else but this!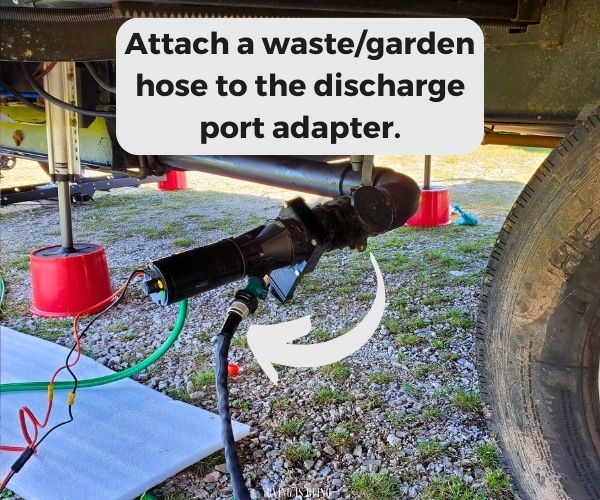 3.Run the other end of the waste hose to a sewer cleanout or toilet. If using a toilet, stick the hose into the toilet and down the bowl. Make sure it is secure.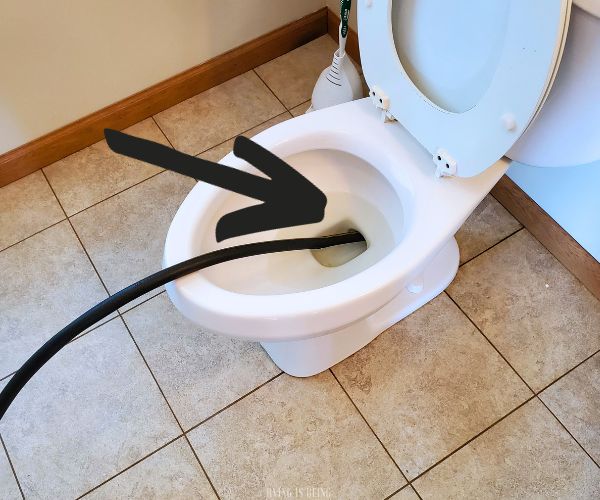 If using a toilet, you will NOT need to keep flushing and flushing the matter down. Instead, contents will be flushed down by the toilet's self-flushing system. (Again- NO manual flushing is needed.)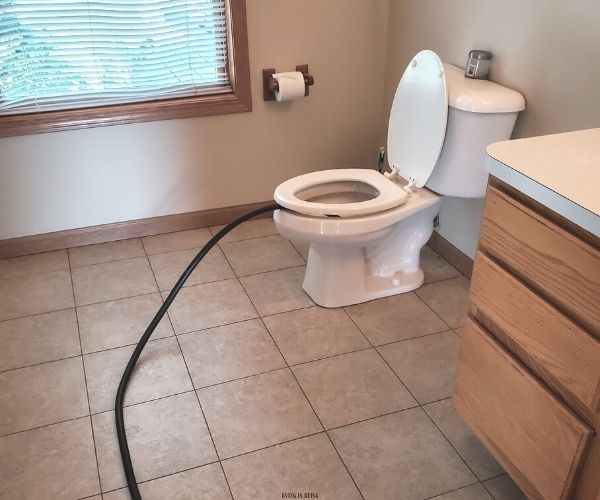 Having someone to help in the process is extremely beneficial to make sure the hose end does not pop out of the toilet or sewage inlet. If you are emptying the tanks by yourself and do not have another person holding or standing by the other end of the hose, then secure the end by placing a heavy object on it. For example, if emptying into a toilet, place the hose under the seat and firmly in the toilet bowl. Close the lid and place a box, gallon of water, or something with a bit of weight on top of the toilet seat to hold the hose in place. (This also helps trap smells!)
4.If your RV doesn't have a tank rinse system, install a flush hose to the macerator's water inlet port with the on-off valve. Connect the other end of the flush hose to a water spigot.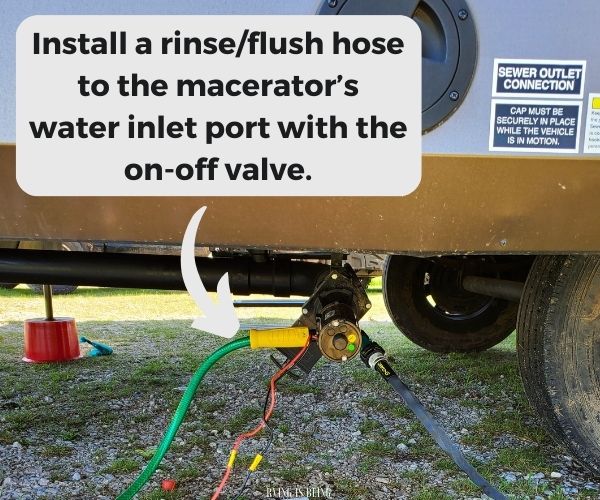 It helps having separately colored hoses. For example, a black hose for waste and a green hose for flushing. This way hoses can't get mixed up and contaminated.
Depending on the distance a toilet, sewer cleanout, or sewer inlet is located, you may need to attach multiple hoses together to reach. 
Before doing so, refer back to the macerator pump's user manual for the specifications regarding the maximum distance contents can be pumped. (FloJet lists a maximum of 50 feet pumping distance. Other macerator systems may differ.)
5.For the electrical, locate a 12VDC, 20 amp power source and install the 6 foot power connector-cable. Here, we are using alligator clips installed on the 6 foot power connector cable and connecting them to the RV's battery to power the macerator.
Once the portable macerator pump and electrical is hooked up, you are now ready to empty the holding tanks.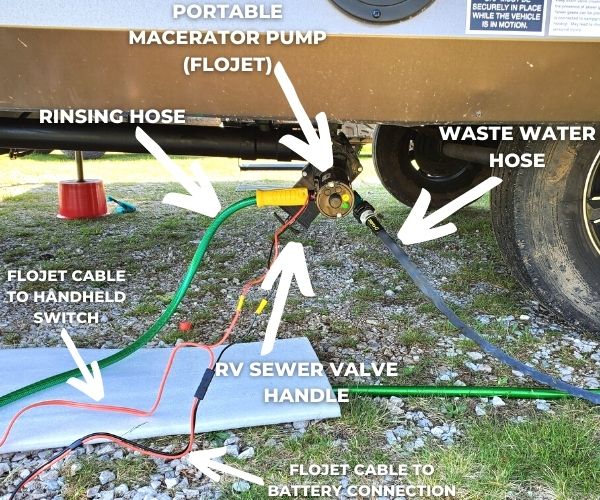 6.Open the black water valve and turn the pump on– using the handheld switch.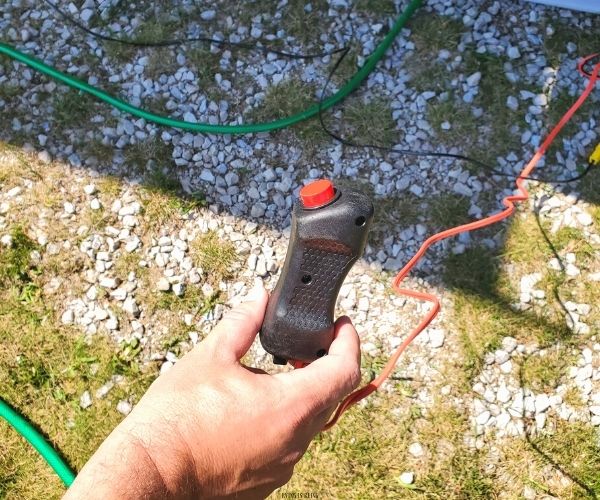 7.Once the black tank is empty, turn off the pump. 
Make sure to listen to the pump motor and the change of motor pitch, as this can be an indicator of when contents are empty.
8.Next, open the gray water valve and turn on the pump.
9. Once the gray tank has emptied, turn off the pump.
10. To rinse, open the rinsing valve. Turn on the water spigot to backfill tanks for rinsing. Turn on the pump.
11. Once tanks are rinsed and drained, turn off the pump and rinse water. Close the gray and black water valves. 
To do a final rinse through just the portable pump and waste hose (without backflushing the tanks – gray/black valves in closed position), simply turn on the rinse water and pump, rinsing out the portable pump and waste hose. (Be sure to refer back to the pump manufacturers manual as pushing water through the portable pump needs to be regulated. For example, 40 PSI max for rinsing out the FloJet pump.)
12. Turn off the water and pump.
13. Before disconnecting, double check all RV sewer valves are in CLOSED position.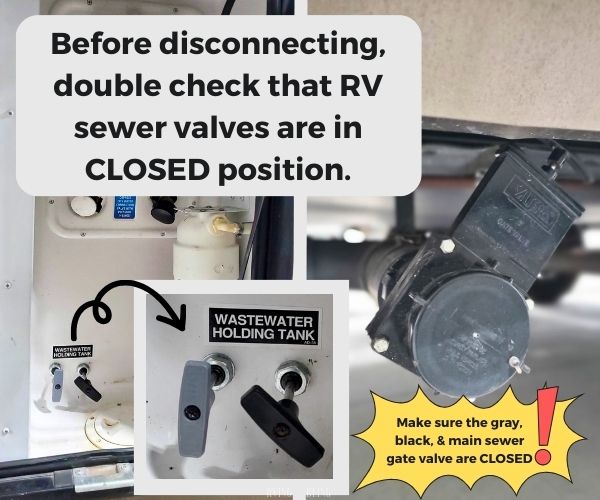 14. Disconnect hoses and portable pump. Store until next use.
15.Replace the end cap on the RV sewer drain.
---
Common Questions, Tips and Hacks
Do I Need a Macerator Pump?
At most campgrounds or dumping stations, a portable macerator pump isn't necessary. They can take much longer to empty tanks and are noisy. On the other hand, they are beneficial and may even be necessary when emptying waste tanks at home, into portable totes in truck beds when boondocking, or at inconveniently placed sewer inlets. The capability of pushing contents uphill and in elevated situations can be a game changer for certain types of campers.
Waste Pump Macerator Vs "Stinky-Slinky"
Portable Macerator Pump System & Hose:
An electric grinder and pump to push contents of waste tanks through a hose and to a sewer inlet

Uses a ⅝, ¾, 1-inch or slightly larger hose

Can generally pump 50 feet or more

Can pump long distances and to sewer inlet locations at higher elevations

Can take much longer to pump out RV tanks

Motor is noisy

Can be cleaner and less smelly

Macerator blades can clog, jam or break- especially when non-friendly RV products are used

The pump can overheat

Factory-installed systems are extremely convenient when it comes to cleanup– eliminating almost all setup and breakdown procedures.
RV Sewer Hose Kit:
Relies on gravity to carry waste to sewer inlets

Uses a 3-inch RV sewer hose

Hoses are generally 10-20 feet long

The large sewer hose size can empty RV holding tanks quickly

Puts the "Stink" in "Stinky-Slinky"

Can be a messier process

Allows you to leave the gray tank open while hooked-up at the campsite for heavier water usage (showering, laundry, dishes)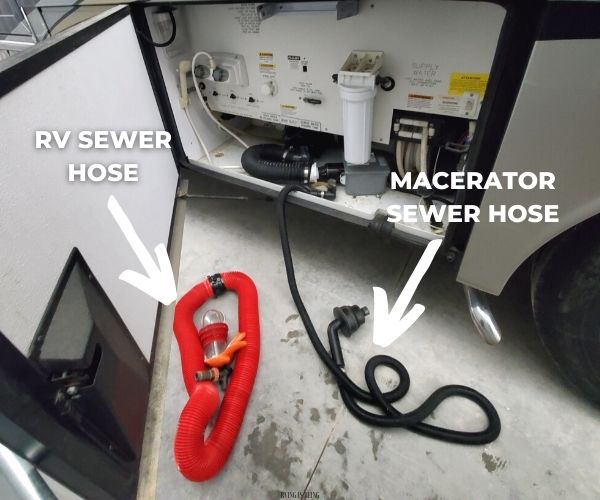 Should I Use a ⅝, ¾, or 1-inch Macerator Hose?
The Flojet lists a pumping maximum of 25 feet of hose length using a 5/8th hose size and a pumping maximum of 50 feet using a 3/4" hose (horizontally discharging). With that in mind, we've found the wider the hose, the better! For instance, the smaller the hose width along with longer distances causes higher resistance. This in turn, is more work for the macerator's motor and can even lead it to overheating. Larger hose diameters offer less strain on the motor allowing waste to be pumped faster, at a steeper incline and at longer distances.
Check out the Clean Dump macerator hose. One-inch diameters allow the macerator pump to work efficiently, faster, and last longer without so much strain from a smaller hose. (Don't forget the Clean Dump Adapter!)
Keep Fuses Handy
We've blown a fuse or two and had to replace them in the handheld switch. It's best to keep a few fuzes handy for this reason.
Get Ready to Babysit a Macerator!
Emptying can be a lengthy process. However, you won't want to get side-tracked when using a macerator waste pump. Once the tanks are done emptying the pump motor must be immediately turned off. Leaving one continuously running on empty tanks can strain and even burn out the motor!
Listen for a Change in Sound
How do you know when the black or gray tank is empty? Listen for a change in the sound of the macerator pump. When grinding and pumping waste, the macerator is strained more, taking on a lower revving sound. Once contents are empty and the pump no longer has material to grind or pump, the system revs at a higher frequency, quickly clueing you in to turn it off!
RV-Friendly Products Only!

RV plumbing and sewer systems are extremely sensitive to what's put down the drain. Macerator pump or not, only RV-friendly products should be used. Face cleansing wipes, baby wipes, paper towel, napkins, and even toilet paper not rated for RVs can especially obstruct macerator blades and clog the impeller.
Check the Impeller
Speaking of clogs, when the macerator pump is off, check the impeller for hair, wipes, or other non-flushable things that could be obstructing the blades.
Using a Macerator Hose? DON'T FORGET THIS ONE STEP!
Actual macerator hoses can have a screw-on end cap– one thing you wouldn't typically find on a stinky-slinky or regular garden hose. Just remember to take that tiny, hidden cap OFF before you turn on the pump or else…you'll have a CRAPTASTROPHY on your hands!!!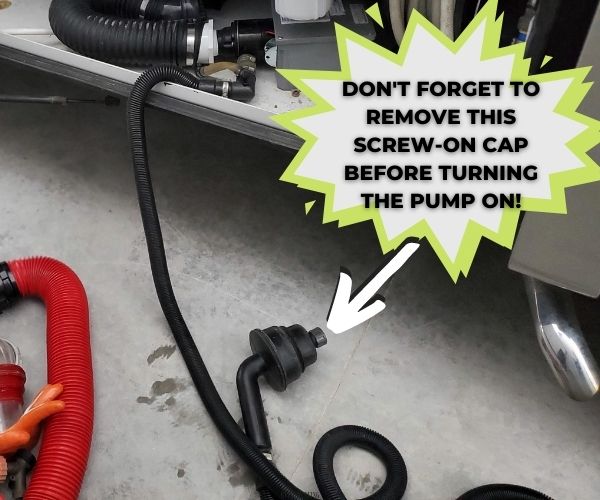 How to Prevent Overheating
Odds are, if you frequently use a macerator pump, (and pump at long distances) it could overheat. In this case, the unit may overheat, shut off, then reset itself and can be turned back on. Nonetheless, remember these tips:
The wider the hose, the better. Pushing contents through a thinner hose is more strain on the pump motor.
The shorter the hose, the better. Of course one of the main reasons for using a macerator pump is to pump longer distances! Although a perk, remember– the longer the distance, the harder the pump has to work. Try to park your RV as close as possible to the sewer cleanout or toilet. Also, some campers hook two waste hoses together then cut it at the correct length they need. (For example, if you have a lot of excess hose that exceeds your preferred dumping destination, snip off what you don't need or else the pump is working extra hard pushing waste through the entire hose length.
The less incline the better. Similar to length, incline has a similar effect. The greater the incline the harder it is to pump waste uphill. 
Give the pump a break every once in a while! FloJet states not to run for more than 15 minutes continuously. If you're straining the pump motor by any of the points above, shut it off and let it cool down.
Consider switching back and forth from the black to gray tank. This not only helps clear the hose and push solids out, but gives the pump a break over the heavier black tank material. 
Turn the pump off as soon as the gray or black tank is empty.
RVING IS BEING adventurous
Related posts