This post contains affiliate links, meaning I get a commission if you decide to make a purchase through my links, at no extra cost to you. Please read my disclosure and privacy & terms for more info.
---
RVshare makes renting an RV unit easy!
This website is designed to connect RV owners with renters, so that you can travel and enjoy vacations without the bother of owning. At the same time, owners can help cover the costs of ownership by renting out their unit that may sit unused a majority of the time.
With RVshare's user-friendly rental process and secure platform, both renters and owners can reap the benefits of this peer-to-peer marketplace and continue to do what they love — TRAVEL!
See: The Rundown on Renting an RV with RVshare

You may like: New to RVing? Why You Should Rent First Before Owning
How to Book a Rental on RVshare
A Step-By-Step Guide
 What You Need: 
Valid ID or d

river's license – if driving or towing a unit

To be at least 25 years old

Smart phone (You'll need to take a selfie to verify your ID)

Some moolah… Plan on the nightly rate plus RVshare fees associated with the rental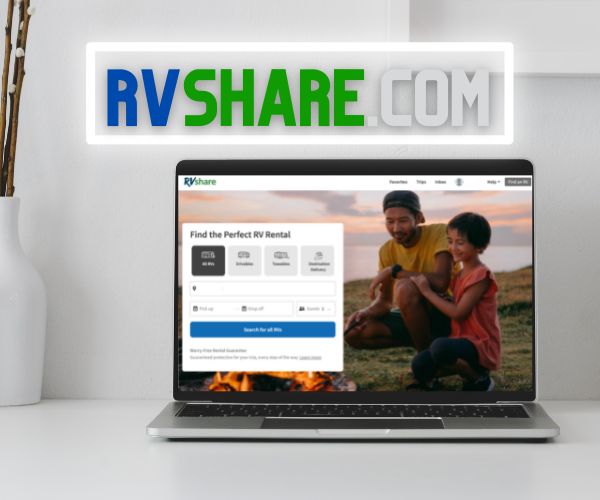 What To Do:
1.Head to RVShare.com.
To get started, enter some basic information into the search criteria such as:
What type of RV you'd like to rent (drivables, towables, or deliverable RVs)
The city where you'd like to rent from (or delivered to)
The dates you wish to use the camper
The number of guests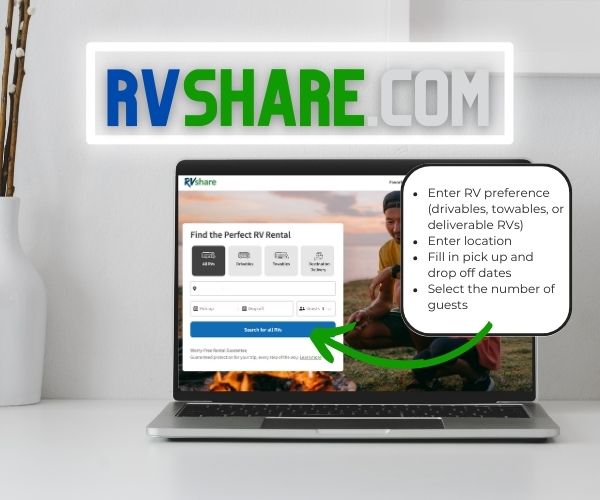 2.From the results listed, narrow down your RV selection through refining the rental price, type of unit (Class A, B, or C, 5th wheel, travel trailer, toy hauler, or popup), power and water services (30/50 amp, onboard generator, hot/cold water supply), RV length, or adjust a list of amenities and features you prefer like: TVs, rear cameras, showers, stoves and more. Additionally, some rentals even allow pets, smoking, and offer delivery to your destination.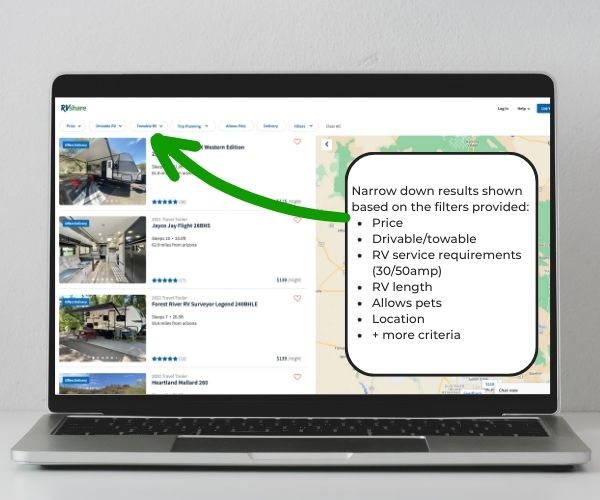 3.  Take a further look into listing descriptions, photos, reviews, rules and policies, and rates. Keep in mind, aside from the initial nightly rate shown, out of pocket charges will also include taxes and fees (service fee and rental insurance fees), and can be subject to additional costs like: cleaning fees, excess mileage fees, pet fees, generator usage fees, propane refill fees, and late fees. Watch for the hunk of money set aside for the security deposit. This generally shows as a transaction pending through your bank account and doesn't process the payment– rather holds on your account until the trip has been completed.
It's very important to fully read through the rental policies and fees associated with its use before requesting to book!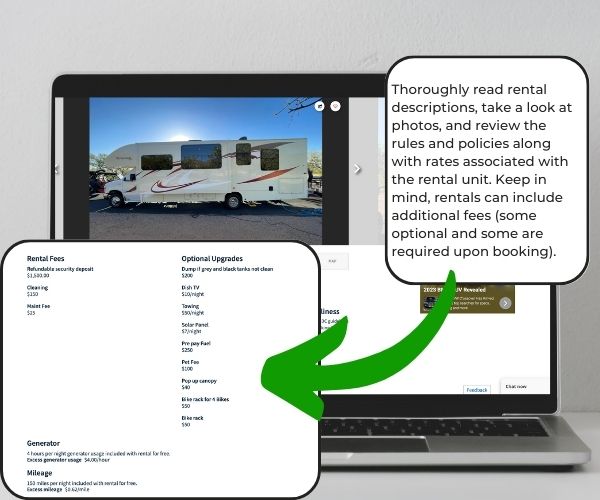 4.Once you have researched potential RVs and found a unit that perfectly fits your needs, confirm the dates shown and criteria is correct and click REQUEST TO BOOK. This will send a booking request with your details (completed in step #5) to the owner giving them 24 hours to respond.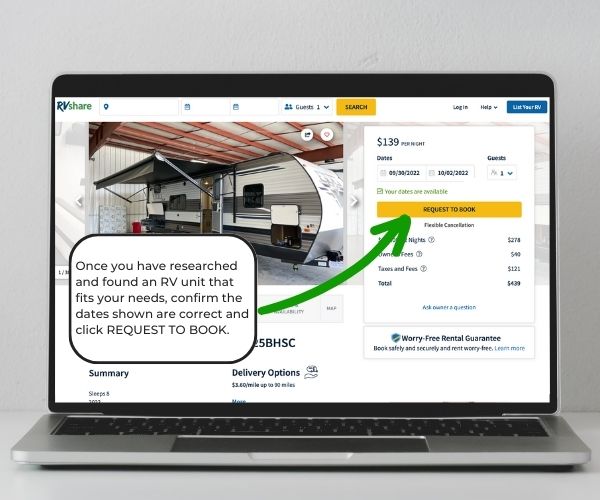 5.The next few steps are:
(1) Entering your contact information.
(2) Telling the owner about your trip/destination/delivery/and adding any upgrades to the trip. 
(3) Confirming and paying. Be sure to take note of the cancellation policy. You will not be charged at this point– only once the owner accepts your request.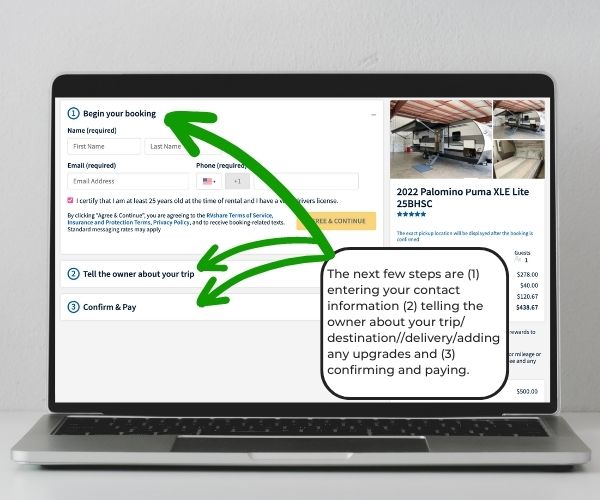 6.Once step 3 "Confirm & Pay"is completed, a booking request is sent to the RV owner where it will stay in a pending status until the owner either accepts the request or the request expires after 24 hours. While waiting for confirmation from the owner, you can complete the required next steps.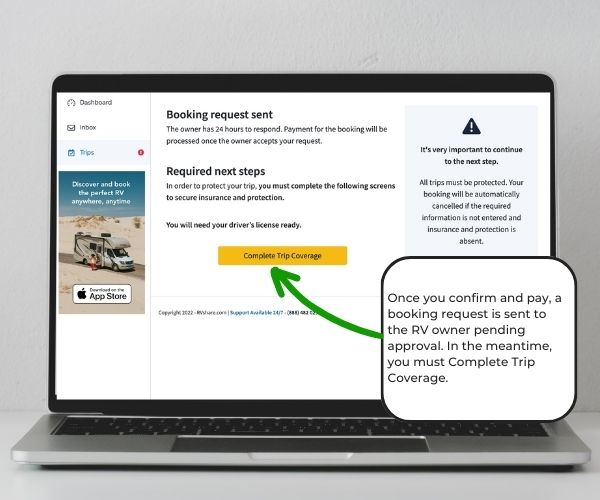 7.Another way to manage the rental and view details is from the RVshare Dashboard, listed on the left menu. Its user-friendly interface displays a summary of your reservation details while indicating what steps to complete next. From here, users can message the owner with any questions, print reservation details, access helpful FAQs, find out what to do when the rental is over, and see how to contact RVshare should further assistance be needed.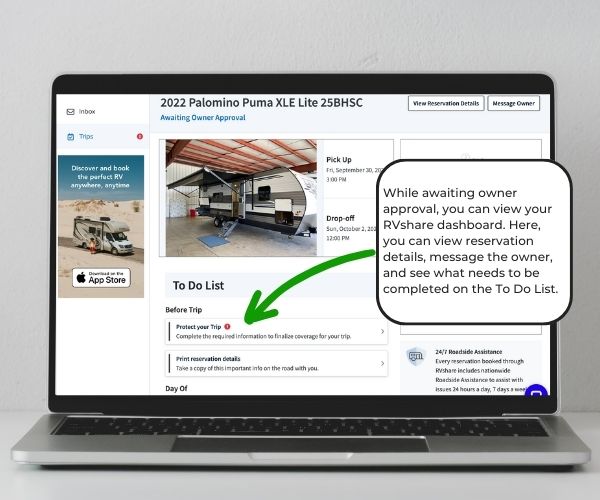 8.In order to continue with the booking and gain coverage for the trip, you must first verify who you say you are by adding license information. In the following fields, add your name, driver's license number, birthdate, and address.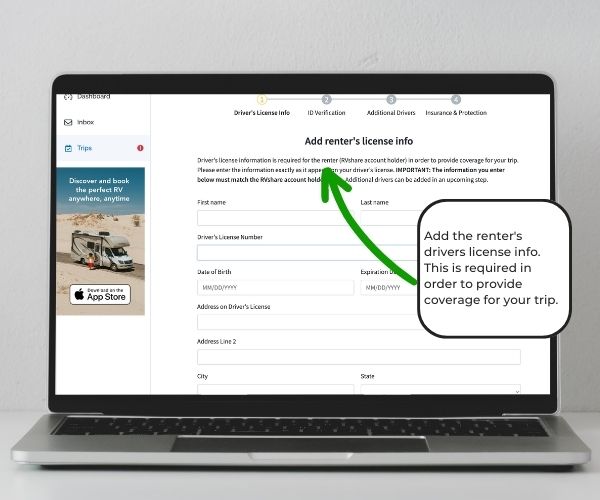 9.RVshare incorporates an effective vetting process to help prevent fraud and keep their platform secure. Until your ID is verified, you will not be able to complete the booking process or view the location of the RV. To prove the information submitted matches your license, you must submit a current photo of your license. To continue this step on a mobile device, RVshare will send a secure link to your phone.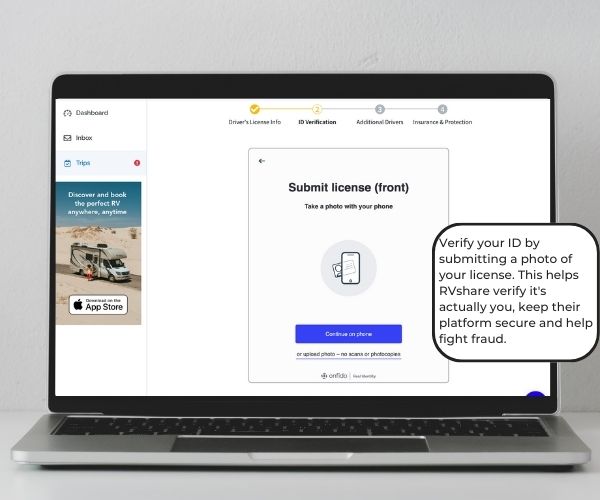 10.Next, you must take a current selfie to verify your identification. Again, RVshare will send a secure link to your mobile device to complete this task.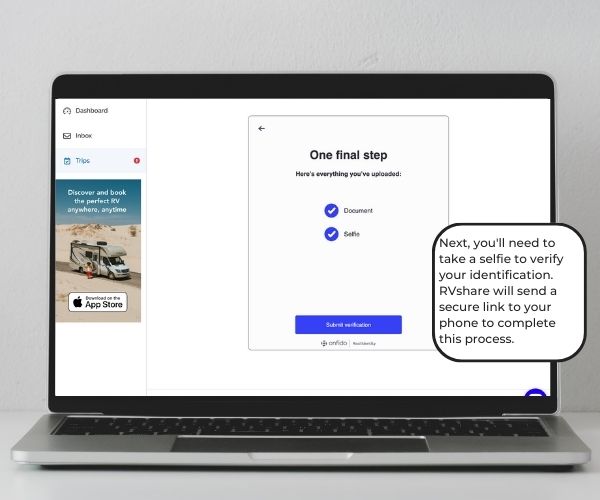 11.Once the ID verification process is complete, you'll have the option to add additional drivers to the rental reservation should anyone else be driving or towing the unit. If so, they will repeat the ID verification process like above.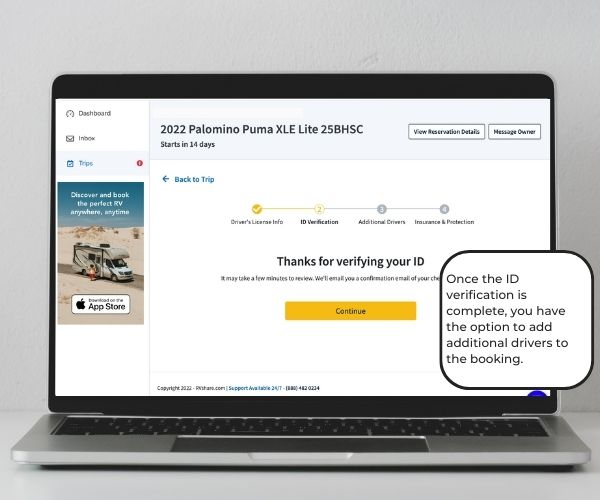 12.The final step is adding insurance and protection to the rental. Every rental through RVshare is required to secure RVshare Insurance and Protection in case anything happens during the trip. An Essential Package will automatically be included on eligible RVs in the rental quote, however renters will be able to choose a different package and upgrade if they wish. The cost of the RVshare Protection Plan is based on multiple factors including the stated value of the RV, type, and length.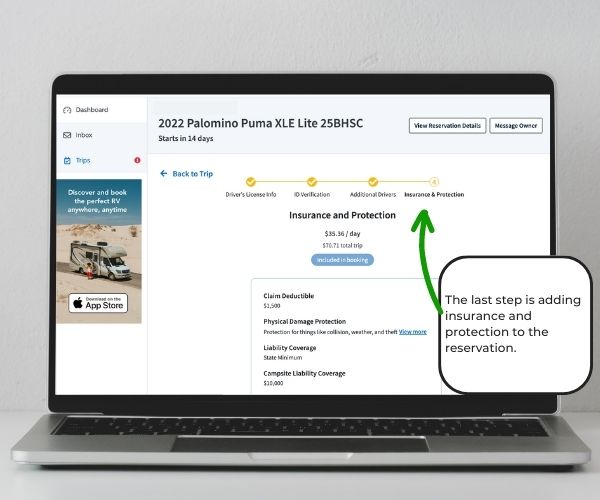 13.Once finished, all you need to do is await owner approval! (if not already accepted)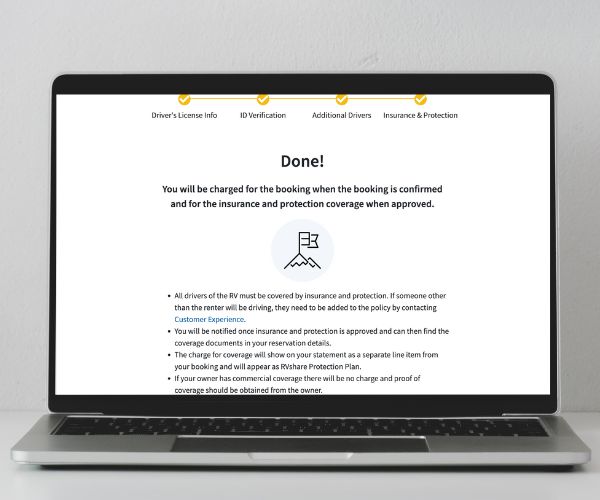 14.Once approved, your trip is now booked. The dashboard will include reservation details for your upcoming trip. A Departure Form will be submitted by the owner on the reservation start date documenting the pre-trip condition of the RV. You must digitally sign and submit the form before the end of the day on the reservation start date. A great time to do so is when picking up the RV unit at orientation so that you can verify the information submitted.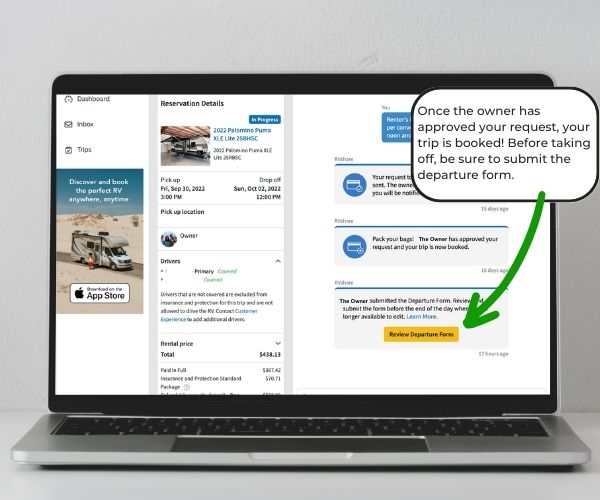 15.The pick up location details are now available where you'll schedule to meet the owner, do a walk-through, and learn how to use it. Our process was very thorough as the owner went over the hookup procedures, deploying and retracting slide-outs, leveling the unit, emptying tanks, and even helped with hitching it up. When doing a walk through we were shown where supplies were (TP, linens, coffee maker, toaster, pots and pans, etc.), how to turn on the propane, work the TVs and cable hookup and how to properly use the onboard facilities.
Before hitting the road, make sure to complete the Departure Form. This will note any existing damage, fuel levels, tank levels, odometer reading, etc.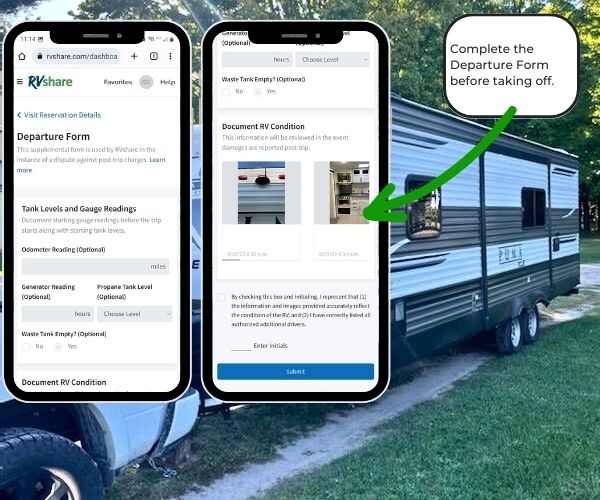 Even if you are an experienced camper, it's very important to thoroughly go over the RV unit and ask any questions you might have.
During orientation you go over the following about the RV unit:
If motorhome, how to start up, use the airbrake, and GPS.
If trailer, how to safely hitch and unhitch to your vehicle.
How to lock and unlock the RV unit.
How to level onsite.
How to operate the generator.
How to hook up to campsite amenities (electric, water, & sewer hookups).
How to read the tank levels.
How to empty tanks.
How to deploy and retract slide outs.
How to use thermostat, RV appliances, TV and cable hookup.
How to use the facilities, the water pump switch, and hot water heater for hot showers.
How to extend and retract the awning.
Where the propane tanks are located and how to turn on.
How to refuel the RV and what type of fuel.
How to prepare the interior and exterior for travel. (Securing appliances and items in cabinets, locking refrigerator, secure pocket doors, lower satellite, slides in, steps up, brake controls, etc.)
Lastly, get a rundown of returning the RV to the owner once your trip is over. Go over when you will be returning it and where to park it. Make sure to return the keys, hitch, sway bars, etc. back to the owner.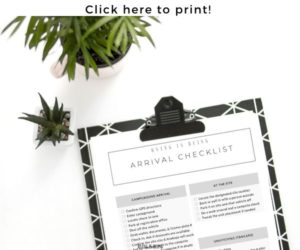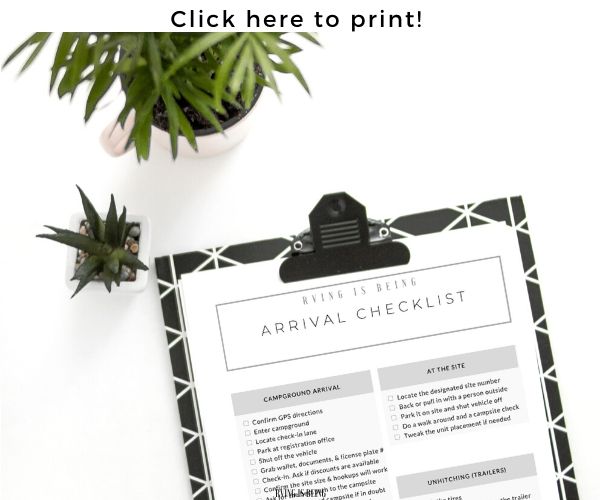 You may like:
---
REMEMBER
Bring your driver's license, proof of coverage and reservation details (found under the "Reservation Details" section of the RVshare dashboard menu.
Set aside enough time with the owner for a detailed walk through.
Make sure you know how to operate the RV unit. Although you may have used a camper before, units can differ between manufacturers. Have questions? Ask!
Always communicate and submit payment directly through the RVshare site. Funds exchanged outside the platform will not be guaranteed by RVshare.
---
RVING IS BEING adventurous
Related posts