Bear in mind that this post may contain affiliate links, meaning I get a commission if you decide to make a purchase through my links, at no extra cost to you. Please read my disclosure and privacy & terms for more info.
---
So, you're locked out of the camper…
Unfortunately, this quite common blunder gets the best of both new and experienced RVers! 
While mistakes happen, this one can cost you time, money— AND can actually be quite SCARY in some situations!
Uh-oh! Locked Out of RV?! 
Stuff happens, right? BUT WHY?! And HOW?!
Well for starters, WE ARE IN "VACAY-MODE".
AREN'T WE ALL READY to throw 'er in Park, hookup the rig, and CAMP?!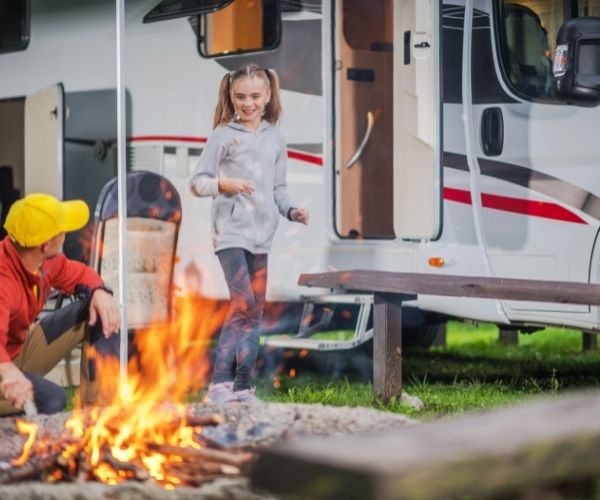 Really though, the camper door is often an ever revolving door with multiple locking components. And— if your campsite is anything like ours— a site full of probable culprits CONSTANTLY going in and out…
Plus, let's not forget the all of the other keyed-components peppered along the rest of the rig! Which means… even MORE things to get locked out of and… KEYS.  A LOT OF THEM for some RV owners. In fact, forget the fob and get ready for a big key ring to keep track of to fully access your home-on-wheels– inside and out.
Add in thousands of miles and years of wear and tear to the mix– and you could be looking at a lockout down the road!
---
About RV Lockouts
Lockouts not only do a pretty darn good job at punching vacation in the gut, but can also be scary and unsafe for travelers.
Think about boondocking in the middle of nowhere and being locked out of the rig– without any tools or devices to call for help.
What about little ones or pets getting locked inside the unit, and you, out?
After all, it's wise to know your rig, every locking component on/in it, plus have a few ideas in the back of your mind– JUST IN CASE!
Skip to: What to do if Locked Out
---
About RV Door Locks & Keys
Recreational vehicle entry doors are typically made with an entry handle lock and a deadbolt lock.
For decades, RV entry handle locks have been keyed the same– with master keys making it easier on manufacturers and dealers storing, showing, transporting, and selling RV units.
A master key is a key that opens several different locks. For example janitors, mailmen, and manufacturers may use a master key to access multiple locks– whether classroom doors, mailboxes in condominiums, locker rooms, or RV locks. This system simplifies the process and is more effective than juggling each individual key for each lock.
Really, could you imagine a dealer having to find and lug around each set of keys for every make and model out on the lot?! This way, one key could get them into a number of rigs.
Likewise, the same goes for a majority of RV storage compartments locks– many using master keys to access the exterior cargo.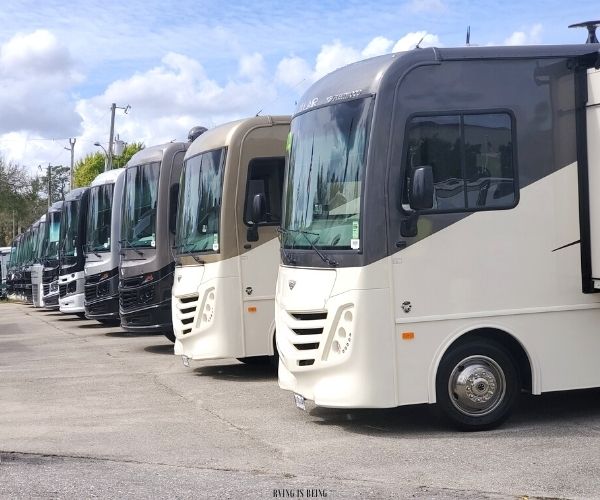 Many of these master keys can easily be found and duplicated. As a matter of fact, having these common keys floating around campgrounds can make a lockout a breeze! 
Except on the other hand, this decreases camper security.
So, here's where the deadbolt comes in.
Obviously these do-dads apply better physical security than the handle lock and are usually uniquely keyed– meaning you're not going to find a site neighbor's key to work in your deadbolt. For these reasons, the deadbolt can offer campers the most security.
Plus, a deadbolt should be incapable of self-locking, therefore you can't lock the deadbolt keys inside, you'll have them in-hand to lock the door on the outside, once shut. Furthermore, the door must be closed for the deadbolt lever to be engaged and for the bolt to extend into the door frame, thus locking it.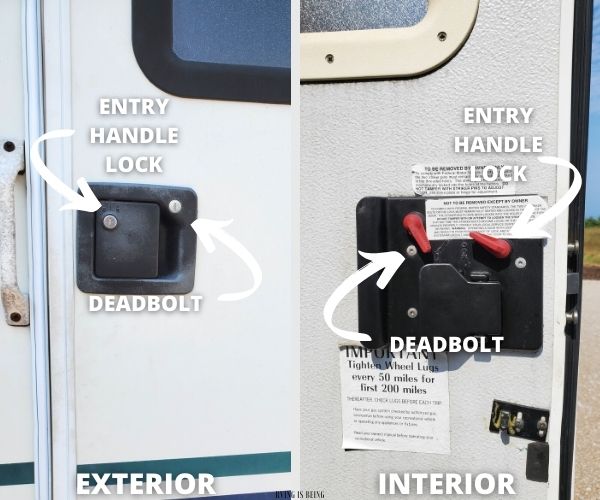 In many cases, a lockout results from the entry handle lock. After all, it can be engaged on the inside or outside of the door, while the door is open or closed, and with or without inserting a key! 
However, that's not always the case with a lockout. Levers get flipped, components get rattled, doors get slammed, and keys get lost…
---
Keys, Keys, & MORE KEYS
Speaking of keys, remember above?
RV entry doors typically have an entry handle lock and a deadbolt lock.
Therefore, unless keyed-alike, many RV units require two separate keys to access just the entry door. One key for the handle lock and the other for the deadbolt.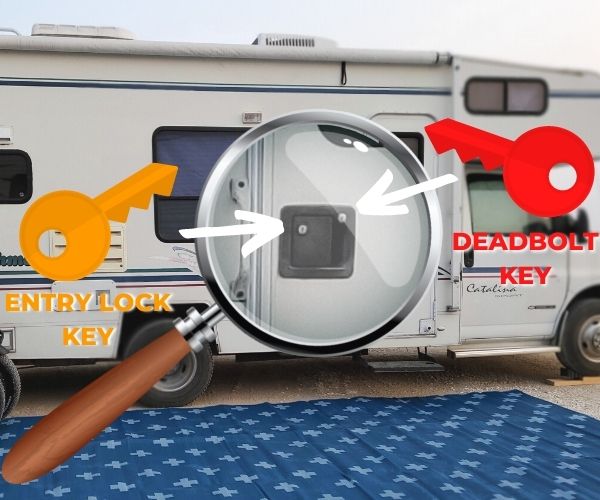 As if ONE key wasn't enough to keep track of…
Don't forget the other separately-keyed components PEPPERED ALLLL OVER THE REST OF THE RIG! We're talking lockable storage compartments, outdoor kitchen compartments, fuel caps, outdoor TV compartments, and MORE.
Except for units with Keyed-Alike systems, most will require a few more keys on the key ring for complete access.
Look how many separately-keyed components are on this Class C, alone! While multiple locking features are put in place to add security and protect belongings, it also means… more things to get locked out of and more keys to keep track of!  
---
Check out these quick tips on getting into a locked RV and hacks to prevent you from getting locked out!
Uh-oh! Locked Out of RV?! 
What To Do If Locked Out
Look for lost keys and any spares
Before panicking, retrace your steps around the campsite in case you may have dropped them while setting up.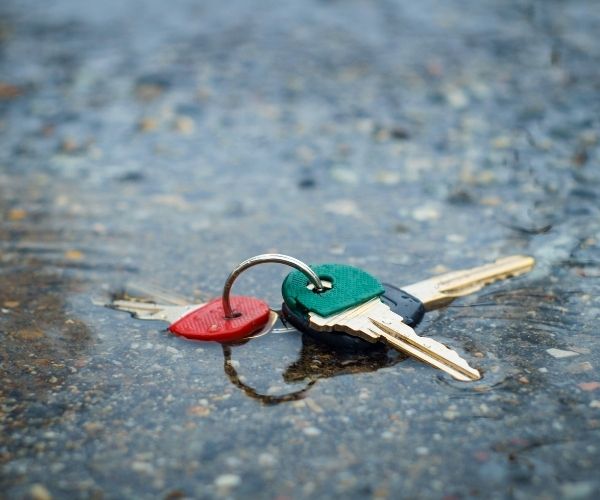 Look:
around and underneath the RV unit
inside and around the storage compartments
around the jacks or stabilizers
around the electric pedestal and/or water connections
under outdoor mats
inserted into a lock on the unit
on the bumper, tire, or wheel well
Keep in mind– A misplaced key could still be INSERTED into a lock somewhere on the exterior of the unit!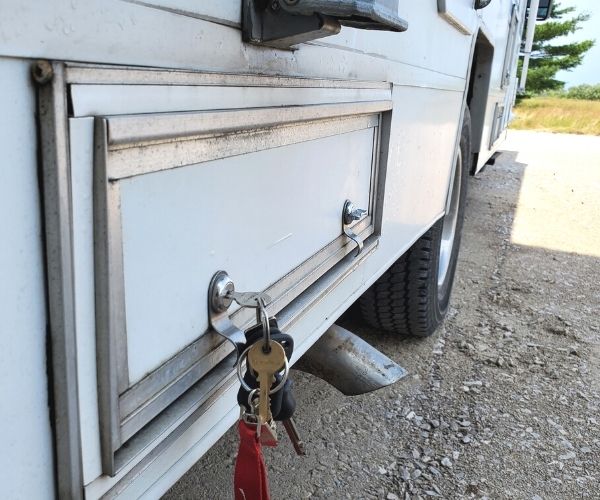 Also, check with the office to see if a neighbor has already turned in the lost set!
---
Use the window way 
Next, cross your fingers for an unlocked window! (Here's where a collapsible ladder comes in handy–or pull up a picnic table!)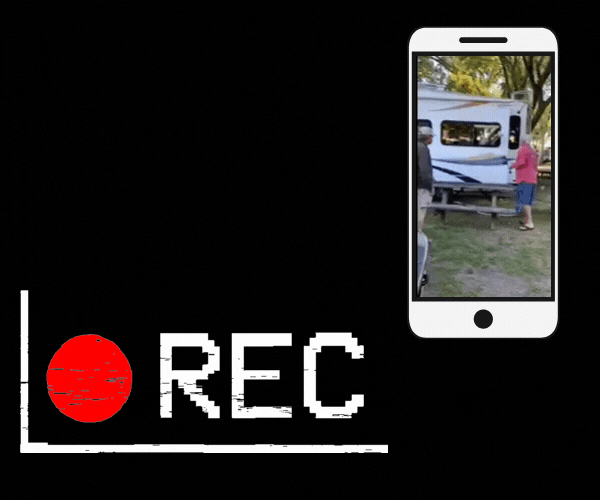 ---
Access the underbelly
Windows not working out?
At the very least, getting into the cargo area can get you tools and supplies for further assistance into the interior. (And, if your lucky enough to have a unit where the storage space can be accessed from both inside and out– EVEN BETTER! Send someone up and through the underbed storage!)
See if a neighbor's key will work in your cargo locks or check with the campground office. They may have a few common keys on hand.  
(Need a replacement key? More on this, below!)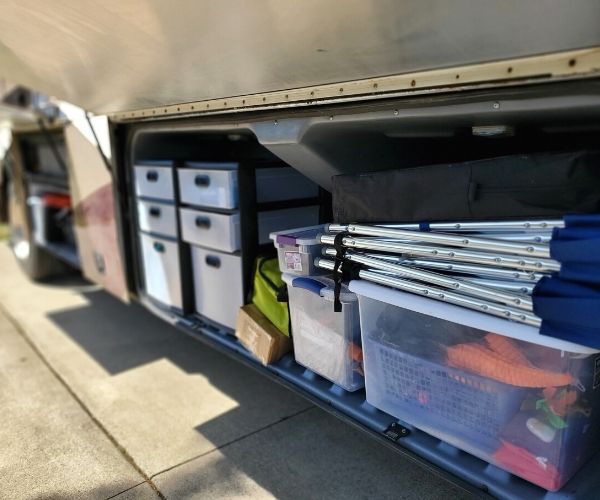 ---
Ask a neighbor for help! Or two… Or a few! 
The GOOD NEWS for many travel trailer owners (or renters), is that there's a good chance the handle lock can be opened with a master key or even a NEIGHBOR'S KEY!
In fact, if you have factory installed locks on your RV, another camper in the same campground could have a helping set of keys on hand!
FYI: The same goes for exterior camper storage compartments. Locked out or lost the keys for your cargo locks? Scout out a neighbor with the same key!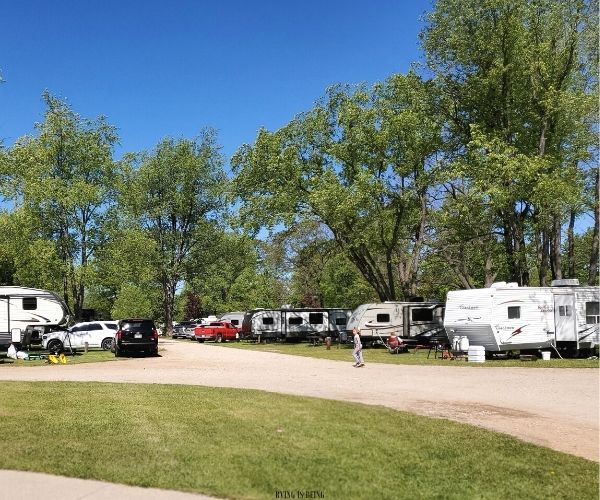 There's a good chance the entry handle lock can be opened with a master key or even a neighbor's key!
---
Ask the campground office for help
Now's a good time to pay the campground office a visit. Cross your fingers that a friendly camper turned in your lost set of keys or hope office staff can lend a hand!
Most campgrounds have on-site rental trailers and seasonals, therefore may have a set of the most common keys to try out in your lock.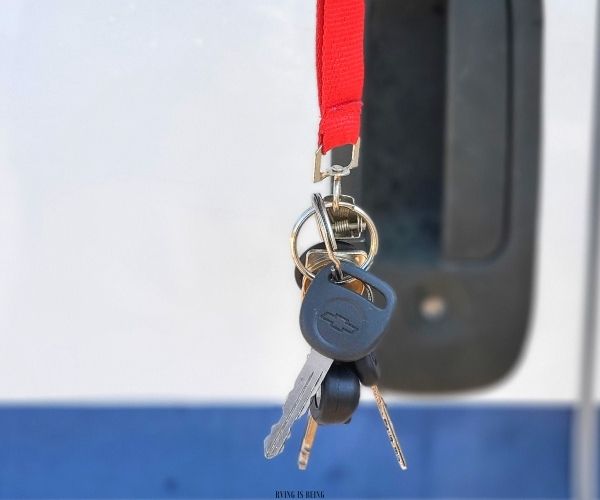 ---
Call your local RV dealership
They may be able to provide master locks, key codes, or further assistance in opening your unit.
---
Check with your insurance providers & memberships
Certain RV Insurance Providers & Memberships may offer specific lockout coverage along with standard RV and trailer coverage.
For example, AAA Plus RV & Premier RV includes a Vehicle Locksmith Service that reimburses up to $100 for Plus RV members and up to $150 for Premier RV members.
---
Call a locksmith
Try the above to no avail?
Then it may be time to call in the professionals! 
---
Pull the latch differently
What many think to be a lock issue, is sometimes a latch issue— where the door handle latch will not release the door when pulled from the exterior.
In detail, your RV could really be unlocked, however the door handle will not release open.
As mentioned above, RV doors are ever-revolving doors at the campsite! Not only are they constantly being open and shut, but they also undertake miles of road-rattle and harsh outdoor elements. Wear and tear, dirt and grime buildup, and/or loosening of inner mechanisms can lead to sticky locks, jams, or even malfunctions.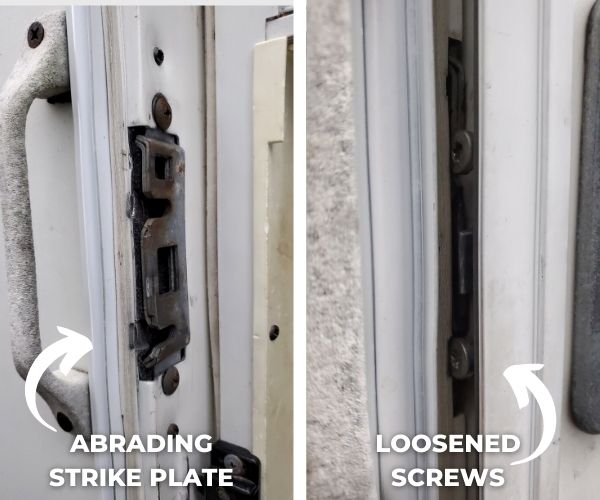 It's extremely important to stay on top of maintenance and keep things tightened, tweaked, aligned, and replaced– as needed!
If your door handle won't budge, try putting pressure on the door latch differently and pull from a different angle.
Also, similar situations can arise on certain models when the entry door is shut too lightly, causing the door to not latch properly nor release when pulled. In this case, push the door in firmly to make sure it is latched. Hopefully, you'll hear a click! Now, try the entry handle again.
---
Find a replacement key online
Depending on your camper unit's lock, you may be able to purchase a replacement key online. (Check here on Amazon or Camping World.)
Just remember, we're talking "common keys". In other words, handfuls of keys cut (or that you can have easily pre-cut) to a common lock series to access a variety of RV compartment doors, slam doors, and entry handle locks.
Deadbolt locks, as well as newer rigs, have unique keys and are not likely to be found online.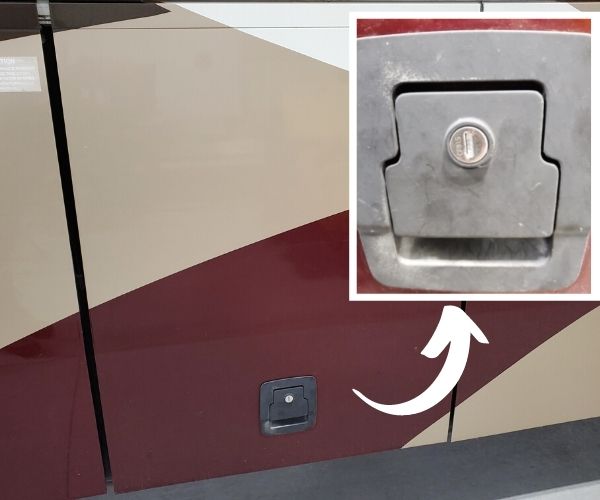 Locate the lock code. This is either: stamped on the original key, on the front of the lock, on a sticker inside the entry door, or even posted on the inside of the interior cabinet.
For example, pre-cut keys such as the CH751, CF315, Bauer, Southco slam latch keys or even those familiar looking purple Global Link keys, can be easily cut accordingly to fit in a variety of RV storage compartments and doors.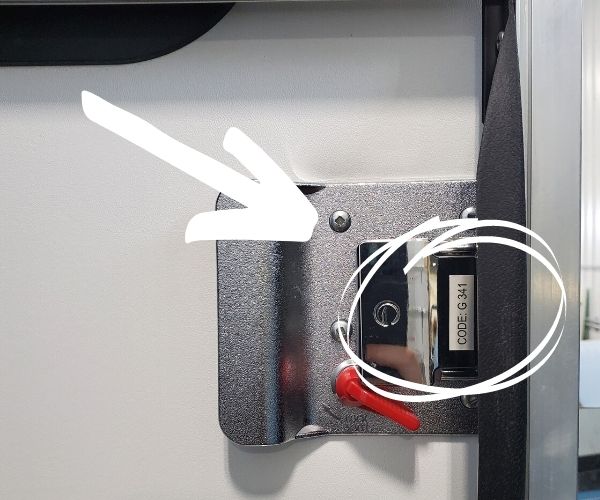 Tip: Search by the lock code. Both Amazon and Camping World can be helpful for quickly finding common keys for RV storage compartments and certain entry door locks. 
Other online options for not-so-common keys:
RVLOCKSandmore.com is a growing lock and key replacement market providing RV related products along with great customer service they pride themselves for. For their selection of replacement keys, click, here.
Easykeys.com was created due to the rising need for replacement keys. They offer a variety of entry and baggage compartment keys for RVs, campers, trailers, and motorhomes.
---
How To Prevent A Lockout 
Make copies
In fact, put a set in the tow vehicle, give a copy to close relatives, or– if you're a seasonal RVer— leave a set on-site with the campground office manager!
---
Swap out the original for a keyless entry
If you're worried about security or getting locked out, consider installing a keyless entry lock.
This eliminates the need for an entry key and makes access for the whole family much easier!
Not only do coded systems offer quick and convenient access, but can also add greater security against break-ins and theft due to the customizable code. Many newer motorhomes have coded locks, however, older models can be swapped out for a keyless system by an RV Service Center or even by yourself!

---
Use a key hider or lockbox
Avoid lockouts by hiding a spare for emergencies! The Lucky Line Magnetic Key Hider, also with a permanent mount option, can be placed underneath a vehicle storing a spare key set for lockouts.
Additionally, a lockbox like HitchSafe Key Vault can also safely store keys only accessible to those with the code to open it. 


---
Use a key tracker
Have a habit of losing keys? Keep track of them with the Tile Pro! 
---
Make them visible
Lessen the chances of losing RV keys with a highly visible keychain! Plus, don't forget a key ring float for water excursions!


---
Lock & latch maintenance
RV components handle a lot over the years weathering the seasons and roads. It's no wonder things may need a little tightening, realigning, or even replacing overtime!
Maintain or have parts serviced– to protect your hard-earned investment down the road!
---
Products & Accessories You May Like
Lock Lube Like many other RV parts, the entry door locking mechanism is subject to dirt, dust, moisture from outdoor elements. Loosen up sticky locks and protect them with a quick-dry formula, like 3-In-One's!
---
Entrance Door Lock with Deadbolt Need to replace a damaged, worn or malfunctioning lock? Check out this kit!
---
Electric Trailer Door Locks Upgrade your travel trailer locks with an electronic latch offering a programmable, touchpad access.
---
Electric Motorhome Door Lock Want quick and easy access for the whole family? Opt for an electronic latch, powered by four AA batteries, where a simple push-code unlocks the rig!
---
Hide-A-Key Hide a spare in case of an emergency! Made of durable, rust proof plastic and strong magnets to cling to metal.
---
Fake Rock Hide-A-Key Camping long-term for a while? Why not go for that good 'ol hide-a-key-in-a-fake-rock. It's an inexpensive way to hide a key in plain sight that can be accessed easily by trusted sources. (While I wouldn't be hiding a key on-site for transient stays- this option can come in handy for seasonals, or long-term campers that are staying on the same campsite for a long period of time.)
---
Telescoping Ladder Convenience is key! This sturdy, 12.5 foot ladder retracts with one button while holding up to 250 lbs! Easily collapse and stow in the cargo.
---
Roadtrip Key Chain Keep your keys organized and easy to locate.
---
RVING IS BEING adventurous
Related posts