Bear in mind that this post may contain affiliate links, meaning I get a commission if you decide to make a purchase through my links, at no extra cost to you. Please read my disclosure and privacy & terms for more info.
---
RVing is being YOURSELF — when you want, where you want, and how you want. Whether you are a Glamper, a Boondocker, an adventurer, or even a combination of these– RVing allows us to camp in our own style! 
As camping has become a popular hobby and even way of life, "Glamping" has grown into a well-known trend that has welcomed a whole other group of people aside from the typical stargazer in a sleeping bag. In fact, it is a form of camping that takes on a more luxurious approach rather than the "roughing it" camping way.
Although Glampers typically roll into a campground in an RV with all the amenities from home, it doesn't mean they don't enjoy the common camping experience any less than those who sleep directly under the stars. They just prefer to haul along a few extra amenities and accessories! 
Check out some Glampers top accessories they prefer to haul along to the campsite! 
Top Glamping Accessories
Satellite TV
We're all about the camping experience; the fresh air, family time, and great laughs around a bonfire. Yet, we love being able to watch some of our favorite TV shows on a rainy day! Likewise, for all the football fans, don't miss a game while vacationing and have a tailgate right at your campsite! Winegard makes it easy to watch satellite programming anywhere in your RV. Check out the recreational vehicle options Winegard offers for your type of rig. Make your RV comfortable wherever you go– or as Winegard puts it, "Put more home in your motor home."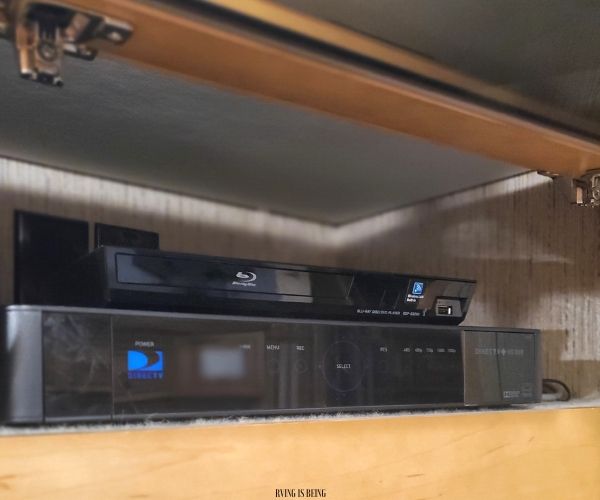 Clothing Steamer
We all know that motorhomes and travel trailers come with a limited amount of closet and drawer space. Clothes are often prone to creases and wrinkles packed away in tight spaces. On the other hand, some may question– why would one even need to iron their camp clothes?!… I mean, they are CAMPING!? Although this may be true, think about those full time RVers living in their rig. For example, our full-time living wasn't only about long hikes and bonfires. We attended weddings, business meetings, concerts, excursions, and more– requiring quite a bit of business casual and cocktail attire. This Conair Turbo Extremesteam Handheld Fabric Steamer is a staple product for RVers– and really any traveler. Quickly get your clothing wrinkle free in minutes! No need for an ironing board. It's compact enough for any RV drawer, storage cupboard, or suitcase.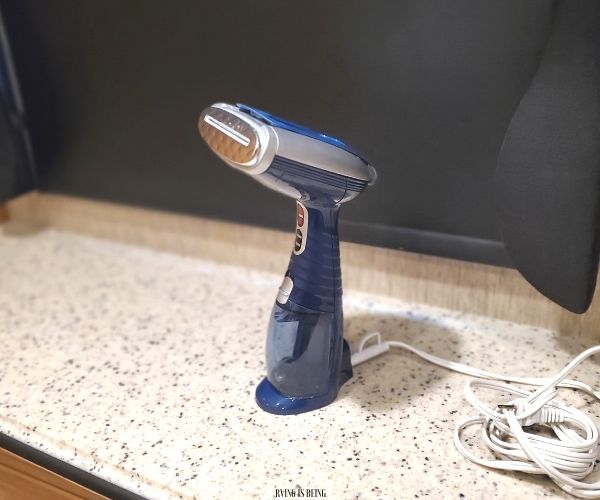 Ice Maker
Camping means amazing cookouts and delicious drinks! Our Frigidaire Ice Maker makes a batch of ice every seven minutes! It's perfect for cookouts, gatherings, and outdoor reunions. This handy ice maker does a pretty good job at keeping up with a small group of people. However, for a larger gathering, give this product a good hour to get a head start and get a decent amount of ice built up for the crowd. It's no commercial ice machine, but for its portable size and ability to produce ice every seven minutes, makes it a pretty cool product to have on hand.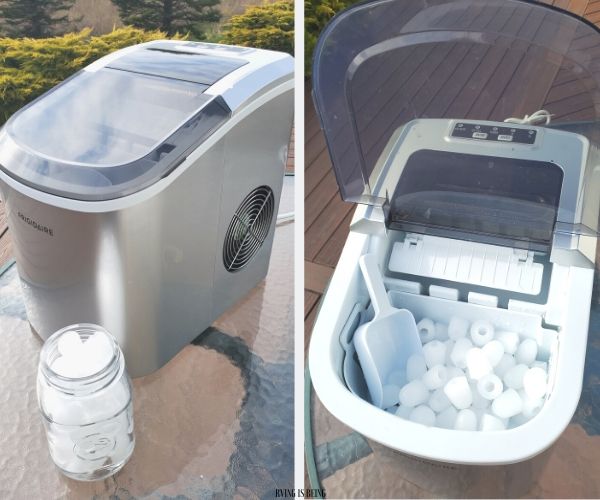 Blender
Anyone else wish to bring a blender on the road for smoothies, summer slushies, or protein shakes? The Nutri Ninja Auto IQ Blender is a compact blender with a LOT of power to break down ice, whole fruits, vegetables, and even seeds. The 1000-watt motor crushes through ice in seconds. Its compact size makes it very RV friendly. Plus, the suction bottom keeps this blender from not going anywhere down the road!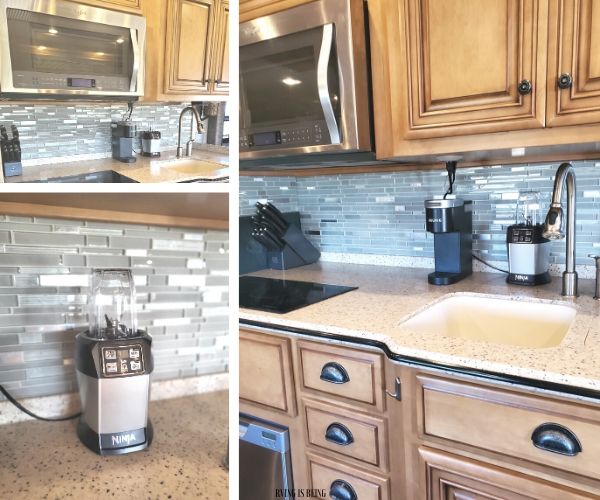 LED Tent
Tents are so camping- not glamping, right? Well, the bright LEDs on this Coleman All Night 13 x 13 pop-up shade tent scream "Glamping!" This handy-dandy tent is perfect for shade during the day and even better for keeping the party going at night. The light that this puts out is incredible! It's perfect for late-night card games, setting a food table under, or gathering under during a rainy day. It collapses down to conveniently fit in our RV undercarriage. 
Printer
Printers aren't something the typical camper seems to have on board. While any electronics may come off "glamper-ish" to some– to others, it's needed for work or hobbies on the road. As space is limited enough, a small, portable printer is ideal. The HP Officejet 100 Mobile Printer lets you print documents on the go! Print what you need and tuck it away when not in use! Although we've had the HP Officejet 100 for years now, the HP Officejet 200 Mobile Printer is a step up from this, including color, wireless printing, mobile printing, and portable charging options. Need to print, scan, and copy? The HP OfficeJet 250 All-in-One Portable Printer offers all of the above plus scanning and copying wherever you need it. It is ideal for those who work on the road and telecommuters who need a reliable all-in-one-printer they can take anywhere.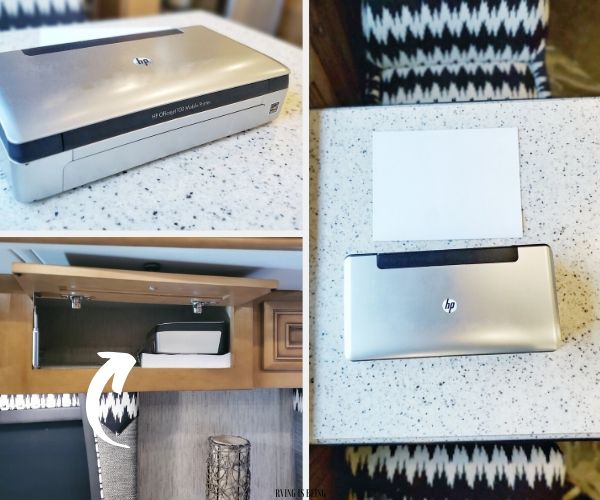 Electric Bikes
These Rad Fat Tire Power Bikes have been through it all– difficult trails through the Red Canyon, Bryce Canyon trails, miles down the powdery Myrtle Beach and more. Riders can get as much or as little exercise as they want. For an intense workout turn the assist off! Ride it just like a normal, non-motorized, pedal bike. For assistance, select a level you find ideal. The motor helps push you along with every turn of the pedal, taking some of the workload off your legs. Steep hills have NOTHING on these things. Parents, no more huffing and puffing hauling the kids in the bike trailer! Have the need for speed? Twist the throttle like a dirt bike and RIDE! Hit 20mph and go 45+ miles on a single battery charge! These bikes make it possible to go farther, see, and experience more!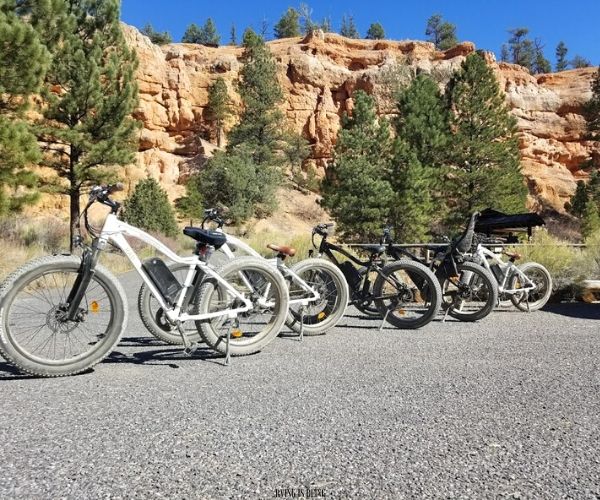 Back Massager
After a hike, walk, or long drive sitting, this back massager relieved a long day's worth of back pain. RV adventures can take a toll on our bodies! For example, camping can entail long hikes, bumpy terrains on bikes, downtown strolls on hard concrete, and long durations of standing– perhaps through visiting museums, attractions, and more. Don't let your back feel yesterday's adventures! This back massager has rolling massaging balls and can include heat or no heat. It fits perfectly in our motorhome overhead cabinet when not in use.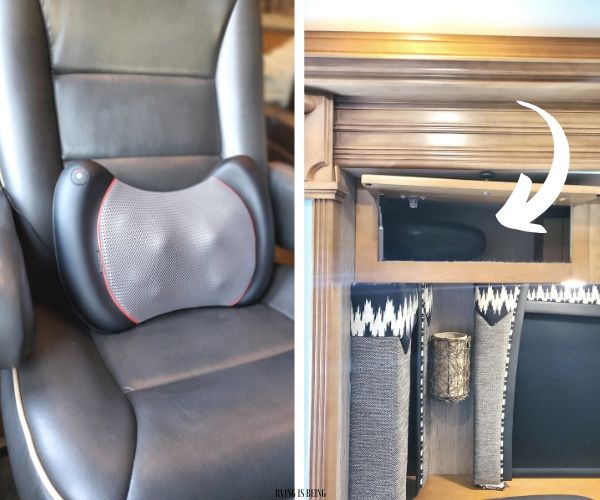 Golf Cart
Now if this doesn't scream "Glamping" I don't know what does! Golf carts are becoming more and more popular at RV parks and resorts. Not only do toy haulers and RV golf cart carriers make it easy to haul along, but many properties include parking for golf carts by the pool, laundry buildings, clubhouses, and playgrounds! In fact, large properties like Disney's Fort Wilderness Campground rent golf carts for guests to use! Golf carts can really compliment the overall camp experience for those who have difficulty walking far distances or for those who have heavy loads to haul to the laundry or pool!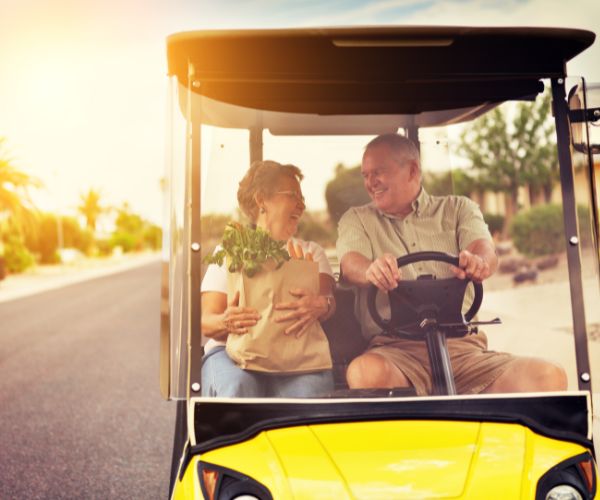 Group Seating
Glampers love being comfortable wherever they may be! Seating is crucial and unfortunately, logs from the wilderness just don't cut it! In fact, Glampers generally come prepared and with plenty of seating for a few friends as well! The OmniCore Designs Triple Loveseat provides comfortable seating for three family members or friends! Speaking of comfort, the Foldable Rocking Chairs by Best Choice Products are great on-site rockers! Plus, they fold in half to stow. 
Portable Fire Pit
What happened to the good ol' bonfire makin' days where we dug out a pit, lined it with rocks, gathered firewood, and used big logs for storytelling seats? Well, traditional camping has not necessarily changed throughout the years, however many campgrounds and regulations have. On your RVing adventures, you'll find many campgrounds have strict guidelines when it comes to bonfires. Some only allow above ground fire pits while others don't allow fires at all. Even for boondockers, some dispersed locations and unsupervised areas have fire restrictions that prohibit campfires. The Outland Firebowl Portable Propane Fire Pit is a very popular choice among campers. No more expensive firewood, dirty ash, or bothersome smoke! Being CSA approved, this fire pit is safe to use during most campfire bans while its self-contained style helps protect campgrounds and wooded areas. 
Blackstone Adventure Ready Propane Griddle
The Blackstone Adventure Ready 22″ Propane Griddle is the ideal package for your campsite! Featuring a 361 square inch cooking surface with dual 'H' burners producing 24,000 BTUS for fast and even cooking. Take it tailgating, camping and more with a convenient folding stand and bulk adapter hose.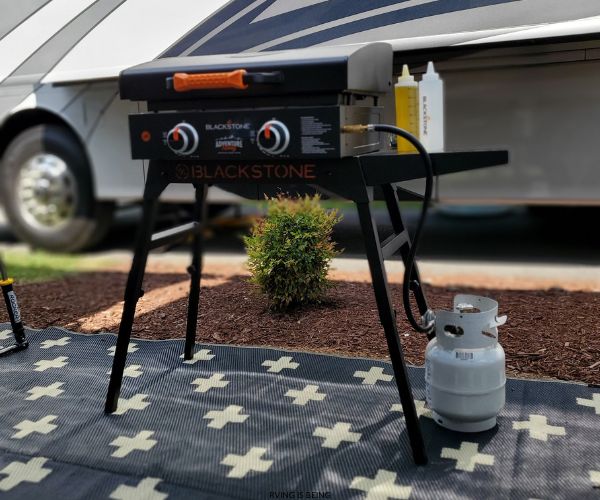 What's your top glamping products?
RVING IS BEING a Glamper!
Related posts