Bear in mind that this post may contain affiliate links, meaning I get a commission if you decide to make a purchase through my links, at no extra cost to you. Please read my disclosure and privacy & terms for more info.
---
Let's move on to the LIVING ROOM! As you've recently seen, we've tackled the kitchen and bathroom. Now, it's time to explore products and accessories for our RV living area!
Although some campers typically spend more time outside than in their RV living room, every motorhome or travel trailer could use a touch of home, comfort, and organization! No matter the size of your living quarters, here's 100+ products and accessories for RV living rooms! 
It includes everything you might need to stock your RV living room– the necessities, the nice-to-haves, and the JUST. PLAIN. EXTRAS.
Scan the list and see if something catches your eye that would work perfectly in your space!
100 + Products & Accessories for Your RV Living Room| The Necessities, Nice-to-Haves, & Just Plain Extras
RV Furniture
Theater Seating RVs are becoming more and more like home! With a variety of comfortable seating arrangements available, travelers are able to design their ideal space. If you're ready to switch things up in your home-on-wheels, check out the Thomas Payne Seismic Series Modular Theater Seating. This luxurious seating features heated seats, lights, power reclining, massage and more– with different styles and colors to choose from!
---
Jackknife Sofa The Thomas Payne Collection Heritage Series Jackknife RV Sofa quickly converts into a bed in one easy motion! This sofa– that also doubles as a sleeping surface– includes a console with cup holders and hidden storage.
---
Sleeper Sofa We've all slept on an uncomfortable fold out couch or two… If you're ready for a comfortable update, check out the RecPro Charles RV Sleeper Sofa. In fact, this sofa features an easy pull, sturdy frame with a thick Memory Foam Mattress!
---
Portable Bed Sleep overs can be a bit challenging in a camper without any extra sleeping quarters. If your sofa sleeper or dinette is already taken, consider a portable cot, air bed, or a roll out mattress to catch some much needed Zzz's! 
---
Recliner Chair Looking to incorporate a comfortable recliner? The Thomas Payne Collection Heritage Series Pushback Recliner has a sleek design adding home-like comfort to your living quarters.
---
Floor Chair Unfortunately, RVs only have so much room to work with for seating arrangements. Create more seating space with floor chairs! Use for movie night in the living room, to sit up in bed to read, or take it outside to set on a picnic blanket instead of the hard ground!
---
Lap Tray Similarly, work on a laptop, eat dinner,or read anywhere in your RV– bed, couch, or floor– with a comfortable lap desk. The Sofia + Sam Memory Foam Lap Desk even has a USB light option and wrist rest! If that's not enough, the Cooper Desk PRO has it all! This versatile desk can be used as a laptop table, dinner tray, floor table, gaming desk, reading/writing table, or bed desk. It also has a built-in tablet groove, storage drawer for cables or chargers, and comes with a book stand. Plus, the book stand and legs stow underneath the table for efficient storage!
---
Folding Tray Table A portable folding tray table, like the Table Mate is perfect for dinner, snacks, a laptop desk, crafts and more. It adjusts in height and table angle while quickly folding for easy storage. Keep in mind, these won't work with some styles of furniture that is mounted to the RV floor! 
---
Ottoman You'll see in RV Storage & Organization | Baby Edition that the loads of camping toys we haul along stow nicely right in the living room ottoman. Not to mention, the sleek design goes great with the furniture! With different styles available– tufted, faux leather, cloth, round, square, or rectangle— match one perfectly to your RV interior! This also conveniently doubles as a comfortable footrest, coffee table, snack or coloring table for kids. Get this, if you don't happen to need it, fold it up flat to store!
---
Ottoman Tray End table or counter space can be limited in an RV. Turn your ottoman into an end table when needed! Use an ottoman tray indoors and out for picnics!
---
Coffee Table Depending on your space, a coffee table may be the perfect complement to your living room. However, one thing to make sure is that it features storage space! Whether storage is in drawers, bins, or simply an open underneath–store throws, camping games, or tuck your costly cooler under it at night so that it's inside and not out on your campsite. The HOMCOM Modern Lift Top Coffee Table and YAHEETECH Rustic Lift Top Coffee Table have extending desks that lift up and out to provide a raised work surface– perfect for smaller spaces! They also feature storage space within the coffee table for office supplies or living room essentials.
---
End Table The MyGift 21-Inch Modern Wood & Metal End Table features a slim design with a magazine sling under the table. No room beside the couch? Consider a table like the Sofa Side End Table that can slide under a sofa or couch for convenience. (Keep in mind, this won't work if your furniture is mounted to the floor.)
---
Furniture Cover Protector Take care of your awesome investment! Keep your RV furniture in tip-top shape with a Furniture Cover Protector.
---
Couch Cover A slipcover is another way to protect your RV furniture. At the same time, it's an easy way to update the RV interior without new upholstery!
---

Couch Pillows Nothing add a splash of comfort and home more than cozy couch pillows!
---
Coasters Protect your RV surfaces from hot or sweating beverages. This cute set of Camco coasters would go perfectly in any camper along with the coordinating dish set! 
---
Lamp RV lighting can differ from rig to rig significantly. Some have a few dome switches scattered throughout the unit, where others light up like a lantern with tons of recessed LEDs throughout. Depending on your unit and layout, additional lighting options can come in helpful whether you would like to keep the LEDs off and a simple soft light in the corner or add more light to the nooks and crannies. With electric hookup, you'll be able to plug in a lamp to any 120 volt power outlet inside. This three-way touch control table lamp includes two fast charging USB ports and power outlet for extra charging locations for your electronics. Need a wireless option for boondocking? Check out this portable, rechargeable lamp for use indoors and out! 
---
Window & Floor
Area Rug Give your feet a break and add an instant homey feel to your RV! An area rug is stylish, comfortable, and breaks up the flowing space from kitchen to living room. Tight on space? Add a runner!
---
Foam Mat You'll see in The Best Baby Gear for the RV how connecting floor mats work perfectly for little travelers. Still, it's not just for RVing families! Anyone can add a little comfort to their floors! Plus, there's tons of colors and textures if those colorful A,B,C's aren't your style! In fact, there's mats that look just like wood flooring. They are super easy to clean, can be customized for your floor plan, and feel amazing on your feet!
---
Black Out Shades/Privacy Ready for an upgrade? These RV Manual Roller Shades control light, provide UV protection, and offer privacy– all while updating your RV interior.
---
Curtains Similarly, window shades turn any RV living space into a homey haven. Changing out curtains updates the entire rig! 
---
Entertainment & Relaxation
TV Mount There's a variety of TV mounts available for your home-on-wheels! From a fixed flat mount, a horizontal sliding mount, a friction pivot ceiling mount, to a lockable wall mount— find what works best for space efficiency and travel! 
---
TV Safety Straps Don't let your TV get loose going down some bumpy adventures. These travel safety straps can be used with any wall mount and securely holds the TV against the wall minimizing vibrations during travel. 
---
Remote Holder Can't keep track of the remotes? Install a remote holder! The Camco Oak Accents or TotalMount Remote Holder installs without leaving holes in your walls. At the same time, they keep your remotes secure for the ride and always in a place you can find them!
---
Antenna Let's hope you didn't take your last antenna off with a low bridge… Whatever the case, get over the air channels with the Winegard Rayzar Z1 Local HD & Digital Broadcast TV Antenna. With a minimal footprint and smaller features, no cranking is required so you can catch your favorite local broadcast channels wherever you go! 
---
Satellite TV Enjoy HD satellite TV wherever your adventures take you with the mountable DISH® Tailgater® Pro 2 Satellite Antenna, Winegard RoadTrip T4 Satellite Antenna, or portable DISH Playmaker Portable Satellite Antenna (Compatible receiver and satellite service is required.)
---
DVD Player So, even if camping is supposed to be electronic-free, have a DVD player on hand for a rainy day! This mini DVD player is simple and compact– perfect for the RV! It comes with the HDMI cable needed but, keep in mind, this does not support Blu-ray. Need something with a few more bells and whistles? The Sony Blu-ray DVD Player includes everything you'll need plus more for movie night! With a Blu-ray player, remote control, HDMI cable, built-in Super Wi-Fi, and access to over 300 services you can enjoy some great rainy-day entertainment including movies, TV shows, music and more from apps like Netflix, YouTube, Pandora, Amazon, and Instant Video. 
---
DVD Organizer Don't let your rainy day DVDs get rattled and scratched throughout the journey! Keep them in a holder! 
---
Back Massager Camping entails long hikes, walks, and hours on our feet during the day. Relax and enjoy a nice massage after a day of sightseeing, nearby attractions, or an intense game of pickleball!
---
Foot Rest At the same time, put your feet up after a long day! A storage ottoman doubles as a handy footrest and storage. Similarly, a Folding Ottoman collapses down taking up minimal space that can be used indoors or out!
---
Storage & Organization
Key Holder/Rack Losing car keys is bad enough, but your camper keys on vacation? That's a different story… Keep your set of keys where they belong! Go for something simple like a couple small adhesive hooks; something multifunctional like the mDesign Metal Wall Mount Organizer that has a white board for writing camp reservation notes; or something rustic and camp-themed like the Vintage Real Wood Tree Branch Wall Hooks.
---
Floating Shelves & Baskets Remember, use vertical space whenever you can! Floor space is limited as is in any RV. Create more room for your items by installing shelving or baskets– while adding decor to the walls too! Opt for shelving with rails like Peter's Goods Floating Wall Shelves to show off and contain your items at the same time. Similarly, wall-mounted baskets can hold campground paperwork and other accessories while also looking stylish in your RV living room!
---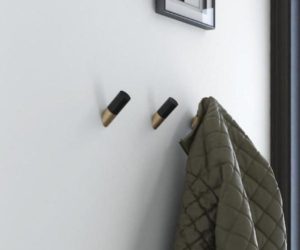 Hooks  Add a small hook anywhere that works for you. As seen in Liven Up Your RV Living Room with these Decorative (Plus Useful) Accessories, hooks don't have to be boring! These tiny pieces can also be trendy, adding a splash of decor while providing space to hang your coat, purse, or keys!
---
Toy Bin An RV is like a second home! Find yourself tripping over toys in a smaller space? Keep your living room floor clean and tidy with a small toy bin.
---
Ottoman If you didn't see above, an efficient ottoman is one with storage space! From tufted, faux leather, cloth, round, square, or rectangle and more– find one that features a storage compartment. Even better, some of these fold flat when not needed!
---
Organizer Bins Most RVs come with overhead storage cabinets. Although any kind of storage space is nice for travelers on the road– these often are small but deep, making items hard to find behind one another. Small bins, trays, totes, or baskets keep camping games, batteries, bug sprays, and more tidy and contained!
---
Storage Baskets You can never have too many bins, baskets, and totes! Add a cute touch to any corner while organizing the living space with collapsible storage baskets!
---
Bench Need extra storage, more seating for game night, an extra table, or a helpful spot to put on hiking boots? This lift-top bench can do all of this plus look great in your living area! 
---
Cup Holder Lack a spot to set your favorite beverage? Add an adjustable drink holder where it's most convenient!
---
Essentials Holder Lacking the typical end table room for beverages, remotes, snacks, or reading glasses? The Cup Cozy Deluxe Pillow adds an essentials holder wherever you want! Set on the floor, couch, or bed and have your relaxing goods secure and right next to you. The insulated design keeps beverages cold or hot longer and fits most mugs and cups! 
---
Sofa Armrest Organizer Similarly, a sofa armrest organizer keeps your items organized, in one place, and out of the cracks and crevices of the couch! From table tops, pockets, or CouchCoaster's, customize your space for an efficient and cozy room!  
---
Shoe Mat/Tay We all love the outdoors, but let's keep it outside and not throughout our cozy home-on-wheels. Plop a shoe mat or tray in your entryway! 
---
Shoe Rack & Pockets Some set-ups don't give you much when it comes to shoe storage. For example, those lacking a coat closet or floor space for a shoe rack may like wall mounted shoe racks, a horizontal rack, or Canvas Shoe Pockets instead!
---
Bookshelf Like to have a good read in the fresh breeze? Both the Furinno Open Shelf Bookcase and IRIS Slim Space Saving Shelf features a slim and simple design for tight spaces. No floor space? Hang your favorites up in a wall mount! This rustic wood storage shelf is trendy on any camper wall while holding your favorite books in place for the ride! 
---
Smart Phone Caddy With limited counter and charging space, it may be difficult finding the perfect spot to store your phone in the living room. No more rummaging around for it to snap those photo worthy sunsets with the Command Smart Phone Caddy! 
---
Laptop Stand It may sound surprising for a "camper," but many RVers work on the road, requiring a laptop, printer, or even the whole "office" shebang! Whether you work remotely or just like to bring electronics along– stay organized and keep your dinette tidy with the help from: a vertical laptop stand, a laptop holder, or an adjustable laptop desk to maximize work space. 
---
Printer Stand & Portable Printers If your home-on-wheels doubles as a traveling office, help save space with a portable printer and stand. Remember, maximize any surface space you can in an RV! Not to mention the HP OfficeJet 200 or 250 Portable Printer are great, small printers for traveling!
---
Other Office Supplies Does it seem like you're hauling the whole office or hobby box along? Keep things organized with a desktop tote, desktop caddy, or even a rolling briefcase.
---
Other Miscellaneous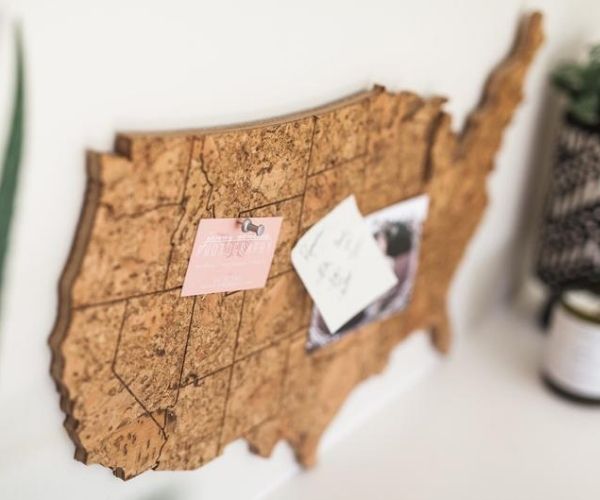 Wall Art Need a splash of decor to spruce up your space? Decorate with functional items! For example, a chalkboard to write trip plans, a cork board USA map to track trips and educate young travelers, or a clock so when the time changes on your electronics it won't mess you up!
---
Resistance Chair Exercise Station Staying fit is absolutely possible on the road! Whether avid travelers or full-timers, stay on top of your health! Campgrounds or RV parks don't always have a fitness center on the premises. With that in mind, bring one with you! This Resistance Chair Exercise Station provides hundreds of exercises in a sturdy chair. Set-up and tear-down can be done in seconds and it simply takes up the space of a folding chair to store. Don't forget the Resistance Chair Cable Kit Accessory Pack!
---
Yoga Mat Speaking of health, traveling is all about feeding your mind, body, and soul. Start out your morning with mindfulness meditation, wake-up yoga, or a few morning stretches on a comfortable yoga mat— indoors or out!  Just a few minutes of self-care makes a great start to an adventurous day! 
---
Folding Desk Many campers find themselves enjoying hobbies or finding new ones in the peaceful atmosphere around them. Bring on your inner crafting, scrapbooking, or writing with a folding desk. Work on the road? Some may find they are more productive sitting at a desk than a camper dinette. Bring a portable one along! The GreenForest Folding Desk has two tiers for your laptop and other office supplies. No assembly is required and it folds flat for storage. Similarly, the Need Small Desk, SOFSYS Modern Folding Desk, and the Tabletote Plus Portable Desk all adjust and collapse for RV storage. 
---
Pet Pen RVing can be a new and exciting experience for our furry family members too! Make sure they feel at home with their own designated space.
---
Step Stool Anyone else have a hard time reaching overhead cupboards? This folding step stool tucks nicely beside the couch when not needed!  
---
Cleaning, Maintenance & Safety
Fly Swatter So, although nothing special, this item often gets forgotten! As much as the camper door gets opened, you'd better have one of these on hand! Although more of a toy, there's something about these ZAP IT Zappers that campers love! 
---
Batteries Better keep a few different kinds on board! They may be needed for flashlights, remotes, lanterns and more. So they aren't rolling around down the road, organize them in a convenient case! 
---

Tool Box Everyone should have a small household toolbox in the RV for minor fixes. While we never know what's going to break down the road, having one of these can come in very handy!
---
Gate Keep your pets or toddlers away from the driver's seat or escaping out the door! It might sound silly, however in The Best Baby Gear for Your RV, you'll see how we had a free-standing baby gate (it was actually a pet gate, this is similar) propped behind the motorhome driver and passenger chairs so our little toddler couldn't push dash buttons, fall down the stairs, or worse…. start 'er up and take off! Considering your traveling family and how much you travel, one could work perfectly for you! 
---
Step Covers Protect your RV's interior entry steps from dirt and wear with the Decorian Step Hugger Landing Rugs. These securely fasten to most stair surfaces with hook and loop fastening strips and can be removed or reattached as needed.
---
Dehumidifier High humidity and condensation can really take a toll on RVs. Cooking, showers, and even breathing can raise humidity levels contributing to mold and mildew which can, overtime, damage our traveling home. Combat it quickly with a dehumidifier. The PureGuardian Small Space Dehumidifier reduces humidity in small areas. Its portability and auto shut off feature make it worry free and easy to place where needed. No power hookups? DampRid has always been one of our favorites. With a variety of options available (hanging, Hi-Capacity Absorbers, Drop-In Tabs, and more) simply leave these in cabinets, cupboards, or out in the open as they attract and trap excess moisture from the air.
---
Ceiling Fan Speaking of high humidity, one of the best ways to avoid moisture build up is to always open the ceiling fan when showering to draw air out. In fact, if you're looking to upgrade your bathroom or living area fan, the Dometic Automatic Deluxe Fan-Tastic Ceiling Fan Vent quickly removes stuffy air from your RV and within seconds and can draw fresh, clean air in. This can be done by a reverse switch that sets the fan blade directions– airflow in or out– by owner preference. It also has a built-in thermostat to help maintain desired temperatures along with a rain sensor.
---
Portable Heater Some camping days can get a bit chilly, especially if you're a winter traveler! Have a portable heater to warm up the rig and save on propane!
---
Smoke Alarm & Fire Extinguisher All units should have an RV Smoke Alarm and Fire Extinguisher on board! Replace if needed! 
---
Carbon Monoxide & Propane Gas Alarm Unless your RV is an all electric unit, you should have a LP & Carbon Monoxide Alarm in the living or kitchen quarters. Routinely make sure this is functioning properly! In fact, it never hurts to have a Mini Surface Mount or plug-in as a backup!
---
Vacuum You'll see in Spring Cleaning how I use the Shark Rocket Vacuum. Its compact design and car detail attachments can reach in every crack and crevice making it perfect for the RV!
---
Broom/Mop A Swiffer Sweeper Dry + Wet All Purpose Floor Mop is super RV-friendly for your floors. For example, the handle comes apart for small space storage and dry or wet refills are available for both sweeping and mopping. Additionally, reusable pads are available instead of mop refills, allowing campers to easily wash and reuse– all while using their preferred floor cleaner!
---
You may like: 100 + Products and Accessories for Your RV Kitchen and 100 + Products and Accessories for Your RV Bathroom.
Need help packing? Check out the Ultimate Packing List. Print. Check. Travel.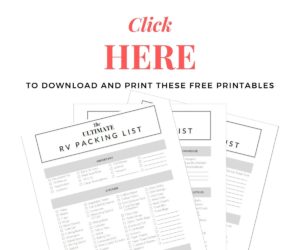 RVING IS BEING cozy in your home-on-wheels!
Related posts