Bear in mind that this post may contain affiliate links, meaning I get a commission if you decide to make a purchase through my links, at no extra cost to you. Please read my disclosure and privacy & terms for more info.
---
Most potential RV owners are faced with the big question– whether to buy a new or used RV.
Ultimately, there's no right or wrong when it comes to buying new or used. You'll find both choices have its pros and cons.
The good news is, there's an RV for every travel style, budget, and personal preference out there. Once you narrow down the basics and research what make, model, or style is for you– then it's time to start browsing!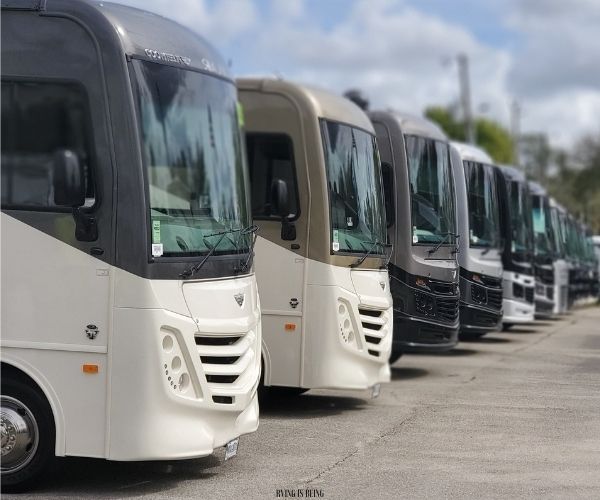 So, what's it going to be? New or used?
As you explore your many options, take a few of these things into consideration:
Should You Buy a New or Used RV?
The Cost of Rolling Off the Lot
Sooner than later, you'll hear about how much a new vehicle instantly loses value once it rolls off the lot… It's true with any brand spanking new RV and is said that once it leaves the lot, it loses roughly 20 percent of its value! In this case, the very first owner's are going to take the biggest hit. In fact, new RVs are going to lose value instantly and also depreciate at a steep rate over the first few years.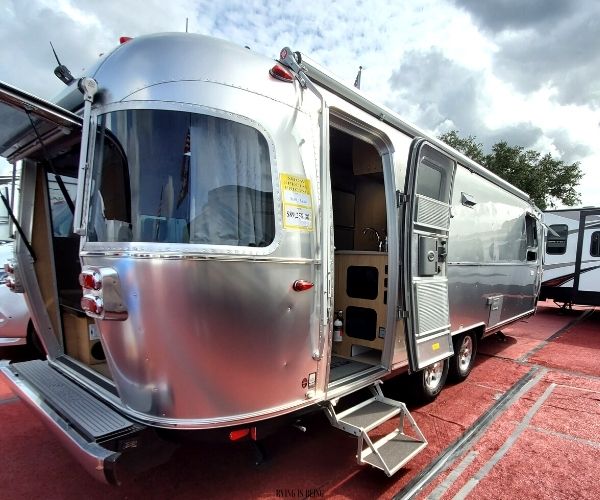 While any new recreational vehicle isn't cheap, one that's a few years old can be considerably less expensive than the latest model advertised on the lot, yet still have similar features and styles the current models incorporate.
On the other hand, buyers can save a chunk of money upfront by purchasing a pre-owned RV while leaving the steep hit from depreciation up to someone else– as they now enjoy it at a slower rate.
Someone Else's Hand-Me-Downs
New smell? New mattress? No miles?! What's better than pristine new features, appliances, mattresses, and toilets JUST. FOR. YOU?! Nothing screams the latest and greatest more than that crisp new car smell and peeling the protective film off new accessories. To some, this is well worth the hefty price tag!
Used rigs, on the other had, have been… USED! Not only can the sound of this deter buyers, but potentially worn or damaged elements (perhaps, unknown at the time of purchasing) can wreak havoc on one's finances and even safety down the road! Unfortunately, we've all heard horror stories of those spending their life savings on a rolling nightmare with ceaseless repairs.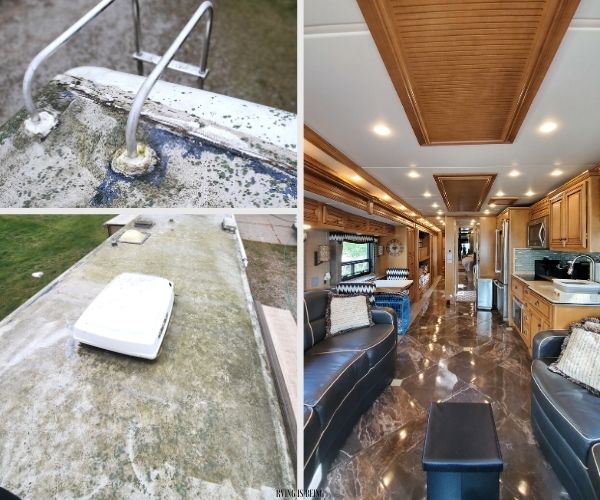 However, before you completely nix the idea of buying used, remember some RVs are heavily used and some are hardly used. In fact, our "used" toy hauler still had the plastic on the mattress, protective paper on the toilet, and past dealer stickers on the kitchen stove! It was hardly used and in great condition. Keep in mind, sellers may not get the use they anticipated or they simply find out RVing isn't for them. So, although an RV may be advertised as "used" it doesn't mean it's worn. 
The same goes for how well an RV is maintained. How it's taken care of significantly impacts its appearance, wear and tear, and lifespan. 
Kinks, Tweaks, & Fixes
Speaking of worn, we won't have to worry about issues arising in a brand new RV, right?
WRONG!
It may sound shocking, but new RVs are notorious for needing kinks worked out right after they roll off the lot. In fact, you'll probably have a looooong list of fixes and repairs to take in… And believe me, repairs and warranty work is not only annoying, but time consuming.
On the positive side, buying the right kind of RV warranty from a reputable company can save the owner a lot of money from RV repairs while giving them peace of mind knowing they have an option to protect their hard earned investment.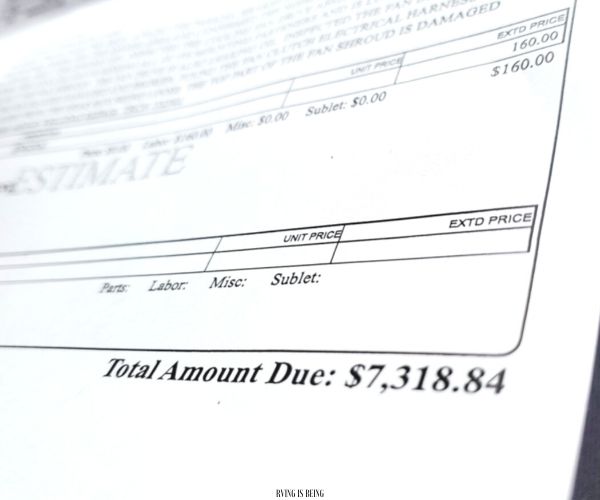 Looking at the used-side, pre-owned motorhomes and travel trailers generally have those minor tweaks and fixes already repaired, not to mention all of the upgrades the previous owners may have added along with it.
Although it comes broken-in and ready for the road, that doesn't mean issues won't arise later on. Many times used rigs are sold as-is with no warranty. However, you may be able to purchase an extended warranty package for a used RV through a third party– depending on the age of the unit.
Upgrades & Customization
Speaking about added upgrades– some used RVs are sold fully loaded with years of accessories, upgrades or renovations the previous owner put into it. For example, our last used motorhome came with all the essentials, pots and pans, hookups, adapters, and even a storage cover. The previous owner also had put in new carpet, window shades, a backup camera and inverter. 
At the same time, a seller might not want to put a hunk of change into an older RV, leaving you with a rig that needs a lot of work. For some, the time, labor, and perhaps, expensive improvements isn't worth it. However, for those who are handy and may even like a project– could find it to be well worth the renovation as they get to cherish their rolling masterpiece for years to come.
Of course if you're into customization and the latest features, but rather not take on the renovations, then buying new may give you the option to create a tailor-made unit. Although expensive depending what elements you choose, some manufacturers let you select the layout, materials, colors, and fine details that go into the unit– creating your ultimate dream RV!
Other Considerations
Another consideration when weighing the pros and cons of buying used or new RVs is that many RV parks have limitations based on the age of the unit. Does the "10 year or newer" rule sound familiar? Although it may sound like it's a deal breaker, this rule generally doesn't turn away but a small percentage of RVs. As a matter of fact, this rule is commonly put in place so that the RV park can look pleasing to the eye and so units do not become a liability (leak, fall apart, or start on fire) on the premises. All parks are different, so if this may affect your purchasing decision, call and ask about the policy at the local campgrounds in the area!
---
So, taking everything into consideration– sure, you'll hear about RVers wishing they had bought used. Some may kick themselves for throwing a large sum of money out for something that depreciates so fast leaving them a slice of what they paid when choosing to sell. Yet to others, the cost was worth buying the RV of their dreams!
Similarly, the same goes for used. To some, buying new would have trumped the choice of purchasing a pre-owned rig had they known all the unforeseen issues down the road. Then again, there's countless RV owner's who bought a used rig that would swear that's the best and only route to take! 
Weighing in both sides, long term buyers may benefit from newer units investing upfront and taking advantage of warranties for the next few years. Where on the other hand, some buyers may not be able to make such a large investment upfront, and go for a used RV. Also, those new to the RV lifestyle may prefer to buy used and see how they like it first before splurging on a new one!
In the end, there's no right or wrong but what it's worth to the customer– which may not be purely based on financial reasons. Before you concentrate all efforts in one area, look at multiple used and new RVs! You might just find the perfect rig where you least expect it! 
Not ready to take the plunge and buy your first recreational vehicle? Check out these five reasons why you should rent first before owning.
RVING IS BEING in an RV you love!
Related posts